Best Database Software: 15 Top Database Software For Businesses
Businesses generate a lot of data that needs to be organized so that it can be used effectively.
With the increase in cloud services (especially SaaS marketing), so much business data is collected at every point in the business cycle.
There is a need for every business – big or small – to have some sort of database software that people can use to organize and use data productively and securely.
According to Statista, the world database management software (DBMS) market grew to 46 billion USD in 2019. Here is a list of the most popular and best database software as of December 2020: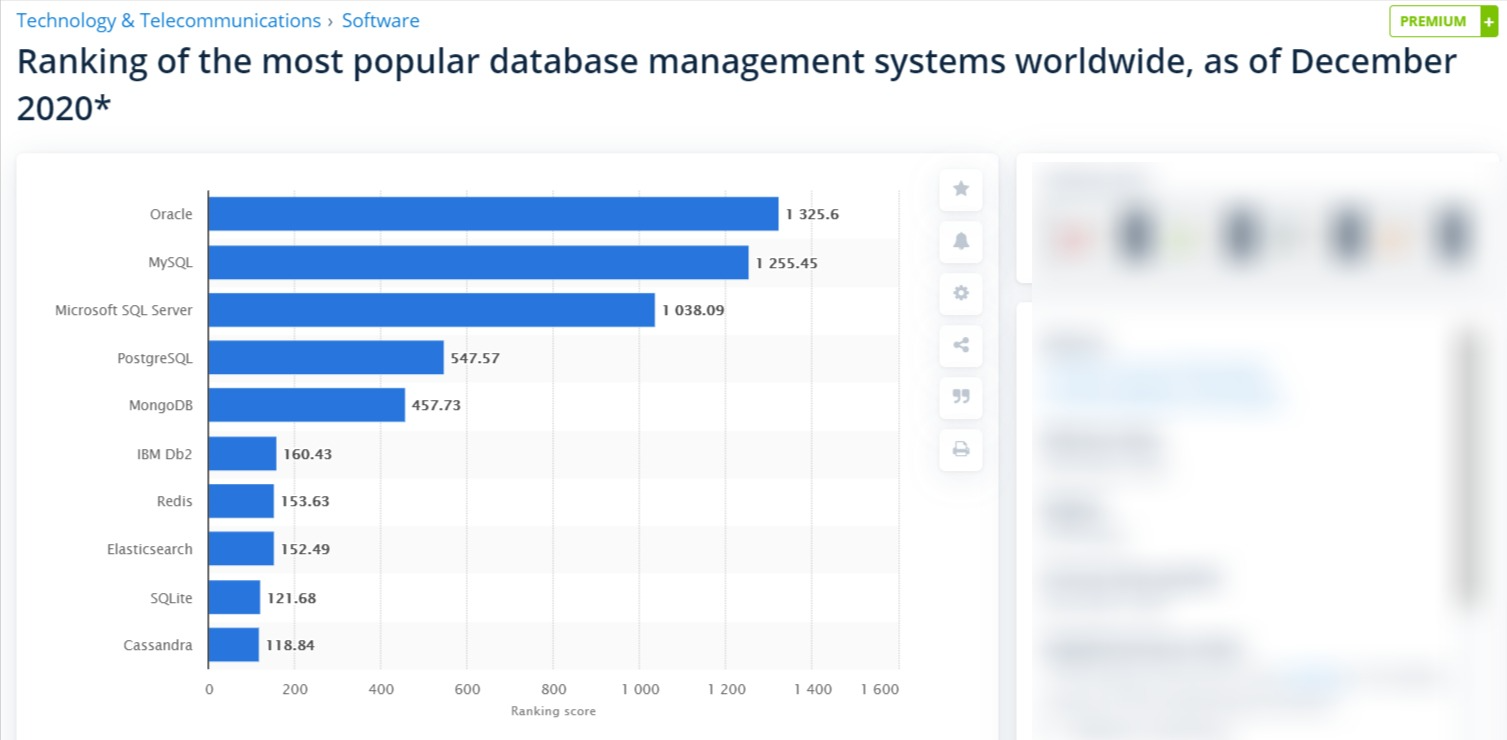 Which is popular DBMS software?
According to the statistic above, Oracle is the most popular database management system.
So if you're wondering what are the top 10 databases you could use for business, or how a database can help your business, this article answers that and more.
Read on to find out the best database software and how you can use various database software options to manage data for your business.
Let's dive right in!
Affiliate Disclosure: If you buy something using the links in this article, I may receive a commission at no extra cost to you. Know that I only promote stuff that I use and trust for the sake of my readers and the reputation of this website.
What Are The Top 10 Databases?
Here are the top ten best database software for businesses. I have reviewed each of these database software solutions later in this article, so keep reading to find out more about each one.
1. Knack – Best For Entrepreneurs, Startups, And Non-coders
2. MongoDB – Best For Performance And Scalability
3. MySQL – Best For High-Traffic Websites
4. Microsoft SQL Server – Best For Ease of Installation And Use
5. Oracle Database – Best In Database Administration And Application
6. IBM DB2 – Best For Efficient Hybrid Data Management
7. TeamDesk – Best For Creating Custom Databases
8. PostgreSQL – Best For Complex Procedures
9. Improvado – Best For Marketing Analytics And Data Warehousing
10. Amazon Relational Database Service (RDS) – Best Cost-Effective Relational Database
Database Management Software Definition: What Is Database Management System (DBMS)?
A database management system, or DBMS, is software that stores, retrieves, and manages data in a database.
Along with the storage and retrieval of data, database products also help database administrators to easily organize and update business data along with appropriate data security measures.
A database solution or database management system is made up of programming languages that allow users to manipulate data in databases.
This is how a database management system works: a user sends a request for data through an application. The database system accepts this request and sends instructions to operating systems to retrieve the data.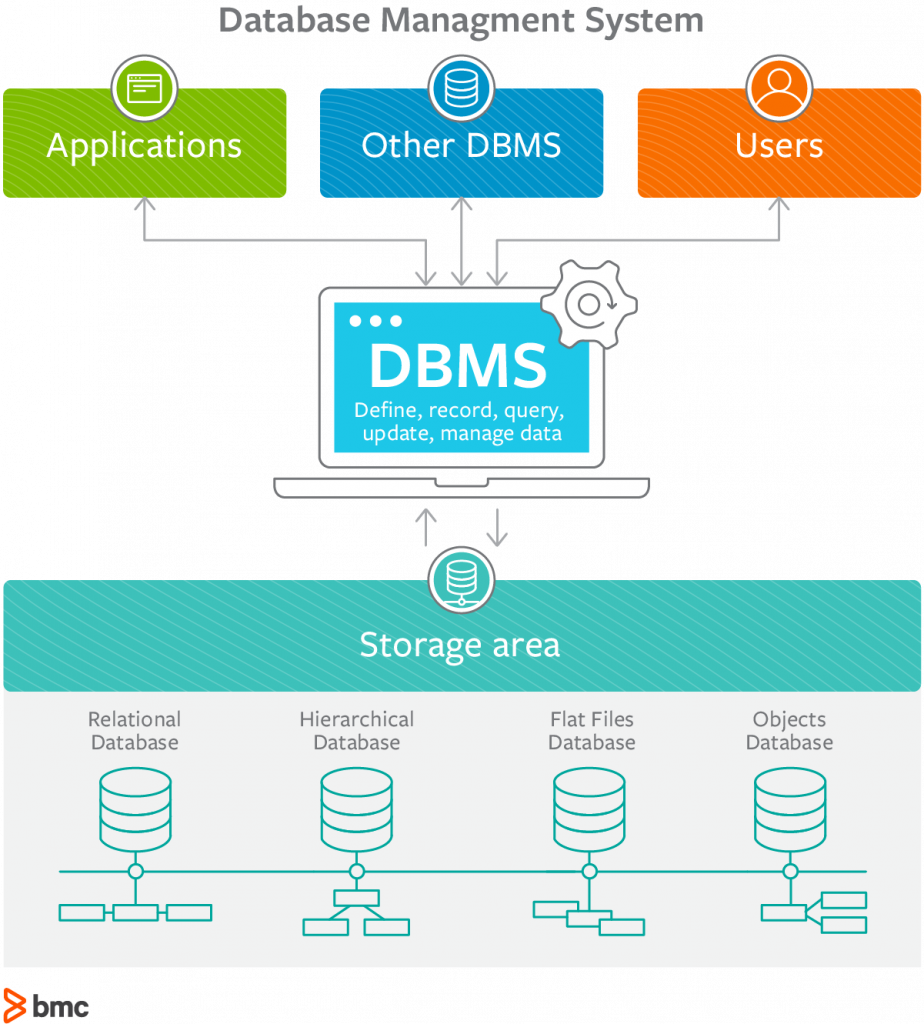 How To Choose The Best Database Software?
There are many factors you need to consider when you look for the best database software. However, the main role of a database system is to convert your rows and columns of seemingly "meaningless" or "complicated" data into understandable language.
Here are some tips on how you can choose the best database software for your business:
1. Understand the different database system types and familiarize yourself with their pros and cons.
2. Choose a database software that suits the needs of your business more than anything else.
3. Choose a database software that offers you room for growth and scalability.
4. If you need advanced designs for your data, choose a database system that offers custom databases.
5. Choose a web-based system that allows users to access data from anywhere using the internet.
6. Make sure that the database system you choose has enough security features like captcha to protect your data.
15 Best Database Software Systems In 2021 (Ultimate List)
1. Knack
Knack is a cloud-based database that allows small businesses, startups, and entrepreneurs to build and manage their databases without any code.
It is perfect for those who want to start and grow a new business.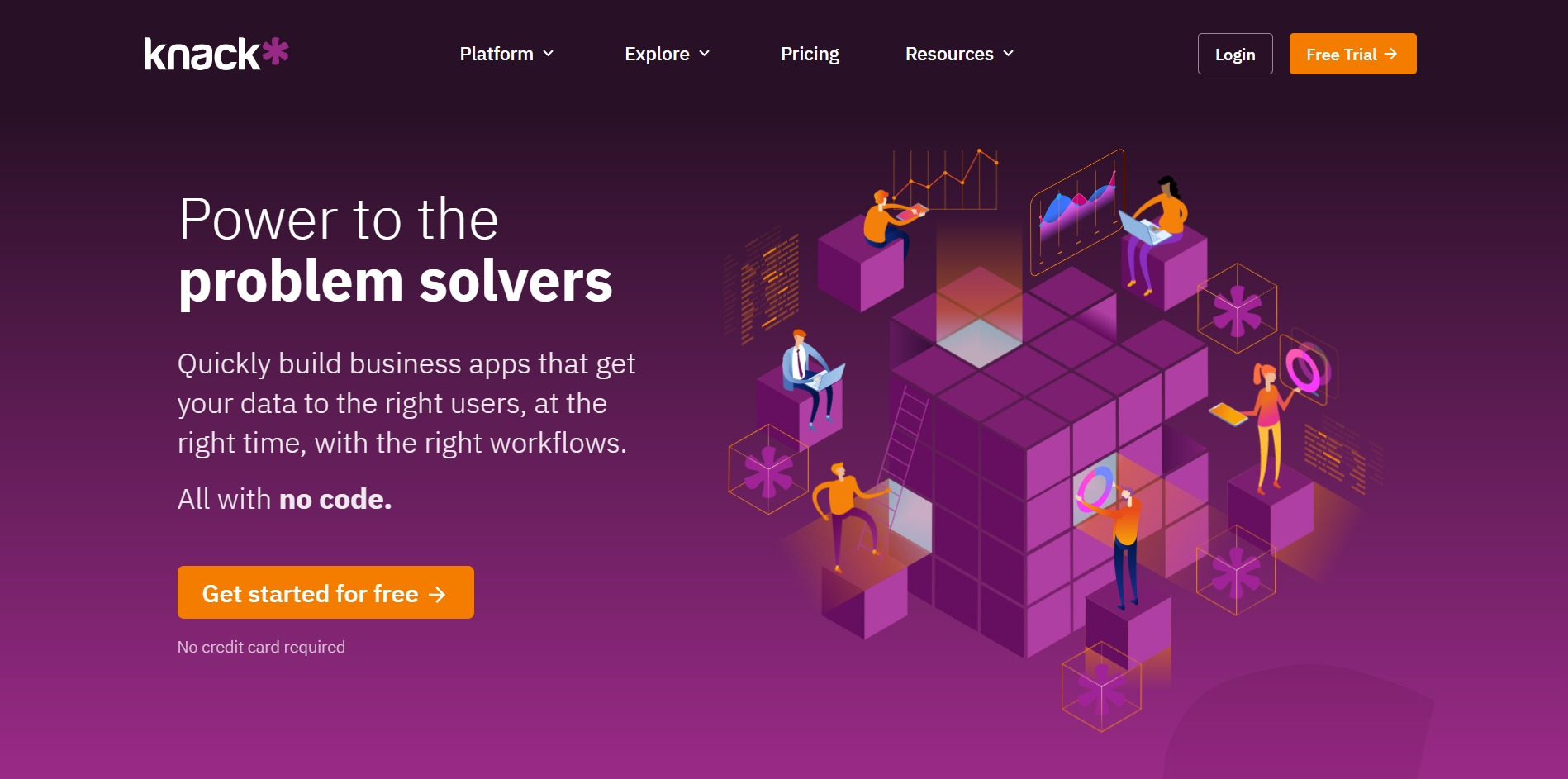 Key Features:
Application builder
Customization tools
Reporting and analytics
Open API
Payment processing
Pricing:
Knack has a 14-day free trial.
Knack has three pricing plans – Starter ($39/month), Pro ($79/month), and Corporate ($179/month).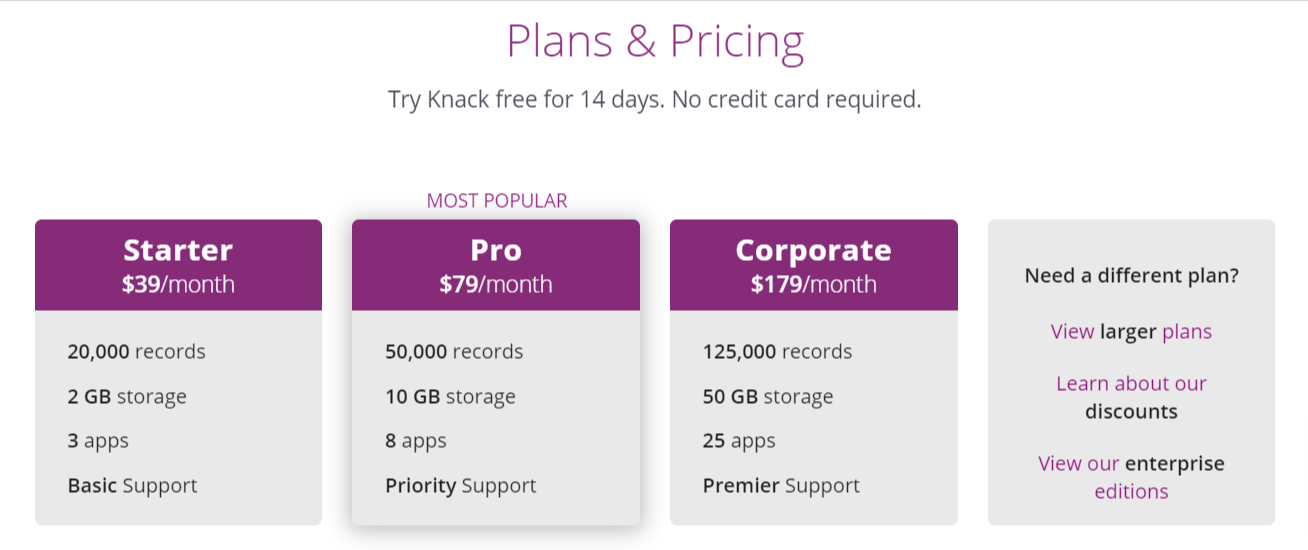 2. MongoDB
MongoDB is a no-SQL and no-schema database that has a rich query language. MongoDB is a document-oriented database that can help people maintain unstructured data.
It has high database performance and easy scalability for businesses.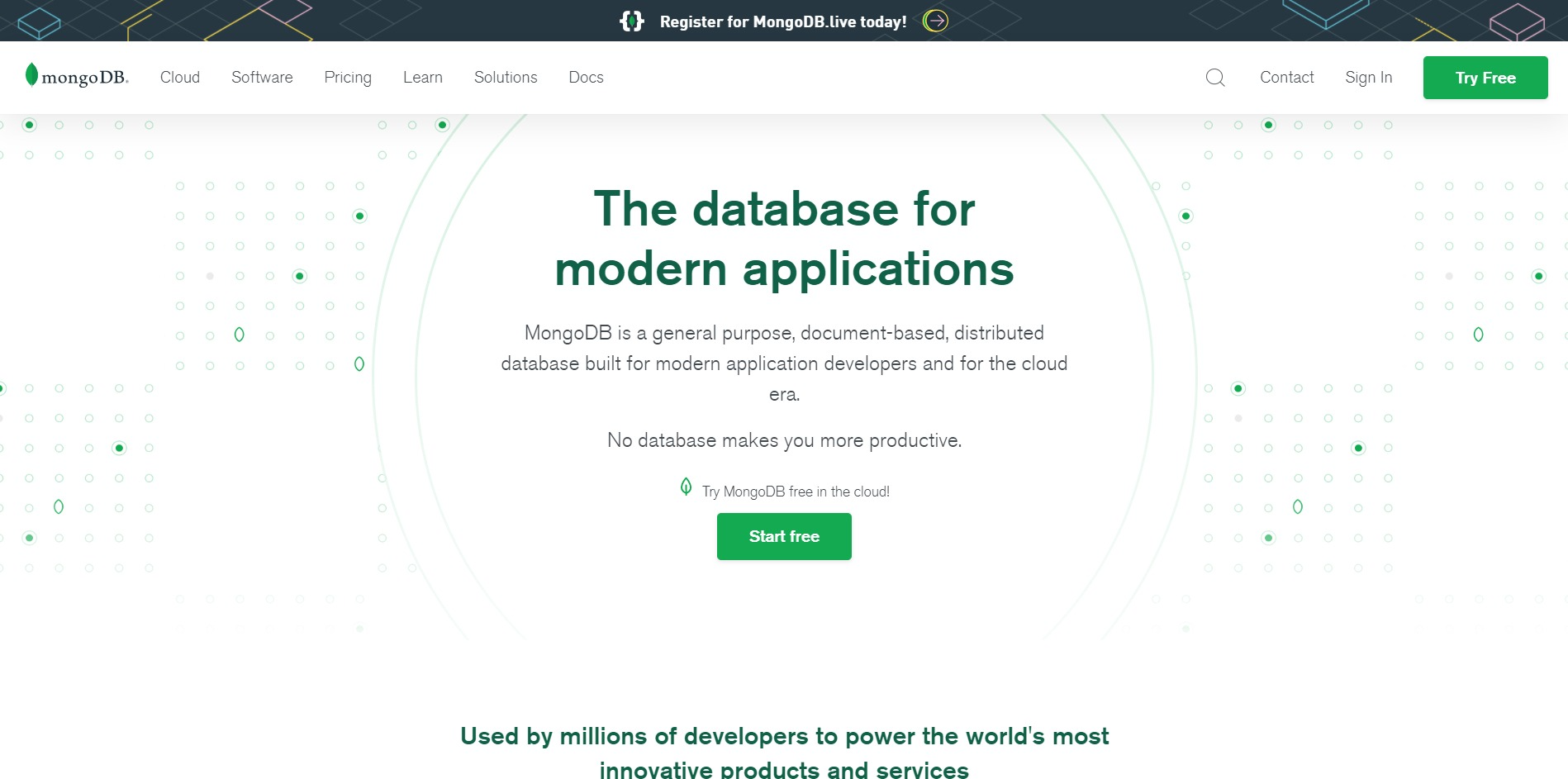 Key Features:
Ad-hoc queries that give real-time analytics
Appropriate indexing for better search speed and performance
Multiple servers housing data leads to better data recovery and backup
Distribution of pieces (or shards) of large datasets for better execution of cumbersome queries
Large-scale load balancing
Pricing:
MongoDB has a free plan called Shared Clusters. Their paid plans are Dedicated Clusters ($57/month) and Dedicated Multi-Region Clusters ($95/month).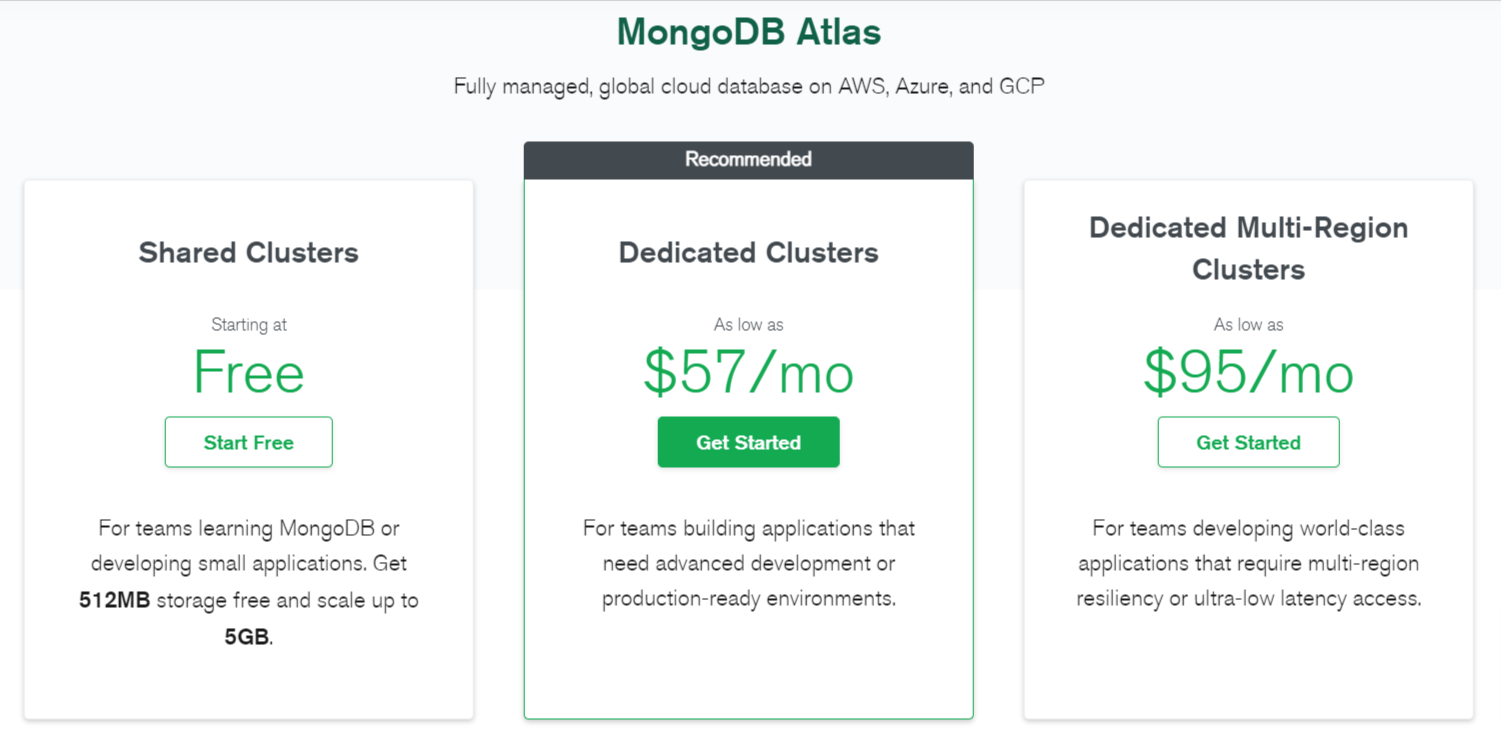 3. MySQL (Linux)
MySQL is a relational database system based on the structured query language or SQL. It is open-source software and is owned by Oracle.
MySQL is a fully managed cloud-based database system. It has a high-performance analytics engine called HeatWave that accelerates performance by 400x.
Key Features:
Easy to use
Consists of a solid data security layer that protects data from intruders.
Client-server architecture
Supports multithreading and is scalable
Very fast, supporting high-traffic websites
Pricing:
MySQL has three annual pricing plans: Standard edition ($2000), Enterprise edition ($5000), and Cluster CGE ($10,000)

4. Microsoft SQL Server
Microsoft SQL Server is relational database software that allows users to store and retrieve data as requested by software applications run on the same computer or a different computer on the network.
Microsoft SQL Server supports various business activities such as transaction processing, business intelligence, and analytics applications.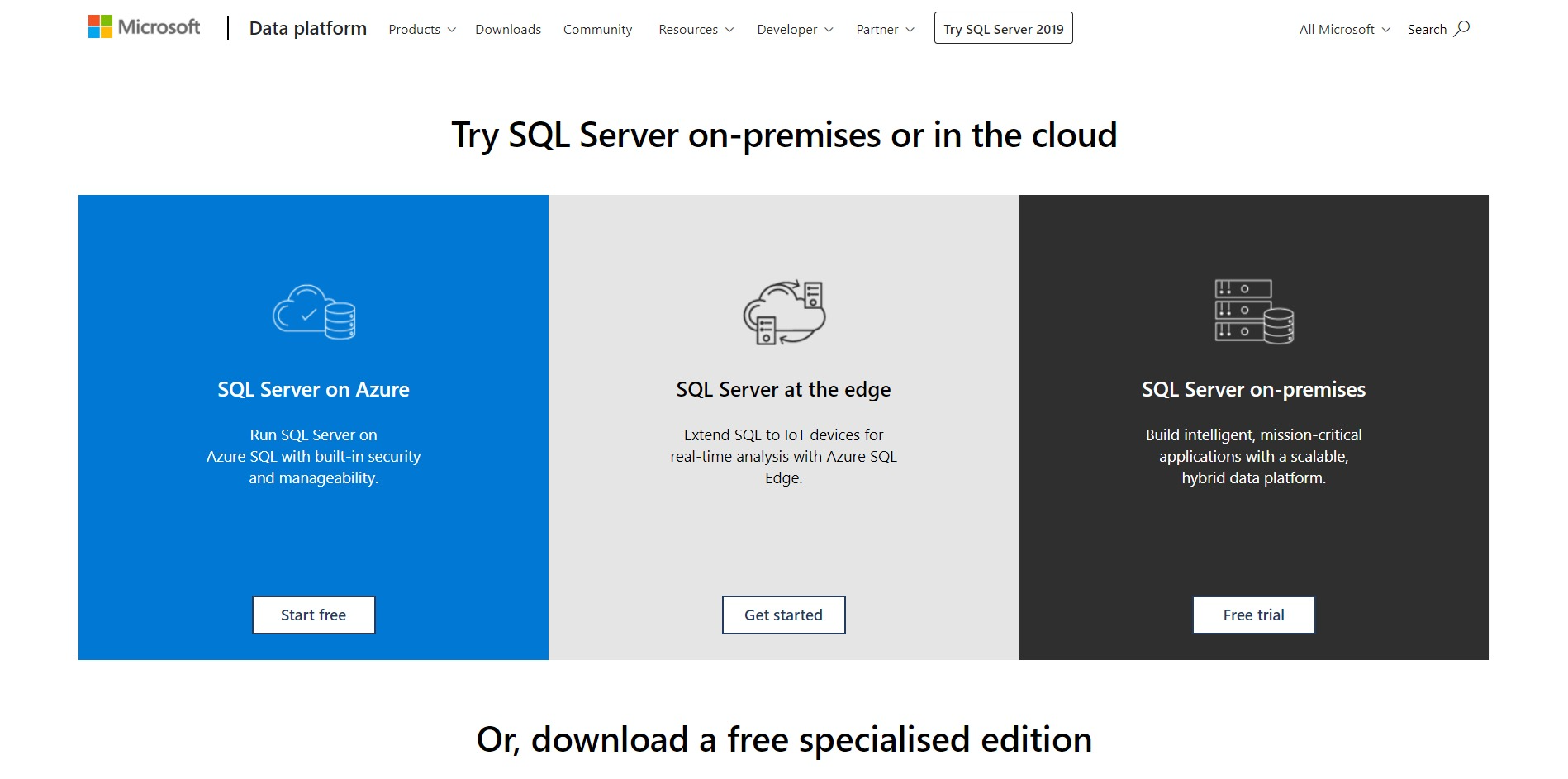 Key Features:
Intelligence across all data with Big Data Clusters
Choice of language and platform
Industry-leading performance
Most secured data platform
Unparalleled high availability
End-to-end mobile BI
SQL Server on Azure
Pricing:
Microsoft SQL Server has free editions as well as paid editions that range from $209 to $13,748.

5. Oracle Database
Oracle database is multi-model database software that allows online transaction processing, data warehousing, and mixed database workloads.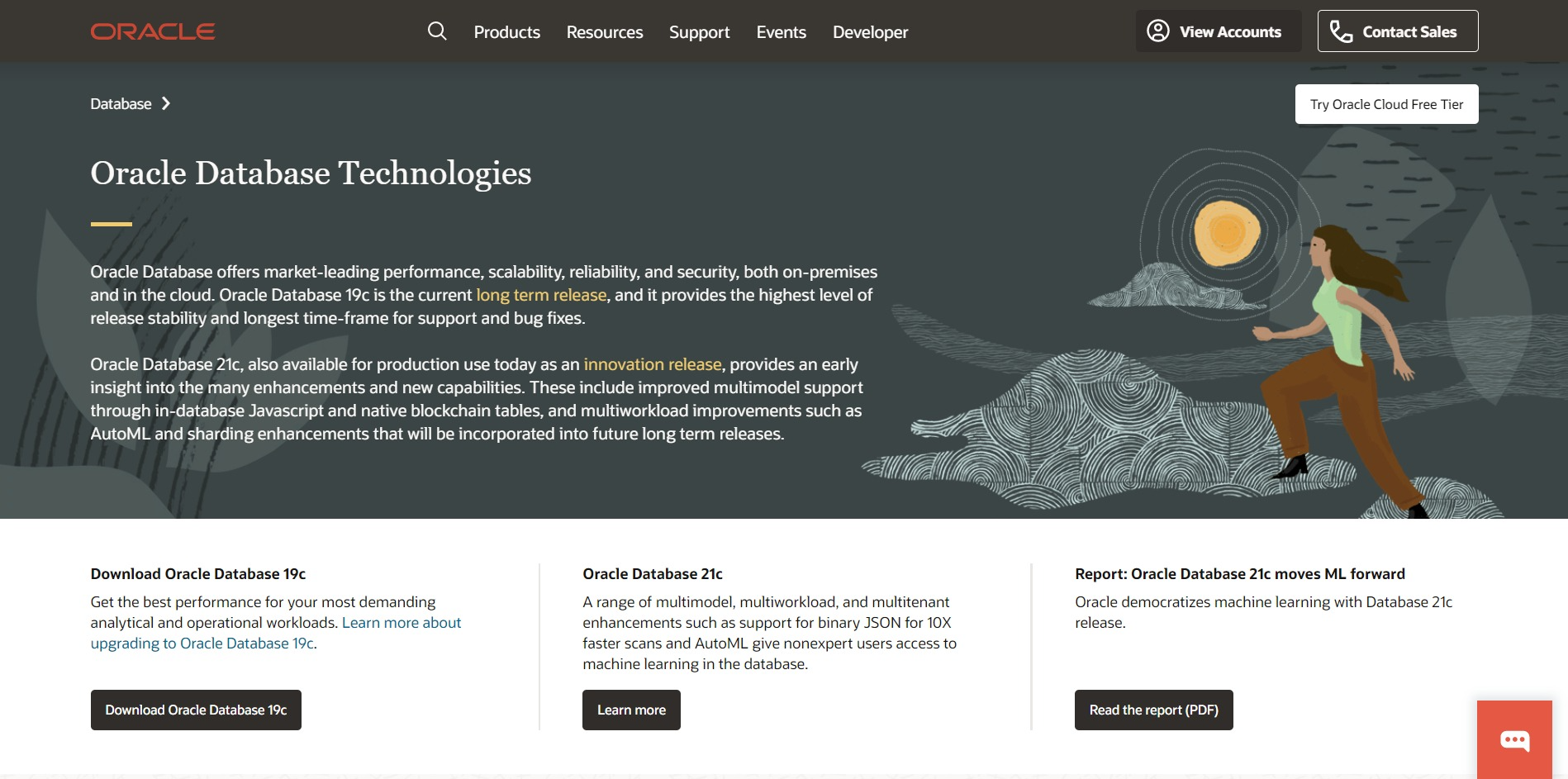 Key Features:
Application Development
Business Intelligence
Clustering
Database Security
Grid Management
Information Integration
Performance and Scalability
Pricing:
To view the pricing list for Oracle, you can check out this link.
6. IBM DB2
IBM DB2 is a relational database that is flexible and agile enough to deliver data anywhere it is needed. IBM DB2 is AI-infused, enterprise-ready database software that has an integrated data and AI platform built on the security-rich, scalable Red Hat OpenShift foundation.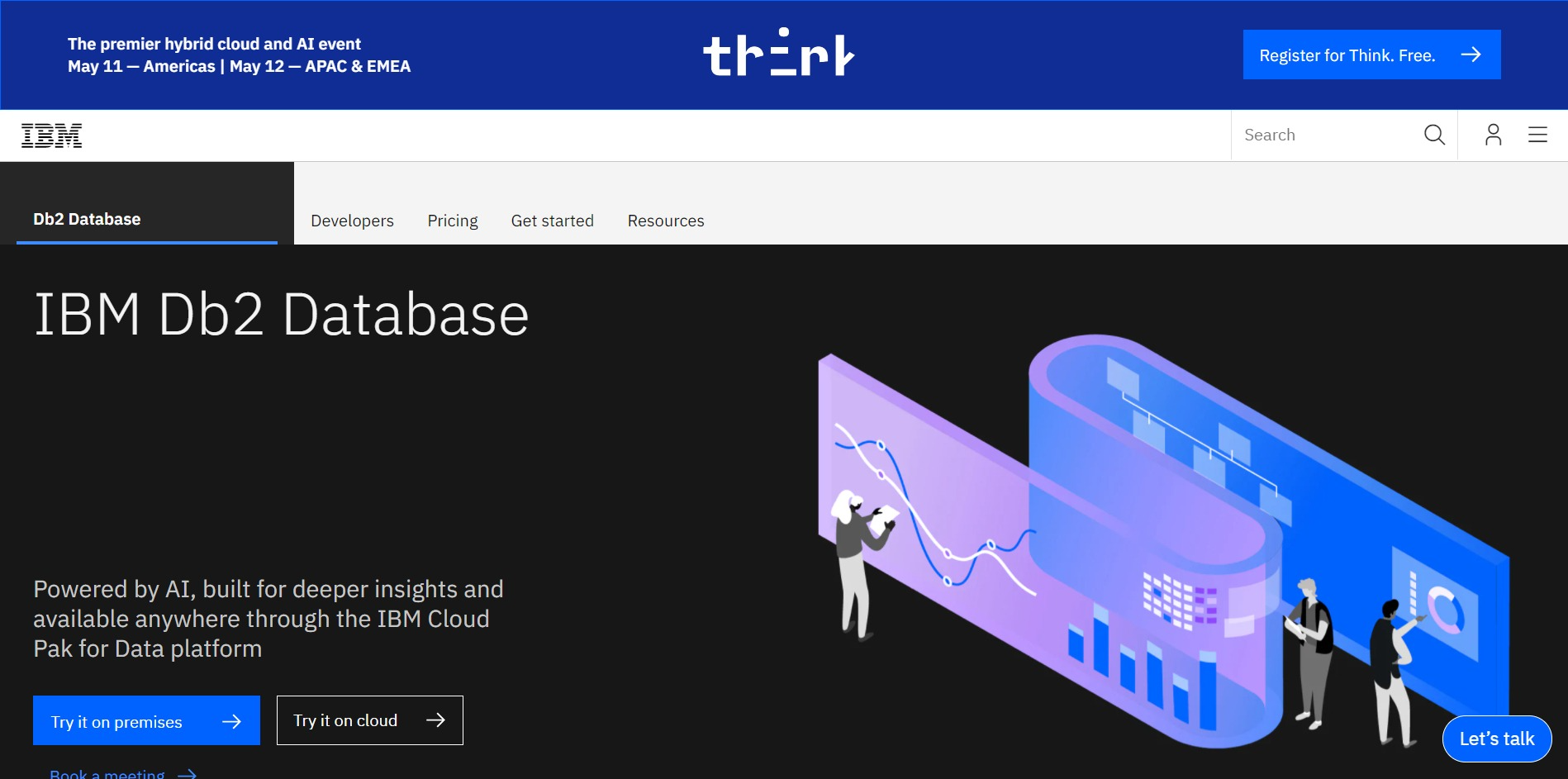 Key Features:
In-memory technology
Advanced tools for data management and development
Analytics for faster results
Data accessibility through multiple hosts
Protection against data loss (disaster recovery)
Data storage optimization
Pricing:
IBM DB2 has a free plan (Lite Plan), and two paid plans (Standard Plan -$99/month and Enterprise Plan – $946/month).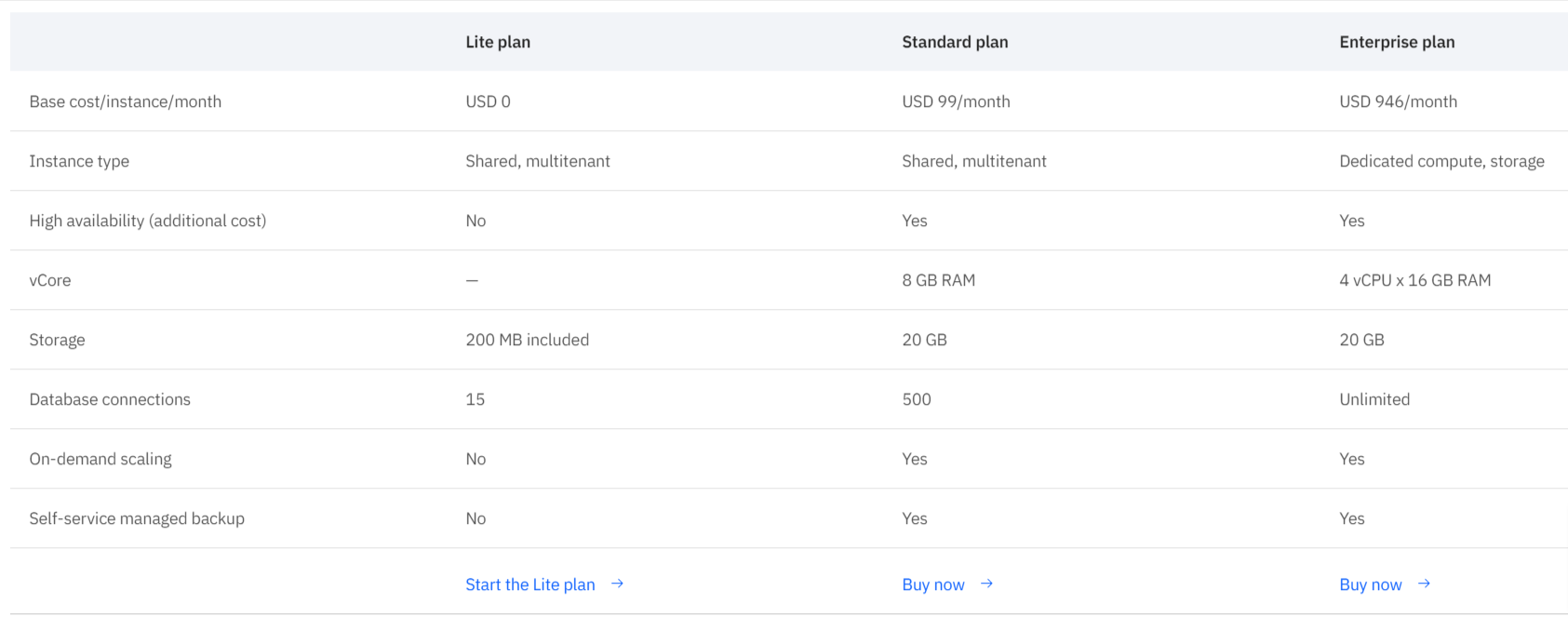 7. TeamDesk
TeamDesk is a database software that helps users create custom databases quickly and easily with no technical knowledge.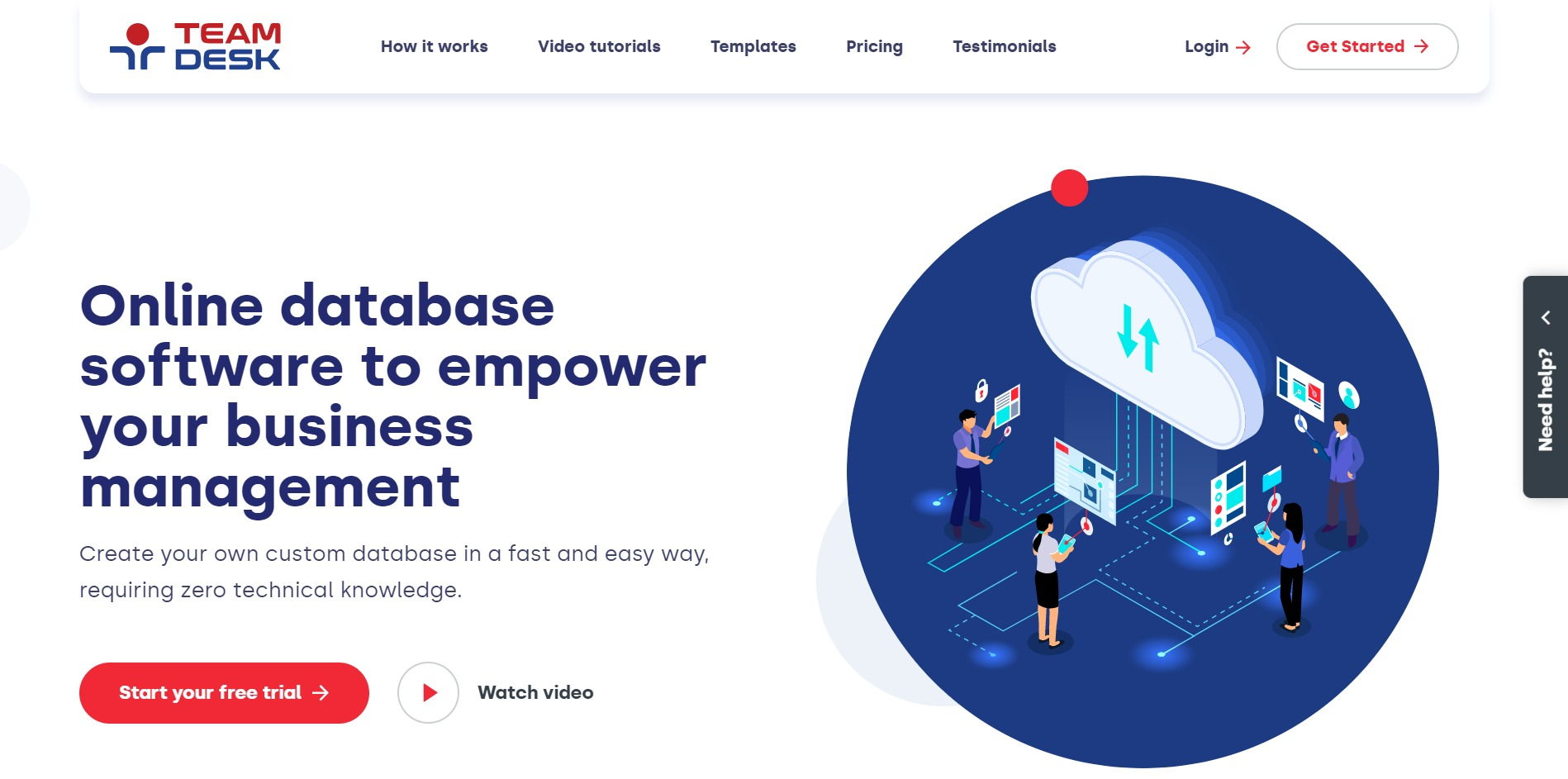 Key Features:
Predefined database templates
Expert user support
Simple and flexible database solution
Pricing:
TeamDesk has three paid plans: Starter Edition ($49/month), Team Edition ($99/month), and Enterprise Edition ($249/month).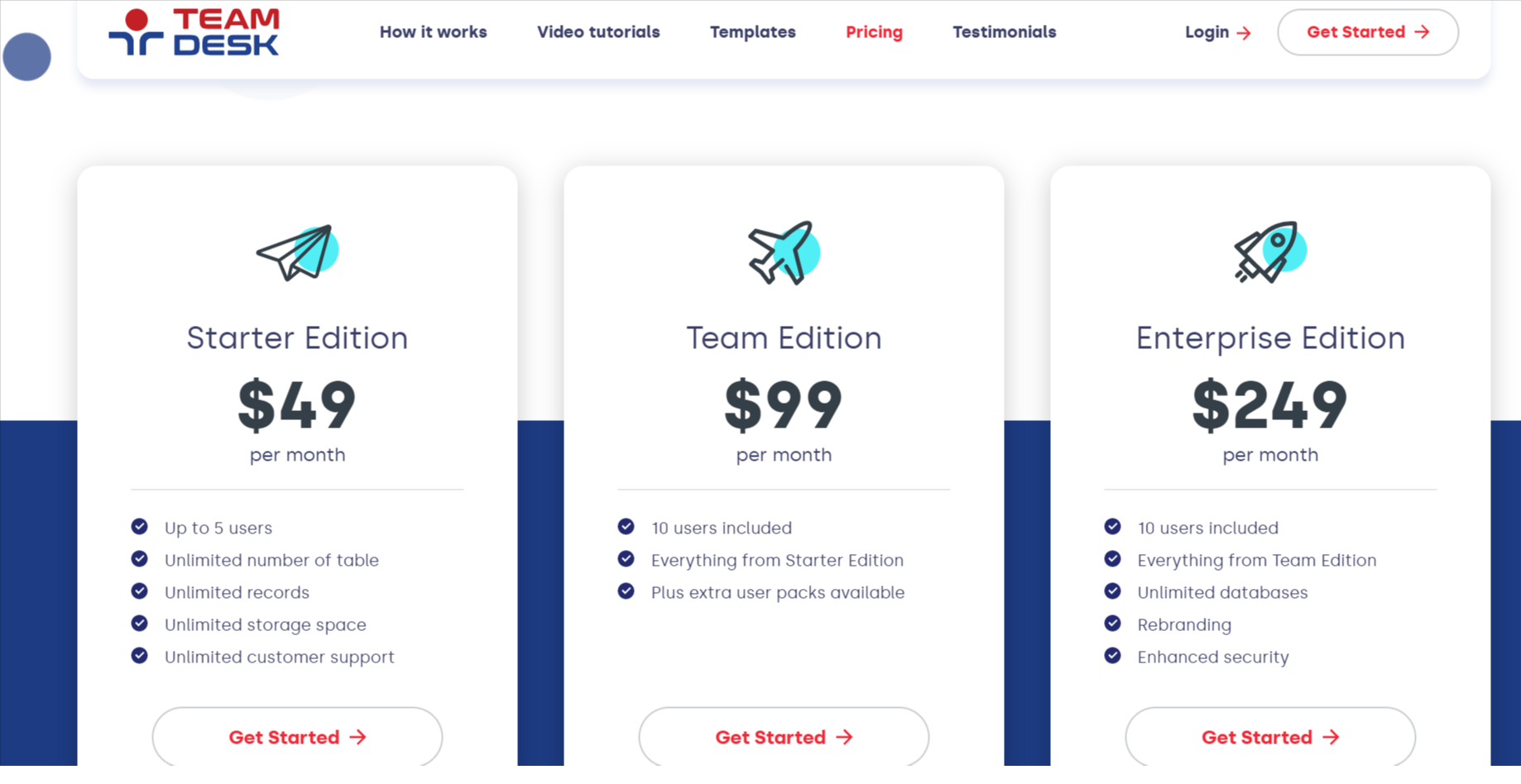 8. PostgreSQL
PostgreSQL is open-source relational database software that supports both SQL and JSON querying. PostgreSQL is used as a primary database for web, mobile, and analytical applications.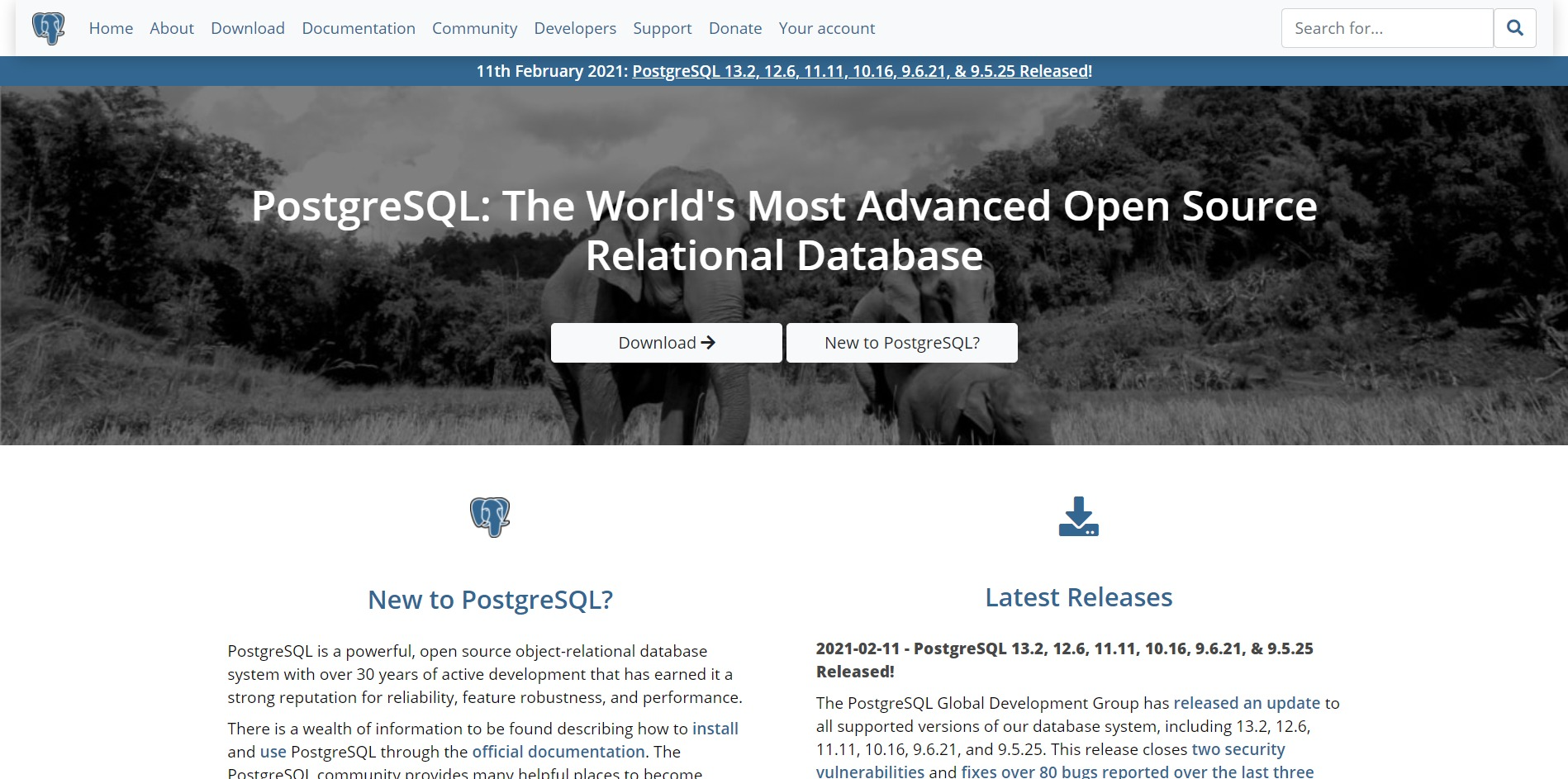 Key Features:
Complex SQL queries
SQL Sub-selects
Multiversion concurrency control (MVCC)
Streaming Replication (as of 9.0)
Hot Standby (as of 9.0)
Pricing:
PostgreSQL is free to use and is available for Linux, MacOS, Windows, Solaris, and BSD.
9. Improvado
Improvado is a database software that helps users centralize all their marketing data. Improvado's data transformation tools allow you to perform simple or complex data transformations for your business.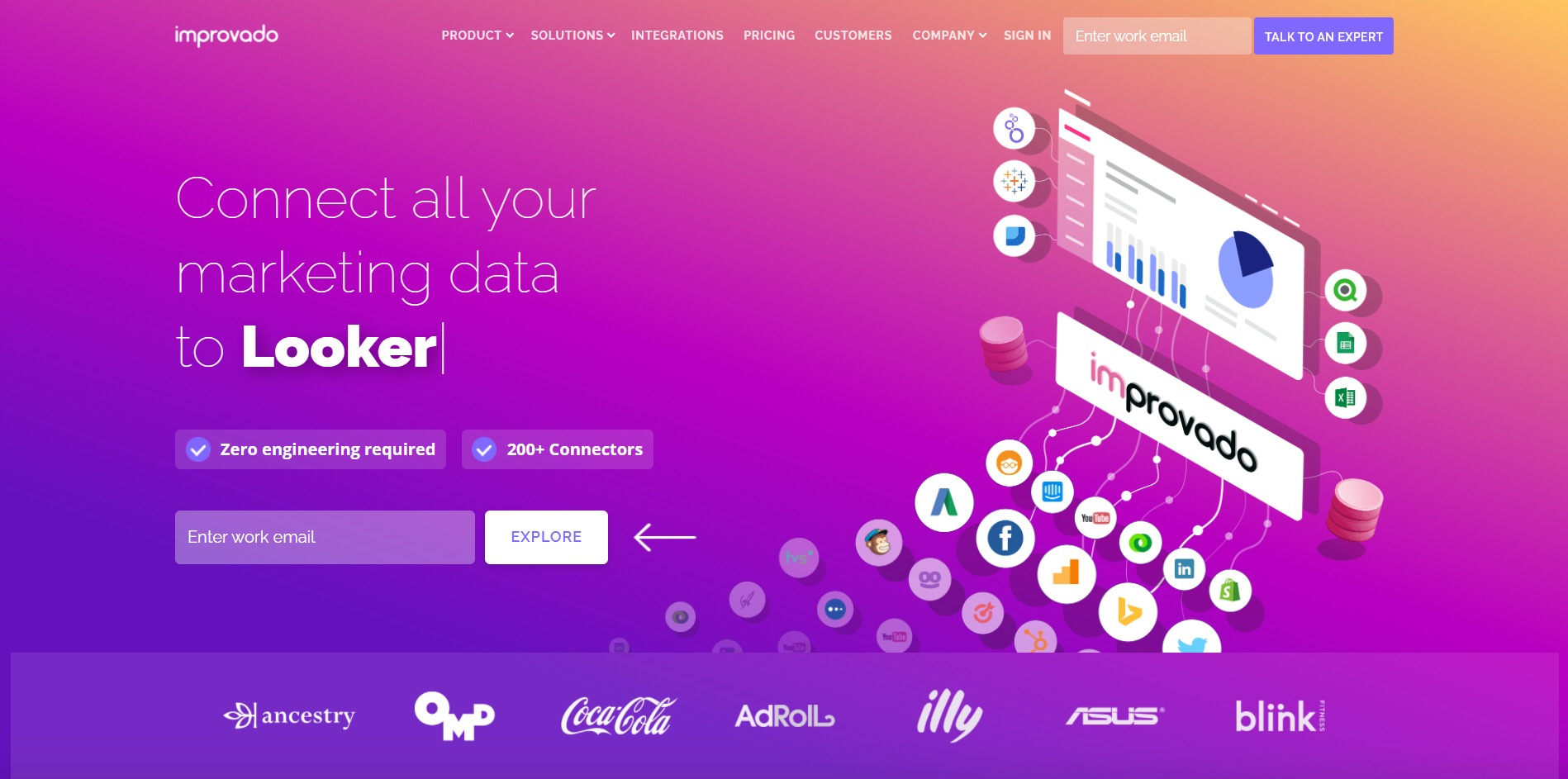 Key Features:
Over 180 integrations
Data extraction into ONE module
SQL access
Rest API
Whitelabel solution
Pricing:
Improvado has not disclosed pricing on its site and does not offer a free trial.
10. Amazon Relational Database Service (RDS)
Amazon Relational Database Service is a rational database software developed by Amazon Web Services. Amazon RDS allows you to set up, operate, and scale a relational database in the cloud.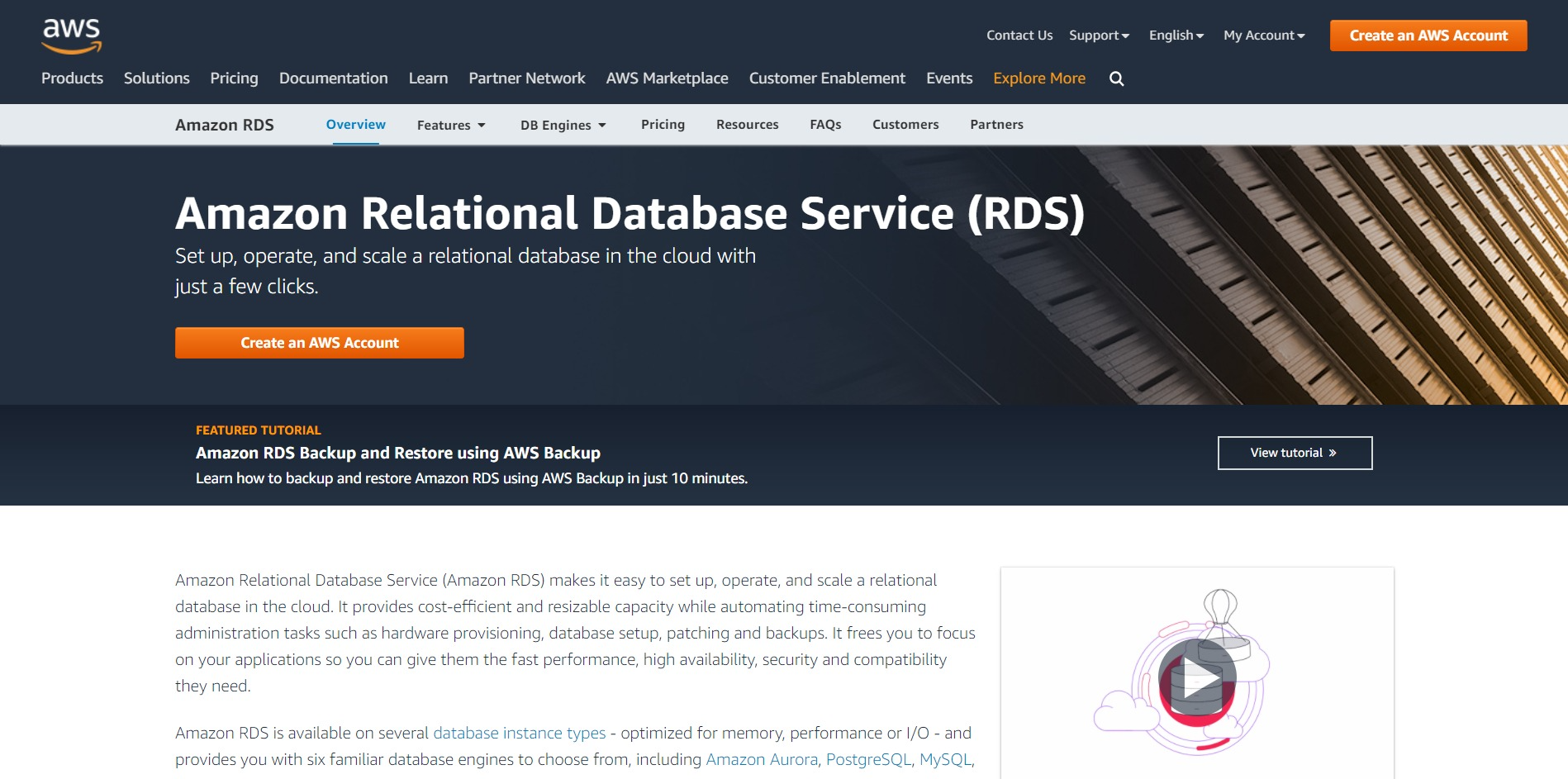 Key Features:
Easy to use
Automatic software patching
General purpose SSD storage
Provisioned IOPS SSD storage
Push-button compute scaling
Easy storage scaling
Read Replicas
Automated backups
Encryption at rest and in transit
Monitoring and metrics
Pricing:
Amazon RDS offers a pay-as-you-go pricing plan. You can pay only for the services you need, for as long as you need them, without any long-term contracts or complex licensing.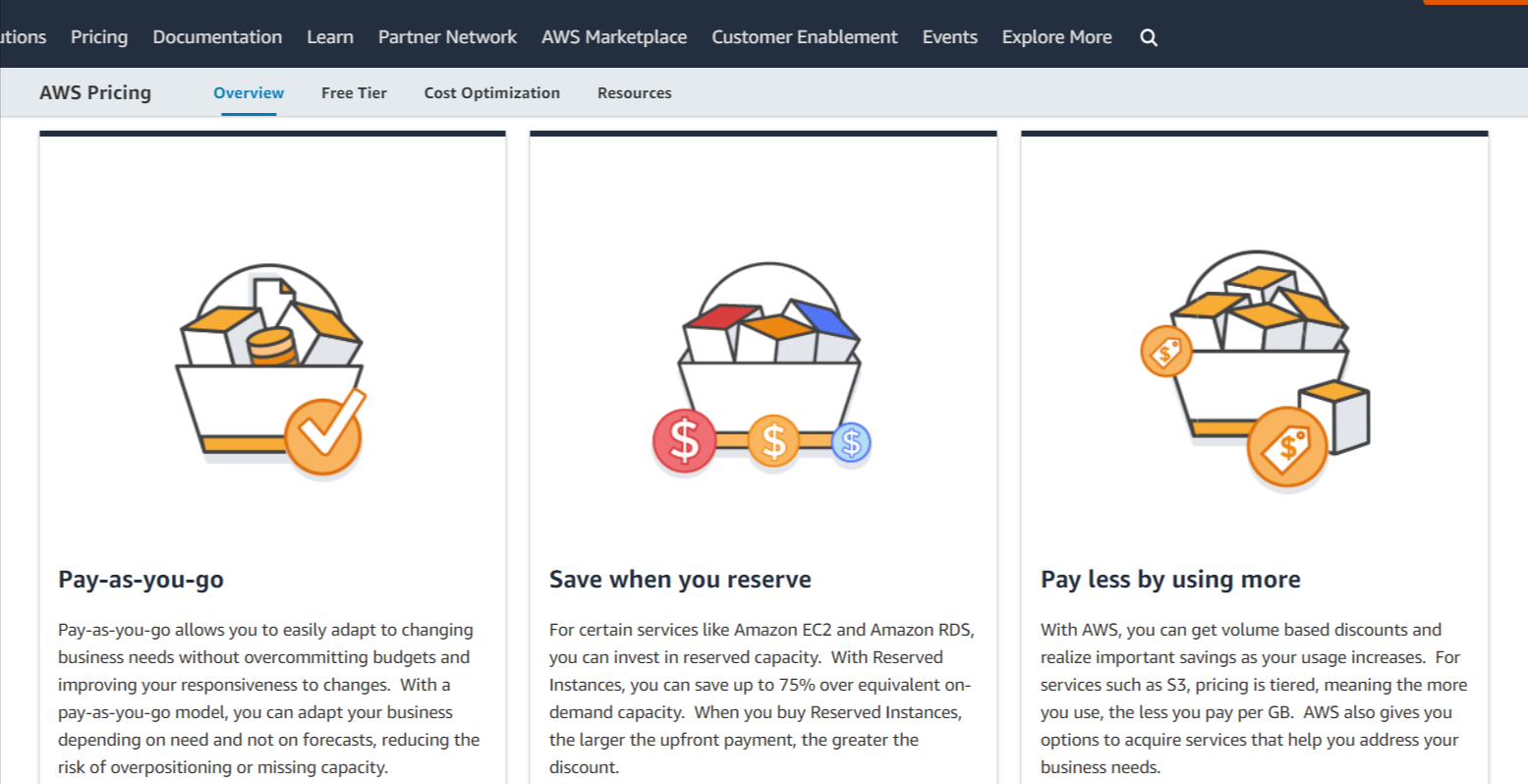 11. Oracle SQL Developer
Oracle SQL Developer is an integrated database software (DBMS) that allows users to work with SQL in Oracle databases. SQL Developer enhances productivity and simplifies database development tasks.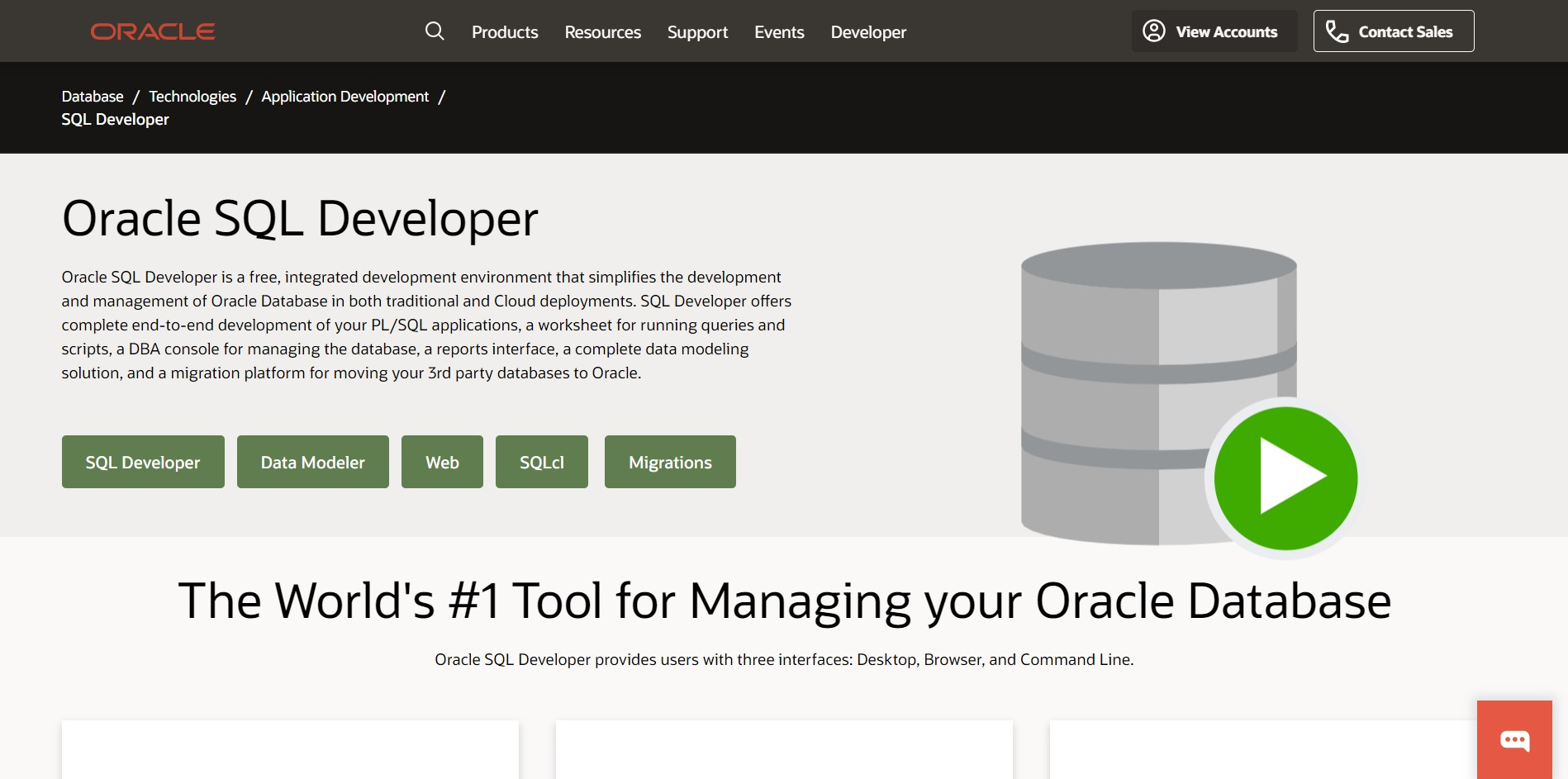 Key Features:
Object Browser
SQL Worksheet
Data Grids
Procedure Editor
Version Control
Reports
DBA Console
Unit Testing
Database Utilities
Data Modeler
APEX Listener Administration
RESTful Services
Database Migrations
Pricing:
Oracle SQL Developer is free.
12. IBM Informix
IBM Informix is a database software that is fast and scalable. IBM Informix manages relational, object-relational, and dimensional databases.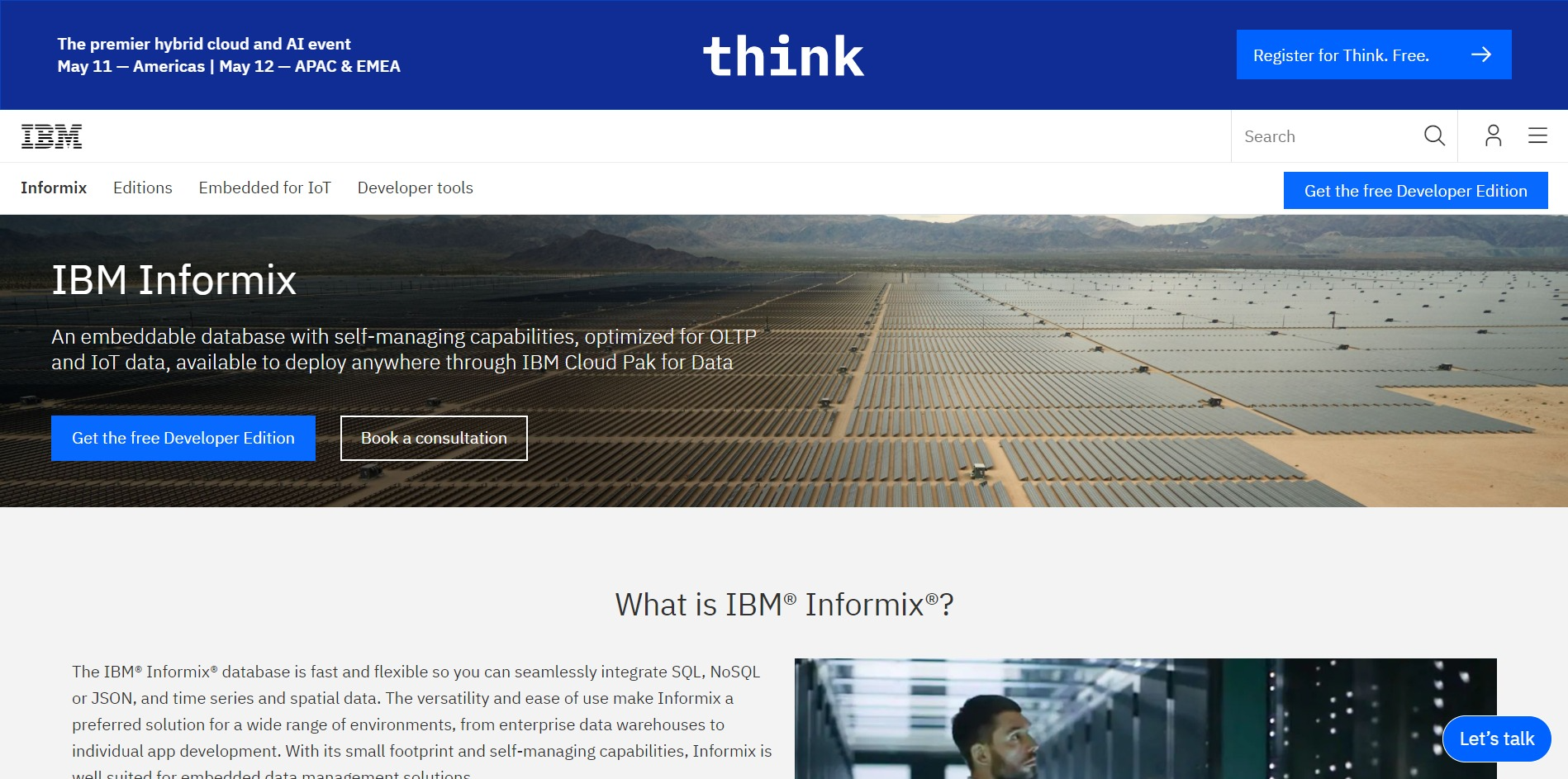 Key Features:
Real-time analytics
Fast, always-on transactions
Fewer data management hassles
Simplicity
Pricing:
You can try IBM Informix for free. You will have to contact IBM to ask about their pricing plans.
13. Altibase
Altibase is an open source relational database software. Altibase has a hybrid architecture that uses a single interface to access both memory-resident and disk-resident tables.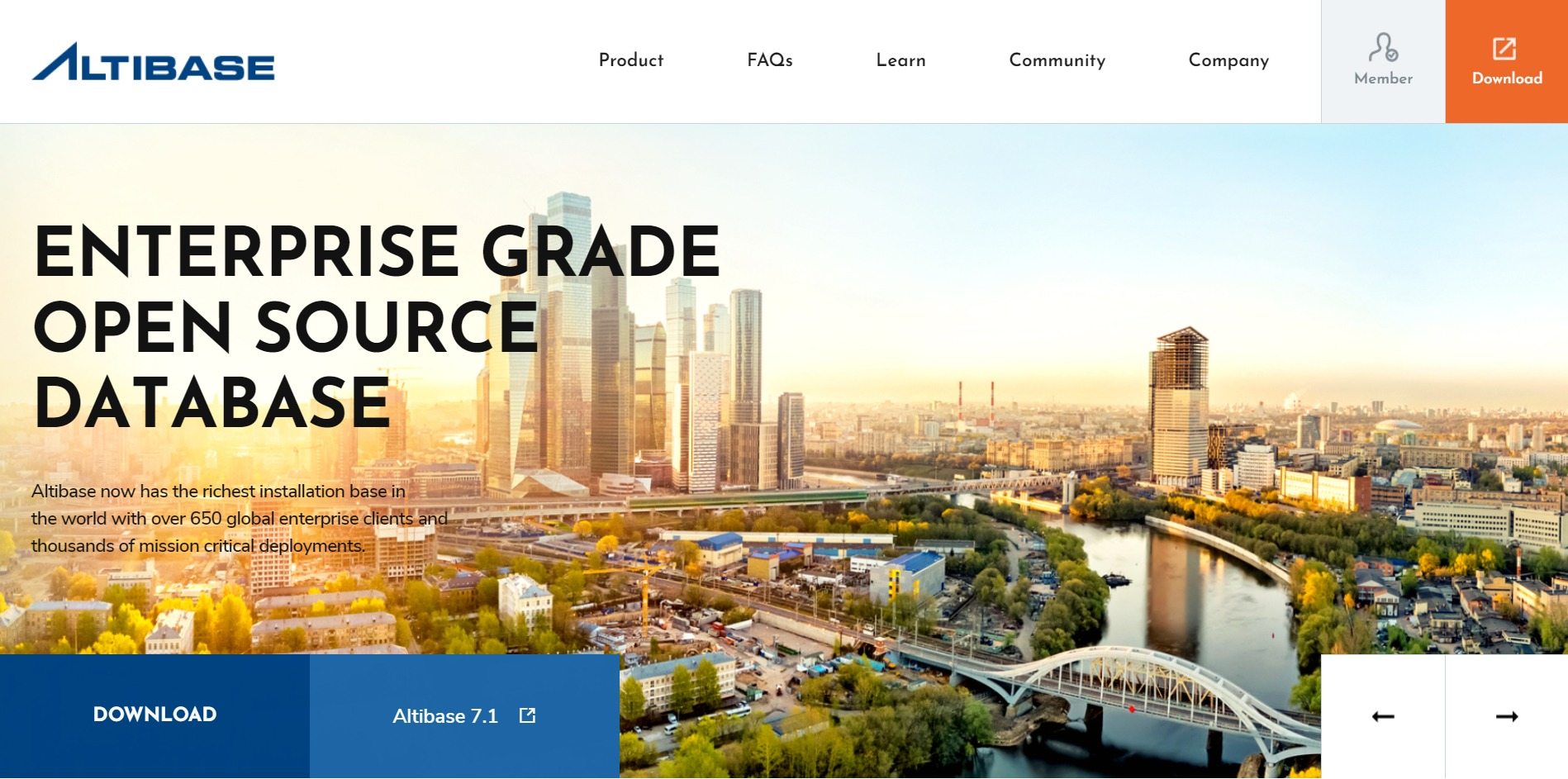 Key Features:
In-memory database
Sharding
Deployment flexibility
High availability
Pricing:
Altibase has a free trial as well as a free version, Altibase has paid plans starting from $0.01 per feature per year.
14. EMS SQL Manager
EMS SQL Manager has powerful SQL management tools for database administration and development. EMS SQL Manager specializes in producing database administration tools and utility applications for data management.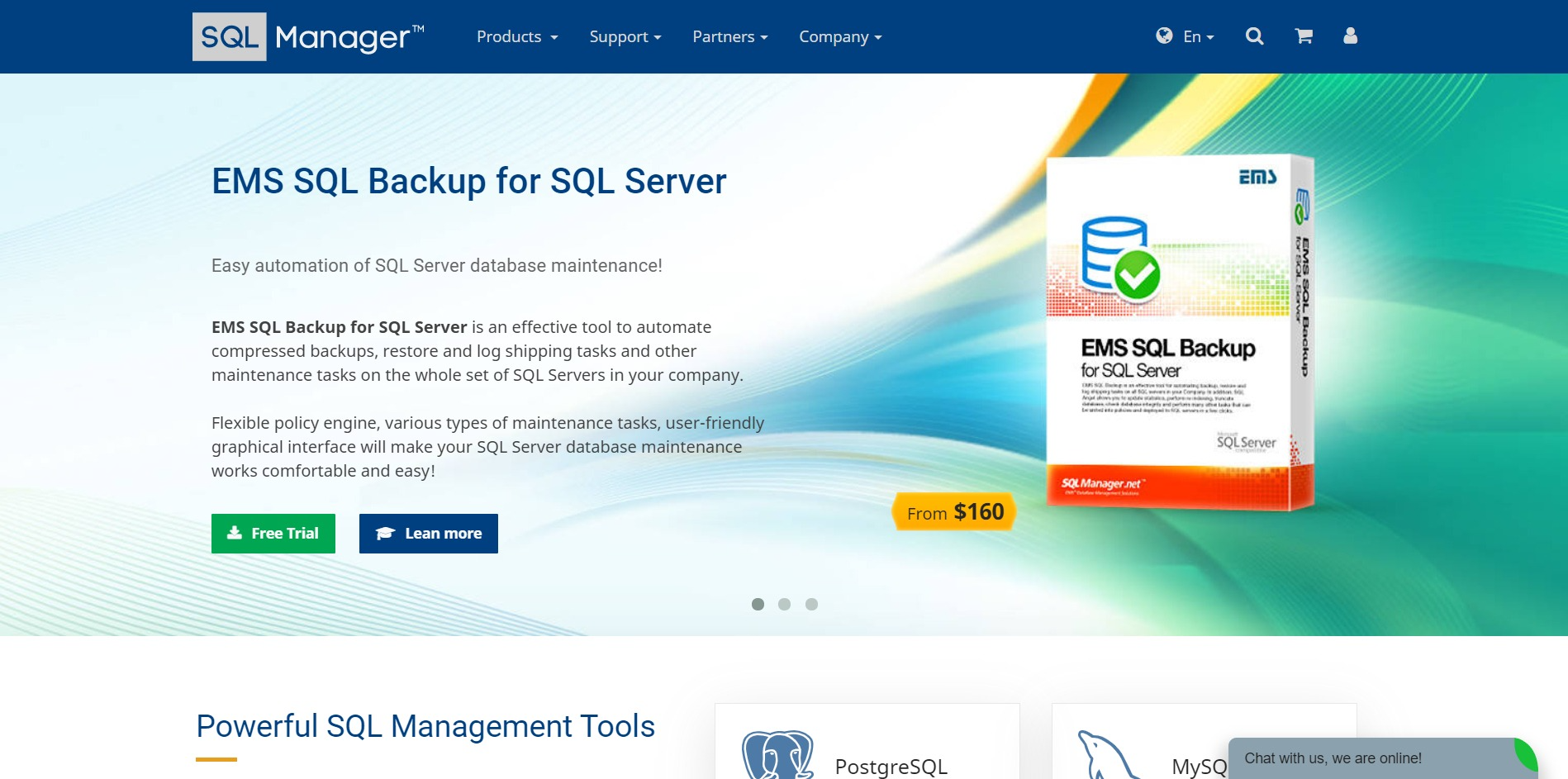 Key Features:
User-friendly database explorer
Managing database schemas
Rapid database management and navigation
Advanced data manipulation tools
Effective security management
Excellent visual and text tools for query building
Pricing:
EMS SQL Manager has various pricing plans according to your needs.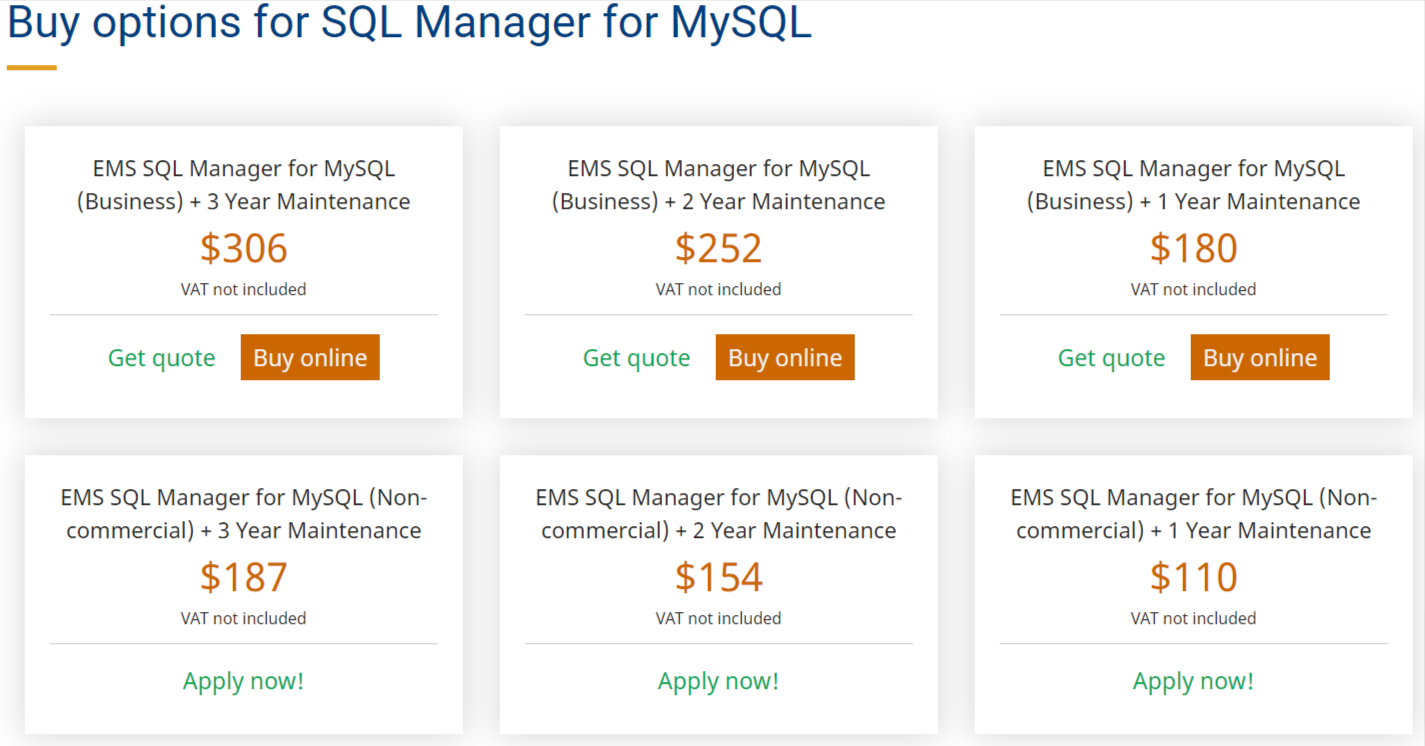 15. Teradata
Teradata is a multi-cloud data platform for enterprise analytics. Teradata is an RDBMS suitable for building large-scale data warehousing applications.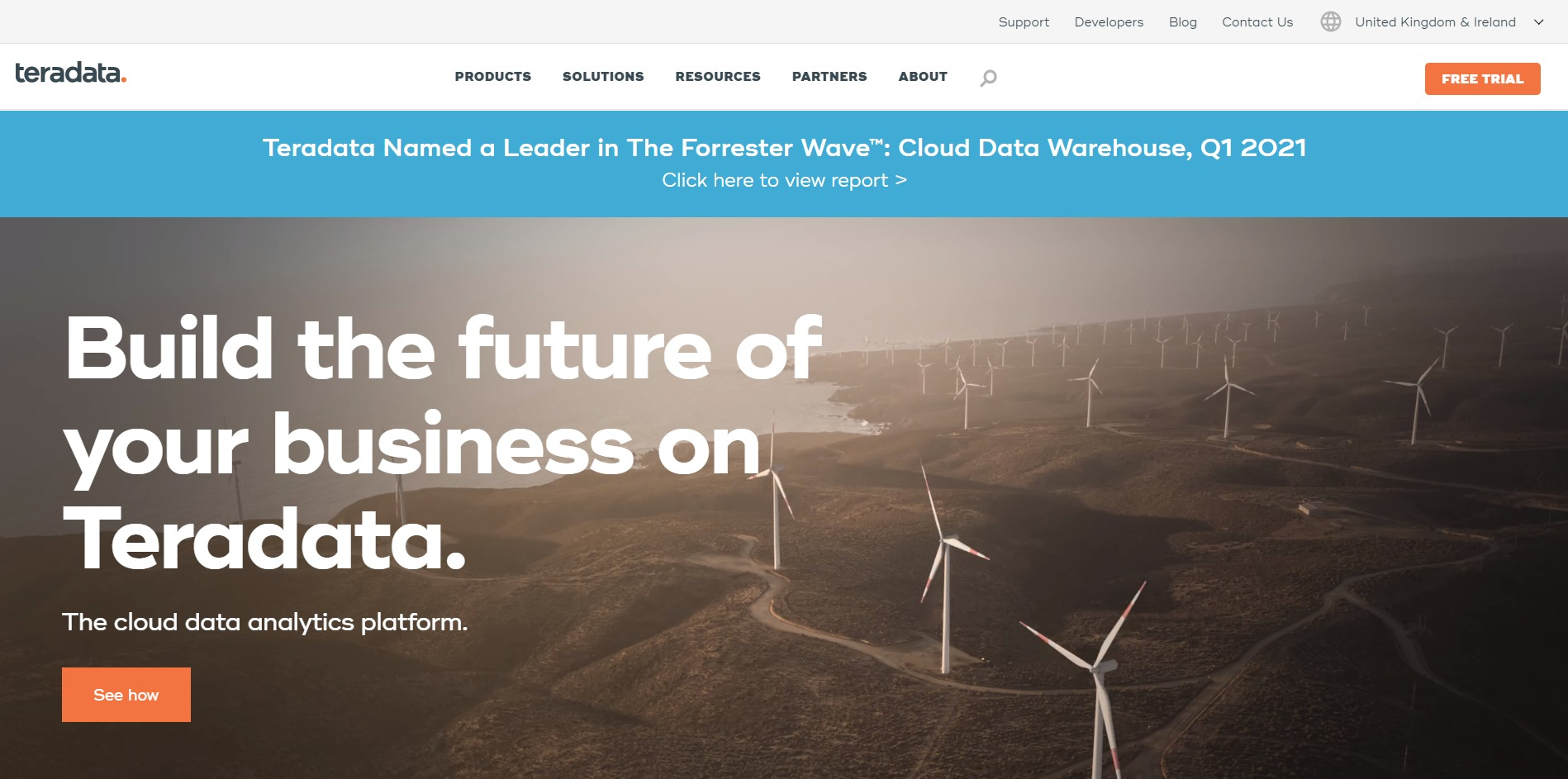 Key Features:
Unlimited Parallelism
Shared Nothing Architecture
Linear Scalability
Connectivity
Mature Optimizer
Robust Utilities
Automatic Distribution
Pricing:
Teradata offers personalized pricing estimates on its website.
What Are The 4 Main Types Of Database Software?
1. Hierarchical Database Management System
A hierarchical database system arranges data in form of a hierarchy. The structure of data is in the form of a tree, with multiple parent and child links. Each child will have one parent, but each parent can have multiple children.
2. Network Database Management Systems
The network database model is a step above the hierarchical database model since it compensates for the lack of flexibility in a hierarchy.
In this model, each child can have multiple parents, thus accommodating more complex relationships between data.
Here is an example of network data:
3. Relational Database Management System (RDBMS)
The relational database management model is quite a popular one. A relational database system stores data in rows and columns and each value within the table are related to each other.
A relational database system makes it easy to access data by running queries across multiple tables at once.
4. Object-Oriented Database Management Software
Object-oriented database systems are based on object-oriented programming. Here, each data point is stored as an object in the memory.
Object-oriented databases use languages such as C++, Java, Python, Ruby, Javascript, and Perl. These databases are used for their high performance and quick results.
What Are The Benefits Of Database Software For Business?
1. Quicker Decision Making
With data integration and accessibility, it has never been easier to make data-driven business decisions.
2. Multiple Views of Data
Users can analyze data from different points of view depending on what their needs are.
3. Multi-User Access Control And Data Sharing
Data can be shared across users and across platforms, making it easy for teams to collaborate no matter where they are.
4. Data Warehousing And Organization
Large amounts of crucial data can be stored securely and accessed in an organized way.
5. Automation of Data
Analytics and reporting become much easier for businesses to improve their workflows.
6. Increased Scalability of Data
Database software enables scalability when your business grows.
7. Better Usability
Data can be better understood and used for various applications.
Best Database Software FAQs:
What are database applications in business?
Here are the main database applications:
1. Reducing data redundancy for more efficient storage of data
2. Data integration for a convenient and unified view of data
3. Access to consistent and real-time data
4. Data security/ data protection from fraudulent practices
5. Data backup and recovery in case of disaster
6. Analytics and presentation of data for businesses
Which database is best for beginners?
MySQL is easy for beginners if you are just beginning to understand the basics of database software.
Which is the best FREE database software?
Most of the databases on this list have a free version, so you can pick the best one according to your needs.
Conclusion
Choosing the best database software for your business need not be a daunting task.
If you know exactly what features you want your database software to have, that's half the problem solved!
No matter which database software you choose, it is going to help improve your business greatly and streamline your workflows.
Which popular DBMS software do you use for business?
Let us know in the comments below!