Maximizing Content: How Headlime Boosts Your Content Optimization
Discover how Headlime boosts content optimization and SEO performance.
In today's digital age, content is king, and content optimization is critical to ensuring that search engines and your target audience easily find your content.
Optimizing your content for search engines helps drive organic search traffic, increase search engine visibility further, and improve SEO performance.
One of the biggest challenges in content creation is generating high-quality content that is both engaging and optimized for search engines.
That's where Headlime comes in.
Headlime is an AI-powered platform that offers thousands of customizable copy templates, making it easy for businesses and individuals to generate compelling marketing copy optimized for search engines and their target audiences.
This blog post will explore how Headlime can help maximize your content by boosting your SEO performance.
If you buy something using the links in this article, I may receive a commission at no extra cost to you.
Please know that I only promote stuff that I use and trust for the sake of my readers and the reputation of this site.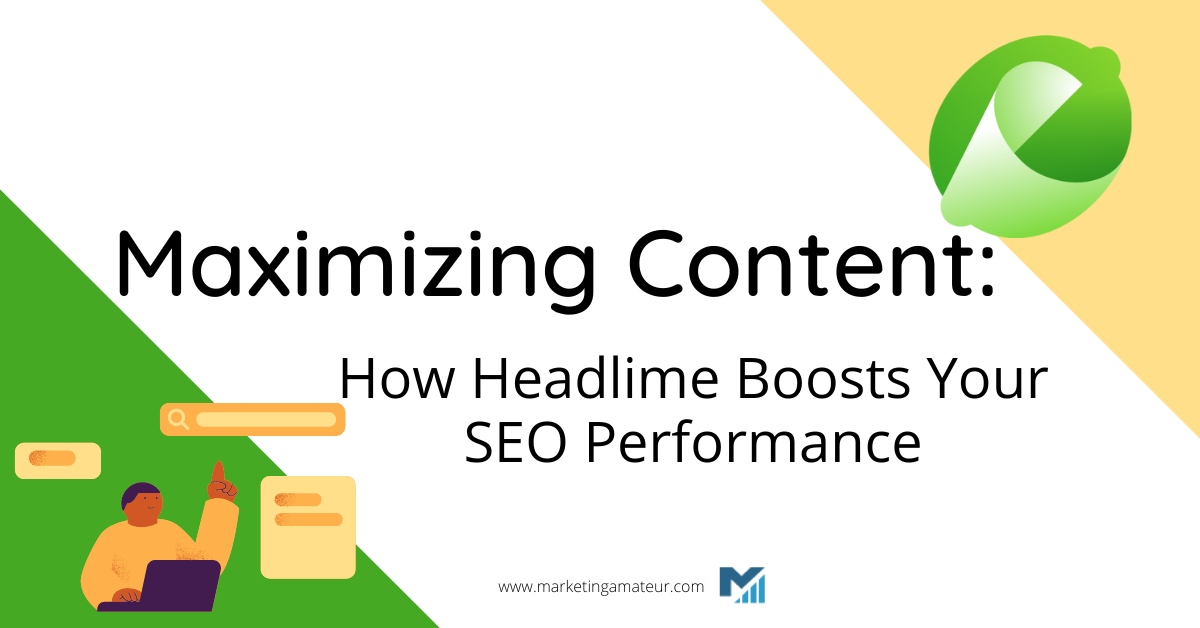 What is Headlime?
Headlime is an innovative AI-powered platform that helps users generate high-quality copy quickly and easily.
The platform utilizes GPT-3, the latest natural language processing technology from OpenAI, to provide users with thousands of professional copy templates in eleven languages.
With Headlime, users can create compelling marketing copy for various channels, including social media, landing pages, blog posts, and more.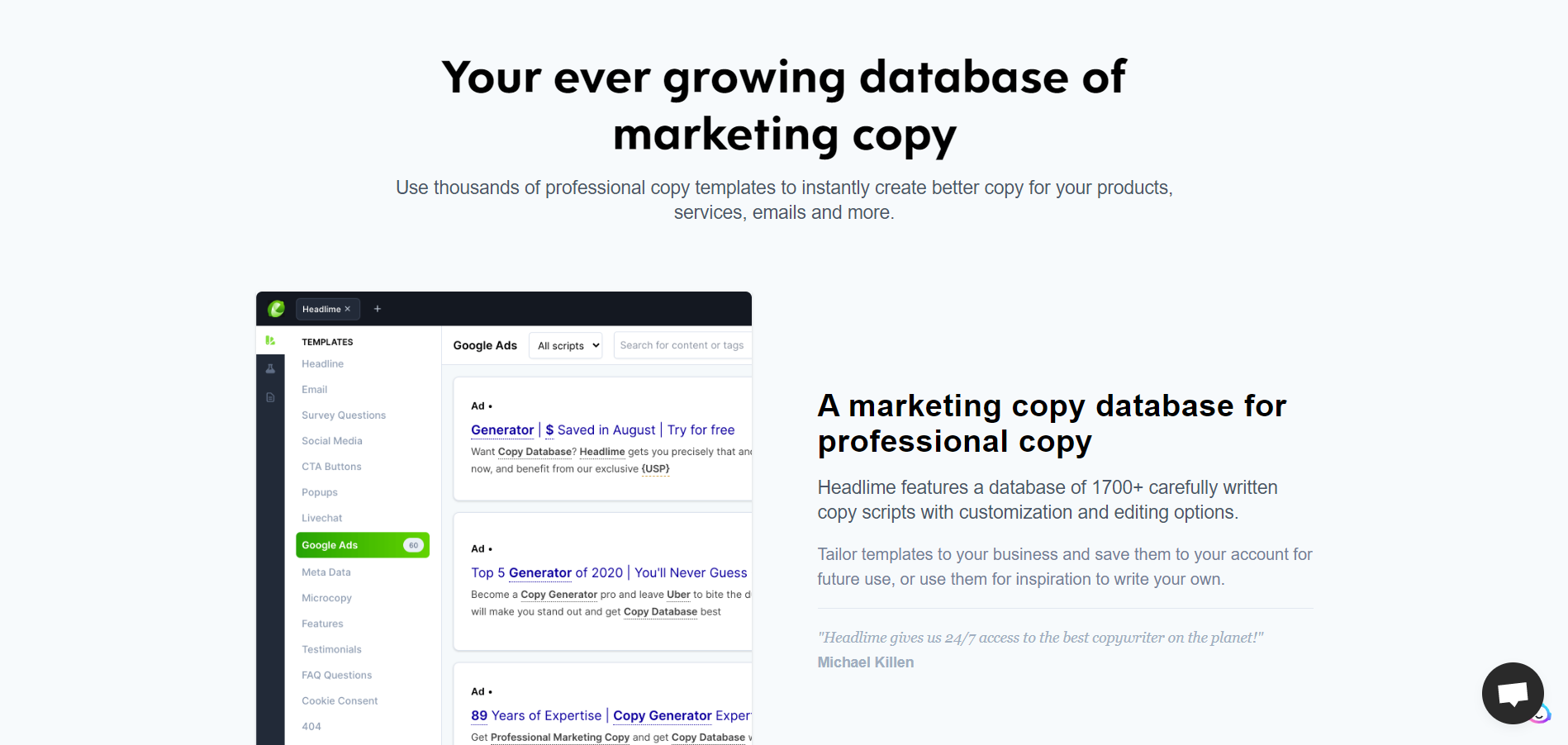 Unlike other AI content generation tools that rely on pre-written text, Headlime creates content from scratch, ensuring each piece of content is unique and tailored to the user's needs.
Additionally, Headlime allows users to collaborate with team members, making it an ideal tool for managing marketing copy in one place.
Another key feature that sets Headlime apart from other AI content-generation tools is its focus on customization.
With thousands of professional copy templates, users can easily find and customize the perfect copy.
Whether they need a Facebook ad, a landing page, or a blog post, Headlime has a template that can be customized to fit their specific requirements.
In summary, Headlime is a powerful AI content generation tool that offers a unique combination of features, including 100% original content generation and customization options, that sets it apart from other tools on the market.
How Headlime Boosts Content Optimization
Headlime is an excellent tool for anyone looking to improve their content quality.
The platform's AI-powered technology helps writers create engaging, compelling content quickly and easily.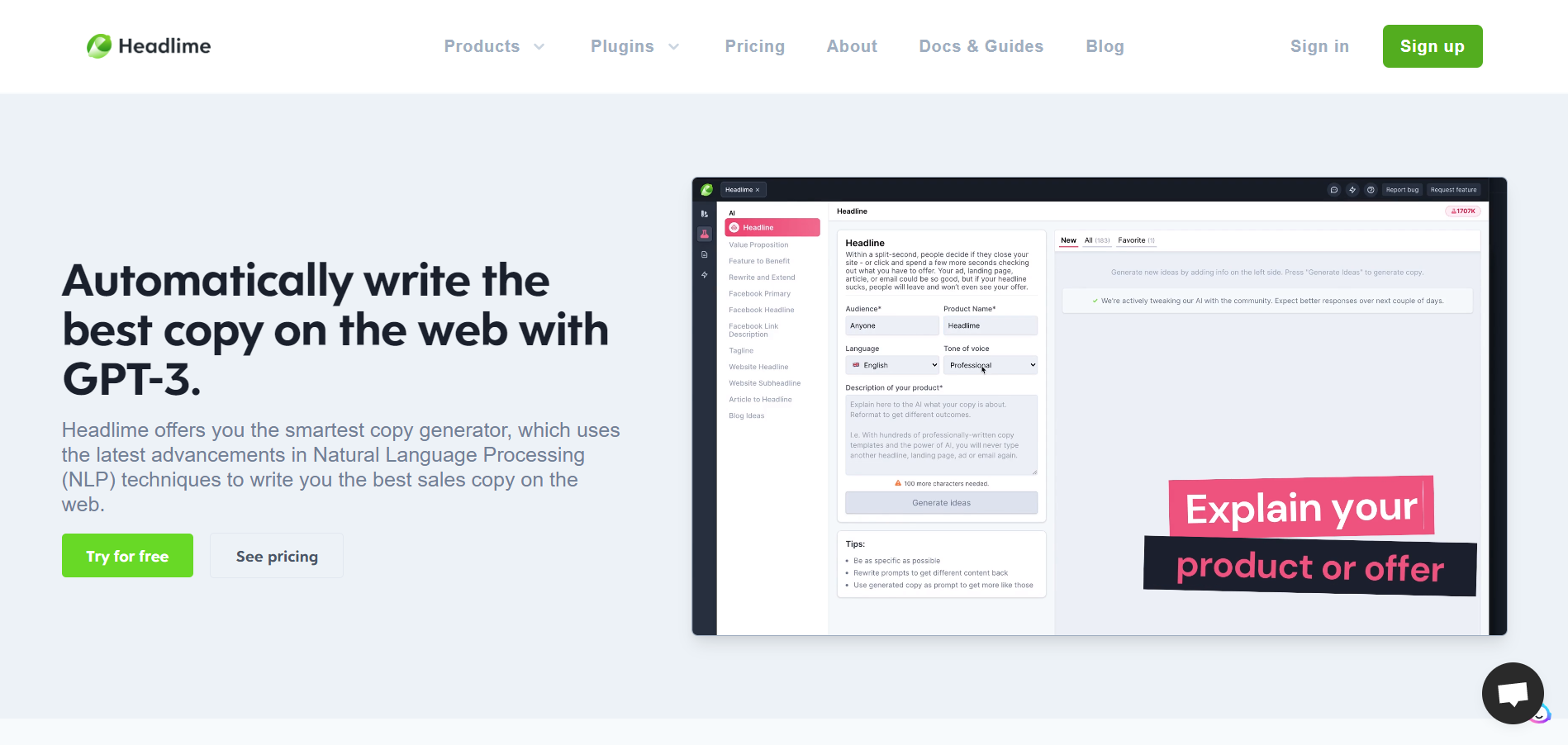 Here are some ways in which Headlime can help improve your content quality:
1 Customizable Templates:
Headlime offers thousands of templates that users can modify to fit their needs.
The platform covers a wide range of marketing copy types, including Facebook ads, landing pages, and headlines, making it easy for users to generate content that fits their unique goals.
2 Optimized for Readability:
Headlime is designed to help writers create easy-to-read content.
The platform uses algorithms that evaluate the content's readability and provides suggestions for improving it.
This feature ensures your content is engaging and accessible to your target audience.
3 Tone and Style:
Headlime helps writers create content consistent with their brand's tone and style.
The platform allows users to specify their brand's voice and style, and the AI-powered technology generates copy that aligns with those specifications.
In summary, Headlime's customizable templates, readability optimization, tone and style features, and proven track record of success make it an excellent tool for boosting content quality.
How Headlime Boosts SEO Performance
Creating high-quality content optimized for search engines is crucial for any business that wants to rank higher in search engine results pages (SERPs).
Headlime can help businesses achieve this goal by improving their keyword, on-page, and off-page optimization.
In addition, you can use free SEO tools like Google Analytics and Google Search Console to measure organic traffic.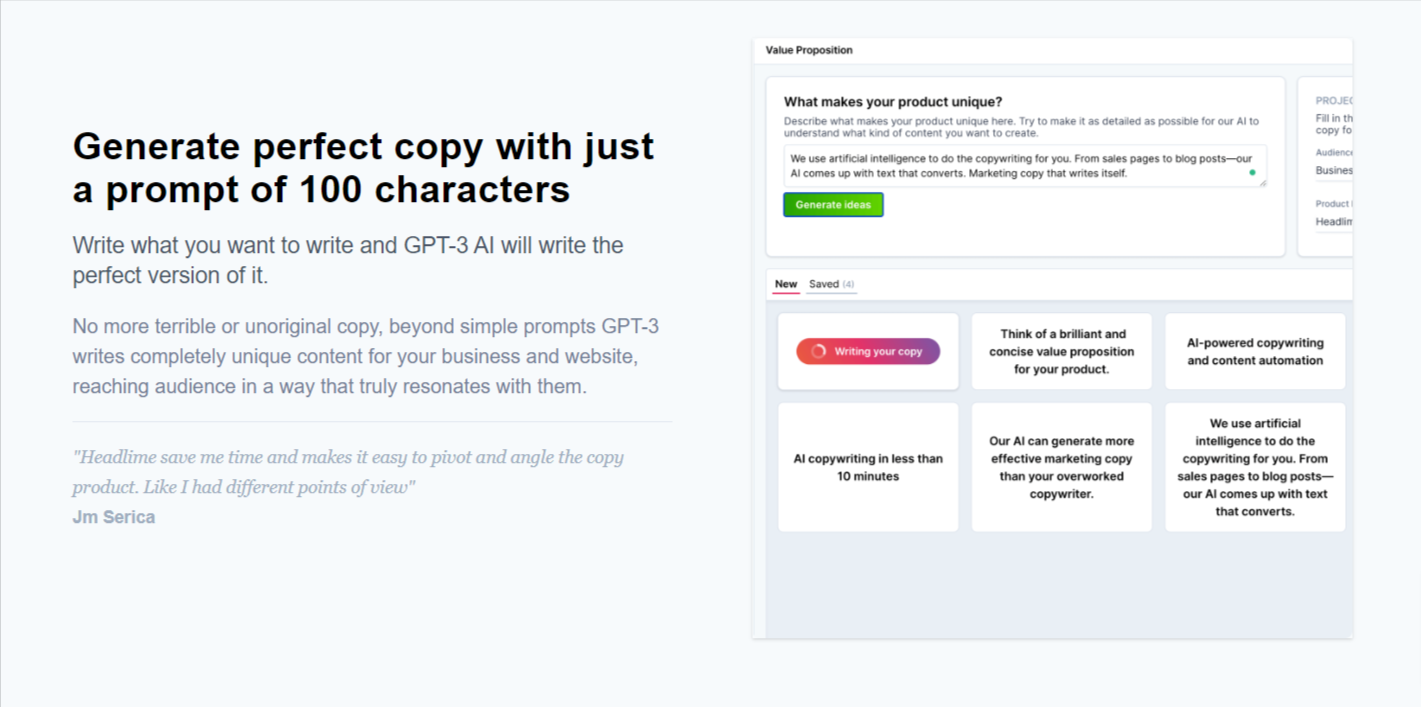 Here are some ways how Headlime can boost your SEO performance and technical site health:
1 Improving Keyword Optimization:
One of the key features of Headlime is its ability to suggest keywords and phrases that can be incorporated into the content to improve its relevance and visibility to search engines.
Headlime uses GPT-3 to analyze the context and intent of the content and suggest relevant keywords that can be seamlessly integrated into the copy.
This helps businesses achieve a higher keyword density without sacrificing readability or quality.
2 On-page Optimization:
Headlime helps with on-page optimization by automatically generating meta titles and descriptions optimized for search engines.
The platform also allows users to customize headings, alt tags, title tags, meta description text, and other on-page elements to ensure they are optimized for technical SEO.
By doing this, Headlime ensures that the content generated is high-quality, structured, and formatted in a search engine-friendly way.
This helps you measure SEO performance and improve your SEO strategy.
3 Off-page Optimization:
In addition to on-page optimization, Headlime can also help with off-page optimization by suggesting relevant links and anchor text that can be used to build backlinks to the website.
Headlime can help businesses identify websites relevant to their niche and suggest link-building opportunities that can help boost their site and domain authority.
Headlime can help businesses maximize their content by improving its quality and optimizing it for search engines.
By using Headlime, businesses can save time and effort while generating high-quality content that is engaging and optimized for SEO.
How to Use Headlime for Your Content
If you're new to Headlime, don't worry. It's easy to use and can quickly help you generate high-quality content for your website, social media, or other marketing channels.
Here's a guide on how to use Headlime for content generation:
Step 1: Sign up for a Headlime account
Headlime offers a free trial, so sign up for an account and generate your first piece of content.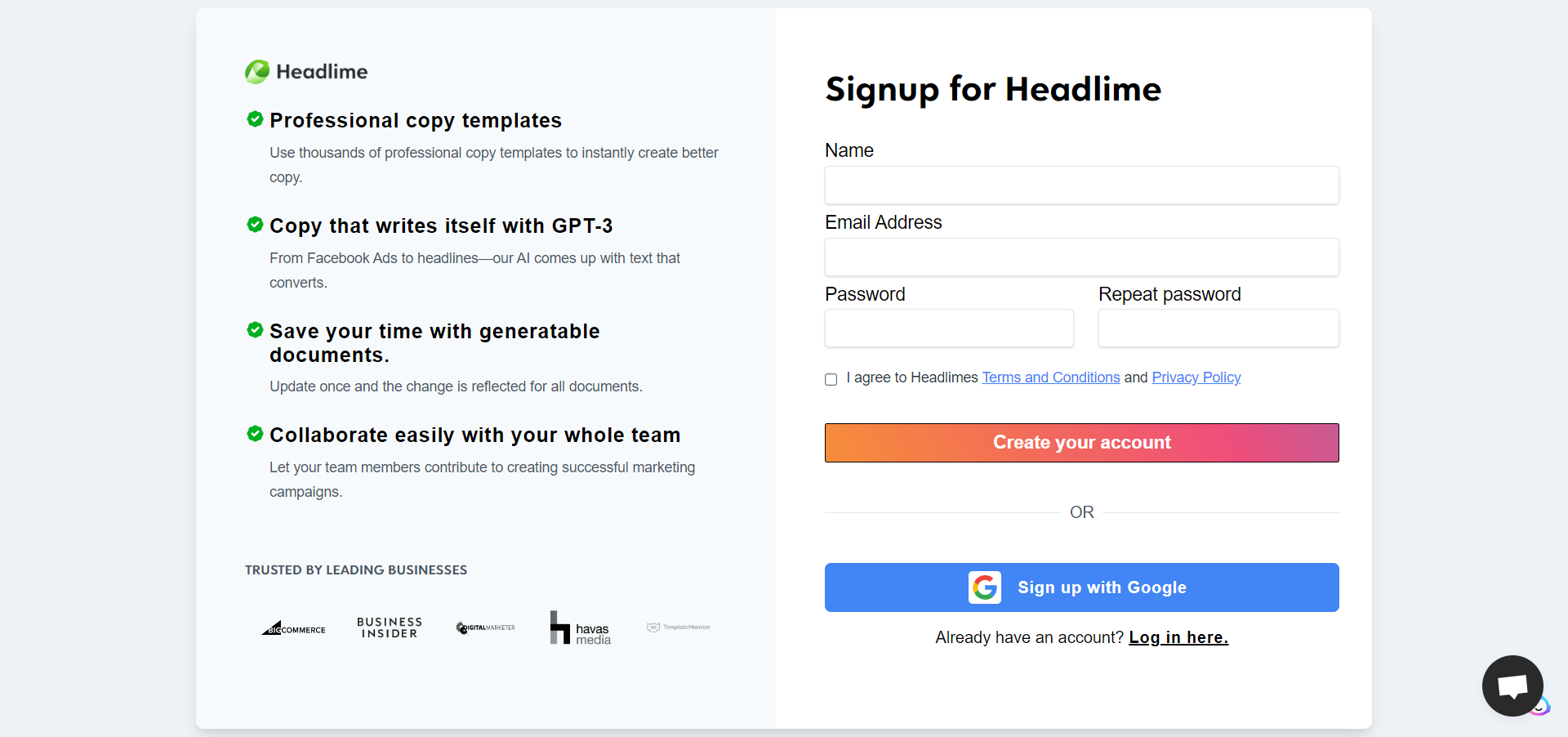 Step 2: Choose your content type
Once logged in, select the type of content you want to generate, such as a Facebook ad, landing page, or headline.
Step 3: Customize your content
Headlime offers thousands of professional copy templates that you can customize to fit your specific needs.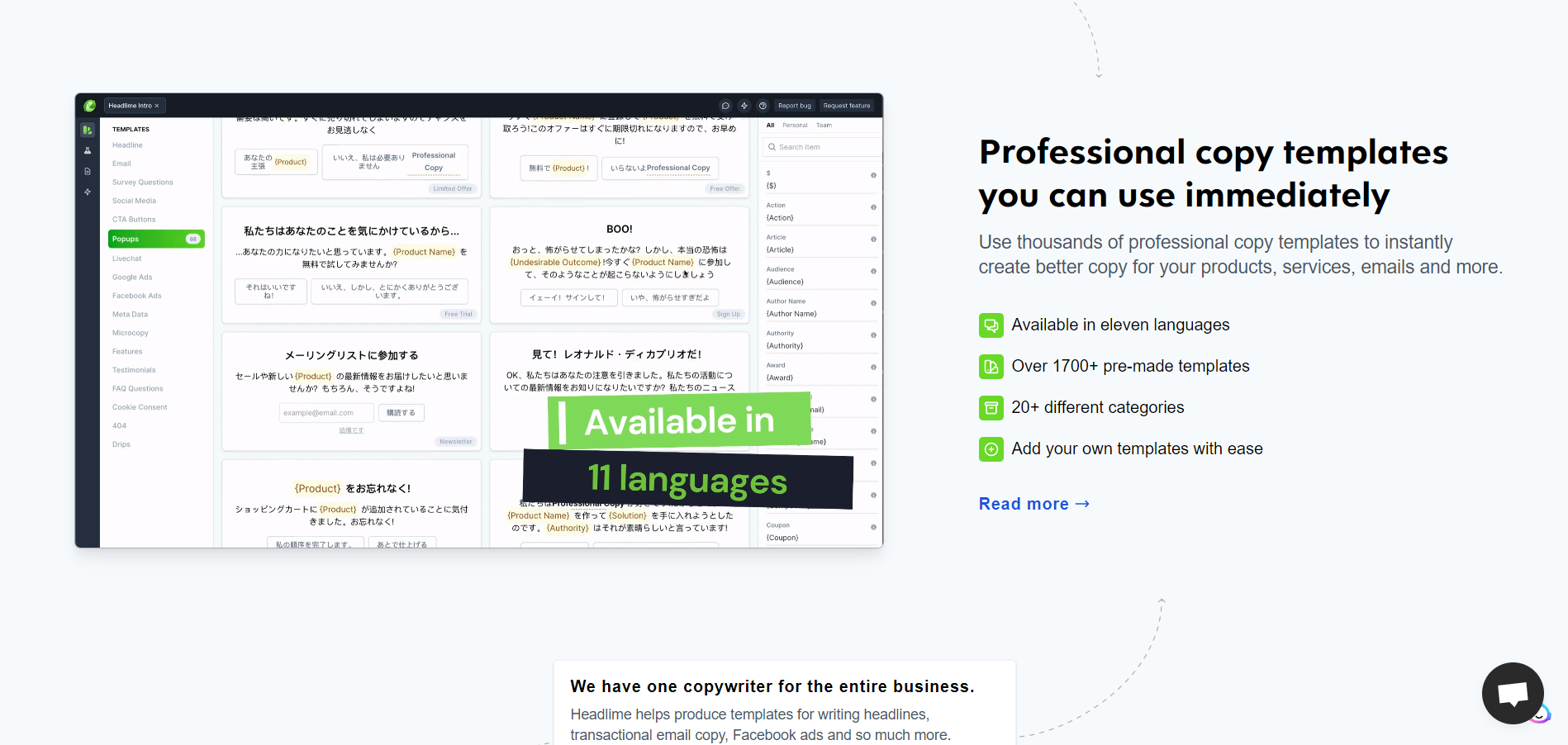 Add your brand's voice and unique selling points to make the content yours.
Step 4: Optimize for SEO
Use Headlime's built-in SEO features to optimize your content for keyword rankings.
Add relevant keywords, meta descriptions, title tag names, and headings to boost your content's visibility in search results.
Step 5: Collaborate with team members
Headlime allows you to collaborate easily, making it a valuable tool for managing marketing copy in one place.
Share your generated content with your team for review and feedback.

Here are some tips and best practices for getting the most out of Headlime:
1 Start with a clear objective:
Before generating content, identify your goals and what you want to achieve with your content.
2 Use Headlime's templates as a starting point:
Headlime offers thousands of templates that you can use as a starting point.
Then, customize them to fit your needs and add your brand's voice to make the content unique.
3 Experiment with different content types:
Headlime offers a variety of content types, from Facebook ads to landing pages.
Experiment with different types of content to see what works best for your brand.
4 Optimize for readability and tone:
Use Headlime's features to optimize your content for readability and tone. Ensure your content is easy to read and matches your brand's voice.
5 Collaborate with your team:
Use Headlime's collaboration features to get feedback and input from your team.
This can help you improve the quality of your content and ensure it aligns with your brand's messaging and Google Analytics metrics.
By following these steps and best practices, you can maximize the benefits of using Headlime for your content generation needs.
Conclusion
Headlime is an AI-powered platform that can help businesses and individuals create high-quality copy quickly and easily.
It offers thousands of professional copy templates that users can customize to fit their needs in eleven languages.
With its ability to cure writer's block, save time, and produce 100% original content, Headlime is an invaluable tool for busy marketers, marketing agencies, copywriters, and business owners.
Moreover, Headlime can boost search engine rankings by improving keyword research and on-page and off-page optimization.
Using Headlime for content generation can lead to better SEO performance, critical for driving organic traffic back to a website and increasing online visibility.
If you have yet to try Headlime, we encourage you to sign up for their free trial and experience its benefits and search engine visibility measures yourself.
With no credit card required, it's a risk-free way to try this powerful tool for content generation and SEO optimization.