Fliki Review: Can You Create Stunning Videos With AI Voices?
📢🎥 Read my Fliki review to turn your text into captivating videos with Fliki! It summarizes your content, finds perfect visuals, and adds a lifelike human-like voiceover. Say goodbye to robotic voices and create amazing videos like a pro! 🚀🎬
92% of video marketers say they've gotten a good ROI from video marketing
Fliki is a cutting-edge platform that simplifies converting text into captivating videos with realistic AI voices.
With Fliki, you can effortlessly turn your scripts or blog posts into engaging videos in just minutes. Sounds amazing, right? 😲
If you buy something using the links in this article, I may receive a commission at no extra cost to you.
Please know that I only promote stuff that I use and trust for the sake of my readers and the reputation of this site.
Key Features of Fliki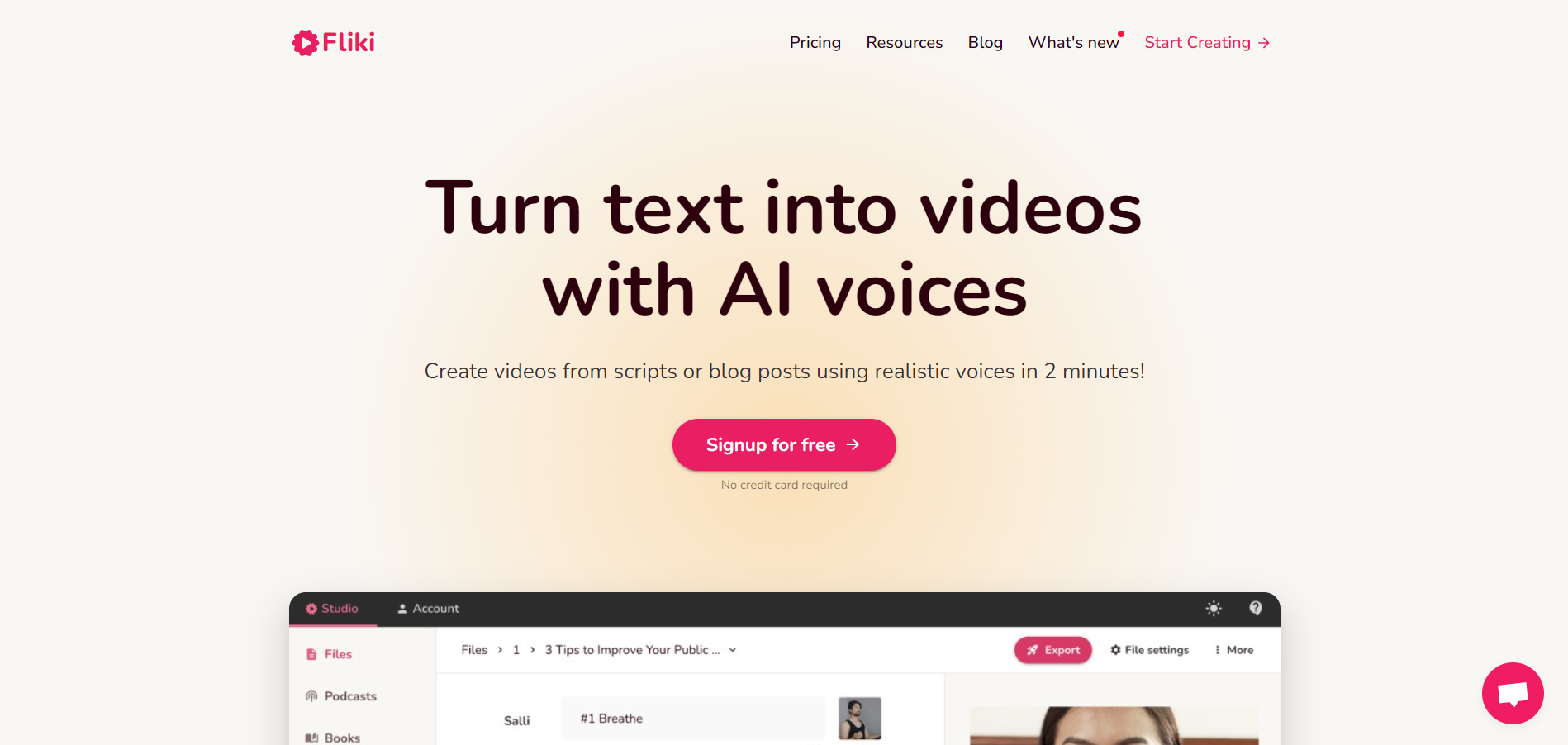 Let's explore the fantastic features Fliki has to offer:
Create Videos with AI: Transform your scripts or blog articles into videos in less than a minute with natural-sounding voiceovers and branded subtitles. No more struggling with text-to-video conversions!
Choose a template to use or start from scratch: Select a style that suits your content from an extensive array of templates, or create your video from the ground up.
Write or paste your script or use Fliki's AI to generate one: Overcome writer's block with Fliki's AI, which can help you develop a script if you're stuck.
Select an AI voice from over 900 options in 75 languages: Find the perfect voice for your video, no matter the language!
Customize the video with images, music, transitions, captions, etc.: Add your personal touch to your training videos and other content with various customization options.
Preview and download your video or share it online: Ready to go live? Preview your video and publish it on your desired platform.
FLiki AI comes with so many loaded features. Let's now look at Fliki's key features closer:
1 Fliki: A Multilingual Powerhouse
Fliki opens up a world of language options for your voiceover needs:
75+ Languages: Fliki offers voiceovers in over 75 languages, ensuring you can create audio in the language you want and reach a global audience.
750+ High-Quality AI Voices: Choose from over 900 voices, ensuring a voice suitable for everyone.
2 Enhance Your Videos with Fliki's Rich Stock Media Library
Fliki's extensive media library offers millions of images, video clips, and background music options to enhance your audio or video content and make them stand out. 🌟
3 Customize Subtitles with Your Brand's Identity
Make your subtitles reflect your brand's identity by selecting colors and font options in the video converter that match your style.
Fliki Trusted by Top Companies
Fliki has earned the trust of some of the world's top companies, including:
Google
Meta
Bytedance
Upwork
Zoho
Unilever
Practo
L3Harris
AT&T
OpenWeb
Games2win
Montel
Salesforce
Verizon
Redoute.fr
Sony
These companies have used Fliki as a great text-to-speech solution to create audio and video content. They have experienced the power of Fliki, and you can too!
Customer Reviews: Hear from Real Users
Here's what some satisfied Fliki text-to-speech solution users have to say:
Nicolai Grut, Digital Product Manager: "[…] the audio is 'rendered' incredibly quickly."
Lisa Batitto, Public Relations Professional: "[…] having a great experience with Fliki."
Rhonda W, YouTuber: "[…] very useful and easy to use so far."
Michael, Digital Creator: "[…] hands down the best one out there."
Mauricio, Business Owner: "[…] this has been very useful and easy to use."
Muhammad Pasha, Web Manager: "[…] the best text-to-speech solution I've used so far."
Try Fliki for Free
Stop wasting time and money on video creation and voiceover. Experience the power of Fliki for yourself with a free forever plan—no credit card required.
Now you can create audio and video content with the free version of Fliki and test it out.
Join the ranks of satisfied content creators and unlock a new level of creativity and productivity in your video content creation journey. 💪
Who is Fliki AI for?
Fliki AI is perfect for content creators, marketers, and niche website owners looking to create audio and video content with realistic AI voiceovers.
Turning Your Blog into a Video with Fliki: A Step-by-Step Guide
Hey there, fellow content creators, affiliate marketers, and social media influencers!
Today, I will share how to transform your blog articles into engaging videos with voiceover using Fliki video converter, a fantastic tool I've been using for quite some time now.
Trust me; this will boost your earnings by making your content more appealing to your audience in less than a minute. So let's dive right in!
Create a Video File
To start, click the "+ New file" button in Fliki.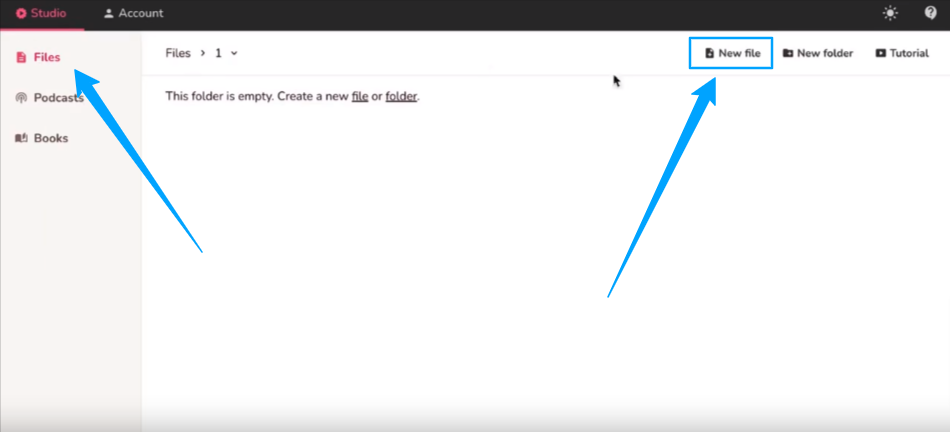 Next, enter a file name, select the "Video" type, and hit the "Create" button. Easy peasy!

Convert Blog to Video
Once you've created the video file, click on the "Convert" button within the file and select the "Blog to Video" option. This is where the real magic happens!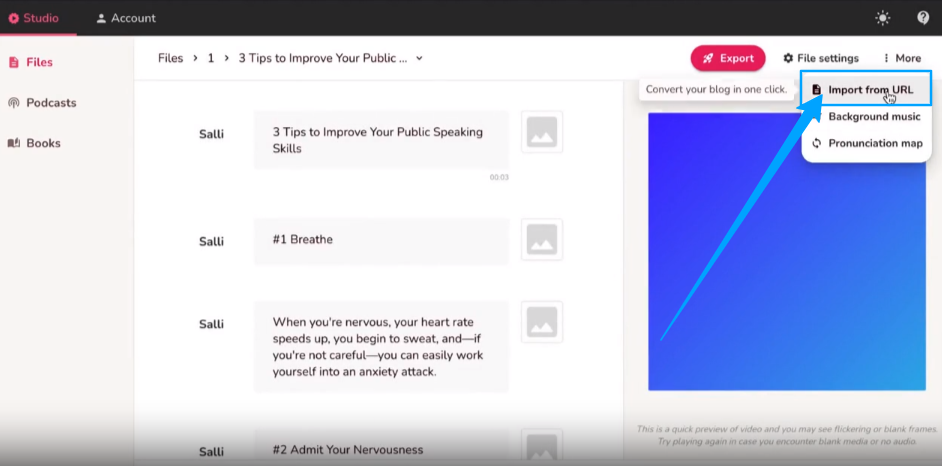 Paste Link/URL to Convert
Now, paste the link or URL of your blog article into the designated field.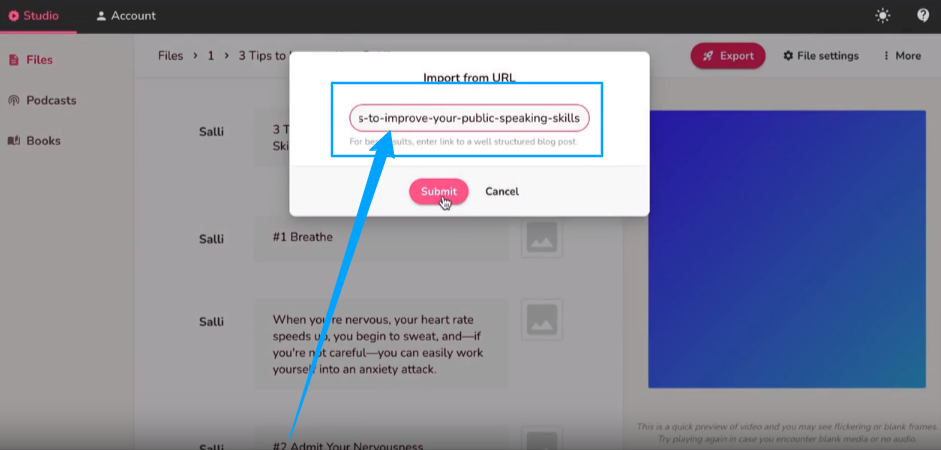 Next, choose the desired length of the video and click "Submit." Fliki will work magic, turning your blog content into a video format.
Customize Your Video
Fliki is smart, but it's not perfect. It will automatically import the content of your blog post and suggest visuals for each scene.
However, you can customize the voice and visuals to match your preferences. To make your video unique and captivating, you can adjust the following:
Video size (Landscape, Portrait, Square)
Font
Placement
Color
Background music
Play with these different settings and see what works best for your brand and content goals.
Export and Download
Preview the video before you hit that "Export" button to ensure it meets your expectations. Once satisfied with the final product, click "Export" to process and download the video.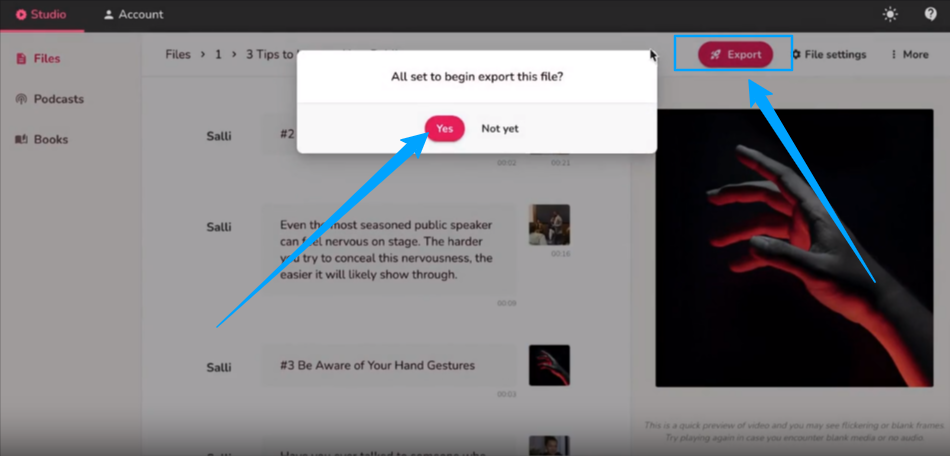 And there you have it!
A captivating video created from your blog article, ready to be embedded on your website for improved SEO or shared across various social media channels such as Facebook, TikTok, Instagram, and YouTube to drive more engagement and traffic.
With Fliki, turning your blog into a video is a breeze.
Remember, the more engaging and visually appealing your videos are, the more likely your audience keep returning for more.
So go ahead, give Fliki a spin, and watch your online presence grow!
Fliki vs Lumen5: A Comprehensive Comparison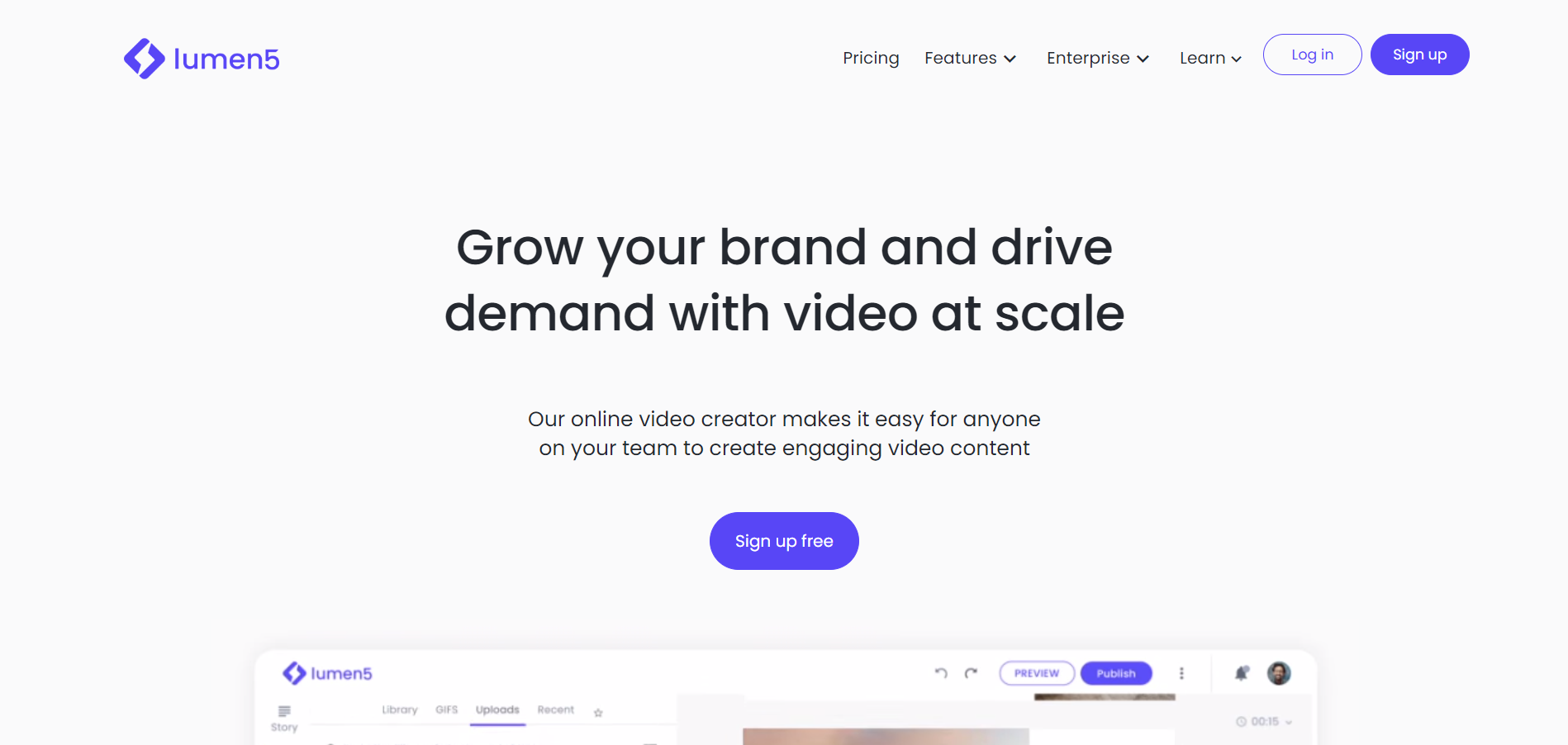 1 Realistic AI Voices: A New Level of Immersion
One of the most significant differences between Fliki and Lumen5 is the quality of AI-generated voices.
Fliki takes the lead with over 900 realistic text-to-speech voices in 75 different languages, ensuring that your videos sound natural and human-like.
As a content creator, wouldn't you want your audience to feel like they're listening to a real person? 🎙️
2 AI Content Generation: Unlocking Endless Possibilities
Fliki also stands out for its AI-powered content generation capabilities.
Using existing scripts or blog posts, Fliki can create videos in any niche or topic. Just provide the content, and Fliki will summarize it, find suitable visuals, and generate a video with a human-like voiceover.
In contrast, Lumen5 focuses more on repurposing blog posts into videos but lacks the advanced AI content generation features that Fliki offers.
Imagine the time and effort you'll save by letting Fliki's AI do the heavy lifting! 💪
3 Variety of Templates and Customization Options: Tailor-Made for Your Brand
Fliki and Lumen5 offer various templates, but Fliki provides more customization options to suit different purposes and styles.
With Fliki, you can:
Select visuals from millions of images, video clips, and background music 🎶
Customize subtitles with your brand's colors and font options 🎨
This allows you to create videos that truly resonate with your target audience.
4 Affordable Pricing and Free Trial: Try Before You Buy
Who doesn't love a good deal?
Fliki offers affordable pricing plans and a free trial option, allowing users to explore its features before committing.
Lumen5 also has a free plan, but its pricing plans may be less flexible than Fliki's. As a content creator, it's essential to invest in tools that provide value for money 💸
5 User-Friendly Interface and Customer Support: A Seamless Experience
Lastly, Fliki prides itself on its intuitive interface, ensuring a smooth and intuitive video creation process.
Fliki provides reliable customer support. Lumen5 also offers a user-friendly interface, but Fliki's customer service is known to be more responsive and helpful.
After all, who doesn't appreciate a helping hand when needed? 🤝
In Conclusion: Fliki's Edge Over Lumen5
When comparing Fliki to Lumen5, it's clear that Fliki has a few advantages that make it stand out in the text-to-video AI tools market.
From realistic AI voices and advanced AI content generation to various templates, customization options, exceptional customer support, and so many loaded features, Fliki offers a comprehensive solution for content creators and social media influencers looking to enhance their video creation process.
So, why not try Fliki and see the difference for yourself? 🚀
Fliki vs. InVideo: A Comprehensive Comparison
As a content writer and affiliate marketer with ten years of experience, I've tested numerous text-to-video AI tools.
Today, let's dive deep into comparing two popular platforms, Fliki and InVideo, to help you decide which best suits your needs.
1 Realistic AI Voices
One of the standout features of Fliki is its extensive library of over 900 lifelike text-to-speech voices in 75 different languages.
This is a game-changer for content creators looking to find the perfect voice to match their video content.
InVideo also offers AI-generated voices but falls short of Fliki's impressive selection.
✅ Advantage: Fliki
2 AI Content Generation
Fliki's AI-powered technology enables the creation of videos in any niche and topic by utilizing scripts or blog posts.
In contrast, InVideo focuses more on providing a powerful video editor with customizable templates, but it doesn't offer the advanced AI content generation capabilities that Fliki provides.
✅ Advantage: Fliki
3 Variety of Templates and Customization Options
InVideo boasts a library of 5,000+ customizable templates.
Fliki also offers a variety of templates, but where it truly shines is in its customization options.
Fliki allows you to personalize the video size, font, placement, color, background music, and more, giving you greater creative control over your projects.
✅ Advantage: Fliki
4 Affordable Pricing and Free Trial
Fliki and InVideo offer pricing plans to cater to different budgets, but Fliki's pricing may be more affordable and flexible for users.
Plus, both platforms provide free trial options, allowing you to test their features before committing to a subscription.
✅ Advantage: Tie
5 User-Friendly Interface and Customer Support
Fliki and InVideo offer user-friendly interfaces, making the video creation process intuitive and efficient.
However, Fliki is known for its responsive customer support, which assists users throughout their video creation journey and gives it a slight edge in this category.
✅ Advantage: Fliki
Final Thoughts: Fliki Takes the Lead 🏆
In summary, Fliki stands out from its competitors by providing:
realistic AI voices,
advanced AI content generation capabilities,
a wide range of customization options,
affordable pricing plans with a free trial option, and
a user-friendly interface with reliable customer support.
Unlike Lumen5 or InVideo, Fliki offers unique advantages that enhance the text-to-video AI tool experience for content writers, affiliate marketers, and social media influencers.
Leveraging The Power of Fliki:
1 Turning Blog Posts into Engaging Videos
You might have a treasure trove of well-written blog posts and articles as a content marketer or niche website owner.
So why not breathe new life into them by repurposing them into videos for social media platforms like YouTube, Facebook, and Instagram?
Fliki can help you do that with ease.
Repurposing Blog Content: A Smart Move
In the State of Marketing 2023 report by HubSpot, one of the leading experts from Wistia said, "In 2023, we expect companies will continue creating product videos, educational videos, and webinars. One in three businesses also said they want to invest more in videos for social media this year."
That's a massive opportunity you want to take advantage of. So, let's dive into how you can make your existing content work harder with Fliki video converter.
Choose a blog post or article: Select a popular piece or one that can benefit from a visual makeover. For example, a how-to guide, a product review, or an informative article on a trending topic would work well.
Break it down into key points: Identify your article's most important or engaging sections and create a storyline or script highlighting them. Keep the narrative concise and easy to follow.
Leverage Fliki's AI voices: Now that you have a script, you can use Fliki's AI voices to narrate your video. Choose the right voice to match your content's tone and target audience.
2 Create Video Ads or Testimonials with Fliki's AI Voices
Fliki can help you create stunning video ads or testimonials for products and services.
With its AI voices and customization options, you can create professional-looking videos that effectively showcase your offerings.
Best Practices for Video Ads and Testimonials
Keep it short: Aim for 30-60 seconds to keep your message clear and concise.
Choose the right voice: Select an AI voice that suits the product or service and appeals to your audience.
Highlight the benefits: Clearly articulate the unique selling points of your product or service in a persuasive manner.
3 Create Informative Tutorials or Guides WIth Fliki's Templates
Fliki's templates and customization options can help you create informative video tutorials or guides for your audience.
Tips for Creating Effective Tutorials and Guides
Choose a relevant topic: Pick something your audience will find helpful and interesting.
Organize your content: Structure your video into logical sections or steps, making it easy to follow.
Use visuals effectively: Use Fliki's templates to create eye-catching visuals that support your narrative.
4 Generate Video Ideas and Scripts with Fliki's AI Content Generation
Are you struggling with writer's block?
Fliki's AI content generation feature can help you develop innovative video ideas and scripts.
Just input a few keywords or phrases, and Fliki will generate relevant content to use as a starting point or inspiration.
Making the Most of AI Content Generation
Be specific: Give Fliki clear, focused keywords or phrases to generate better results.
Edit and refine: Use the generated content as a foundation, but remember to add your personal touch and ensure it aligns with your brand voice.
Tips for Creating Effective Video Content with Fliki
To maximize the benefits of Fliki, consider the following best practices:
Voice selection: Choose a voice that matches your content's tone and target audience.
Length: Stick to the optimal video length for your chosen platform (e.g., 2-3 minutes for YouTube, 15-60 seconds for Instagram).
Format: Ensure your video is in the appropriate format and resolution for your chosen platform.
Customer Reviews and Ratings of Fliki
As a content writer, affiliate marketer, or social media influencer, you must be curious about Fliki's effectiveness and whether it's worth investing in.
So let's dive into the customer reviews and ratings of Fliki to help you make an informed decision.
Trustpilot Ratings
On Trustpilot, Fliki has an impressive 4.8 out of 5 stars rating based on 584 reviews.

This indicates that many users have found success using Fliki for their content creation needs.
G2 Ratings
Over at G2, Fliki has an even better rating of 4.8/5 stars based on 82 reviews.

This further supports the notion that Fliki is a reliable and effective tool for creating high-quality video and audio content.
Capterra Ratings
Lastly, on Capterra, Fliki has a solid 4.8/5 stars rating based on 131 reviews.

This consistent positive feedback across multiple platforms highlights Fliki's effectiveness and user satisfaction.
Common Praises for Fliki
Customers have expressed their appreciation for Fliki in various ways, including:
Realistic and natural-sounding voices that can suit different niches and topics
An intuitive interface that is easy to customize
A variety of templates to fit different purposes and styles
Affordable pricing and a free version that makes it accessible to everyone
Common Complaints about Fliki
Of course, no product is perfect, and Fliki does have a few shortcomings, such as:
A limited amount of audio per month on the free version
Occasional mispronunciation of some words or names
Audio quality that may not be as high as a professional voice actor
However, Fliki always listens to its customers and improves its service accordingly.
They regularly update and add new features and voices to their platform to meet users' needs and expectations.
Additionally, Fliki provides customer support and feedback channels.
While it may be flawed, it's clear that Fliki is a valuable tool for content writers, affiliate marketers, and social media influencers looking to improve their content creation game.
So, why not try Fliki and see the results for yourself?
How Fliki Uses Advanced AI Technology to Create Natural-Sounding Voices
As a content marketer with a decade of experience, I've witnessed the evolution of text-to-speech software.
Fliki stands out from the pack with its cutting-edge neural network that transforms written text into audio that closely resembles human speech.
Let's delve into what sets Fliki's AI-powered voices apart.
Fliki's Analysis of Text Structure, Tone, and Emotion
Fliki goes beyond simply reading words in a text.
Instead, its AI-powered technology analyzes text structure, tone, and emotion to deliver natural and engaging audio.
This means Fliki doesn't just read your text out loud; it comprehends the context and nuances, allowing it to sound more like a human narrator.
Adapting to Different Moods, Atmospheres, and Purposes
Fliki's AI can adjust voice settings to match moods, atmospheres, and purposes.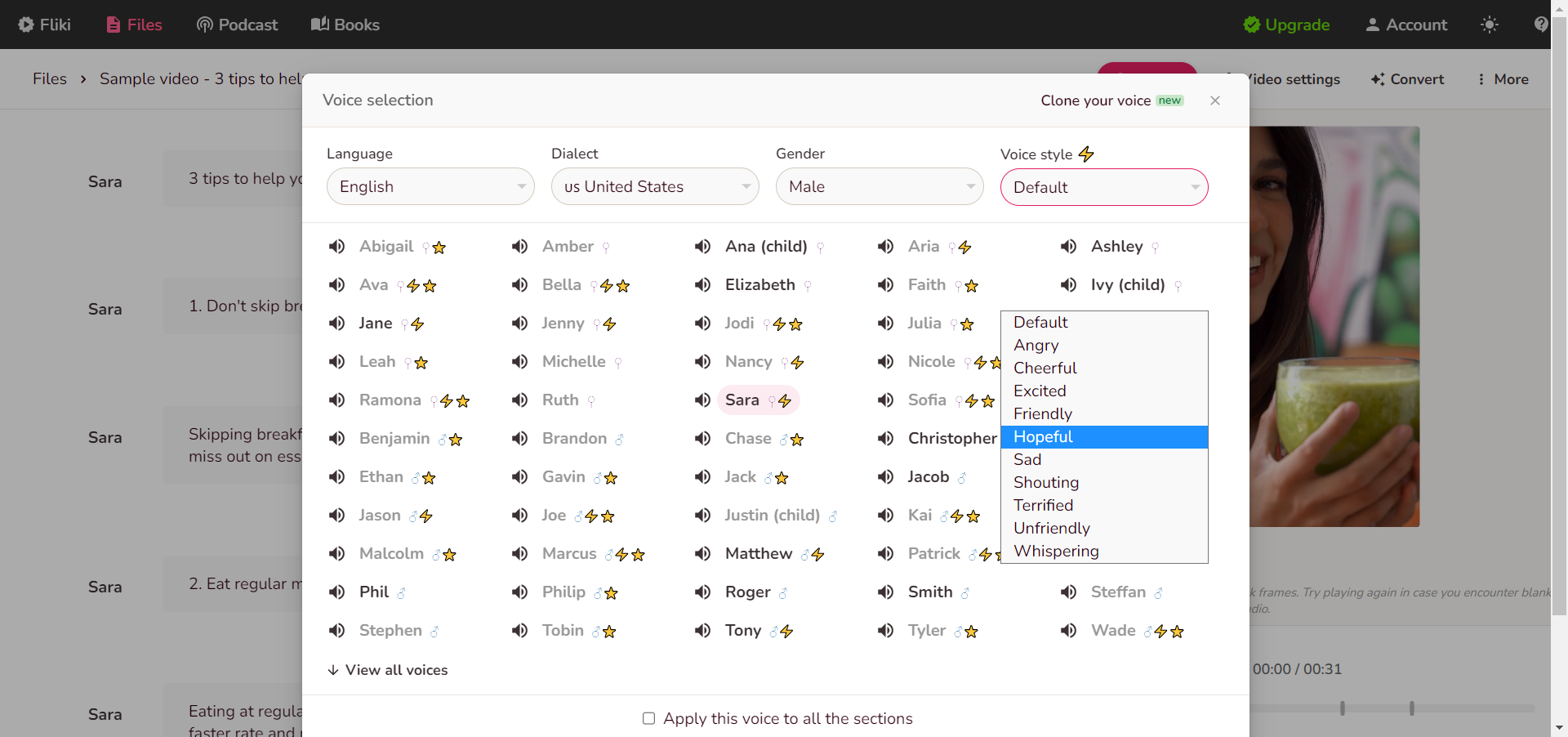 For instance, it can adapt to:
Happy tones for celebratory content or announcements
Sad or somber tones for emotional stories or news
Serious tones for professional or instructional content
Funny or lighthearted tones for entertaining pieces
This adaptability ensures your audio content is engaging and relatable to your audience.
When it comes to realism and naturalness, Fliki's audio samples genuinely surpass other text-to-speech software.
While many competitors struggle to capture the essence of human speech, Fliki's AI technology brings your written content to life, making it sound like a human being narrated it.
How to Use Fliki for Different Types of Content
Fliki's versatility doesn't end with its natural-sounding voices.
You can employ its AI technology for various types of content, reaching different audiences and niches.
Podcasts, Voiceovers, and Audiobooks
Fliki's AI voices can be used for podcasts, voiceovers, and audiobooks, providing a professional and engaging narration for your content.
For example, Fliki can help you with the following:
Launch a podcast series with high-quality AI-generated voices
Create captivating voiceovers for video content
Turn your written work into engaging audiobooks
Tips and Best Practices for Creating Audio Content with Fliki
To make the most of Fliki's AI voices, consider these tips and best practices:
Voice selection: Choose a voice that matches the tone and purpose of your content. Fliki offers a diverse range of AI-generated voices to choose from.
Format: Ensure your text is well-structured and easy to read, as this helps Fliki's AI understand and convey the content accurately.
Length: Keep the audio content concise and engaging by avoiding lengthy, monotonous sections.
Edit and review: Listen to the AI-generated audio and make necessary adjustments to ensure it aligns with your content's tone and purpose.
With Fliki's advanced AI technology and these best practices, you can create high-quality audio content that will captivate your audience and elevate your digital marketing efforts.
So, why not harness the power of Fliki's AI voices and give your online business a competitive edge?
Fliki Cost & Plans: A Comprehensive Breakdown
1 Free Plan
Price: Free
The Free Plan is great for those new to content creation or needing a quick solution for a one-time project. However, keep in mind that you'll have limited access to features such as:
Creating up to 5 minutes of audio and video content per month
HD – 720p lower-resolution videos
Converting blog articles, PowerPoint presentations, and tweets into videos
Access to 300 (limited) voices in 75+ languages and 100+ dialects
Note: Videos will contain a Fliki watermark.
2 Basic Plan
Price: $8 per month (or $6 per month if billed yearly)
The Basic Plan is ideal for those focused on producing captivating audio content, such as voiceovers, podcasts, and audiobooks.
With this plan, you get the following:
Up to 120 minutes of audio content per month
Access to over 900 voices in 75+ languages and 100+ dialects
Language translation for 75+ languages
The ability to create audios of up to 15 minutes
Commercial rights for the content you create
Bonus: The Fliki watermark is removed in the Basic Plan.
3 Standard Plan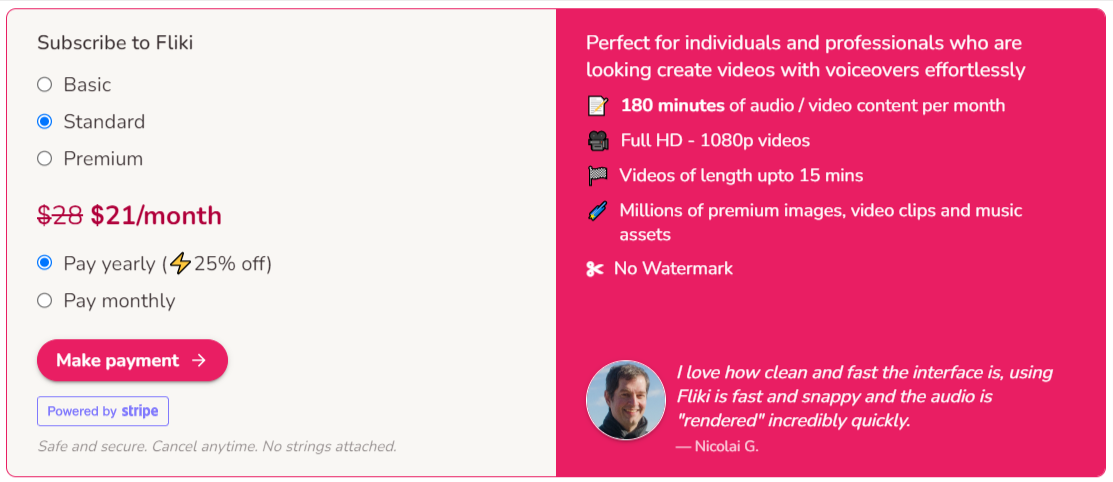 Price: $28 per month (or $21 per month if billed yearly)
The Standard Plan is perfect for individuals and professionals looking to create high-quality videos in less than a minute.
This plan offers:
Up to 180 mins of audio and video content per month
Full HD – 1080p videos
Create videos of up to 15 minutes
Access to millions of premium images, video clips, and music assets
Extra perk: No Fliki watermark.
4 Premium Plan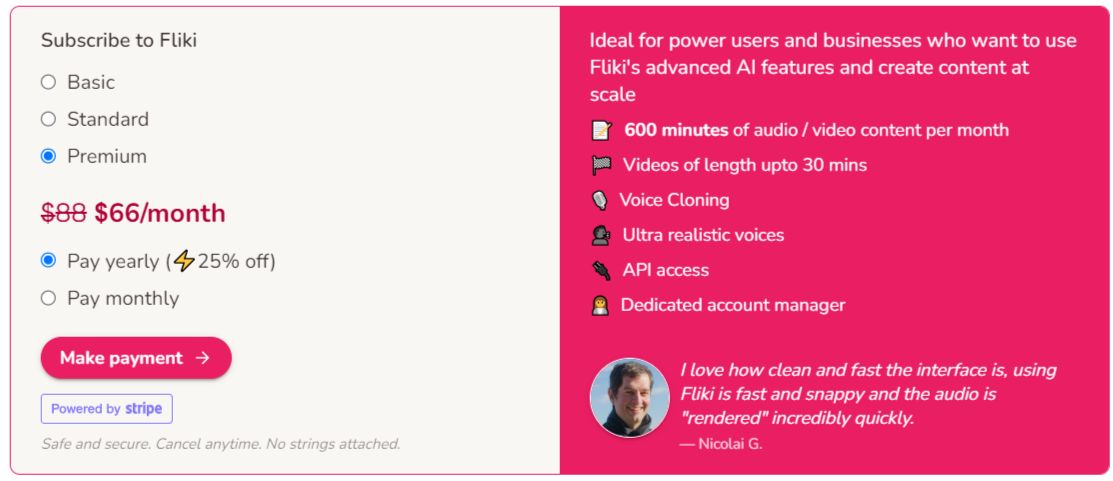 Price: $88 per month (or $66 per month if billed yearly)
Fliki's Premium Plan is designed for power users and businesses requiring advanced AI features and content creation at scale, including:
Up to 600 minutes of audio and video content per month
The ability to create videos of up to 30 minutes
Advanced voice features, like voice cloning and ultra-realistic voices
API access for integration with other applications
A dedicated account manager for personalized support and guidance
5 Enterprise Plan
For enterprises with unique requirements, Fliki offers customized plans tailored to your specific needs.
Features may include:
Voice cloning technology
Ultra-realistic high-quality AI voices
Video API integration
Customizable templates
Higher usage accommodations
To get started with an Enterprise Plan, contact Fliki directly.
Is Fliki Worth It?
As a content creator and niche website owner with over a decade of experience, I've had my fair share of encounters with numerous tools and platforms.
Fliki is one such tool that has garnered some attention in the market. So, is Fliki worth it for content creators and niche website owners?
Let's dive into the details to find out.
Overall Benefits and Features
Fliki offers an array of features designed to streamline the content creation process. Some of the standout offerings include:
Content curation and organization: Fliki makes it easy to collect, store, and organize articles, videos, and multimedia content from various sources in one centralized location.
Collaboration and sharing: Work seamlessly with your team members and effortlessly share your curated content with your audience.
Advanced analytics: Fliki provides in-depth analytics, allowing you to track the performance of your content and make data-driven decisions.
The Verdict:
Based on the features, user feedback, and pricing options, I would say that Fliki is worth a shot for content creators and niche website owners.
Its content curation, collaboration, and sharing features can be a game-changer for many, especially when staying organized and efficient.
However, it's essential to remember that every user's needs are different, and what works for one person might not be the best fit for another.
Therefore, I encourage you to try Fliki for free or sign up for a plan that suits your requirements.
And remember, I'm always here to help answer any questions or address your concerns.
Final Fliki Review Rating
After weighing the pros and cons, I give Fliki a solid 4 out of 5 stars.
The platform's ability to curate, organize, and share content makes it a valuable tool for content creators and niche website owners.
Additionally, its analytics capabilities can help users make more informed decisions about their content strategy.
Fliki is a valuable tool with so many loaded features.
Overall, it's worth trying to see if it fits your needs. So, give it a go, and don't hesitate to share your thoughts or ask any questions in the comments below.