If you have a business website, you are probably racking your brain about ways to generate traffic and increase your online sales. 
You know that you need to make efforts to improve your search engine optimization (SEO). Still, all of the seemingly fancy improvements you have made have had little effect. 
This has caused you to take an advanced look into GA.
Google Analytics can help revolutionize your business by giving real data on consumer and competitor behavior. 
It provides advanced statistics that can give you actionable data to adjust your future marketing campaigns and revise and innovate your product offerings.
Disclaimer: If you buy something using the links in this article, I may receive a commission at no extra cost to you. Know that I only promote stuff that I use and trust for the sake of my readers and the reputation of this site.
What is Google Analytics?
Google Analytics is a tool developed by Google that allows you to analyze your website traffic and your digital marketing strategies' effectiveness.
GA allows you to integrate Google marketing platform and advertising platforms to have a comprehensive look at all the information about your website. This means that if you use Google tools like Google Search Console, Data Studio, or Google Ads, data collection becomes very simple.
You can gain valuable insights into user behavior and user interactions by using reports like audience reports and conversions reports. This gives you an overview of your website performance.
As a small business owner, your website is at the center of everything you do.
All your online traffic is most likely directed to your website. No matter what digital marketing strategies you use – Google Ads or paid ads on social media – you want to direct oncoming traffic to your website.
Your users are at some point in their journey going to land on your website. Tracking and analyzing your website traffic data is an important task that helps you understand user behavior and make powerful business decisions.
Is Google Analytics Free?
Google Analytics offers users both free and paid versions. If you are a small business owner, you can get a ton of value by setting up an analytics account with the free version.
The paid version of Google Analytics is called Analytics 360 and gives users access to more advanced features and insights.
Analytics 360 is more suited for larger and more advanced enterprise businesses. You need to carefully consider whether your business has fully used the potential of your free Google Analytics account before you decide to level-up to Analytics 360.
Your business also needs to have enough skills and expertise to manage an Analytics 360 account if you plan to go ahead with it.
Analytics 360 costs $150,000 per year with a limit of 500 million hits per month.
Who Uses Google Analytics?
More than 5 million companies use Google Analytics. Most of the companies that use Google Analytics are small businesses (1-10 employees) and mid-sized businesses (10-50 employees) with 1-10 million USD in revenue.
Google Analytics has more than 50% of the web analytics market share.

Why Should Small Businesses Use Google Analytics?
Can Google Analytics revolutionize your small business?
Here is how you can use Google Analytics for your small business website:
1. Find Out How Your Website Compares To Competitors
Having a firm grasp of your competition is critical in understanding what course your business should take. 
After all, the only way you will be able to grow your client base is by making your service better than everybody else's.
The benchmarks tab in Google Analytics will give you an idea of how your site performs. You can compare it to similar sites in the same category, letting you see where you rank in terms of visits and clicks.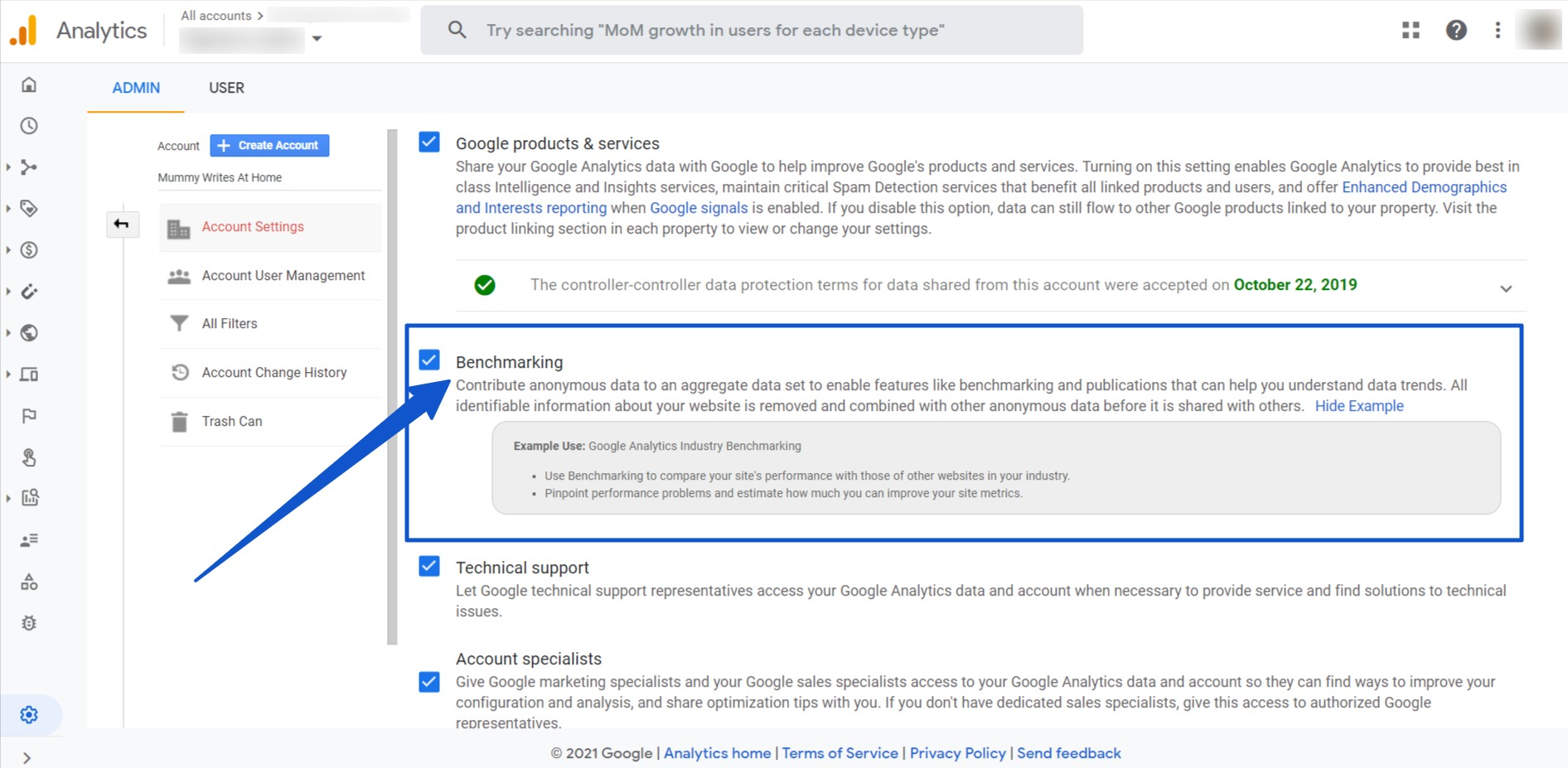 While it may not accurately categorize all of your competition and overlooks those sites that are not using Google Analytics, it can give you a rough estimate of where your website stands relative to the competition. 
Google Analytics also gives you a good idea of how engaged your visitors are with your site compared to those of your competitors, providing data about average visit time. 
If you find out that your customers are not as actively engaged as you would like, consider adding some updated content and interactive links to hold their attention longer and increase the likelihood of making a purchase.
2. Track The Location of Your Visitors 
One of the significant advantages of doing business online is that the entire globe is your marketplace. Therefore, just because your business is U.S.-based does not mean that most of your customers are from the United States.
On the sidebar in Google Analytics, click on the "Demographics" tab. This will give you an idea as to the location of your website visitors.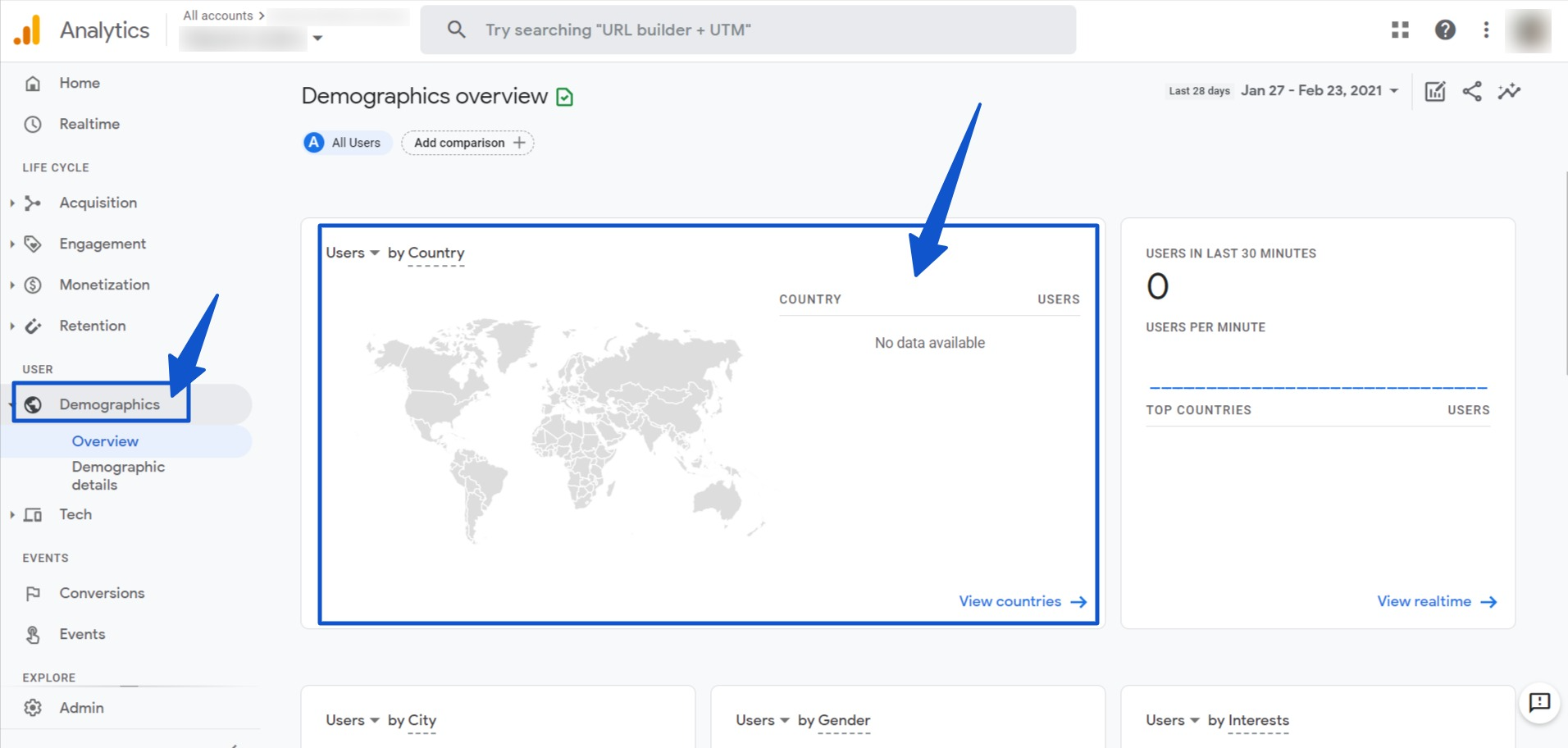 If you find that most of your website audience is from an area that differs from your locale, you can do your research and tailor your marketing to meet the geographic region's needs most frequently visiting your site.
For example, if your visitors sign in from San Francisco, Google Analytics will show you how many visitors are coming in from their IP address.
3. Find Out Who is Making Purchases From Your Website
While it is nice to have people poking around your site, the ultimate goal is to turn that traffic into purchases.
Therefore, in addition to data to average visit time, Google Analytics offers insight into who is purchasing your products. This is typically accomplished through cookies or data indicating referrals from other sites.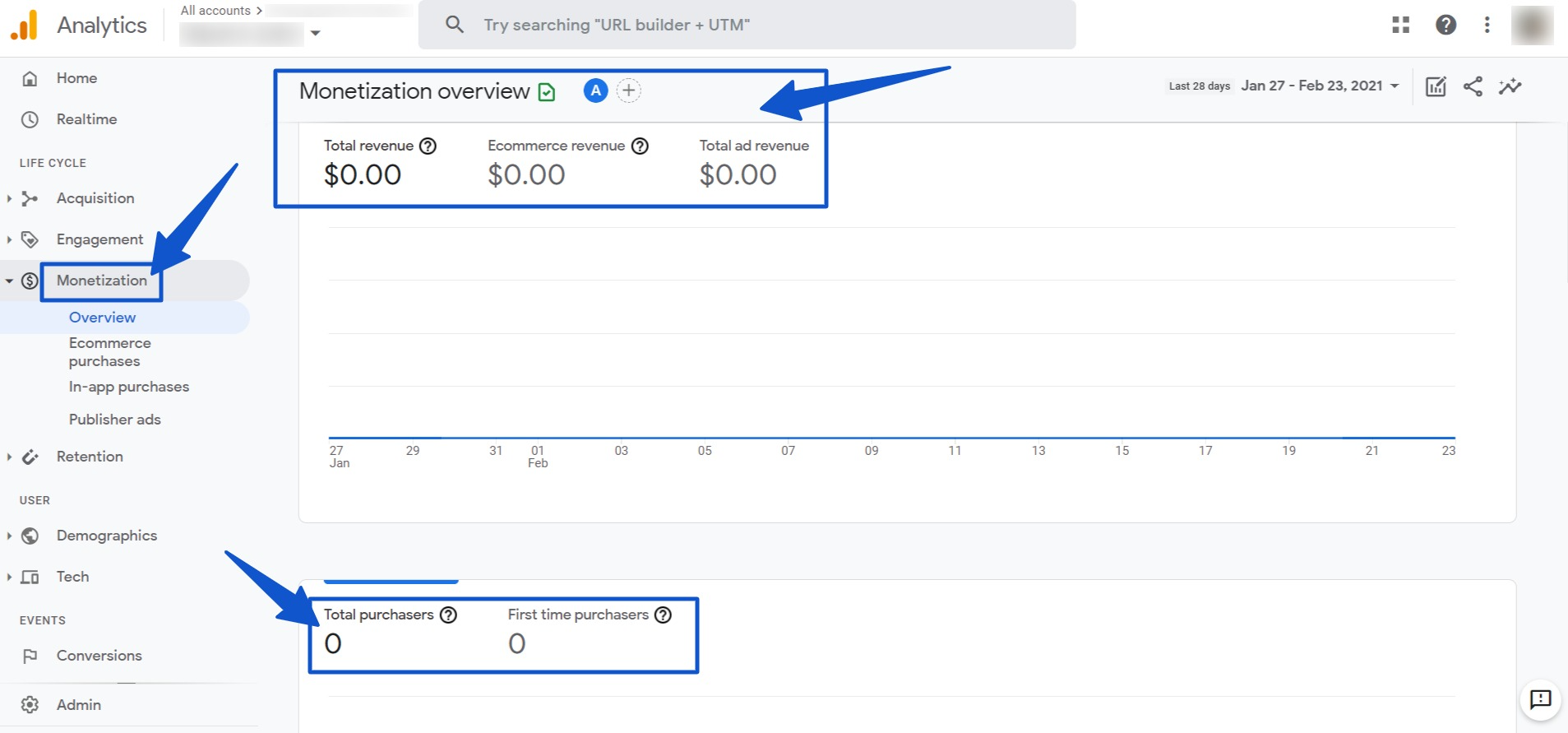 This is vital data for online businesses that are looking to get repeat purchases for their products. 
Your conversion rate is an important aspect you need to keep an eye on. Google Analytics helps you gain insights on which visitors are going through your checkout process and converting into buyers.
Websites offering one-time services will need new visitors to generate revenues. Customers are likely to buy again once if they try a product for the first time and like it. As such, an overview of which customers are buying becomes all the more valuable.
4. Optimize Your Website For Your User's Devices
With so much technology out there, customers could be using any combination of computers, mobile devices, and web browsers to access your site. 
While device compatibility issues are usually a cause of online performance issues, there is a chance that most customers are not thinking of this, causing them to give your site up as out-of-service. This increases your bounce rate.
Google Analytics will give data on which web browsers your site is compatible with and display a report for the different types of device screens.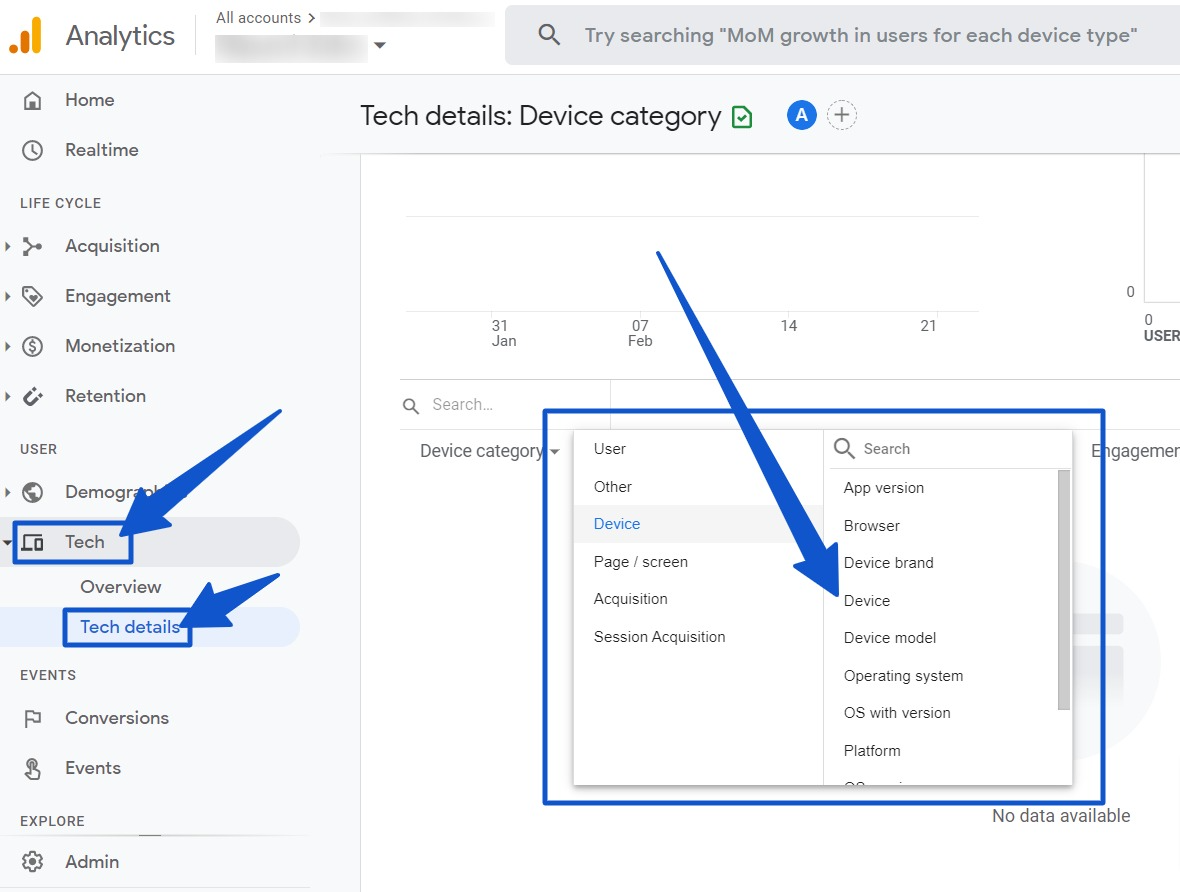 As most Internet users prefer Google Chrome and access the Internet from their smartphones, it is essential that your site functions well and gives a high-resolution display for this combination.
5. Form Decisions On How To Price Your Product
Having a bunch of customers is great, but if you are generating minuscule profits from your sales, it will take your business forever to thrive.
On the other hand, a highly profitable offering will do little for your business if your conversion rate is too little.
With the help of Google Analytics, you can use the features mentioned above and a vast selection of other data to develop smart pricing options for your visitors. 

This will help you predict the right intersection of capturing maximum sales while optimizing the amount of profit that each sale generates from your website visitors.
6. See Who Is Referring Traffic To Your Site
Referral traffic reports are an important insight because there is very little chance that somebody just heard of your site and typed the URL into their browser.
All website traffic is generated from a search engine or a click from another site. When you see where that traffic is coming from, you can take steps to optimize this association.
If you notice that most of your visitors show up from search engines, you can look at data on which keywords are responsible for getting your site to show up. 
If the traffic comes from clicks generated from links on other websites, check those sites out. See how your site is related to their site content. Try to use advertising campaigns or content marketing efforts as possible ways of making this association stronger.
7. Improve Your Website SEO
Based on the section above, it is possible to look at Google Analytics and see which keywords are responsible for driving traffic to your site.
However, even if these keywords help you obtain visitors, their performance may still not be doing as well as they could.
Google Analytics will give you data as to where you rank on Google for a particular area. Suppose one of your high-traffic keywords is not on the first page of a Google search. In that case, you can often perform a few simple steps, such as adding an image, reiterating the keyword, or taking out a Google ad that will further improve that keyword's traffic by moving its rank up.
Google analytics can thus help improve the performance of your pages and increase your page views through SEO.
8. Understand Why People Are Leaving Your Site
By giving data on which pages of your site have the highest bounce rate, Google Analytics can help you better understand how to keep your audience engaged on your site and hopefully take action.
If you notice that a high percentage of visitors leave from a particular page or section, do some renovations to make the page more compelling.
Reducing bounce rate need not be complicated. Perhaps you could include some interactive multimedia or links that can get them to head to the purchase page or any other page proven to be more engaging.
How Does Google Analytics Work?
In this section, we will talk about how Google Analytics works.
Before you can use GA's insights and reports, you need first to collect the data from your website. Google Analytics collects data in many ways, but the most common way is through the Google Analytics Tracking Code.
Google Tag Manager is used to deploy the tracking code on your website.
Once the data is collected, it is processed according to the configurations you make in Google Analytics. These could be filters and other configurations.
After the data has been collected and processed, you can access this processed data through reporting. You can do this through Google Analytics APIs. You can also use tools like Google Data Studio and Google Sheets to present the data differently.
To understand how GA works on a deeper level, you can watch the video below:
Understanding Google Analytics
Okay, so we've talked about what GA does, how to use Google Analytics for your website, and how to use Google Analytics for SEO.
But how do you download Google Analytics? And how do you set up Google Analytics for your website?
When you set up Google Analytics for your business website, you will be able to:
Learn who your audience is
Understand what content they want to see from your website
Learn how your users behave while they are on your website (what pages they visit, what items they purchase, etc.)
This information will help you make better business decisions, set clearer business goals, and create more effective marketing campaigns.
Understanding reports regarding each segment of your audience and what influences your website's higher page views will automatically help you improve your conversion rates and optimize your pages.
The goal of your website is to increase your conversion rate. Google Analytics provides you an overview of your website performance to help you do just that.
How To Set Up Google Analytics
The main steps to set up GA are as follows:
1. Set up Google Tag Manager
Google Tag Manager helps you collect data from your website and send it to Google Analytics.
You can add tags to your GA code without having the hassle of manually writing code on the backend.
Go to Google Tag Manager and create an account.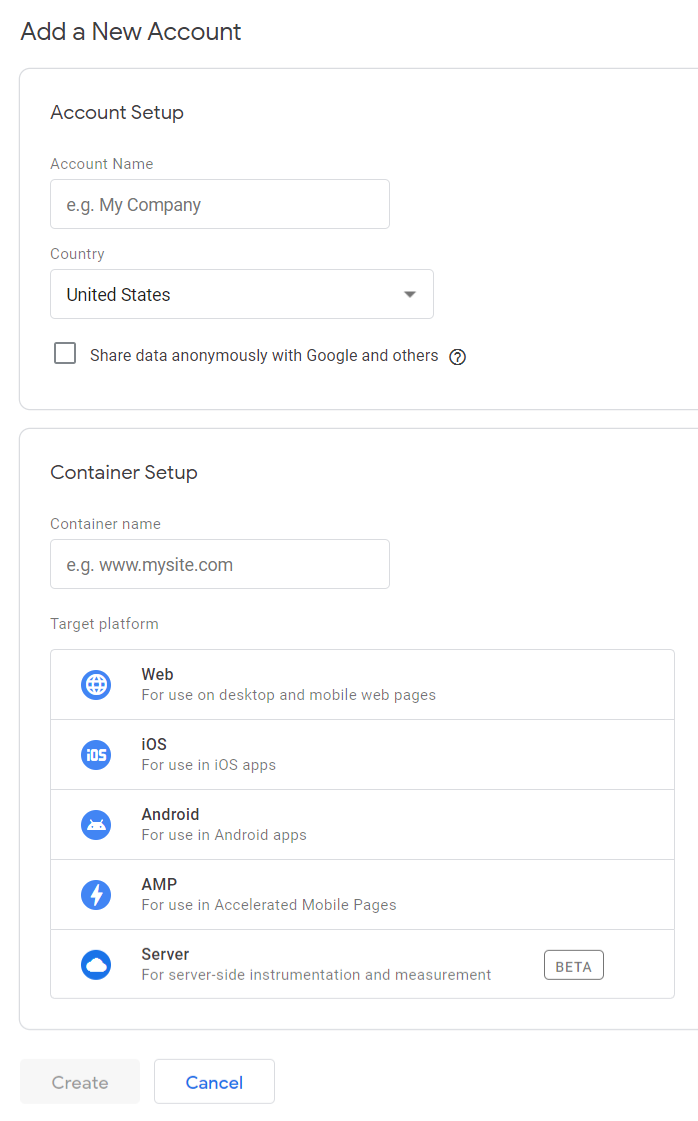 In Account Setup, enter an account name and choose your country.
Then in Container Setup, select the type of content you want to setup.
When you click Create, you will be given a piece of code that you need to paste in your website's backend to manage all your tags.
For more details on setting up Tag Manager, you can check out this blog post.
2. Set up Google Analytics
Sign up for free on the GA page and set up a property.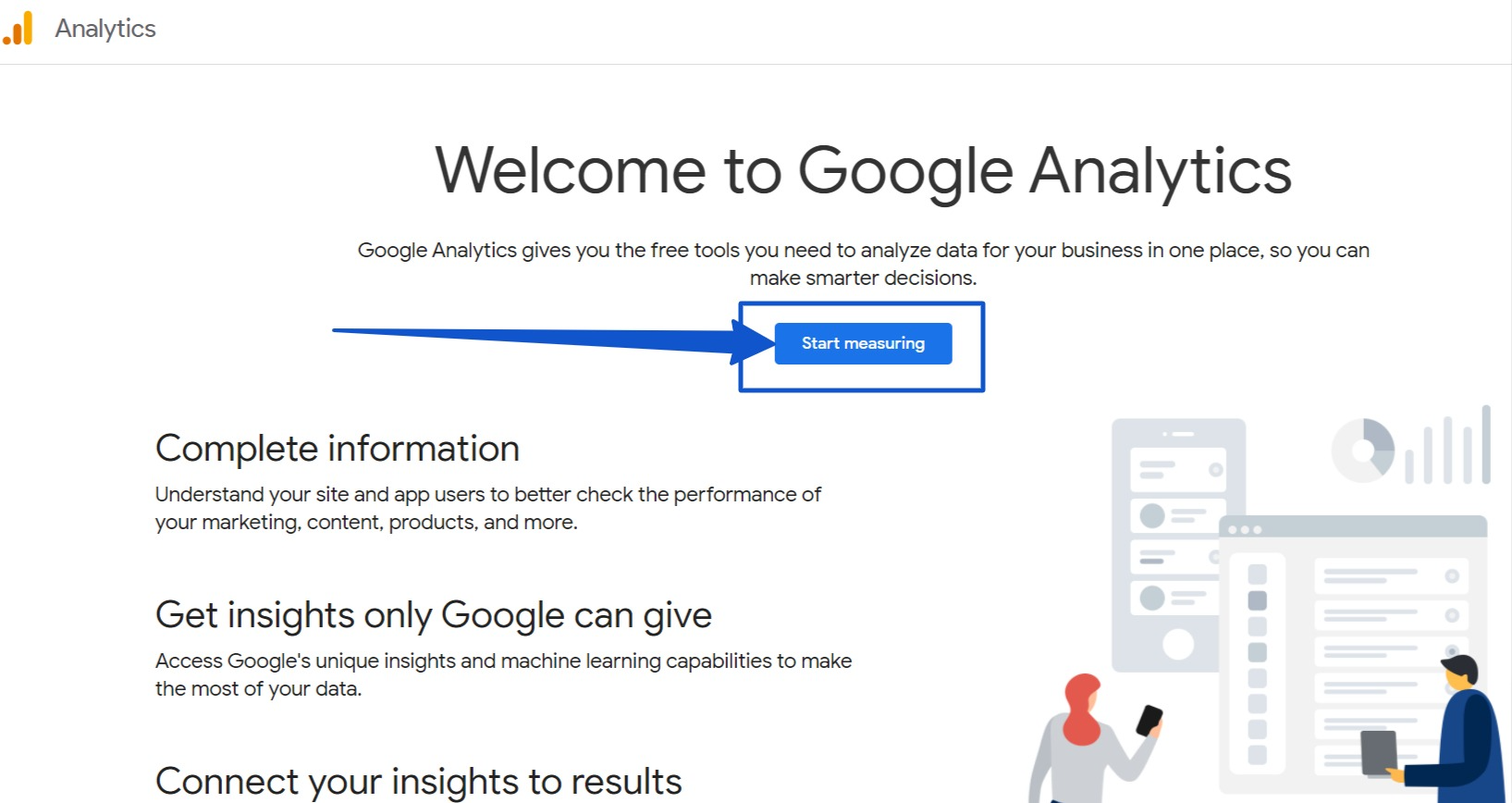 Once you've set up a property, you will receive a tracking ID:
3. Set up Tracking Tags For Your Website
Add a new tag from the Google Tag Manager dashboard.
Click on Tag Configuration > Universal Analytics to set up tracking tags for GA.
For step-by-step instructions on how to set up Google Analytics along with Google Tag Manager, check out this blog post.
If you want more straightforward ways to set up GA without using Tag Manager, you can follow along with this video:
Conclusion
As the business world rapidly moves to e-commerce as the primary source of sales, having a thriving website is the primary way for businesses to succeed.
Rather than taking shots in the dark about what consumers want in a business website, you should turn to the essential data generated through Google Analytics to see firsthand how your site is performing.
Through a wide array of data that includes competitor data, geographic location of your website visitors, and tools for accurately setting a price point, Google Analytics takes much of the guesswork out of building your site and allows you to create content, marketing campaigns, and product offerings to satisfy the needs of your specific clientele.