How To Sell On Etsy – The Ultimate Guide To Setting Up A Successful Etsy Shop
Etsy leads the online market for handmade and vintage items, with over 81 million active buyers on the platform.
Etsy is an eCommerce platform designed for creators and craftspeople to sell their work to a niche audience. The platform has a projected valuation of $44 million in accounts payable by the end of 2021.

There's no surprise why there are more than 4 million sellers on Etsy. So, if you want to learn how to sell on Etsy, then you're in the right place.
In this post, I will teach you how to set up an Etsy shop, accept Etsy payments, and show up in Etsy search when potential customers search for your items to buy.
I will also give you tips on promoting your Etsy shop with tools like Etsy ads.
Excited to start? I know I am!
Let's begin.
Disclaimer: If you buy something using the links in this article, I may receive a commission at no extra cost to you. Know that I only promote stuff that I use and trust for the sake of my readers and the reputation of this site.
What is Etsy?
Etsy is an online marketplace built especially for independent sellers who want to sell their artwork or craft supplies. Unlike other eCommerce sites like Amazon or eBay, Etsy focuses on vintage, original, and handmade items.
Some of the items that an Etsy store usually sells are vintage items (items that are at least 20 years old), collector's items, custom-made artwork and children's toys, hand-printed items like t-shirts and mugs, and craft supplies and kits.
You can also use the Etsy app to sell on Etsy for a fee. We will talk about this more later in the article.
How Does Etsy Work?
Etsy is an online marketplace that connects sellers of unique items like artwork and vintage items to sellers directly, without having to open an online store on their own.
If you are an Etsy seller, all you have to do to start an Etsy business is set up an Etsy account, list your items, and sell them directly to your customers.
Etsy charges a fee to set up your store. What makes Etsy unique is the kind of items that are sold on the platform – unique, handcrafted, personalized items, as opposed to factory-made items.
Recommended Reading:
HOW TO MAKE MONEY ON TIK TOK – 7 PROVEN WAYS TO BE SUCCESSFUL ON TIKTOK
HOW TO MAKE MONEY AS A COLLEGE STUDENT – 47 AWESOME AND PRACTICAL WAYS
HOW TO SELL ON FACEBOOK – THE ULTIMATE GUIDE TO SUCCESSFULLY SELLING ON FACEBOOK
How To Sell On Etsy – 7 Steps To Get Started
Step 1: Register your account on Etsy.com
If you are serious about selling online on Etsy, go to www.etsy.com and sign up with your email address or Facebook account.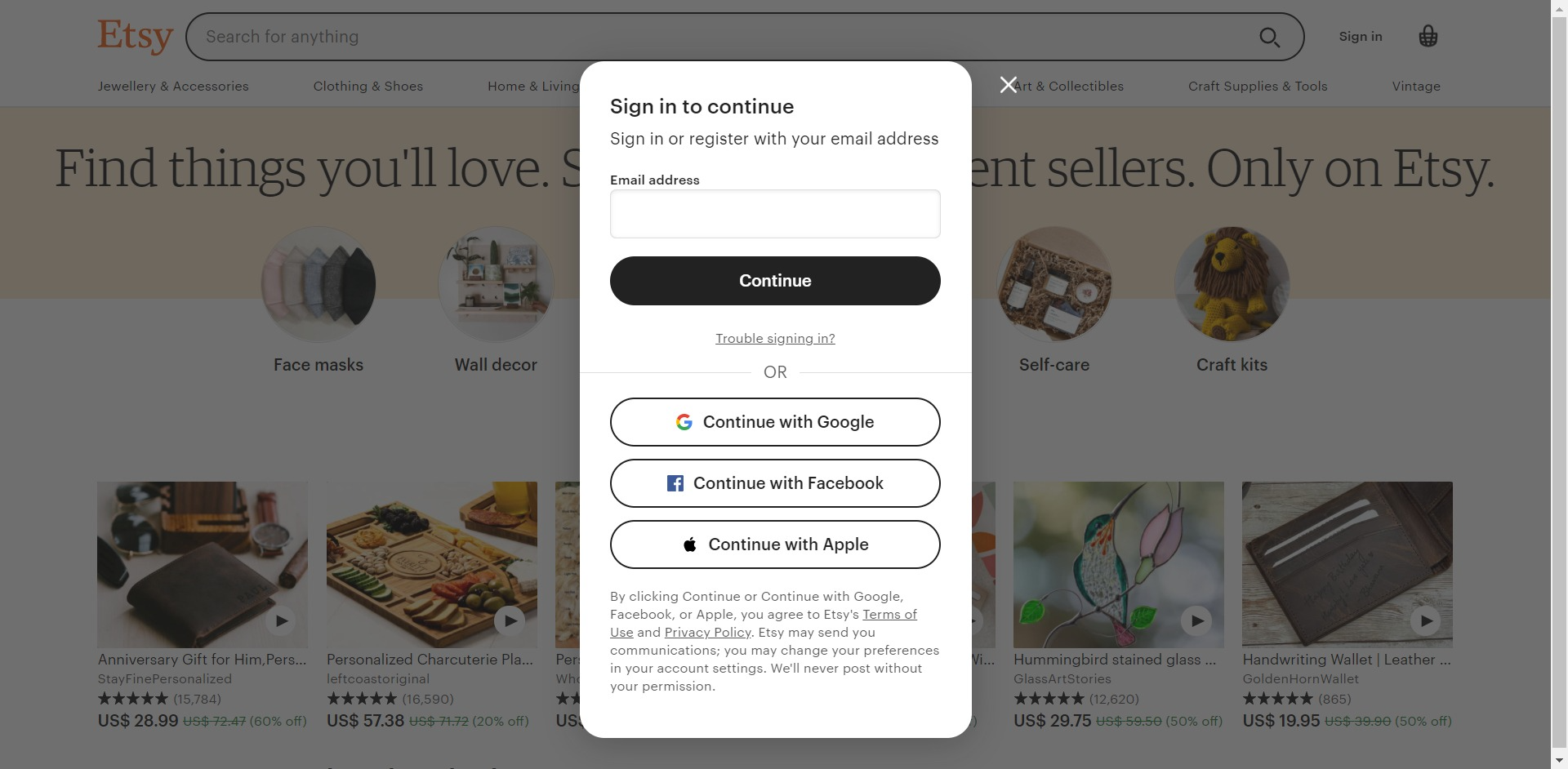 If you don't already have an account, you can register and create one for yourself: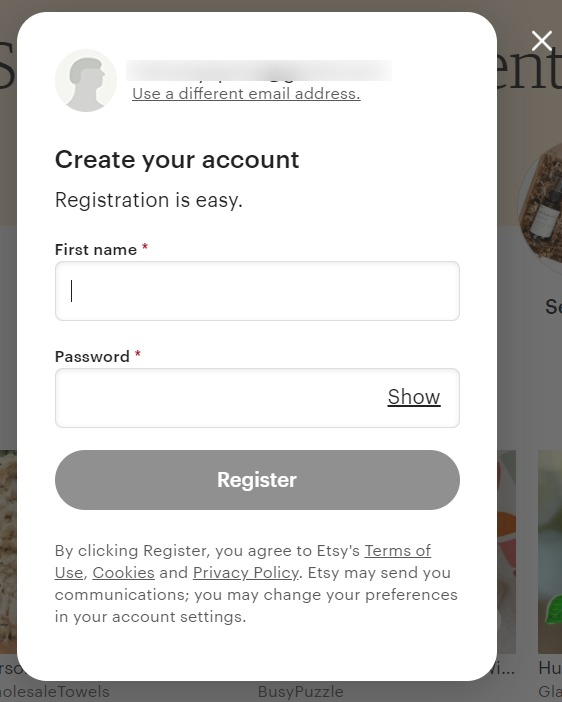 Once you have done that, you will be logged into your account. Click on 'Sell on Etsy' from the drop-down menu on the upper left side of the page: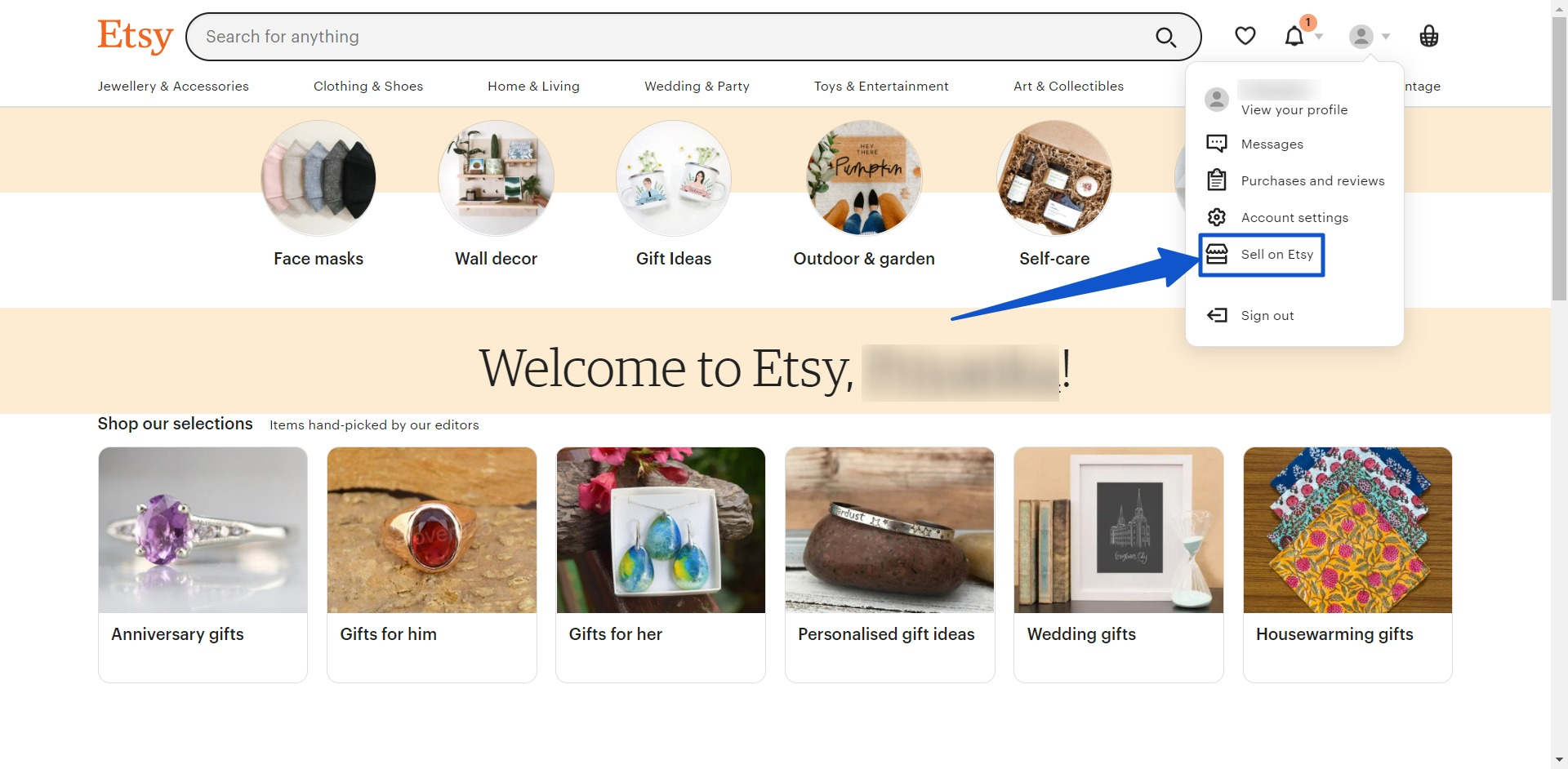 Scroll down and click on one of the 'Open your Etsy shop' buttons on the page: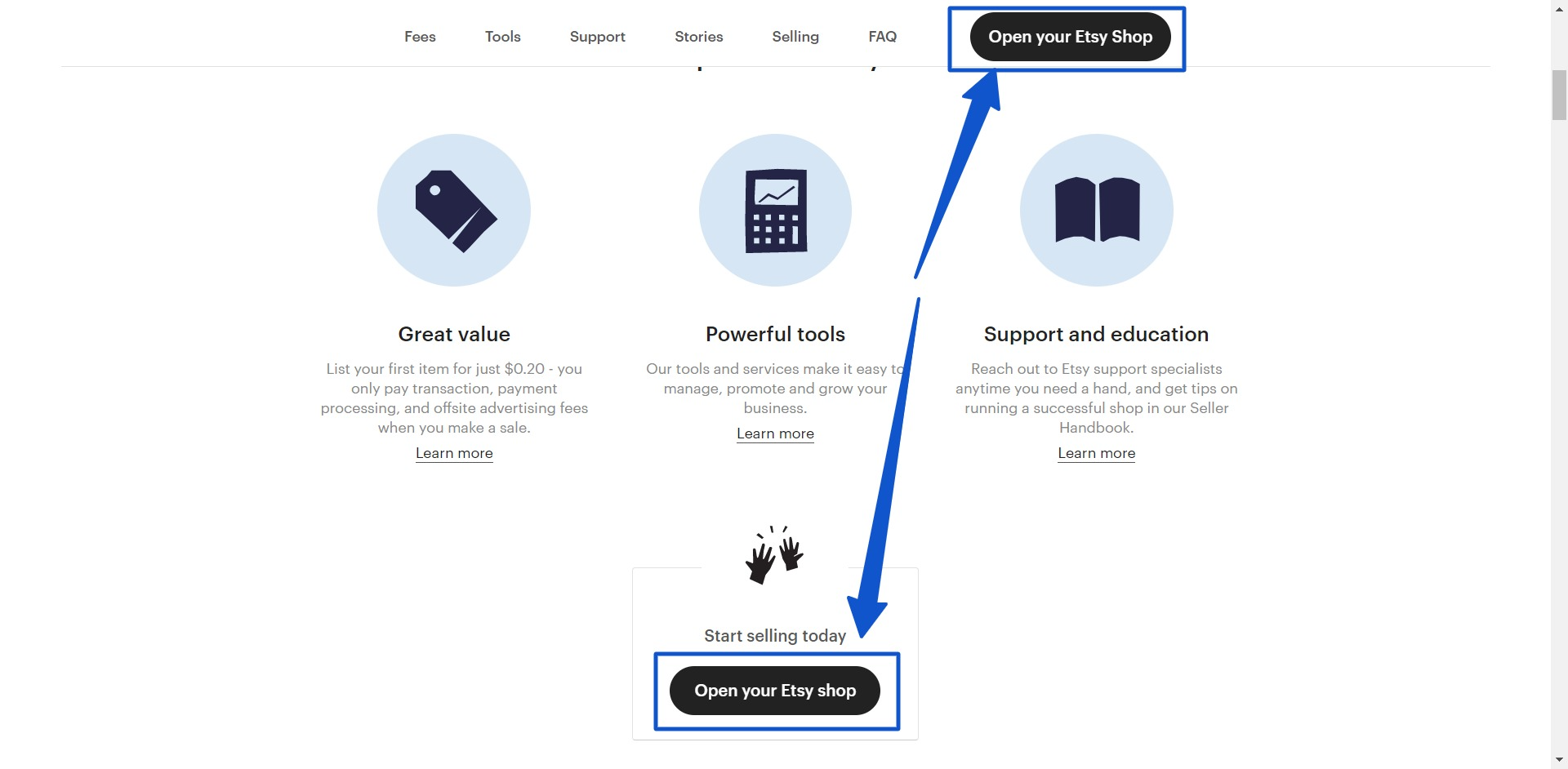 Step 2: Set up your Etsy shop
Next, you will be prompted to enter your shop preferences. Choose your shop language, shop country, and shop currency and click 'Save and continue'.
Step 3: Create an Etsy shop name
You will then be asked to enter your Etsy shop name. Create a shop name if you don't already have one and click 'Check availability'.

The shop name should be less than 20 characters and should have no spaces or special characters.
Step 4: List your products on your Etsy shop
Congrats! You've set up your Etsy shop!
Next, you will have to start creating Etsy listings for each of your products before you can start selling.
Here are some points to remember when you are creating your product listings:
1. Upload photos for each product.
Be sure to take high-quality photos from all angles of your product so that your customers can clearly see what you are selling them. Choose one of the best pictures to add as your product thumbnail. The product thumbnail is the first picture of your product that your customers will see in the search results.
2. Create product descriptions.
Now it's time to start writing descriptions for each of your products. Remember to use keywords that your customers will be searching for in your product descriptions so that they have a better chance of appearing in the top search results.
3. Enter inventory quantity and pricing.
Next, enter the quantity of the product you have in stock and variants of the product if you are selling the same product in different colors or sizes.
Also, you will need to decide the pricing of each product and enter that as well.
4. Add shipping information.
Include your shipping prices, the weight of the product, size, country of origin, and processing time so that your customers have an idea of the shipping cost and time involved.
You can enter the shipping information after confirming with your local post office or USPS.
5. Review and add your products.
Finally, you can preview your product listing before you add it. It s important to see how the product listing looks to your customers so that you can make changes if needed.
Once you are done reviewing the listing, click 'Finish'.
Step 5: Choose your Etsy payments method
Etsy offers many different payment methods on its platform. Etsy Payments allow you to accept payments from PayPal, credit and debit cards, Apple Pay, Google Wallet, and Etsy gift cards.
Your payments are directly deposited in your bank account in your home currency. It doesn't matter where your customers are or what payment method they use.
Step 6: Add your billing information
Etsy sellers will need to enter your Etsy shop country and your card details so that Etsy can authorize your account and charge you for fees and commissions.
Step 7: Optimize your Etsy shop
Once you're done setting up your Etsy shop, listing your products, and entering your billing and payment information, you can optimize your shop for maximum sales.
Here are a few ways you can optimize your Etsy shop before you start selling on Etsy so that you are ahead of other sellers:
Include a shop owner and store bio. You can tell your customers who you are and why you started your Etsy shop. This will help people connect with you personally. Include your values and share your Etsy shop's social media links here.
Include a 'Shop Policies' section that will include FAQs like details about your products, shipping and processing times, and return or exchange policies.
Use Etsy ads and other marketing tools to boost your Etsy shop. Doing so will help you reach a wider audience and share your products on social media platforms for more visibility.
How Much Does it Cost to Sell on Etsy?
Most people start their Etsy shop because there seems to be a very minimum investment ($0.20) involved in setting up an Etsy Shop and listing an item.
However, as time goes and they don't make many sales, they realize that sustaining an Etsy Shop is not as cheap as it seemed to be, and they quit.
The truth is, there are many costs involved in selling on Etsy such as a 5% transaction fee for every sale you make and a listing fee that is charged every four months for each item on your store.
If you want to set up a successful shop on Etsy, it is important to understand all the costs you will have to bear, and see if the long-term gains will be worth it for you.
In this section, we will talk about all the costs involved in setting up an Etsy shop and selling your products to customers.
Here is a breakdown of the major costs involved:
1. Etsy Shop Setup Cost
It is free to set up your Shop, but Etsy charges a listing fee of $0.20 to list an item. Once you list an item, the listing is valid for four months, after which you will need to renew your listing by paying the listing fees again.
You can choose to renew listings automatically or manually. Automatic renewals sound like they will save you a lot of time, but you need to be careful, especially if you are a new seller. It's best to renew your listings manually every four months.
This way you can discontinue poorly performing products, and only keep the ones that are making more sales for you.
Do keep in mind that a listing can contain multiple products that vary in color or size.
That means, if you are selling an item in four different colors, you only need to create one listing for them and give your customers the option t choose from the four different color choices.
sellers pay
2. Etsy Transaction Fee
Etsy sellers pay Etsy fees for each item they sell on Etsy. This is called the Transaction Fees. If you want to start an Etsy business, you will need to factor in this Transaction Fee of 5% of the selling price of every item you sell on Etsy.
4. Etsy Promoted Listings
If you want to advertise your Etsy products through promoted listings, you will have to spend money additionally to do so.
Promoted listings cost sellers a minimum of $1 per day and are based on the cost-per-click model. This means that you will have to pay a fee whenever interested buyers click on these ads and buy one of your products.
Promoted listings help sellers to grow their business and reach interested buyers. When you use Etsy's advertising platform, your promoted listings will be highlighted and appear alongside organic search results for the keyword that they typed in the search bar.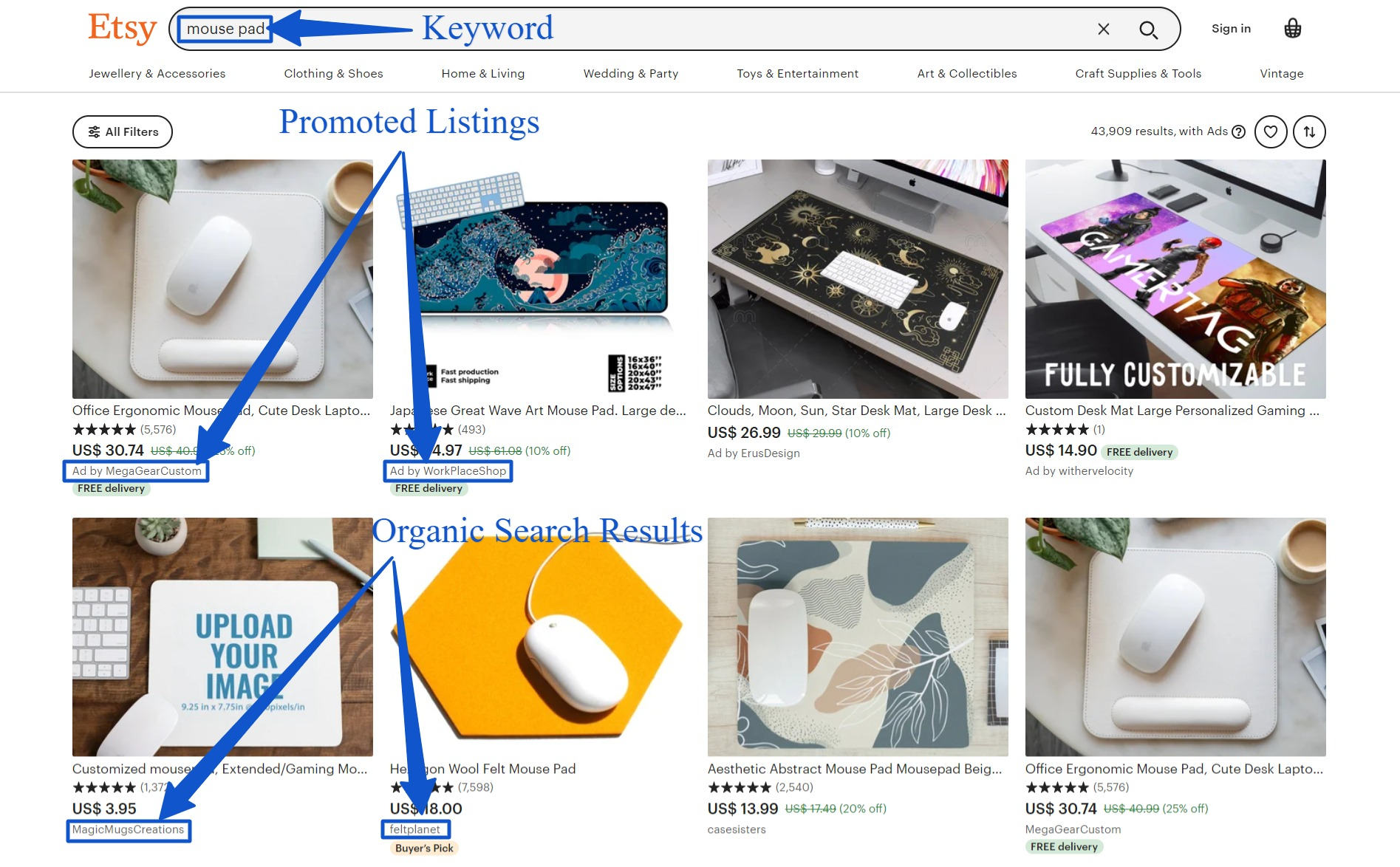 There is a very slight difference between promoted listings and organic search results. The promoted listings have the words 'Ad by' next to the shop name and it is hardly noticeable.
Most successful shops invest in Etsy's advertising platform to boost their shops among competitors. If you are a beginner, you can test out Etsy Ads to see if it helps you make more sales.
Etsy also runs Offsite Ads that are displayed outside of the platform, on search engines like Google and social media platforms like Facebook and Instagram.
Etsy sellers will be charged a fee if they make a sale through these Offsite Ads.
5. Etsy Payment Processing Fees
If you use Etsy's payment system to sell your products and accept payments, you will be charged payment processing fees of 3% of the selling price + $0.25 for each transaction.
Keep in mind that there could also be other charges involved such as taxes or losses in conversion if you are accepting payments in a different currency from buyers outside your region.
6. Etsy Shipping Costs
Shipping charges are usually paid for by the customers, and it depends on where the customer is located.
Sometimes, shipping costs are miscalculated and you will have to pay than what you expected. This could end up being an additional expense on your end.
If you want to offer your customers free shipping, you will have to factor in the shipping cost while deciding the selling price of each item.
You could also choose to buy USPS shipping labels from Etsy.
7 Tips for Selling on Etsy
1. Take Professional-Looking Product Photos
Before you start selling on Etsy, you will have to take pictures of your products and upload them on Etsy so that people can see what you are selling.
Do not take these product photos lightly. Make sure you use a professional camera, use professional lighting (or take photos in natural light – whatever works better for you), and take pictures from multiple angles of your product.
Etsy allows you to upload ten photos for each product, so you have room to be creative. Along with clear, high-definition product shots with a white or any other plain color background, try taking contextual pictures of the item.
For instance, if you are selling a mouse pad, take a photo of the mouse pad against a plain background so that people can see its design and style. Additionally, take pictures of the mouse pad in use near a computer, with a mouse on it.
You could also take a picture of someone placing their hand on the mouse so that people will have a clear idea of the size of the mouse pad.
If you are selling a kit, make sure you have a shot of all the items in the kit spread out in a beautiful and neat manner so that people have an idea of the items that come along with the kit.
Say you're selling a paint supplies kit. Spread out the different tubes of paint, the mixing palette, and the paintbrushes against a neat background so that all the items are visible.
2. Organize Your Etsy Shop
Remember to treat your Etsy shop like a physical shop you own.
How would you like your customers to feel when they enter your store?
Would random items be splayed out on the table or haphazardly arranged on the shelves?
Or would you take the time to categorize your items, and place them neatly in a particular order on the shelves?
Your Etsy shop should be organized in the same way. Categorize your items so that people find it easy to find what they are looking for. Remember, people need to have a good first impression of your Etsy shop before they even decide to make a purchase.
Clear out your shop regularly. Add in fresh items and drop non-performing products. An updated shop tells customers that you take your business seriously and are trying to give them the best shopping experience.
3. Follow Etsy Search Engine Optimization (SEO) Best Practices
You've probably heard of search engine optimization. It's the practice of optimizing your content so that people who are looking for certain related keywords on search engines like Google are able to find you instantly.
Just like regular SEO for search engines, Etsy SEO is equally important, especially if you are a new seller.
Make sure that your Etsy shop is optimized for the right keywords so that when users search for those keywords, they are able to find your items.
Study your product categories and try to figure out what keywords your potential customers are typing in Etsy to find products similar to yours. When you invest in Etsy SEO, your Etsy shop is sure to stand out among other sellers.
If people find you at the top of their search results, they are more likely to click on your products and buy them. You can use a tool like eRank to find the right keywords to target.
4. Figure Out The Optimum Pricing For Your Products
Pricing your products rightly is crucial to selling on Etsy. If you price your products too low, you will not be able to sustain your Etsy business in the long term.
On the other hand, if you price your products too high, you may lose out on valuable customers.
Study your competitors and see how they price similar items. Try to minimize your production costs so that you can maximize your profits.
Keep testing out different pricing for your products till you settle down on optimum pricing that is increasing your sales.
You may also have to factor in seasonal costs for raw materials or other miscellaneous costs while pricing your products.
5. Analyze Your Sales And Profits
Make it a habit to keep a reliable record of all your costs involved in producing and selling your products. Also, keep a record of the sales that you make each month.
When you have these numbers, you will be able to study trends over weeks or months. Maybe sales increase drastically during the festive season and die down during the rest of the year.
If you are unable to keep records yourself, you can hire a shop manager or a bookkeeper to do this for you. Once you have a report of the performance of your Etsy store, you will be able to figure out which products are bringing in the most income and which ones are dragging you down.
Consider selling more of your successful products and reducing your non-performing ones so that you can increase your profits.
6. Promote on Social Media
Use social media platforms to promote your Etsy shop. You can set up a separate handle for your Etsy business on your favorite social media platforms and post regularly on them.
Study your target audience and create content that will appeal to them. You can use your social media account to post special sales or launch new products in your Etsy shop.
Selling on an Etsy Shop – FAQs
What are some things to sell on Etsy?
There are many items you can sell on Etsy according to their terms and conditions. Items similar to what you would sell in an art fair are usually most successful.
If you want to know exactly what Etsy sellers sell successfully on this platform, here are some of them:
Vintage items
Sell jewelry
Craft supplies
Sell art
Handmade items
Craft supply kit
Hair accessories
Fashion accessories
Personalized items
Pet supplies
What are the best-selling items on Etsy?
Most of the best-selling items are in the categories mentioned above. You could also use a tool like eRank to find out what items are selling well on the platform.
You can check out eRank here.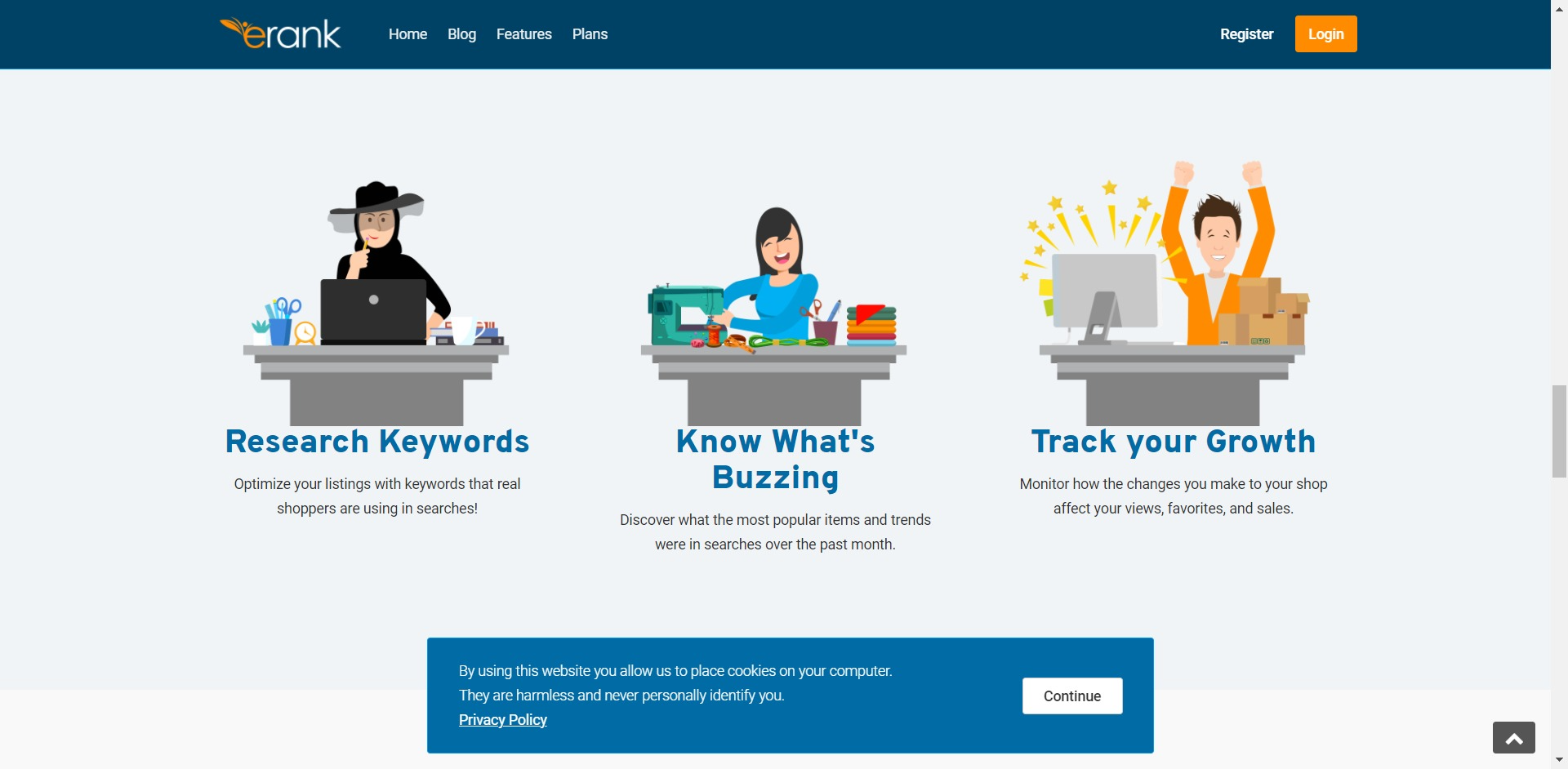 How does selling on Etsy work?
It is quite simple to start your Etsy shop. You can join Etsy as a seller and start your shop for free.
Etsy charges $0.20 to list each item in your store. This is called a listing fee, and is valid for only 4 months, after which you will need to pay again to renew your listing. You can also choose to renew your listings automatically.
You can use one listing to sell many similar products if they come in different sizes or colors. All you need to do is give buyers the choice of the size or color for that product.
When someone buys one of your products, Etsy charges a 5% transaction fee of the selling price for it.
If you use Etsy Payments to accept payments for your sales, then you will have to pay a processing fee of 3% of the selling price + $0.25 for each sale.
You will also have to pay a fee if a sale is generated through one of Etsy's Offsite Ads.
Etsy provides continuous support and learning to Etsy sellers through Etsy Support Specialists and the Seller Handbook.
How much does Etsy charge sellers?
Although you can set up an Etsy shop for free, you need to pay for every sale you make on the platform.
Here is a quick breakdown of all the fees you may incur as an Etsy seller:
Setting up an Etsy shop – free
Listing Fee – $0.20 per item listed on your Etsy shop
Etsy Transaction Fees – 5% of selling price for every item sold
Etsy Payment Processing Fees – 3% of the selling price per $0.25 per transaction
What are Etsy Ads?
Etsy Ads are based on the cost-per-click model, meaning you will have to pay for every click that the ad generates to your Etsy shop.
You will need to spend a minimum of $1 per day for Etsy Ads to promote your products.
Etsy also promotes your products around the web using Offsite Ads. Offsite Ads are ads that are shown across search engines like Google and social media platforms like Facebook and Instagram.
You will only need to pay for Offsite Ads if it generates a sale for you.
How can you run a sale on Etsy?
First, go to your Etsy account and click on Shop Manager < Marketing < Salers and Coupons. Then, click on 'New Special Offer'.
From here, you can choose whether you would like to run a sale, send offers to your customers, or create a discount coupon.
Is Etsy safe?
Yes, Etsy is completely safe for both buyers and sellers.
The platform is SSL-encrypted and has various security measures in place.
Can you sell food on Etsy?
Yes, you can sell food on Etsy if you follow all the Government regulations regarding the sale of food.
For more information on selling food on Etsy, you can check out Etsy's Seller Handbook.
Can you sell digital downloads on Etsy?
Yes, you can sell digital downloads on Etsy.
Listing digital downloads works similar to listing physical products. The only difference is that you will need to upload the files of your digital downloads (whether they are audio, videos, or images) so that buyers can download them as soon as they finish the payment.
How can you offer free shipping on Etsy?
To offer your customers free shipping, you can go to Your Account > Shop Manager > Settings > Shipping Settings > Free Shipping Guarantee > Get Started > Next > Set Free Shipping.
How do beginners sell on Etsy?
It is simple for anyone to start selling on Etsy. Just go to the site, create an account, set up your Etsy shop, and start listing your products.
You will need to have at least one product to list on your Etsy shop and pay a listing fee for each item you list.
Do you need a business license to sell on Etsy?
No, you do not need a business license to sell items on Etsy.
Conclusion
It is easy to get started selling on Etsy. If you are an independent seller or hobbyist looking to sell your craft items of artwork, then Etsy is a great place to do it.
Etsy connects sellers to buyers looking for special, original, hand-crafted items that are not found elsewhere.
I hope this 'How to sell on Etsy' guide has helped you. If you found this post useful, don't forget to share it with the rest of the world!
Do you have your own Etsy shop? Leave a comment below and let us know! 🙂