Incfile vs LegalZoom: Which Is The Best LLC Services
🔍 Need help choosing the best LLC service? 🤔 Dive into our blog post comparing Incfile vs LegalZoom. Find out which one suits your business needs 📚💼 and get your LLC on the right track 🚀!
According to the U.S. Census Bureau's Business Formation Statistics (BFS), which provides timely and high-frequency information on new business applications and formations in the United States, there were 436,048 business applications in May 2023, an increase of 0.4 percent compared to April 2023.
Incfile and LegalZoom are two highly-rated LLC service companies that offer various services to help entrepreneurs form their LLCs (Limited Liability Company).
Let's dive into the main features of each company.
Incfile Features: Your Comprehensive Guide to a Powerful Formation Service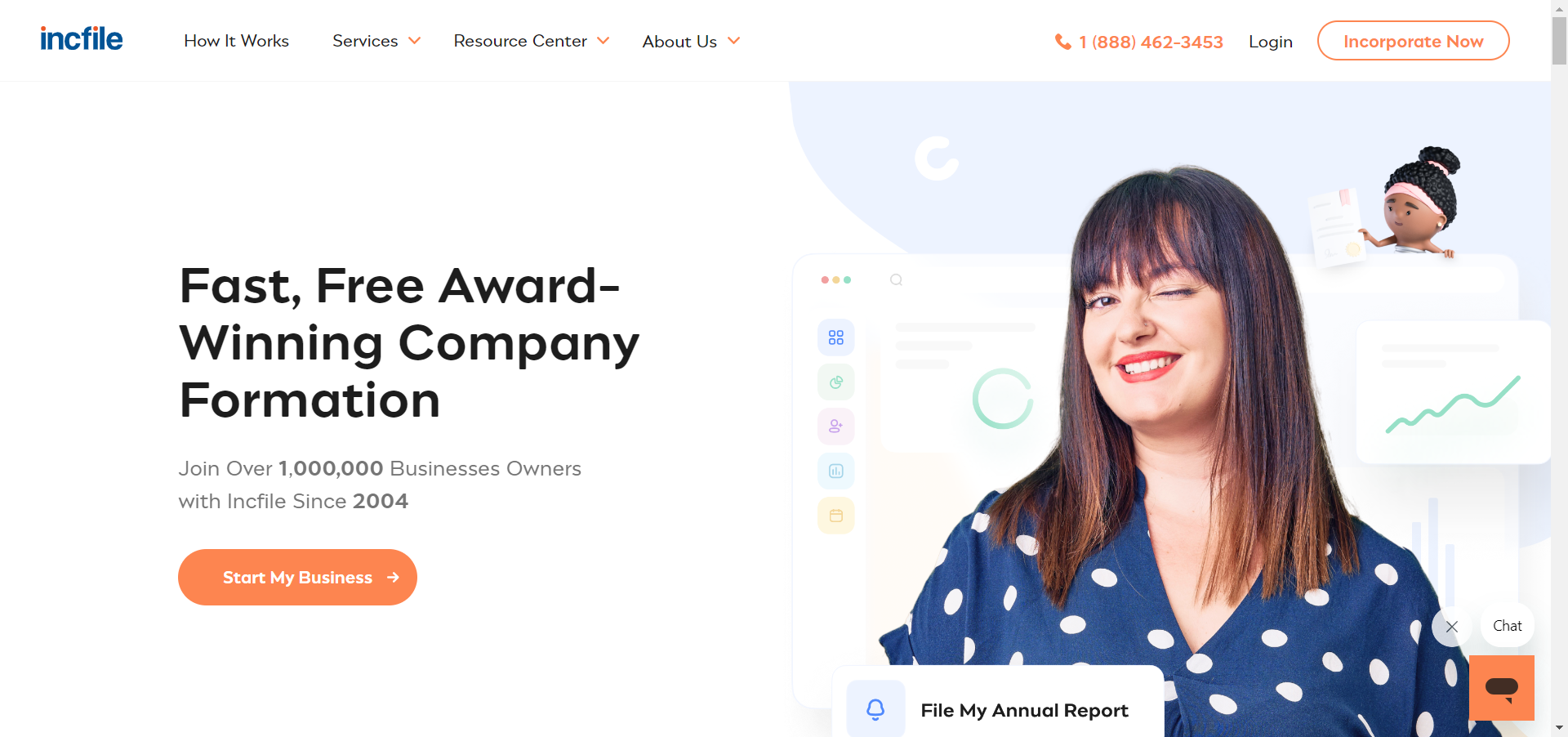 Formation Services: Setting the Stage for Success
Incfile's formation services are designed to help you navigate the complex process of starting a business.
From LLC and corporation formations to nonprofit and S-corporation registrations, Incfile has you covered.
They even offer personalized guidance to ensure your business is set up correctly, giving you a strong foundation for growth.
Free Registered Agent Service for One Year: A Valuable Bonus
With Incfile, you can enjoy a free registered agent service for one year. This is a significant advantage, as registered agents ensure your business complies with state regulations.
After the first year, the registered agent service is available for a competitive annual fee, ensuring you continue to receive valuable support.
File a Trademark: Safeguard Your Brand Identity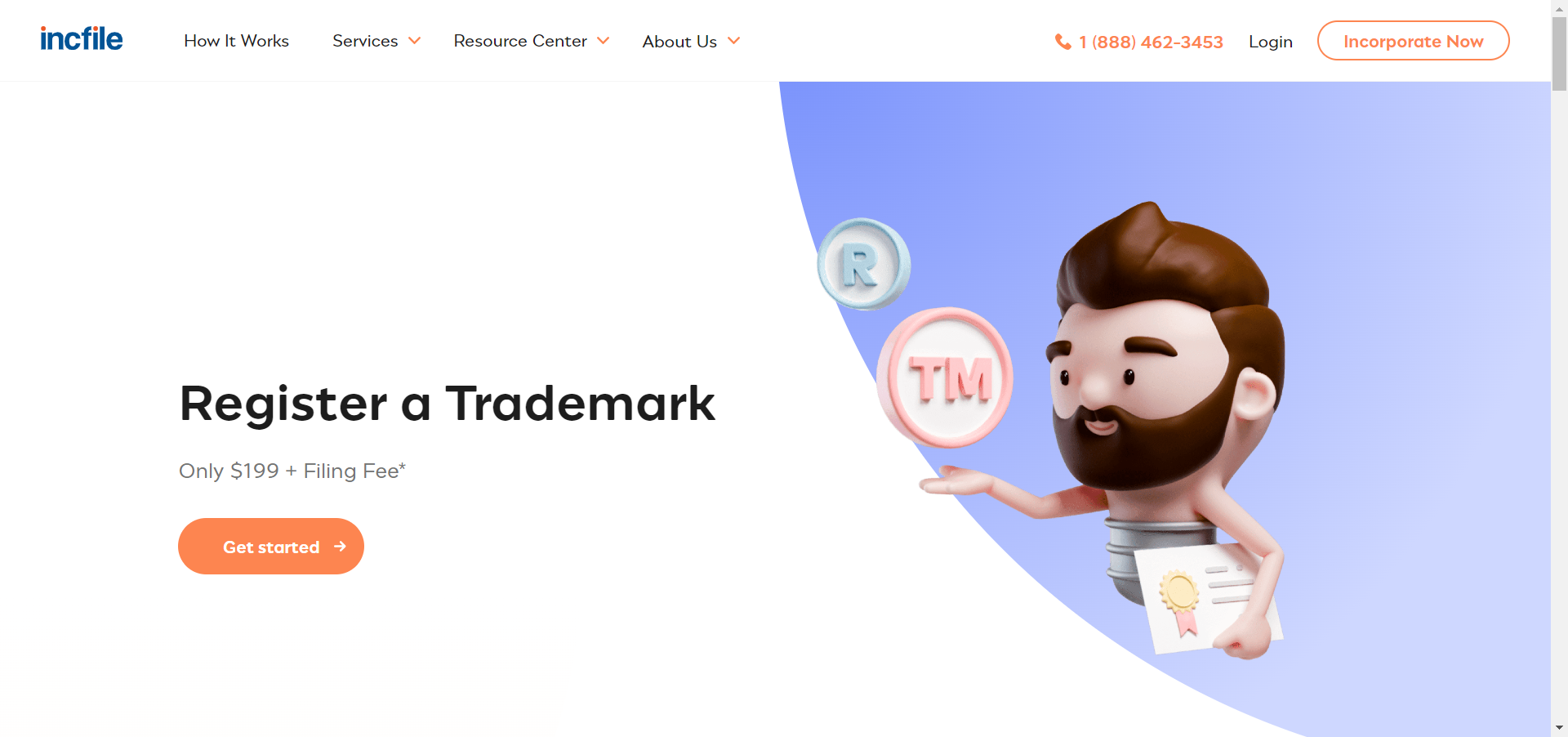 A robust brand identity is essential for success; Incfile can help you protect it. Their trademark filing service ensures your business name, logo, or slogan is safeguarded from competitors, giving you peace of mind and a solid foundation for growth.
This can help you stand out in a crowded market and avoid costly legal disputes.
EIN and IRS Paperwork: Streamlining Necessary Steps
Securing an Employer Identification Number (EIN) is a requirement for most businesses. Incfile simplifies this process by handling the paperwork on your behalf, saving you time and effort.
They can also manage your IRS paperwork, ensuring you meet all federal tax requirements and avoid potential fines or penalties.
Document Templates: Streamlining Your Operations
Incfile offers a range of document templates that can help you manage various aspects of your business.
From operating agreements and bylaws to meeting minutes and resolutions, these templates are invaluable for keeping your operations running smoothly and maintaining a professional appearance.
Lifetime Company Alerts: Stay Up-to-Date and Compliant
Incfile's lifetime company alerts ensure you never miss an important deadline.
You'll receive notifications for annual report filings, business licenses, and other crucial compliance requirements, helping you maintain your business's good standing with the state and avoiding potential pitfalls.
Online Access Dashboard: Your Business at Your Fingertips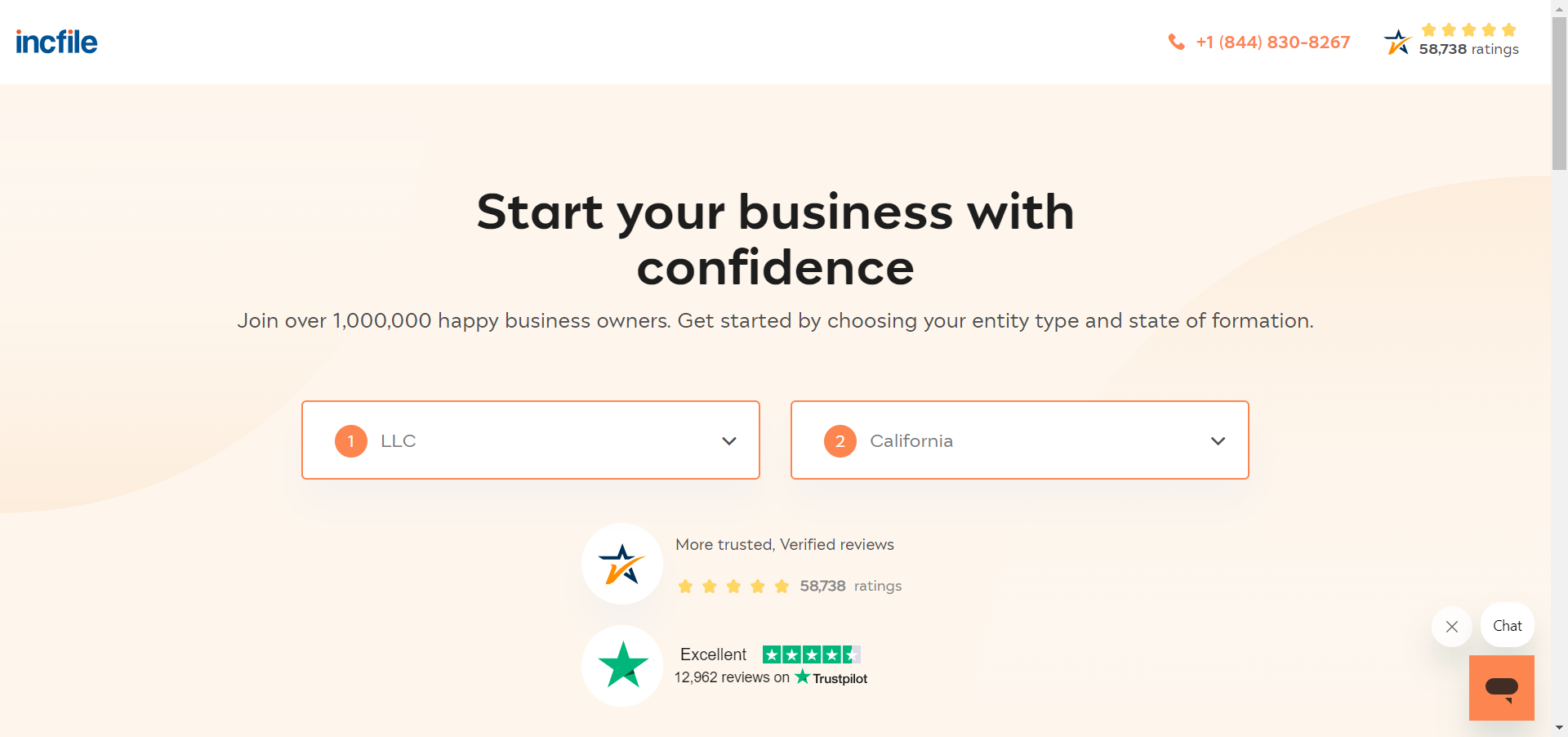 Stay connected with your business through Incfile's user-friendly online access dashboard.
This dashboard provides a central location for managing your documents, filings, and other essential business information, making organization and oversight a breeze and allowing you to focus on what matters most: growing your business.
Customer Support: Expert Guidance When You Need It
Incfile's customer support team can answer your questions and provide expert guidance throughout the formation process.
Whether you need help choosing the right business entity or have questions about state requirements, their experienced team is ready to assist you, ensuring you have the support you need to succeed.
Business Website and Email Set-up: Establish Your Online Presence
A strong online presence is crucial for your business's success. Incfile can help you set up a professional website and email account, ensuring you're ready to connect with customers and build a thriving online community.
This service can give your business the polished appearance necessary to attract and retain customers in today's digital world.
Resource Blog: Stay Informed and Inspired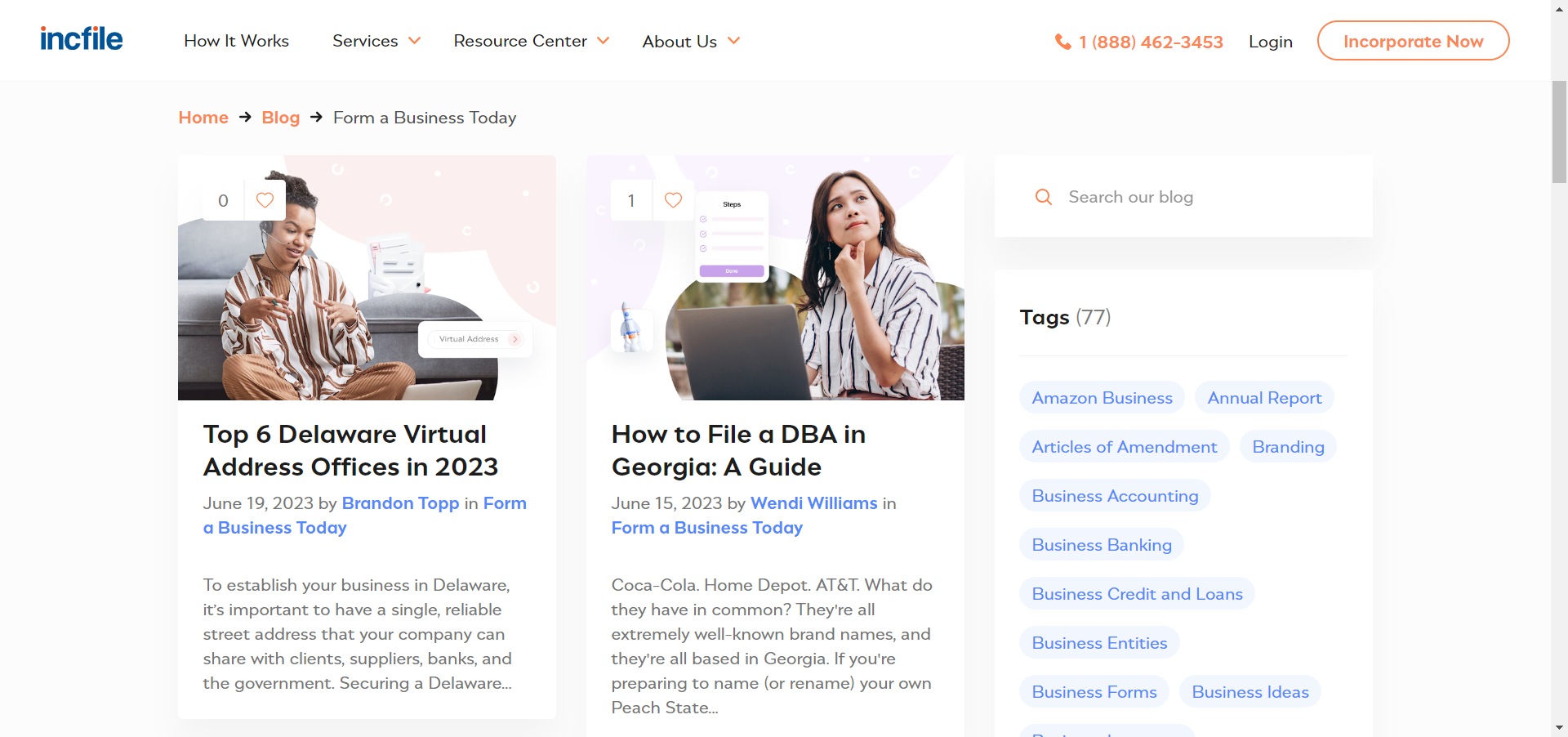 Incfile's resource blog offers a wealth of information and inspiration for entrepreneurs.
From tips on growing your business to in-depth guides on tax strategies, you'll find valuable content to help you confidently navigate the world of entrepreneurship.
This resource can be a valuable tool in your journey as a business owner, providing insights and advice to help you thrive.
In conclusion, Incfile provides a comprehensive suite of features designed to support your business from its inception and beyond.
You'll be well-equipped to create a thriving, compliant, and successful online business by leveraging their expertise and resources.
LegalZoom Features: A Comprehensive Overview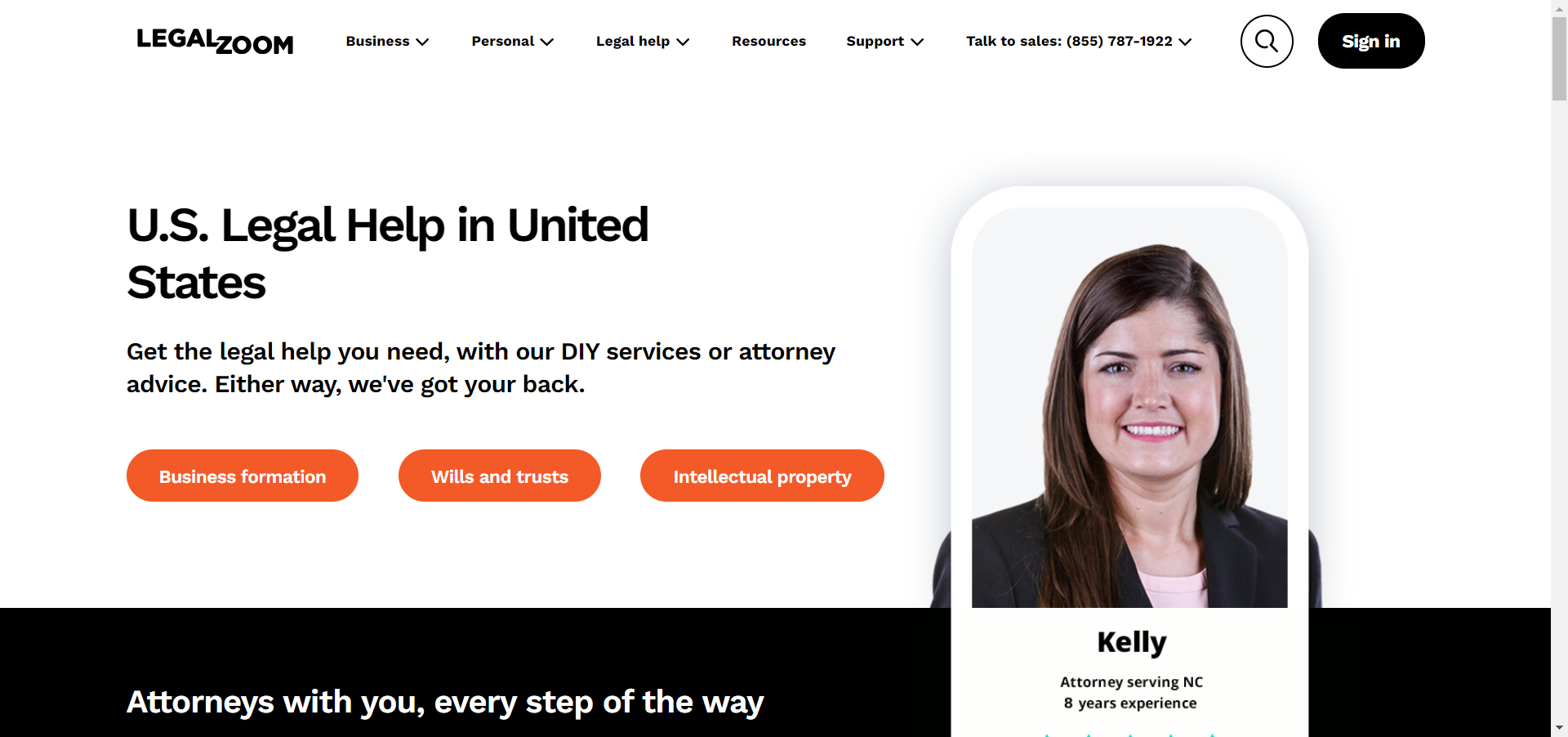 LegalZoom is a platform offering a range of beneficial features for entrepreneurs. Let's dive into some of the key features LegalZoom provides to help you understand if it's the right platform.
Name Check and Business Filing: Ensuring Your Business Name is Unique
One of the crucial steps in starting a business is selecting a unique name that represents your brand.
LegalZoom offers a comprehensive name check service to ensure that your chosen name is available and not already taken by another business entity.
Once you've selected a unique name, LegalZoom handles the business filing process, ensuring all necessary documents are submitted to the relevant state authorities.
This way, you can focus on growing your business while LegalZoom handles the paperwork.
LLC Next Steps Guide: A Roadmap for Your Business Success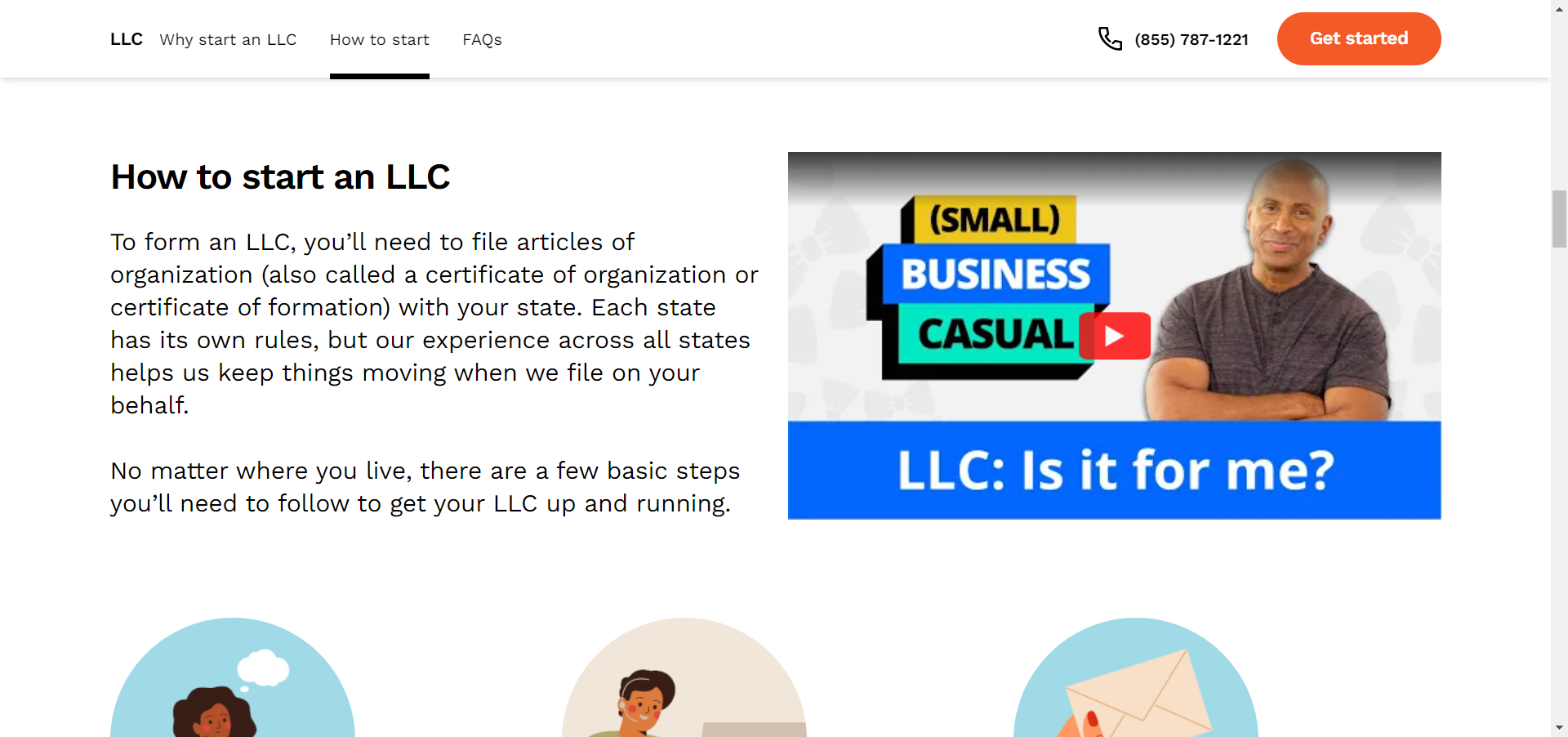 Starting a business can be overwhelming, especially for first-time entrepreneurs. LegalZoom offers a detailed LLC Next Steps Guide that helps you navigate the initial stages of your business journey. This guide includes information on:
Obtaining an Employer Identification Number (EIN)
Creating an operating agreement
Opening a bank account for your business
Filing annual reports
Managing taxes and licenses.
With this guide, you'll have a clear roadmap, ensuring you don't miss any crucial steps in setting up your business.
Lifetime Customer Support: A Helping Hand When You Need It
LegalZoom understands that starting and managing a business can be challenging, which is why they offer lifetime customer support to their clients.
With experts available to answer your questions and provide guidance, you can be confident you'll have the help you need throughout your entrepreneurial journey.
Financial Account Authorization Letter: A Must-Have for New Business Owners
Opening a business bank account is essential in setting up your new venture. LegalZoom provides a Financial Account Authorization Letter that simplifies this process.
This letter declares that you have the authority to open a bank account for your business, making it easier for you to start your financial management.
Various Formation Services for Online Businesses
LegalZoom offers various formation services tailored to your needs, whether starting as a sole proprietorship, partnership, or even an LLC. Some services they provide include:
Sole Proprietorships: For individuals looking to start small and maintain complete control over their business.
Partnerships: Ideal for those who want to share the load with a business partner or co-founder.
Limited Liability Companies (LLC): Combining the best of both worlds, an LLC can provide personal liability protection while offering flexibility in management and taxation.
💡 Pro tip: Depending on your specific needs, you might want to consult with a business attorney or tax professional to determine which form is best suited for your online business.
LegalZoom offers a comprehensive suite of services tailored to content marketers, affiliate marketers, and social media influencers' unique needs.
By taking advantage of their expertise and resources, you can focus on what you do best – creating amazing content and growing your online empire.
Incfile vs LegalZoom: Comparing Incfile and LegalZoom Features for LLC Formation
As a content marketer or authority site owner looking to create an LLC, selecting the best service to cater to your unique needs is paramount.
This section will compare the features offered by Incfile and LegalZoom, two popular LLC formation platforms.
Name Availability Search
Both Incfile and LegalZoom offer name availability search services, a crucial step when choosing a name for your LLC to ensure it's not already taken by another company.
Incfile: Provides a state-by-state name availability search, making it easy to confirm the availability of your preferred business name.
LegalZoom: It also offers a name availability search service, taking the guesswork out of selecting a unique name.
Articles of Organization Filing
Filing the Articles of Organization is a critical step in the LLC formation process. Incfile and LegalZoom offer this service but with slight differences in their approach.
Incfile: Their LLC formation package includes filing the Articles of Organization on your behalf, streamlining the process for you.
LegalZoom: Also files the Articles of Organization for you; however, their pricing structure may vary depending on your chosen package.
Registered Agent Service
A registered agent is required for every LLC, and both Incfile and LegalZoom offer this service as part of their LLC formation packages.
Incfile: Provides one year of free registered agent service, after which you can choose to continue with their service at a fee.
LegalZoom: Offers registered agent service as an add-on to their LLC formation packages at an additional cost.
Operating Agreement Template
An operating agreement is essential for establishing the rules and procedures of your LLC. Incfile and LegalZoom provide business contract templates to help you draft this crucial document.
Incfile: Offers a customizable operating agreement template as part of their LLC formation package.
LegalZoom: Provides an operating agreement template, although it may come at an additional cost depending on your chosen package.
EIN Obtainment and Business Tax Consultation
Incfile and LegalZoom offer services to help you obtain an Employer Identification Number (EIN) and provide business tax consultation.
Incfile: Offers EIN obtainment, IRS paperwork filing services, plus access to a tax consultation.
LegalZoom: Provides EIN obtainment services as an add-on for an additional fee. They also offer a financial account authorization letter, which is helpful for banking purposes.
Compliance Reminders and Business Website
Staying compliant and maintaining an online presence is vital for any business. Incfile and LegalZoom offer features to assist with these tasks.
Incfile: Comes with lifetime company alerts and an online access dashboard to help you stay updated on your business's compliance requirements. They also offer business website and email set-up services.
LegalZoom: Provides lifetime customer support and an LLC Next Steps Guide but does not explicitly offer compliance reminders. They also do not provide website and domain services as part of their LLC formation packages.
Business Licenses and Permits
Incfile and LegalZoom offer resources to help you obtain your LLC's necessary business licenses and permits.
Incfile: Has a resource blog that provides information on obtaining business licenses and permits.
LegalZoom: Offers a separate service to help you obtain your business's required licenses and permits.
In conclusion, both Incfile and LegalZoom offer comprehensive LLC formation services.
However, they differ in terms of pricing structures and some features. Carefully review each platform's offerings and choose the best fit for your needs and budget.
Incfile vs LegalZoom: Pricing
When choosing between Incfile and LegalZoom for LLC formation, pricing is among the most critical factors. Both companies offer various pricing plans that cater to different customer needs.
To help you make an informed decision, let's break down and compare the pricing plans provided by Incfile and LegalZoom.
Incfile Pricing Plans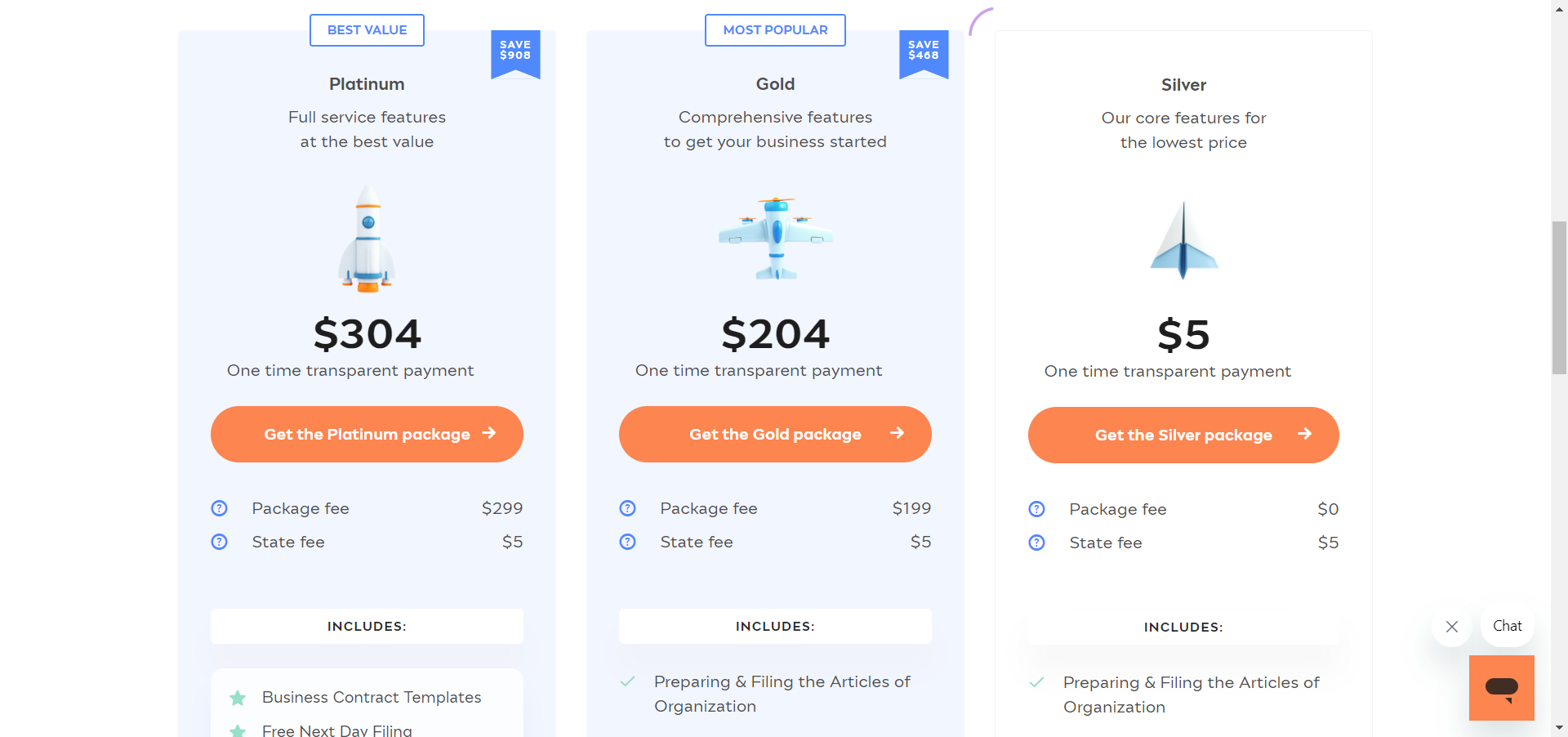 Incfile offers three pricing plans for LLC formation:
Silver
$0+ state filing fee
Gold
$199+ state filing fee
Platinum
$299+ state filing fee
LegalZoom Pricing Plans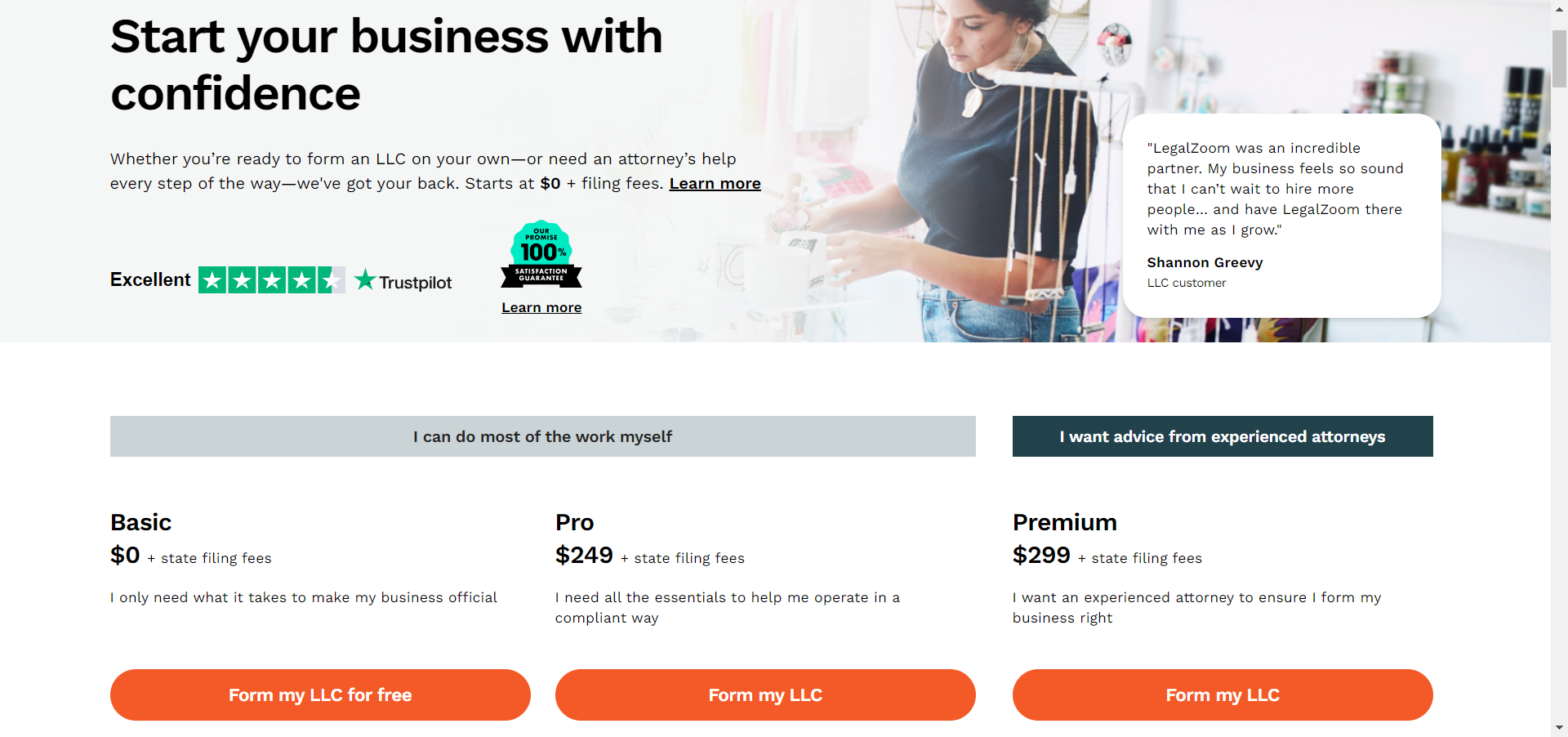 Legalzoom has three different pricing plans for LLC formation:
Basic
$0+ state filing fee
Pro
$249+ state filing fee
Premium
$299+ state filing fee
Remember, however, that while Incfile's pricing is more attractive, you should also consider the features and services included in each plan.
Incfile vs LegalZoom: What Sets Incfile's Business Formation Services Apart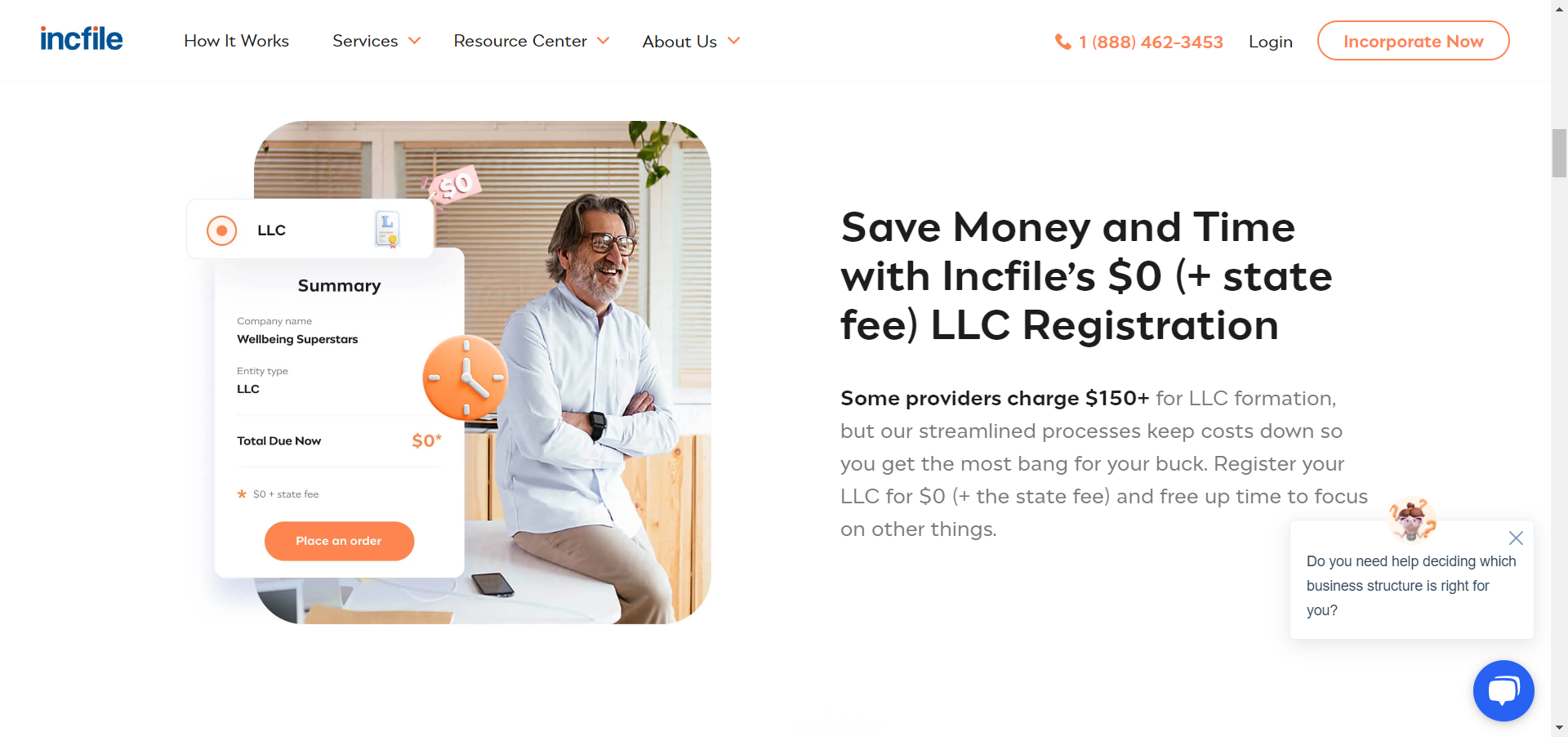 Business Formation Pricing
When it comes to business formation pricing for small business owners, Incfile is a registered agent that truly stands out. They offer a competitive pricing structure, starting with a free basic package, including state filing fees.
This is a significant advantage for digital marketers, niche site owners, and content marketers who are just starting their online businesses and looking for cost-effective solutions.
Turnaround Times
Incfile boasts impressive turnaround times, which can be crucial for those eager to get their businesses up and running.
Compared to other registered agent services like LegalZoom, Incfile processes orders much faster, helping you establish your online business in no time.
Registered Agent Service
A unique feature that sets Incfile apart is its registered agent service. This service is included for free for the first year when you sign up for any of their business formation packages.
With a registered agent handling legal documents and correspondence on your behalf, you can focus on growing your online business.
Flexibility
Incfile stands out in terms of flexibility, offering a variety of packages to choose from tailored to different needs.
Whether you're a beginner digital marketer or an experienced authority site owner, there's a package that suits your requirements.
Privacy
Privacy is essential for any business, and Incfile takes it seriously. They offer a secure online platform where you can manage your business documents and information, ensuring your data remains confidential.
Professionalism
Incfile's professionalism is another aspect that sets them apart. Their experienced team provides valuable support and guidance throughout the business formation, ensuring you make informed decisions for your online business.
Incfile vs LegalZoom: Similarities Between Incfile and LegalZoom
While there are differences between Incfile and LegalZoom, they also share some similarities.
Both offer business formation packages, registered agent services, and ongoing compliance support.
They also provide various legal services, such as trademark registration and legal consultations.
Incfile vs. Legalzoom: Pros and Cons
Regarding choosing the ideal service for starting your business, Incfile and LegalZoom are popular options.
In this section, we will break down the pros and cons of both legal services, allowing you to make an informed decision based on your specific needs.
Pros of Incfile
Free Registered Agent Service for One Year
One of the most attractive features of Incfile is its complimentary registered agent service for the first year.
This can save you significant money, as registered agent services can cost anywhere from $100 to $300 annually.
Also, they guarantee that your formation will be processed and sent to your state of formation within 1 business day.
Lifetime Company Alerts
Incfile offers lifetime company alerts, ensuring you'll receive essential notifications about your business, such as annual report filing deadlines and tax due dates.
This can be a lifesaver for busy entrepreneurs who might miss crucial deadlines.
Low-Cost Plans
Incfile is known for its budget-friendly pricing plans, which can be a game-changer for small business owners and startups working with a limited budget.
Their Silver package starts at just $0 + state filing fees, making it an accessible option for many.
Cons of Incfile
Limited Customer Support Hours
One downside to Incfile is their limited customer support hours. While they offer phone and email support, their hours of operation are only from 9 am to 6 pm CST, which might not be convenient for everyone.
No Legal Advice
Incfile does not provide legal advice, so you may need to consult with an attorney separately if you need assistance with more complex legal matters.
No Refund Policy
Incfile does not offer a refund policy, meaning that if you're unsatisfied with their LLC formation services, you won't be able to get your money back.
Pros of Legalzoom
Extensive Experience
LegalZoom has been around since 2001, providing extensive experience helping businesses with their legal needs.
This can be a significant advantage when navigating the complex world of business formation and legal requirements.
Legal Advice
Unlike Incfile, LegalZoom offers legal advice through its network of attorneys.
This can be incredibly helpful for business owners who need assistance with more complex legal matters or have questions about their situation.
Satisfaction Guarantee
LegalZoom offers a satisfaction guarantee, meaning that if you're unhappy with their business formation services, you can request a refund within 60 days of your purchase.
Cons of Legalzoom
Expensive Plans
One of the primary downsides to LegalZoom is its costly pricing plans. Their basic package starts at $79 + state filing fees, significantly higher than Incfile's Silver package.
Upsells and Hidden Fees
LegalZoom has been known to upsell additional services and charge hidden fees, frustrating customers trying to stick to a budget.
Incfile and LegalZoom have their pros and cons. When deciding which service to use, you must weigh your needs and preferences as a business owner.
If cost is your primary concern, Incfile may be the better option. However, if you're looking for legal advice and a satisfaction guarantee, Legalzoom might be the way to go.
Starting an LLC Conclusion: Incfile vs LegalZoom?
When choosing a registered agent service or an affordable business formation service for starting an LLC, several factors come into play, such as pricing, customer support, turnaround time, and additional services offered.
While Incfile is generally less expensive, LegalZoom has a more established brand name and a more comprehensive range of business formation services.
Evaluate your specific needs and consider the pros and cons of each provider before making a decision.
In conclusion, both Incfile and LegalZoom have their unique strengths and weaknesses.
Thoroughly compare their services, pricing, and customer reviews to determine which provider best fits your business's legal needs.
Finding the right legal service provider can save you time, money, and potential legal headaches in the long run.
What are your thoughts on starting an LLC with Incfile vs LegalZoom?
Let us know in the comments! 🙂