Kartra Pricing Plans: Is Kartra Powerful To Grow Your Business?
If you are looking for Kartra pricing for your online business, this post was written just for you.
Kartra is an all-in-one marketing platform that handles your entire online business end-to-end!
Kartra takes care of your web hosting, email marketing, list building, and e-commerce management so that you can build and grow your online business without using many other tools. Kartra also offers a sales funnel builder to help you build, manage, and optimize your marketing funnels and campaigns.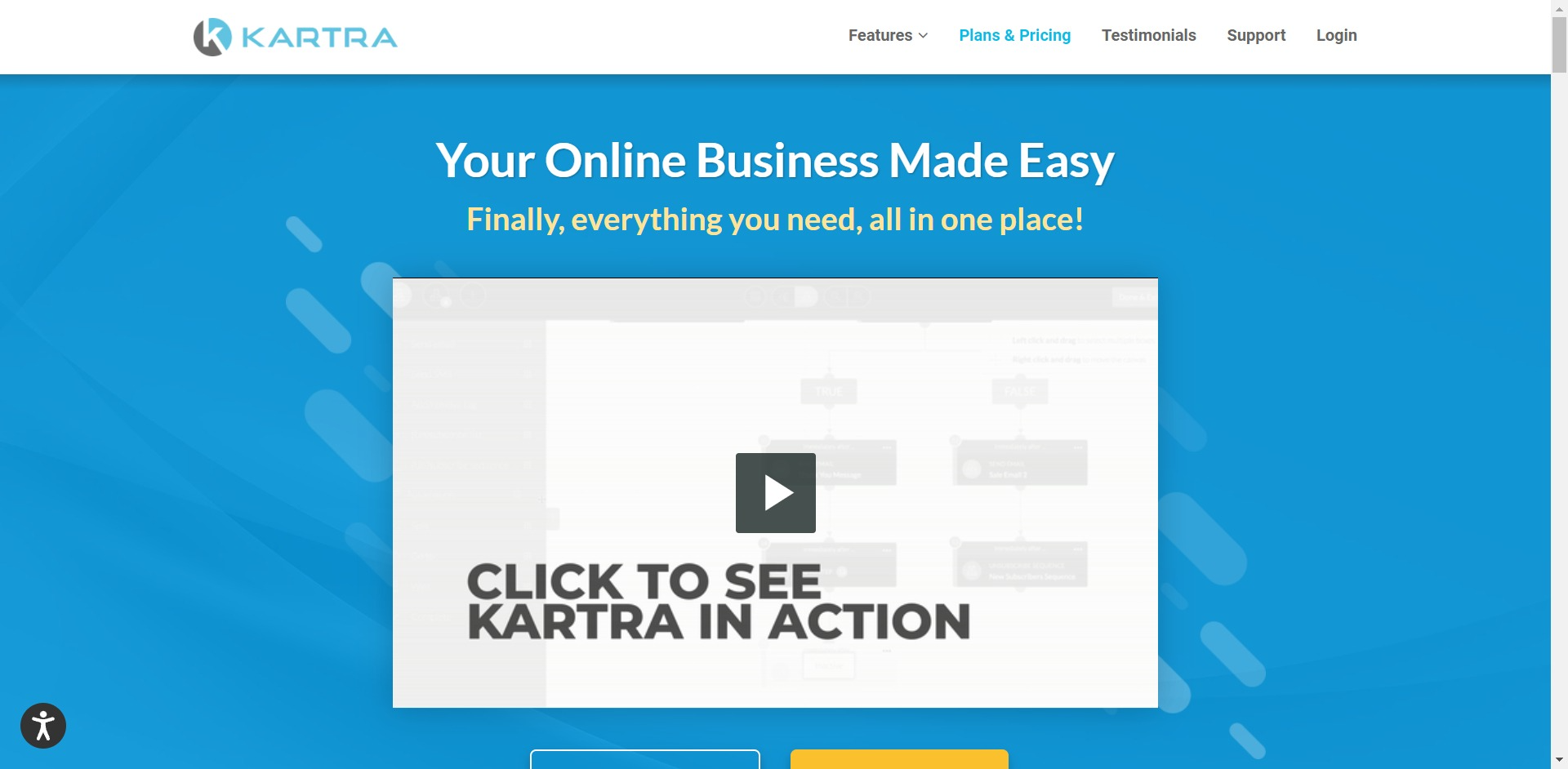 Kartra is trusted and recommended by renowned internet marketing experts as a marketing tool to help you take care of your online business presence from within a single platform.
In today's post, we will:
Break down the different Kartra pricing packages and what they offer Kartra users,
Talk about what Kartra Agency is and how it can help your business,
Go through the various features Kartra has to offer its users, and
See what other marketing tools Kartra replaces
I've written this post as a go-to guide for all your Kartra pricing questions, and I trust that it will help you understand exactly what you will be getting with each Kartra plan so that you can choose the best plan for your business.
Without further ado, let's get into the post!
Disclaimer: If you buy something using the links in this article, I may receive a commission at no extra cost to you. Know that I only promote stuff that I use and trust for the sake of my readers and the reputation of this site.
Kartra Pricing Packages: All You Need To Know About The Various Kartra Pricing Plans
Kartra offers four main pricing packages: Starter Plan ($99 per month), Silver Plan ($199 per month), Gold Plan ($299 per month), and Platinum Plan ($499 per month), all billed annually.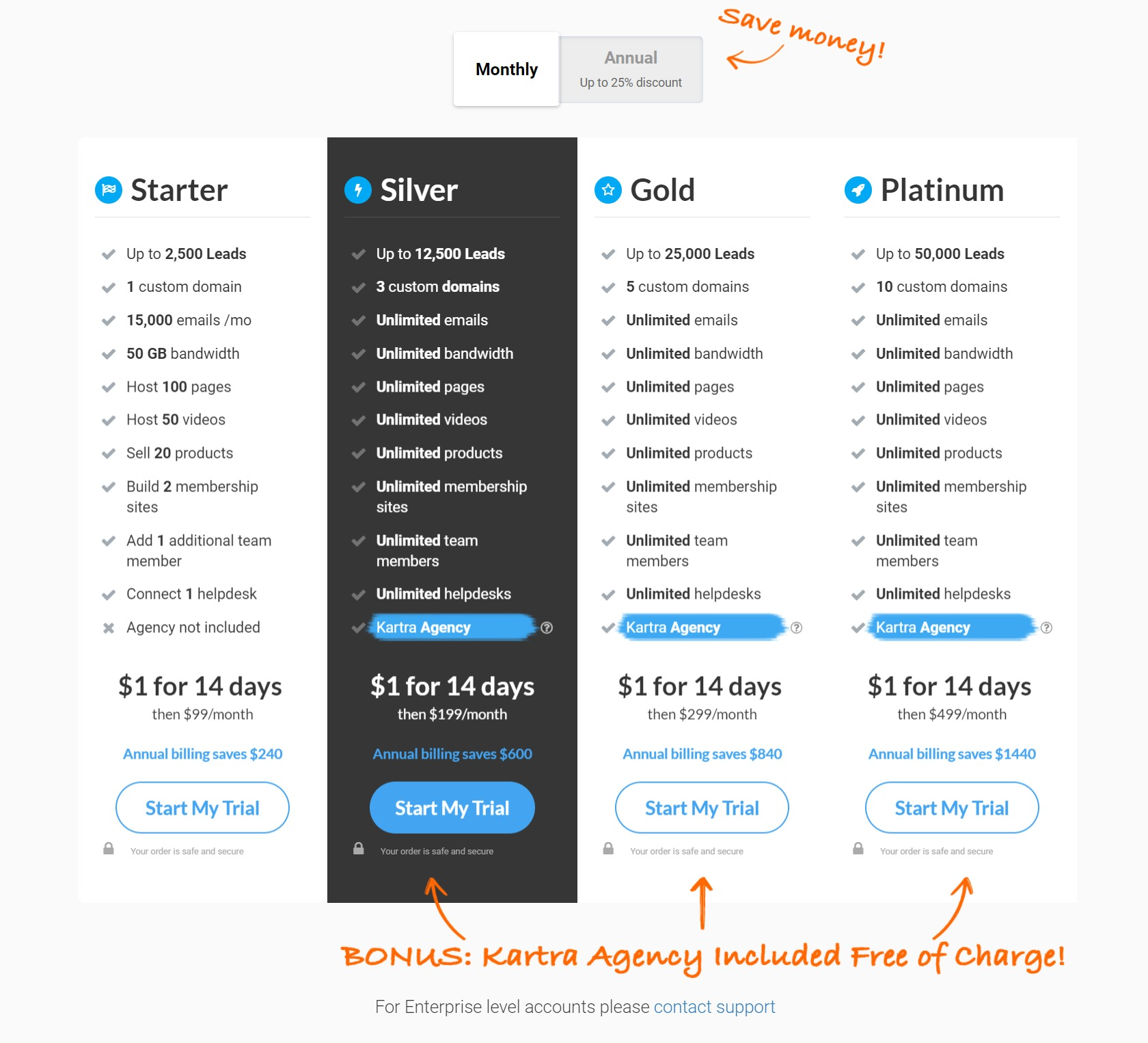 The best part with Kartra is that you do not have to pay for a plan initially. Kartra offers new users a 14-day trial for any of its plans for just $1. Once the trial ends, you can pay for the plan you choose.
[Stick around till the end of the post if you want to know how to double your trial period from 14 days to 30 days!]
The first Kartra plan is called the Kartra Starter plan. This section will look at the Kartra Starter plan pricing and its features.
The Starter plan is perfect for beginners and small business owners who want to start by building sales pages, setting up email automation, and creating sales videos for their online business. It is for those businesses with a small list of fewer than 2,500 leads.
Here are the features of the Kartra Starter Plan:
Up to 2,500 leads
1 custom domain
15,000 emails per month
50 GB bandwidth
Host 100 sales pages or landing pages
Host 50 videos
Sell 20 products
Build 2 membership sites
Add 1 additional team member
Connect 1 helpdesk
The Kartra Starter Plan does not include Kartra Agency. We will discuss what Kartra Agency is in a later section of this post.
Kartra cost for the Starter Plan is $99 per month. You can save $240 per year if you pay annually for the Starter Plan, as it will cost you $79 per month.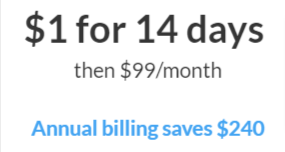 Like all other Kartra plans, the Starter Plan offers a 14-day Kartra trial for $1. After the trial, you will be billed according to your chosen plan.
The second plan is called the Kartra Silver Plan. The Silver Plan is the most popular of all the Kartra plans because of its great value.
Kartra Silver Plan includes many unlimited features, Kartra Agency, unlimited bandwidth, and emails.
With all these great features, there's no wonder why the Silver Plan is the top choice among most small business owners.
Here are the features of the Kartra Silver Plan:
Up to 12,500 Leads
3 custom domains
Unlimited emails
Unlimited bandwidth
Unlimited pages
Unlimited videos
Unlimited products
Unlimited membership sites
Unlimited team members
Unlimited helpdesk
Kartra Agency
Kartra Silver Plan costs $199 per month after the 14-day Kartra trial (if you choose to try the plan before committing). You can save $600 if you pay for the Silver Plan annually at $149 per month.
The Silver Plan is worth every penny. It would make more sense to go with the Silver plan than the Strater plan because of the value you get from it. I would say it's the best plan that Kartra offers.
So, if you're just starting with Kartra, the Silver plan is the way to go.
Here is the link if you want to try Kartra for $1.
I'll also give you the simple steps you need to follow to double your $1 trial to 30 days instead of 14!
How To Double Your Kartra Trial To 30 Days
Here's how you can double your 14-day Kartra trial to 30 days. Remember that you cannot follow these steps on a mobile device, so make sure you use a desktop or laptop to do these next steps.
Step 1:
Click on this link (on a desktop or laptop) to go to the Kartra homepage:
Step 2: Scroll past the video and click the Get Started button. Once you navigate to the Kartra pricing plan page, wait till the page completely loads. Once the page has loaded, move your mouse pointer toward the exit or tab.
You will then be shown a pop-up notification like this: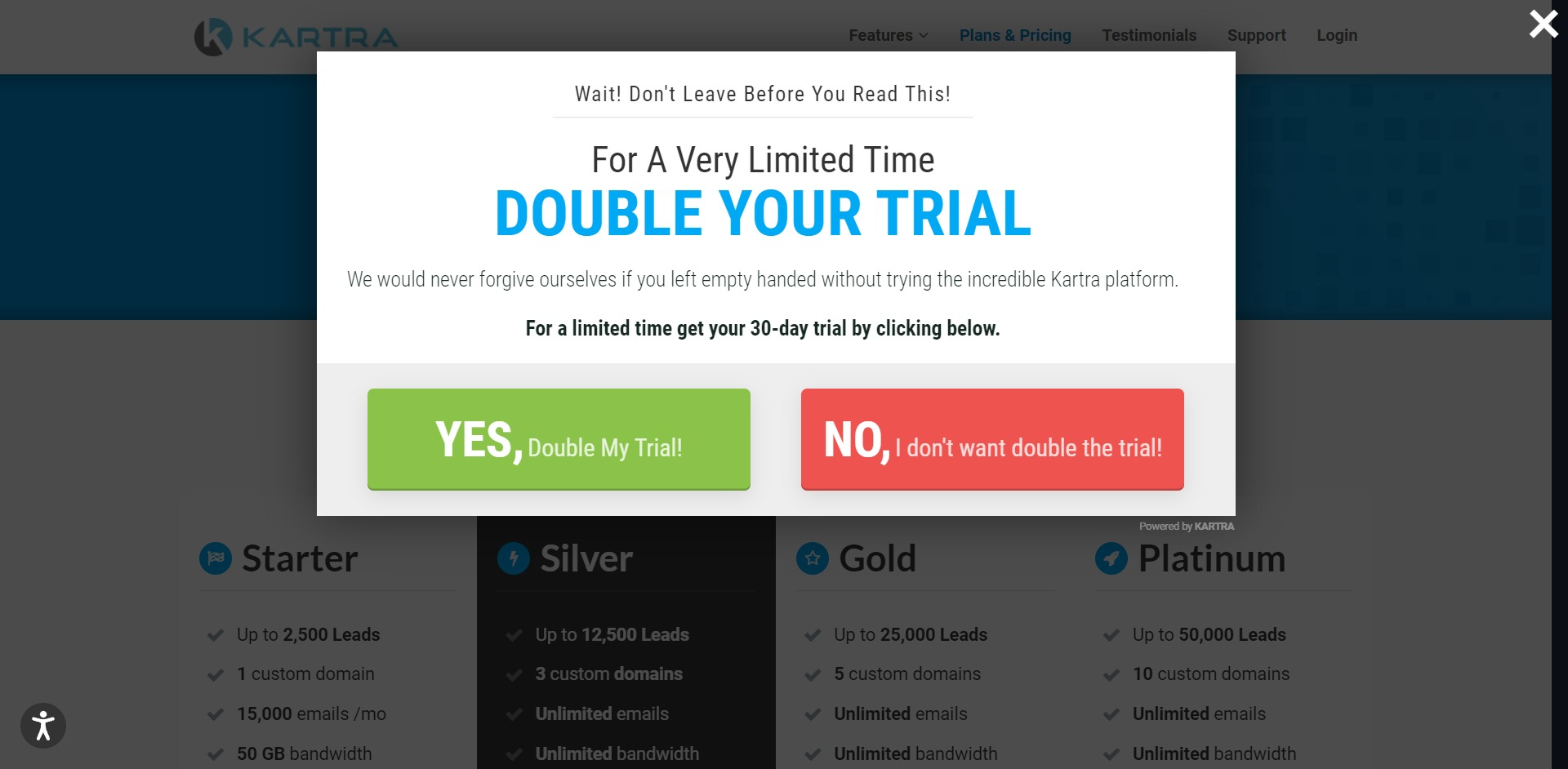 Step 3: Click the green button, "YES, DOUBLE MY TRIAL!".
Make sure to pick the Silver plan, as this is the one that will give you the best value after your extended trial ends. Remember, you can always cancel your plan, downgrade to a lower plan, or upgrade to a higher one.
Let's now look at the remaining Kartra plans.
The third pricing plan for Kartra is called the Kartra Gold Plan. The Kartra Gold Plan offers the same unlimited features as the Silver plan, the only difference being the number of leads.
Kartra Gold Plan offers you up to 25,000 leads along with Kartra Agency.
Here are the features of the Kartra Gold Plan:
Up to 25,000 Leads
5 custom domains
Unlimited emails
Unlimited bandwidth
Unlimited pages
Unlimited videos
Unlimited products
Unlimited membership sites
Unlimited team members
Unlimited helpdesk
Kartra Agency
The Kartra Gold Plan costs $299 per month. You can save $840 per year if you pay for a whole year at $229 per month.
The Gold Plan is for you if you need up to 25,000 leads. If you're looking for something more, you might want to check out the next Kartra plan.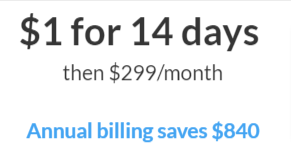 The final plan for Kartra pricing is the Kartra Platinum Plan. This Kartra plan is the highest cost and has all the unlimited features of Silver and Gold plans.
The only difference is again the number of leads and the number of domains- up to 50,000 leads and 10 custom domains.
Kartra Platinum also has Kartra Agency, which we will discuss in the next section.
Here are the features of the Kartra Platinum Plan:
Up to 50,000 Leads
10 custom domains
Unlimited emails
Unlimited bandwidth
Unlimited pages
Unlimited videos
Unlimited products
Unlimited membership sites
Unlimited team members
Unlimited helpdesks
Kartra Agency
The Kartra Platinum Plan costs $499 monthly after the trial. If you want to save $1440 per year, you can pay for it annually at $379 per month.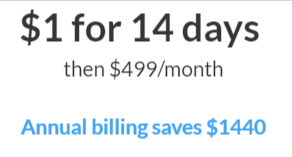 You can contact Kartra support for enterprise-level solutions to get the best pricing based on your requirements.
What Is Kartra Agency And Why Do You Need It?
The Kartra Agency feature is an add-on that allows you to leverage your knowledge of Kartra. You can manage your clients' accounts using a single centralized dashboard as an agency.
You can quickly look at your clients' analytics at a glance. You will also be able to view revenue generated, sales and rebills, the number of website visitors, and new leads without logging in and out of each client account.
With the Kartra Agency feature, you can buy client accounts in bulk at a 40% discount and sublease them to your clients.
You can also manage your client's online businesses, build their landing pages, run their marketing campaigns, use all Kartra features, and charge your clients what you want!
The best part? You can get the Kartra Agency feature on any Kartra pricing plan except the Starter plan.
Remember, you can sign up for Kartra using this link and get an extended trial for 30 days for $1.
Is Kartra Pricing Worth The Money?
Now that we've looked at the various Kartra pricing packages, it's time to learn more about Kartra's fantastic assortment of advanced marketing features that you can use as a business owner.
In this Kartra review, we will talk about all of Kartra's features that help you create your marketing pages, opt-in forms, membership sites, video sales letter pages, landing pages, and other marketing assets for your online business in just a few hours.
Kartra is a marketing software or marketing platform that acts as a sales funnel builder, landing page builder, link tracking software, calendar management software, and more.
With all the Kartra features, it's like having all your favorite marketing tools and marketing software in one unified dashboard!
No matter what Kartra pricing plan you go with – the Starter Plan or the Silver plan – Kartra gives you all the tools you need for your marketing pages, landing pages, opt-in forms, sales funnels, and email automation!
What Are The Features That Kartra Offers Users?
Let's now quickly go through all the features that Kartra offers.
1. Kartra Checkouts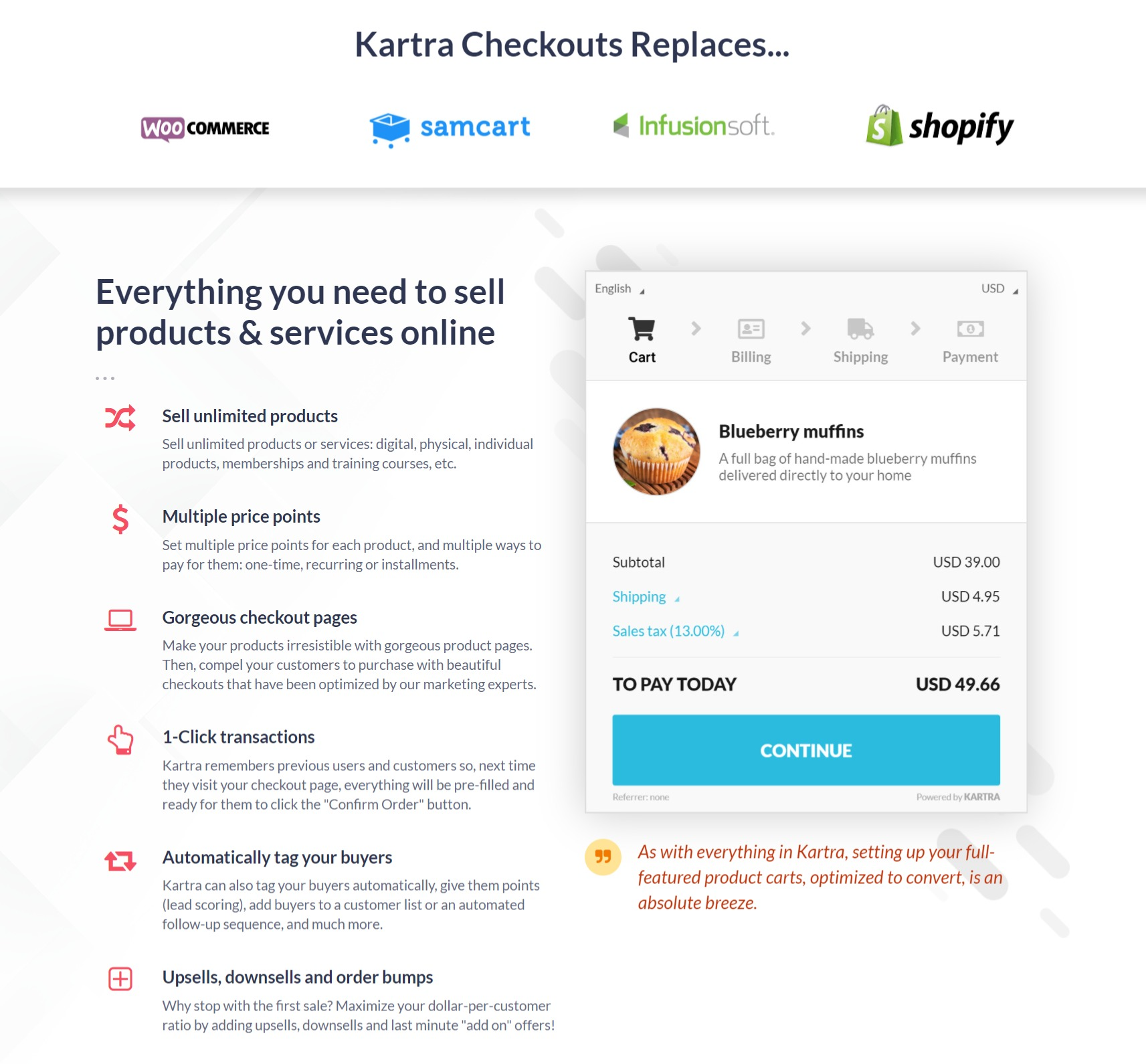 Kartra Checkouts is one of the online marketing tools that Kartra offers users. Kartra Checkouts helps you create a user experience that your shoppers will love.
Kartra helps you set up a checkout cart that is simple and reliable yet designed to make the most of every sale.
You can learn more about Kartra Checkouts here.
2. Kartra Leads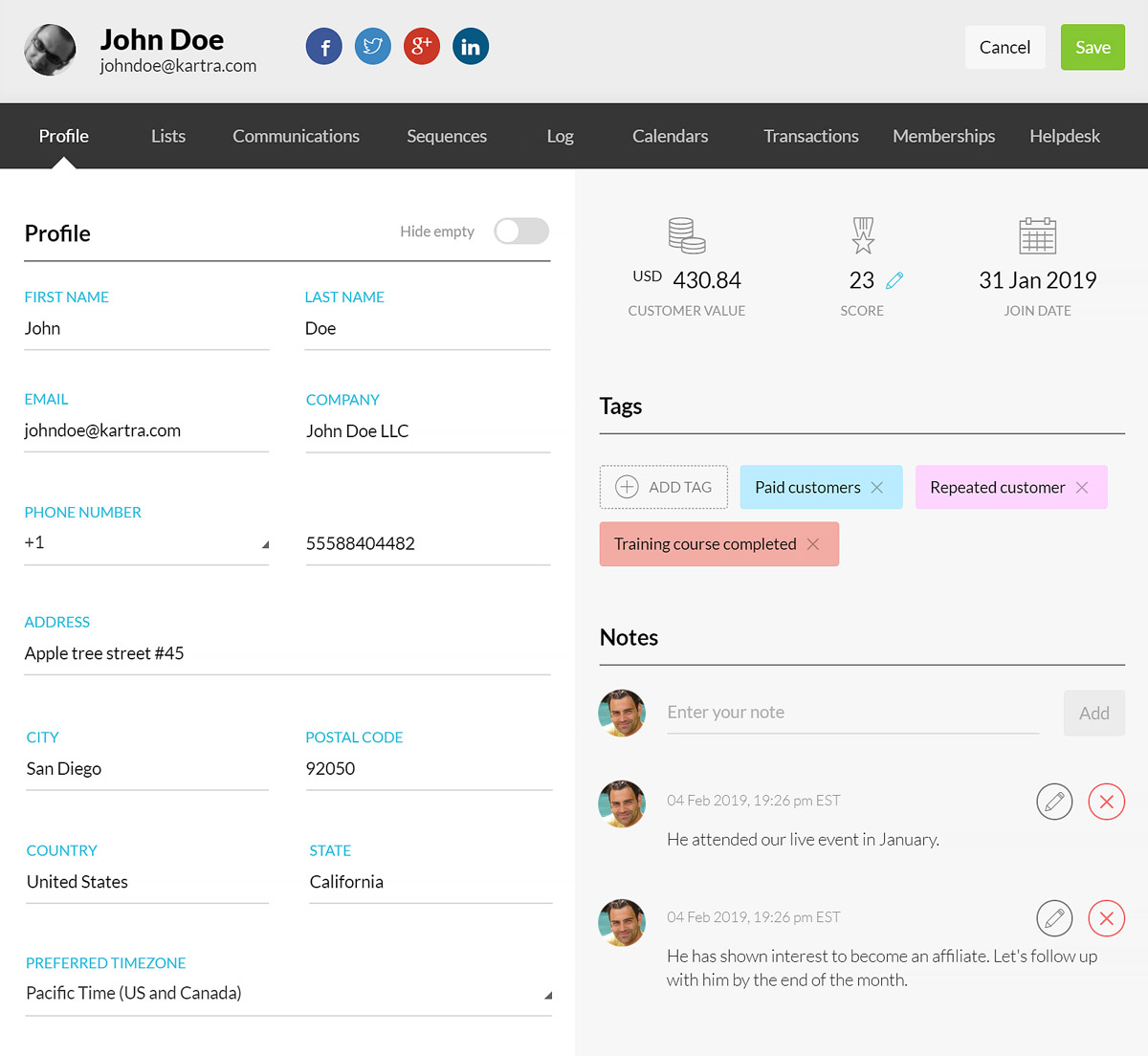 The next Kartra tool you can use for your online marketing is called Kartra Leads.
Kartra Leads helps you generate quality leads and grow your business. Kartra offers automated subscribe lead scoring and tracking that allows you to send your leads relevant messages and convert your quality leads to customers.
Kartra features tools to help you properly nurture leads to boost your conversion rates, increase purchases from your leads, and lower costs per customer acquisition.
You can learn more about Kartra Leads here.
3. Kartra Pages
Kartra offers an amazing landing page builder that helps you create stunning, high-converting pages in just a few minutes.
Unlike most marketing page builders, Kartra page integrates everything including your checkout pages, calendars, email system, analytics, membership sites, and more so that you have the full picture of what's working for you and what's not.
Kartra Pages gives you over 500 customizable page and section templates with a simple drag-and-drop builder so that you can create your website pages, product launch pages, and marketing pages in no time.
You can learn more about Kartra Pages here.
Recommended Reading:
13 BEST LANDING PAGE BUILDER SOFTWARE TO CREATE STUNNING LANDING PAGES!
KARTRA VS CLICKFUNNELS: WHICH ONE IS THE BEST MARKETING PLATFORM?
4. Kartra Mail
Kartra package includes email automation that will help you increase your click-through rates and conversions.
Kartra Mail is a world-class email builder that offers stunning templates for both desktop and mobile. Kartra offers behavior-based automation and personalization features that let you target your leads based on their actions and drive them in with relevant messaging, increasing your open and click-through rates.
You can learn more about Kartra Mail here.
5. Kartra Funnels & Campaigns
Kartra Funnels is a sales funnel software that helps you design and launch automated, sales-driving funnels in just a few minutes. Kartra allows you to build more than just landing pages that are disconnected. With Kartra, you can build complete sales funnels with tested and proven campaigns complete with copy, designs, and automation.
You can also use one of the many done-for-you campaigns that Kartra offers if you don't want to build your sales funnels from scratch.
Recommended Reading:
DROPFUNNELS REVIEW: IS IT EASILY THE BEST FUNNEL BUILDER IN 2021? + FREE TRIAL
GETRESPONSE REVIEW: ALL-IN-ONE EMAIL SOLUTION OR JACK-OF-ALL-TRADES?
CLICKFUNNELS REVIEW – DOES CLICKFUNNELS MAKE MARKETING FUNNELS EASY? HERE'S WHAT I THINK
6. Kartra Memberships
Kartra Memberships is a way for you to build a way of recurring income for your business. A membership site is a platform for you to share your knowledge with others while building a regular, recurring source of income for your business.
Kartra Memberships helps you create, manage, and track membership subscriptions in an organized, multi-tiered portal. Kartra membership site hosting allows you to host audio, video, and pdf files right from your page.
You can learn more about Kartra Memberships here.
7. Kartra Surveys & Quizzes
Kartra Surveys and Quizzes help you understand what your customers and prospects want from your business. With Kartra, you can gain valuable insights and feedback from your customers and integrate this information with all your campaigns and marketing funnels.
You can learn more about Kartra Surveys and Quizzes here.
8. Kartra Videos
Kartra Videos offers an amazing customizable video player so that you can create videos to market your products to your customers.
Kartra offers a simple way to publish, market, and track your videos so that you can make more sales from your ideal customers.
Kartra Video allows you to have complete control over the look and feel of your videos, limit controls based on your goals, and watermark your videos with your own branding.
You can learn more about Kartra Videos here.
9. Kartra Helpdesks
Kartra Helpdesks offers you a robust ticketing system so that you can funnel tickets by department, collaborate with other agents, and integrate billing actions.
Kartra Helpdesks allows you to quickly and efficiently connect with customers on any channel seamlessly. It also helps you to cut down on responses that need to be written, mark support tickets by priority, and get detailed analytics so that your workload is reduced.
You can learn more about Kartra Helpdesks here.
10. Kartra Calendars
Kartra Calendars helps you connect with your customers as a business owner and let them book appointments with you according to your availability.
Kartra Calendars helps you avoid going back and forth with customers and clients trying to schedule and reschedule appointments. Kartra also helps you prevent double bookings and send reminders to your clients about upcoming meetings with new Acuity scheduling appointments.
You can learn more about Kartra Calendars here.
11. Kartra Forms
Kartra Forms helps you capture your leads and grow your business with gorgeous opt-in forms and a simple form builder that allows you to create forms in just a few minutes.
Kartra Forms helps you create bright and eye-catching forms that are easy to fill in and fit your website's look and feel.
As a business owner, you can place Kartra's advanced and fully-designed opt-in forms directly into your Kartra-built web pages or on outside pages.
You can learn more about Kartra Forms here.
12. Kartra Affiliates
Kartra Affiliates helps you manage your army of affiliates and ensure that they stay compliant.
Kartra offers an affiliate management system that helps you discover productive new partners and optimize your existing business relationships and manage them in one simple, organized place.
Kartra helps you manage and track your affiliate sales so that you can build a successful army of affiliates for your products. Kartra, therefore, acts as an alternative to other popular affiliate tracking software.
You can learn more about Kartra Affiliates here.
13. Kartra Integrations & API
Kartra integrates with some of the most popular tools available. Whether it's payment gateways like PayPal or Stripe, email gateways like SendGrid or MailGun, membership platforms like Kajabi, or calendar apps like Google Calendars and Calendly, Katra has you covered.
Kartra's API, IPN, and Custom App system let you code your own custom integrations with Kartra.
You can learn more about Kartra Integrations and API here.
14. Kartra Analytics
Kartra Analytics provides you with all the data you need to understand what is and isn't working in your business. Kartra helps you clearly see where and how to make powerful changes that boost your income.
Kartra has in-built analytics in every feature of the marketing software and your web pages so that you have all the information you need about how you can improve your sales pages and campaigns.
You can learn more about Kartra Analytics here.
15. Kartra Agency
Kartra Agency lets you run and manage client accounts from a centralized master console. Kartra Agency provides you with quick analytics, a secure master login, and a unified billing profile for all your clients.
You can learn more about Kartra Agency here.
16. Kartra Marketplace
Kartra Marketplace helps you buy and sell expertise from within the Kartra community. Kartra provides you with all the tools you need.
Pros in a niche can share their experience and earn extra money. Kartra Marketplace is divided into two:
Experts For Hire – where you can hire professionals in a field who can help you with your business
Campaigns Marketplace – where you can buy done-for-you campaigns to streamline your marketing
You can learn more about Kartra Marketplace here.
Kartra Pricing – What Does Kartra Replace?
Kartra replaces a ton of other online marketing tools and software. Here are some of the tools that Kartra replaces:
Kartra Checkouts replaces

WooCommerce
SamCart
InfusionSoft
Shopify

Kartra Pages replaces

Leadpages
Kajabi
Instapage

Kartra Leads replaces

InfusionSoft
ActiveCampaign
MailChimp
OntraPort
LeadFeeded
Kajabi
HubSpot
10XPRO

Kartra Email replaces

ConvertKit
AWeber
MailerLite
FloDesk
Constant Contact
MailChimp
ActiveCampaign
Shopify

Kartra Funnels & Campaigns replaces

Kajabi
ClickFunnels
ActiveCampaign
InfusionSoft

Kartra Memberships replaces

Kajabi
Teachable
Thinkific
Builderall
MemberSpace
Teachery
Simplero
Podia

Kartra Surveys and Quizzes replaces

Bucket.io
Typeform (Kartra integration)
SurveyMonkey
LeadQuizzes
WuFoo
Thrive Quiz Builder

Kartra Videos replaces

Vimeo
Wistia
Spotlightr
SproutVideo

Kartra Helpdesks replaces
Kartra Calendars replaces

Calendly
Acuity Scheduling (Kartra integration)
Schedulicity

Kartra Forms replaces
Kartra Affiliate Management replaces

HitPath
Post Affiliate Pro
OntraPort

Kartra API and IPN replaces
Kartra Analytics replaces
Kartra Agency replaces
Kartra Marketplace replaces
Kartra Pricing – Frequently Asked Questions
1. How much does Kartra cost?
Kartra pricing plans are as follows:
Starter Plan at $99 per month
Silver Plan at $199 per month
Gold Plan at $299 per month
Platinum Plan at $499 per month
Enterprise Plan at custom pricing
There is also a 25% discount on each pricing plan if you choose to pay for a whole year upfront.
2. What does Kartra replace?
Kartra is an all-in-one marketing tool, and easily replaces many other marketing tools that you may already be using for your online marketing.
Here are some of the marketing tools and software that Kartra can replace:
Landing page builders
Shopping cart software
Membership site software
Email automation software
Helpdesk software
Affiliate management software
CRM software
Video hosting software
Software to build sales funnels
In other words, Kartra affiliate marketing software can replace software like ActiveCampaign, ClickFunnels, LeadPages, Kajabi, Tapfiliate, and more!
3. Can I use my own domain on Kartra?
Yes. You can connect your existing domain to your Kartra hosting account. Kartra has some documentation on its website that will help you get this done in a few minutes.
4. Do I need coding skills to use Kartra?
No, you do not need to have any coding skills or knowledge to use Kartra. Kartra offers a simple drag-and-drop user interface that helps even beginners set up sales funnels and landing pages for their sites.
Kartra also has an extensive library of templates for emails, landing pages, and opt-in forms that will help you design and launch professional-looking campaigns in no time!
5. Is there a money-back guarantee for Kartra?
Yes, Kartra offers a refund in the rare case that you are not fully satisfied with the tool. You will have to contact the helpdesk or email [email protected] within 30 days of your purchase to claim your full refund.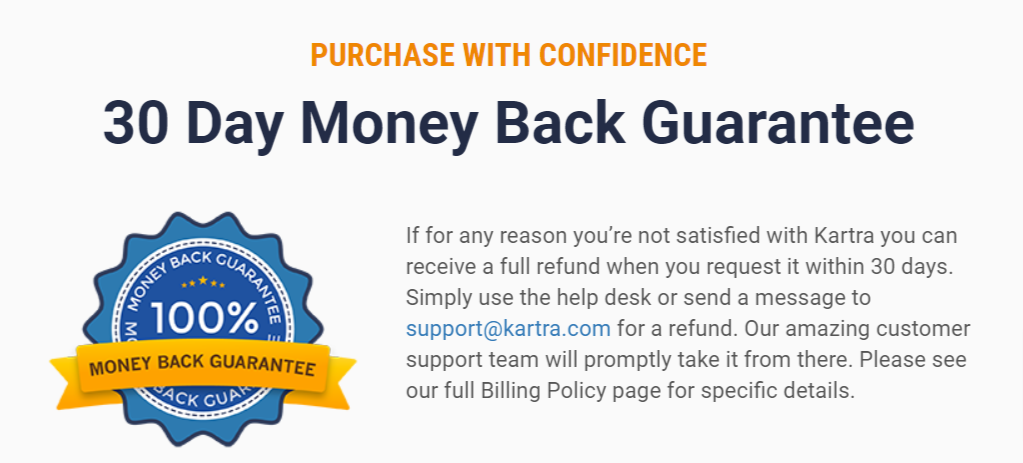 Kartra Pricing – Conclusion
I hope that this Kartra pricing post has helped you understand the different Kartra pricing plans you can choose from for your online marketing needs.
I also hope that you were able to look at all the features that the tool offers that will help you in your marketing campaigns.
If you enjoyed this Kartra review, don't forget to share it with your friends.
Which Kartra plan do you think is the most economical for startups and small businesses? Is it the Starter Plan or the more popular Silver plan?
Leave a comment below and let us know your thoughts! 🙂