Last Updated on November 12, 2021 by Tracy Jackson
If you're looking for the best podcast editing software that all major podcasters use, the short answer is, there isn't one.
Each podcast (and podcaster) is different, so it all boils down to your needs and your budget. There are tons of podcast editing software tools available today, and although they all serve the same basic purposes, they vary in extra functionality and pricing.
If you're a beginner looking for free podcast audio editing software, then Audacity may be the one for you. However, if you are a more advanced podcaster in search of more powerful editing or podcast recording software, then Pro Tools would be the one I recommend.
In all my years in the digital marketing industry, I've come across a few amazing podcast editing software tools that some of the best podcasters use and love.
Keep in mind what features you most need in your digital audio workstation, and also the editing budget you have for your podcast. This will help you make the best choice from my list of podcast editing software.
Let's take a look at all the best options out there.
Disclaimer: If you buy something using the links in this article, I may receive a commission at no extra cost to you. Know that I only promote stuff that I use and trust for the sake of my readers and the reputation of this site.
Best Podcast Editing Software for Podcasters
1. Pro Tools
Pro Tools is one of the best podcast editing software for both beginners and experts, with many powerful recording and editing functions. It is an industry-leading, professional-grade tool that allows you to perform multi-track recordings and multi-stem mixing.
Pro Tools offers audio synchronization and manipulation, supports MIDI, and offers advanced editing tools to help you edit each podcast episode professionally.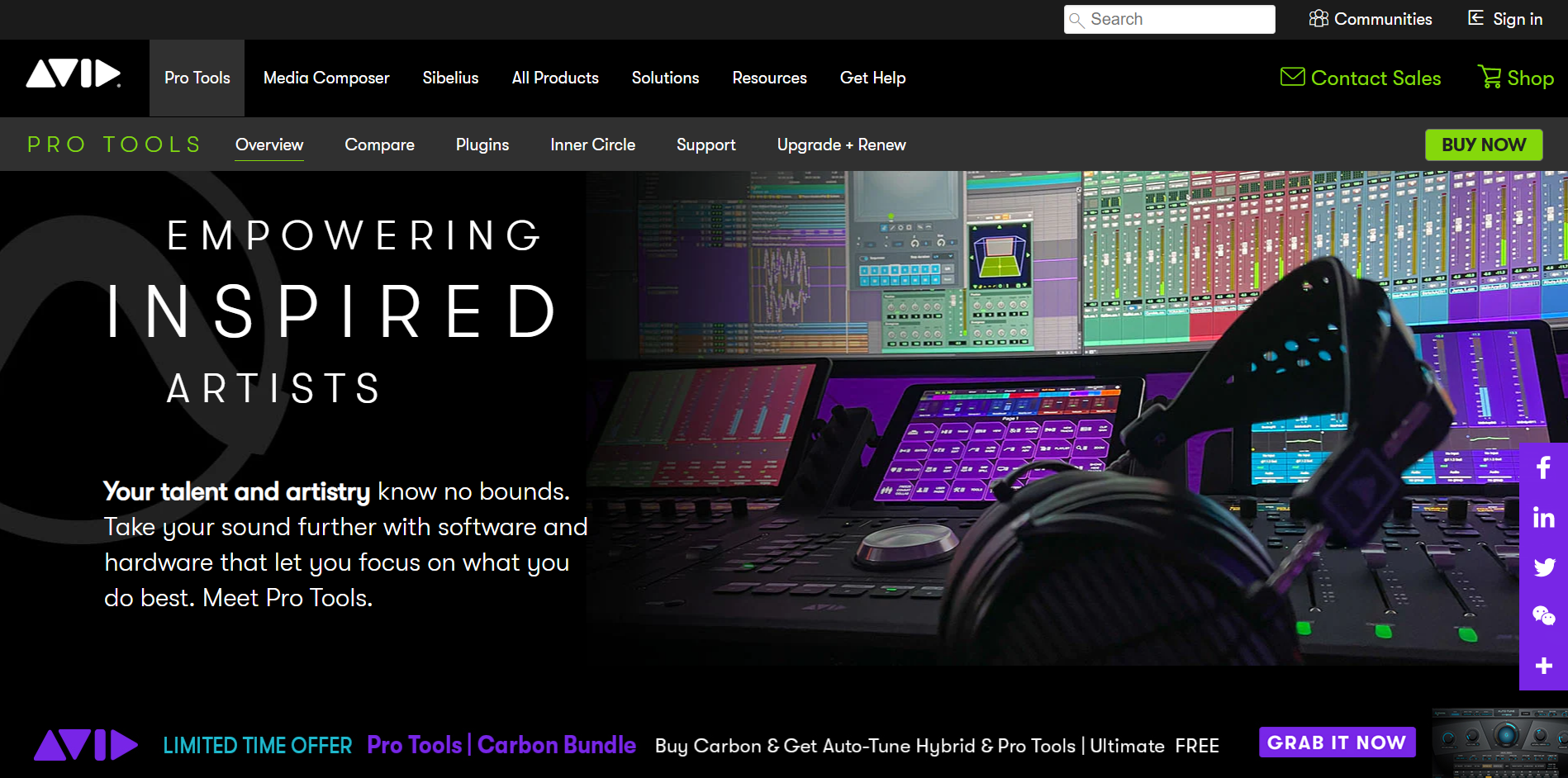 Key Features:
With Pro Tools, you can create seamless punch and loop recording in 24-bit/192kHz audio quality.
Up to 768 audio and 1,024 MIDI tracks with hundreds of plugins to create your raw audio.
Powerful editing software tools help you manipulate and optimize all your tracks with high precision.
You can trim clips or reshape sounds in a single click.
The Smart Tool helps you quickly make multiple types of edits to audio files by changing functions based on your cursor position.
Pricing:

Pro Tools First – This is Pro Tools' free version with all the basic podcast editing features, perfect if you're a beginner podcaster.
Pro Tools – Get all the standard podcast editing software tools starting at $29.99 per month.
Pro Tools Ultimate – Access all the advanced Pro Tools features for your podcast editing process starting at $79.99 per month.
2. Adobe Audition
Adobe Audition is a comprehensive podcast editing software that offers multitrack, waveform, and spectral displays for creating, mixing, and editing audio files. Audition is an excellent podcast editing software option for recording and mixing audio.
With Adobe Audition, you can clean up recordings and restore podcast audio files with the spectral frequency display, Diagnostics panel, effects, and more.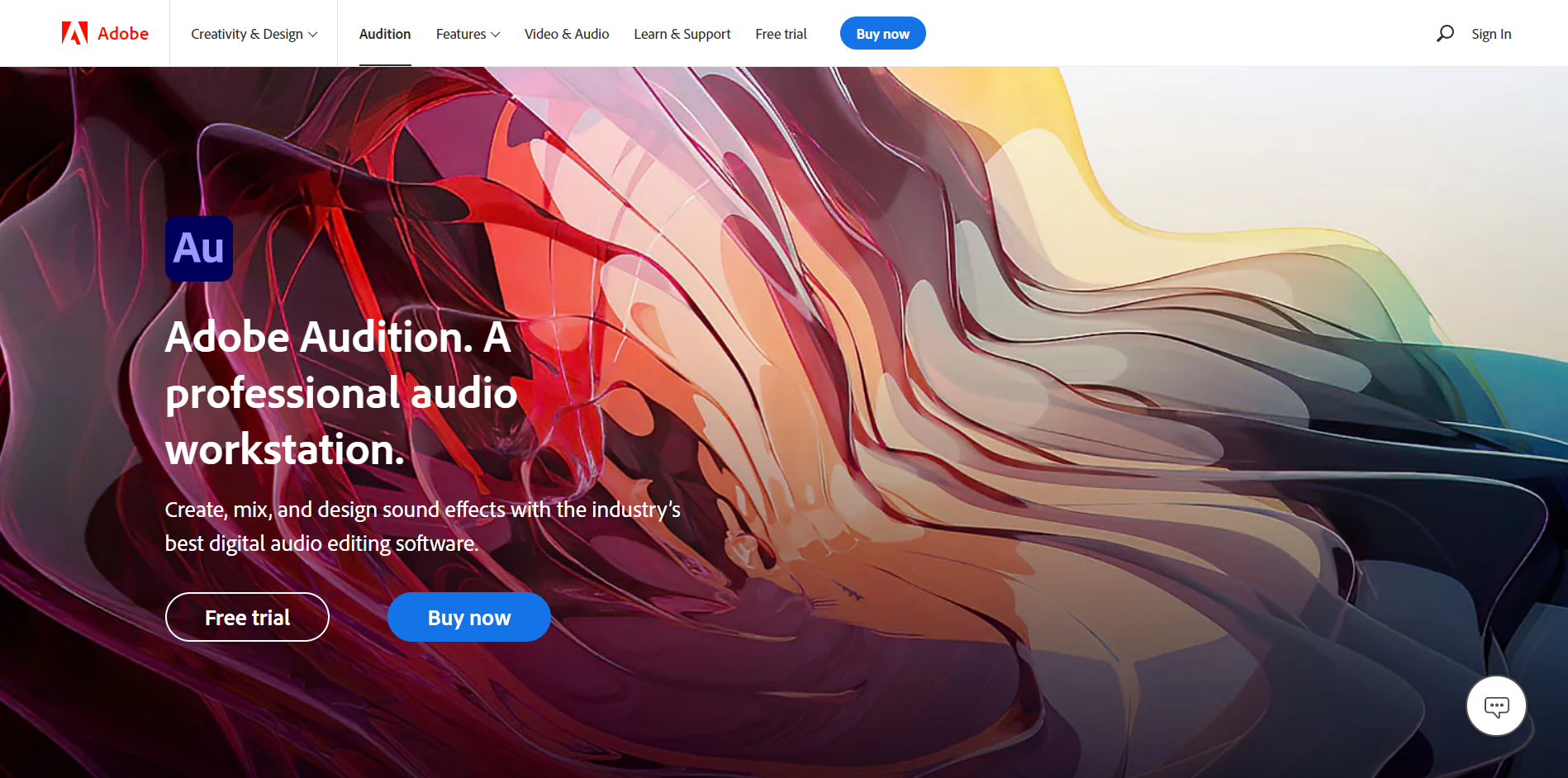 Key Features:
Adobe Audition works across almost all hardware and plugins, so you can use your favorite audio gear while recording.
Adobe Sensei allows you to streamline your audio editing. You can use the remix function to edit music length and the autoducking tool to dynamically adjust the volume.
Use the Multitrack audio editor while editing podcasts to create layered compositions with multiple audio tracks.
Use the Waveform editor for podcast editing to view a visual representation of soundwaves so that you can adjust the audio amplitude.
As a part of the Creative Cloud, you can add mastered audio to other projects in Adobe Premiere Pro.
Pricing:
You can buy Adobe Audition for desktop at $20.99 per month, or as a part of Creative Cloud at $52.99 per month.
3. Logic Pro
Logic Pro is another best podcast editing software that allows you to record audio and edit your podcast on Apple devices. Logic Pro offers powerful podcast editing software along with integrated Dolby Atmos for mixing and exporting audio as spatial audio.
You can choose from a huge collection of plugins and sounds to produce a successful podcast with the best audio quality and minimal background noise. Logic Pro X is easily one of my podcast editing software recommendations if you are looking for podcast software that includes recording software tools.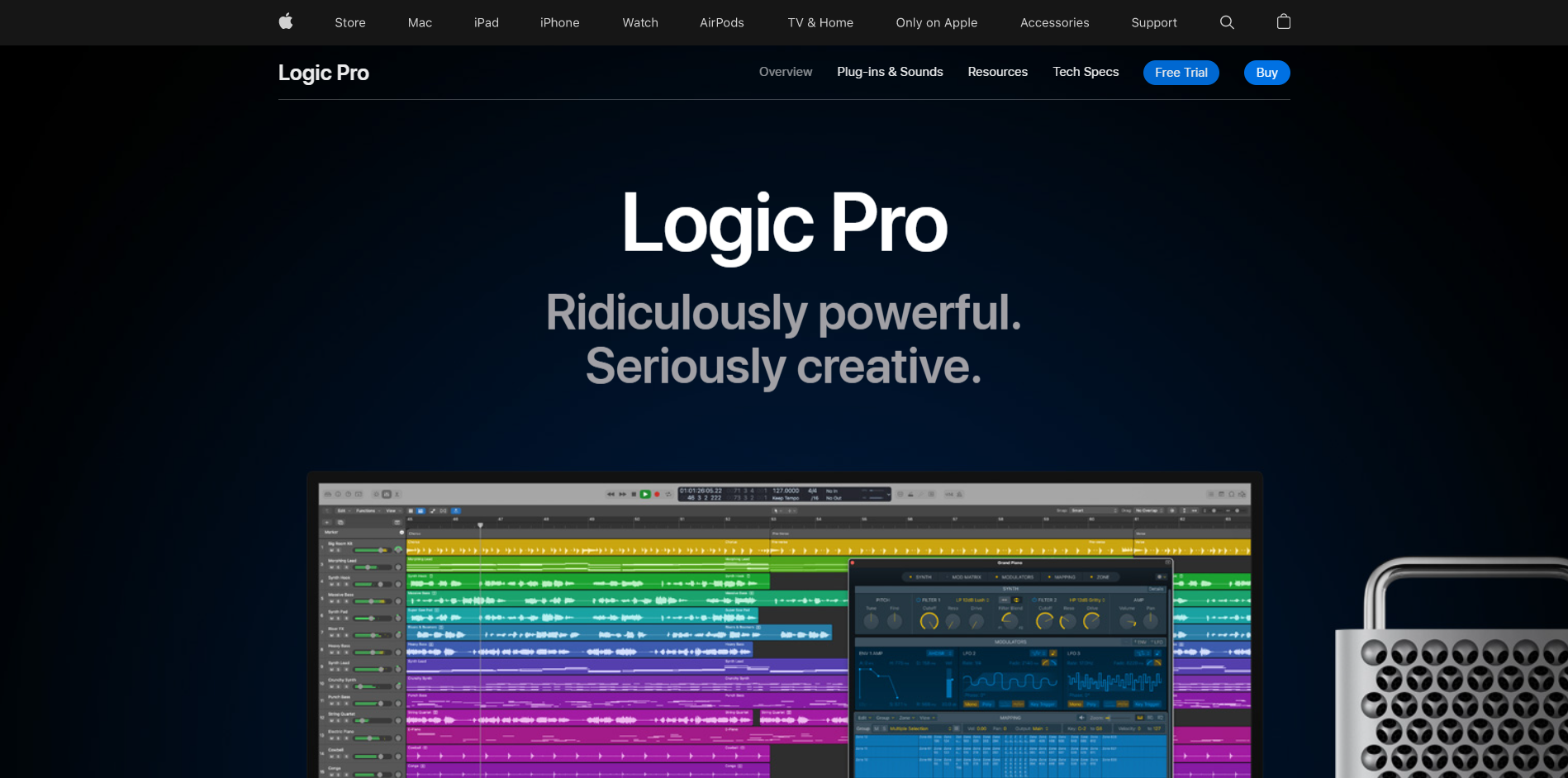 Key Features:
Powerful creative tools for editing and mixing audio.
Integrated Dolby Atmos tools allow you to mix and export songs as spatial audio.
Choose from a huge library of plugins and sounds to create your masterpiece.
With Logic Remote you can use your iPhone or iPad to control Logic Pro on your Mac.
Logic Pro makes it easy to create projects with up to 1,000 audio tracks with seamless punch recording, automatic take management, and 24-bit/192kHz audio support.
Pricing: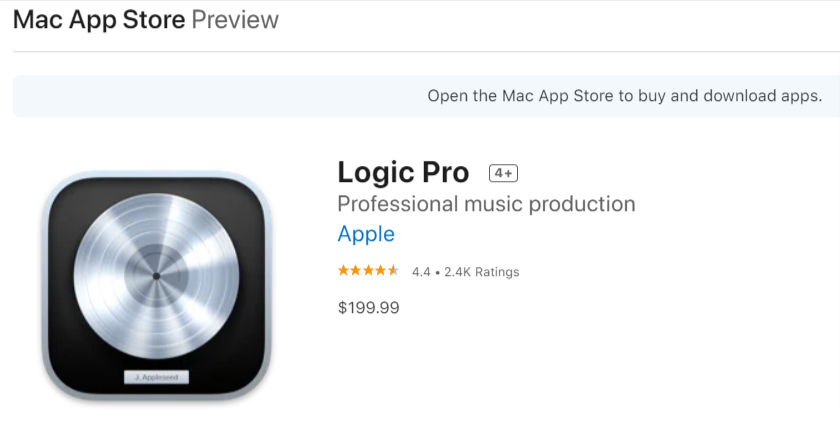 Logic Pro offers a free 90-day trial after which it costs $199.99.
4. Audacity
Audacity is the best podcast editing software for mac users if you are a beginner looking for a free digital audio production application. The podcast recording software is available free of cost for Windows, macOS, and Linux users.
Audacity offers features for recording audio, export and import, and editing.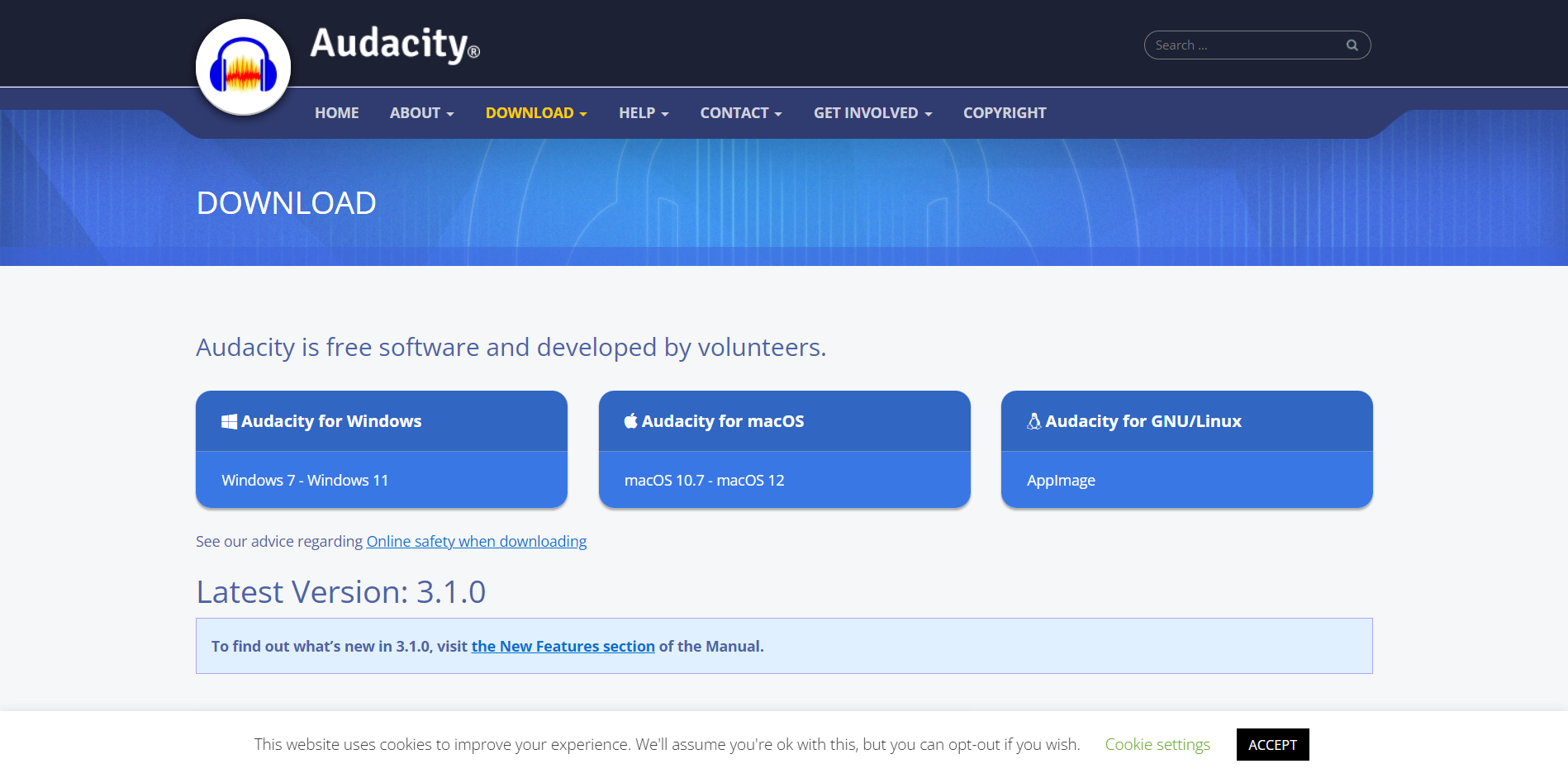 Key Features:
Simple editing tools for cutting, copying, pasting, and deleting parts of an audio file.
Scrubbing and seeking features allow you to find the right editing spots in your audio files.
Timeline Quick-Play allows you to start playback from any point within the current project.
Unlimited sequential undos and redos so that you can go back any number of steps while editing.
With Audacity, you can mix and edit multiple clips in a large number of tracks.
Pricing:

Audacity is free open-source software available for anyone to download and use.
5. GarageBand
GarageBand is another best podcast editing software for mac users. It is one of the top podcast editing software that offers a fully equipped music creation studio in your mac.
GarageBand is a powerful, yet easy-to-use recording and editing software that gives you all the tools you need for music production and editing of your own podcast. Audio effect plugins and visual EQ help you fine-tune your audio and make the podcasting process simpler.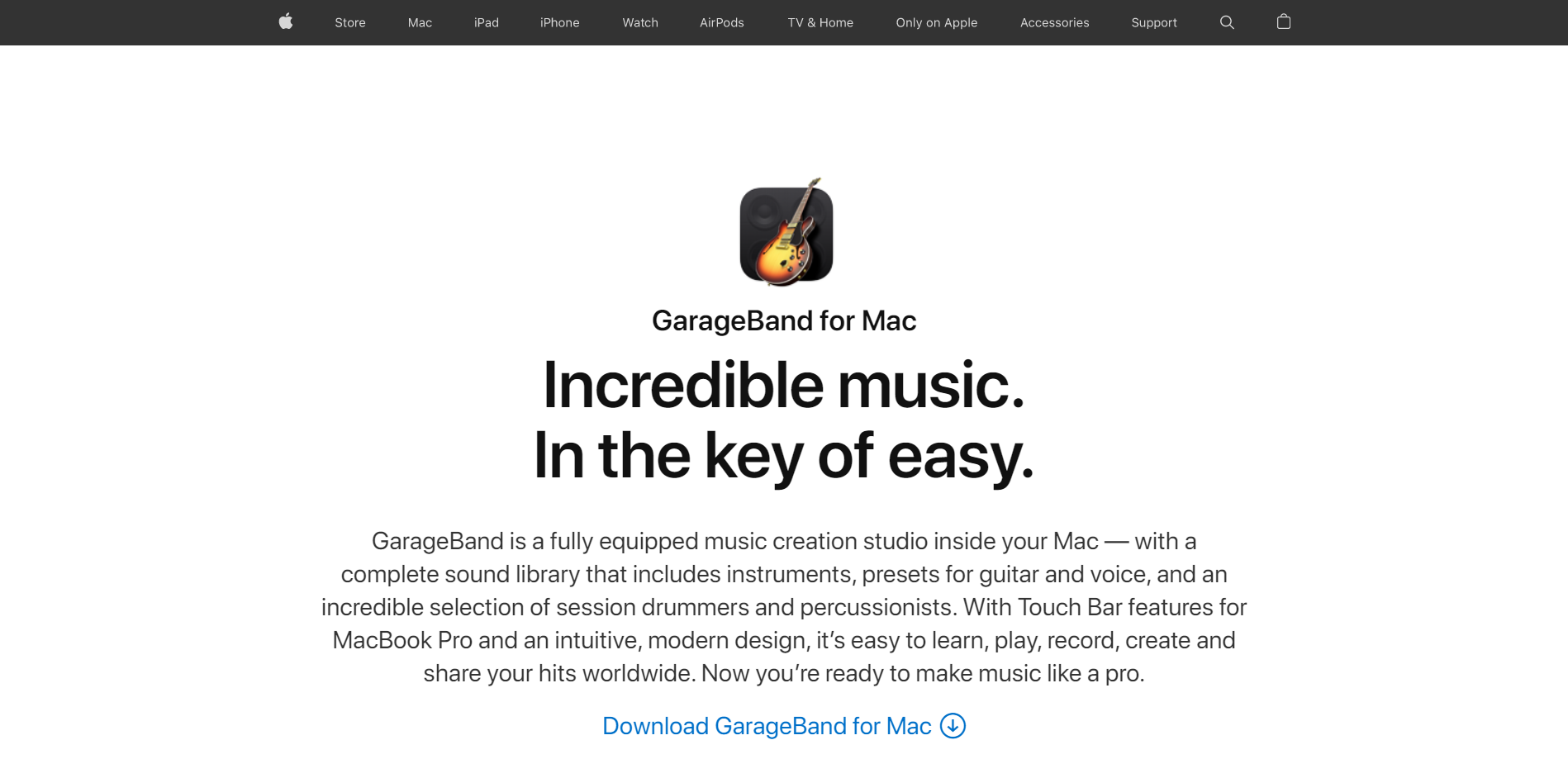 Key Features:
Powerful yet simple recording and editing features for mac operating system.
You can use GarageBand to edit your audio files down to the note and decibel.
Audio effect plugins help you improve the quality of your audio.
Effects such as reverb, compression, and visual EQ help you give your tracks a professional touch.
Create and mix up to 255 audio tracks.
Pricing: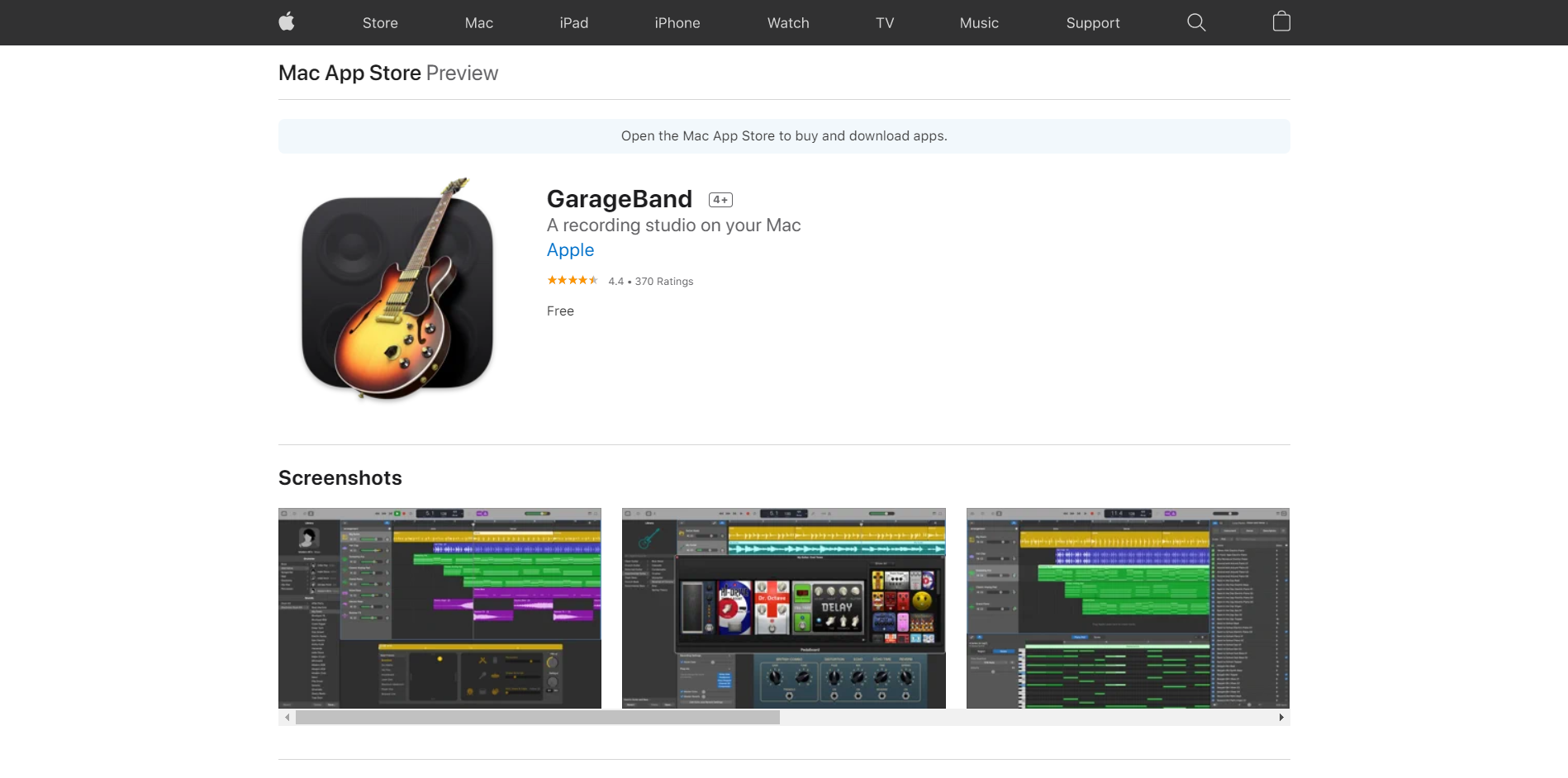 GarageBand is completely free to download and use for mac users.
6. Auphonic
Auphonic is the best podcast editing software that offers basic features as well as advanced tools for podcast post-production editing. Auphonic uses AI-based algorithms to help you produce professional podcast sound for your audience.
Auphonic also offers audio restoration and multitrack algorithms so that you can edit multiple tracks at the same time.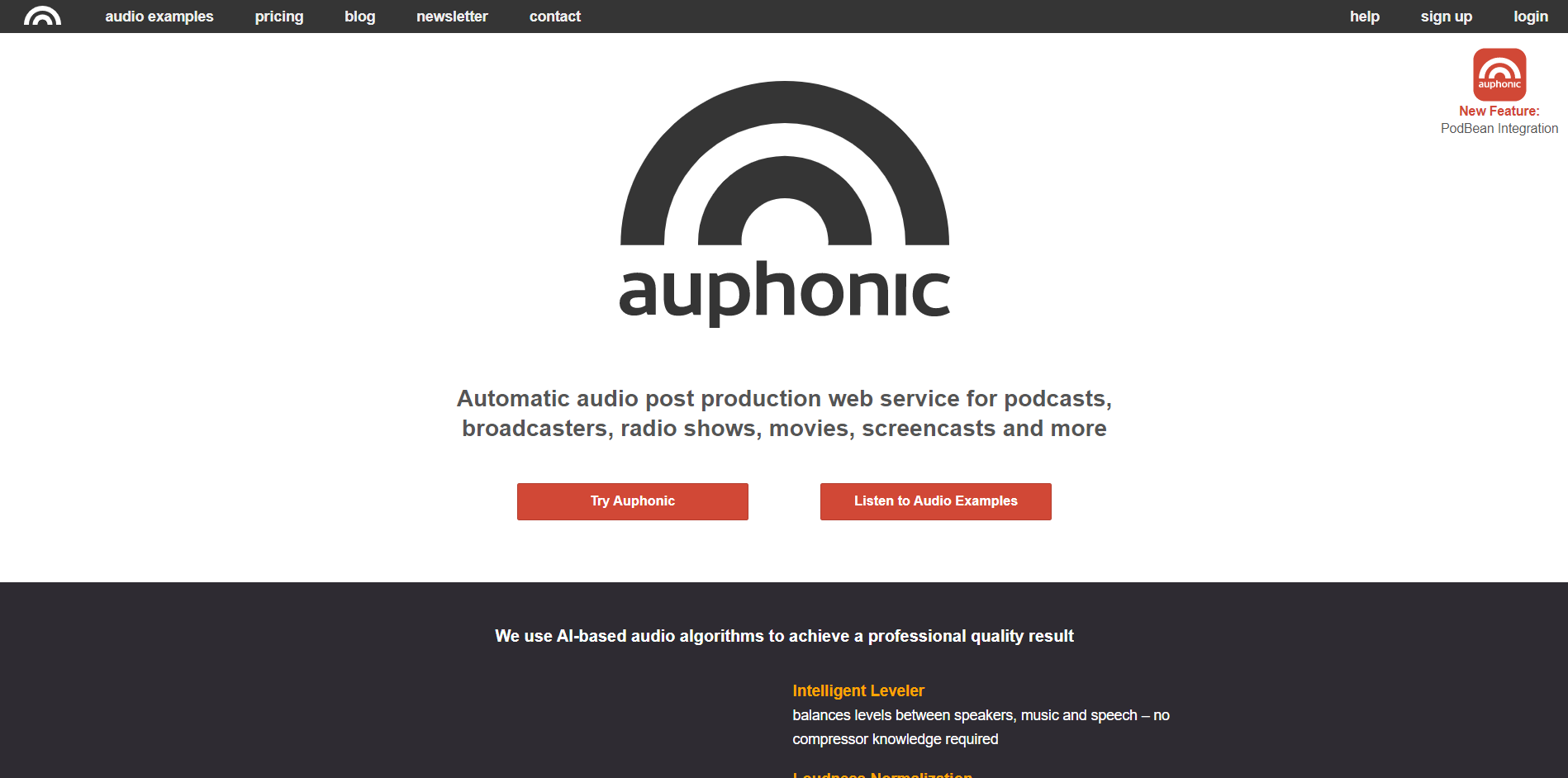 Key Features:
AI-based algorithms with Intelligent Leveler to help you balance levels between speakers, music, and speech without any compressor knowledge.
Loudness Normalization helps you broadcast standards (EBU R128, ATSC A/85, Mobile) along with a true peak limiter.
Audio Restoration features automatically reduce noise and hum, filtering unwanted lower frequencies to produce a crisp and clean sound.
Auphonic offers multitrack algorithms featuring automatic ducking, crosstalk, and noise gate removal.
Pricing: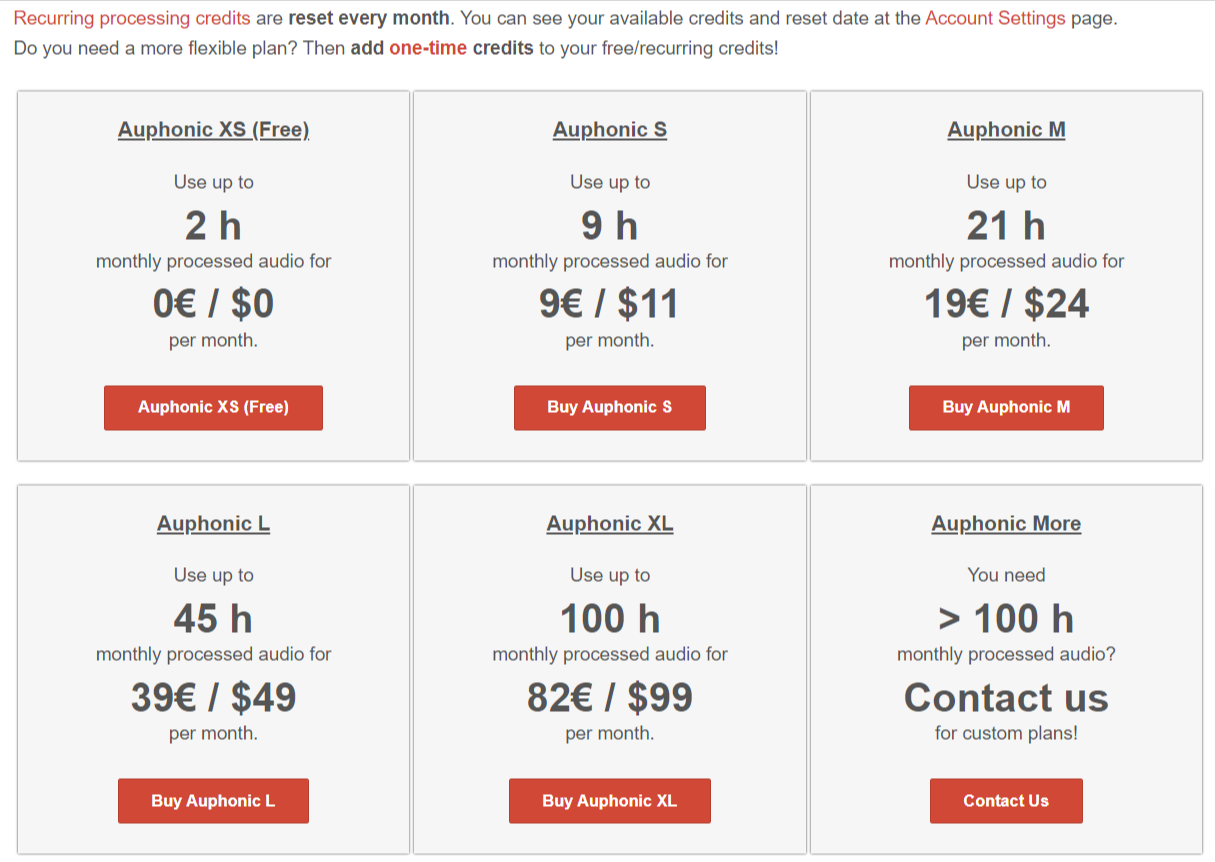 Auphonic offers users multiple pricing plans starting at $11 per month with up to 9 hours monthly processed audio to $99 per month with up to 100 hours monthly processed audio.
Auphonic also offers a free plan with up to 2 hours monthly processed audio, and custom plans based on your requirements with more than 100 hours monthly processed audio.
7. Alitu
Alitu is podcast editing software that helps you easily record, edit, and publish your podcast with great audio quality. Alitu allows you to automate the hard parts of podcast editing so that you can focus on creating high-quality content and growing your show.
Alitu offers simple editing tools that are guaranteed to make you edit your podcast in minutes instead of hours.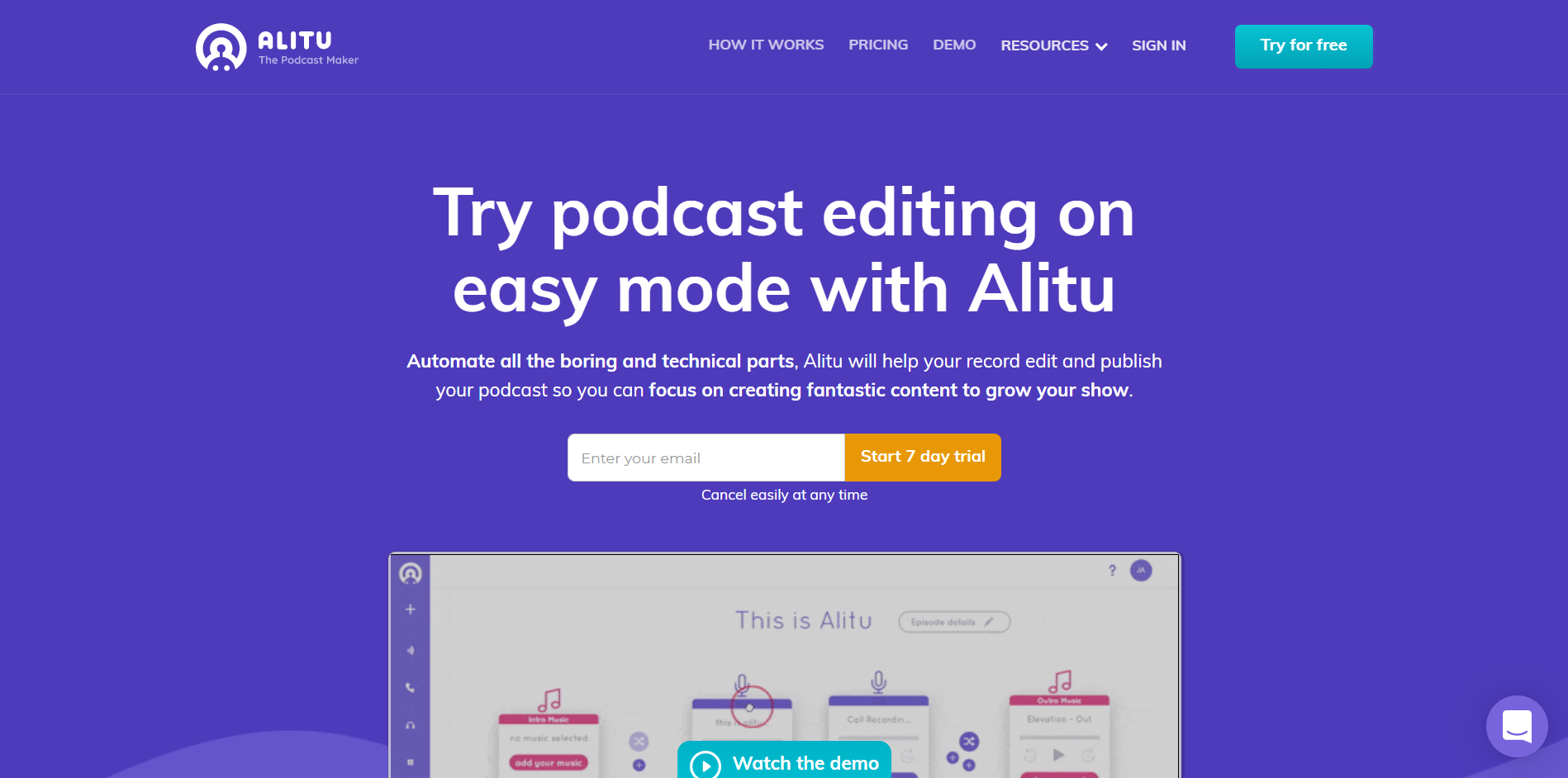 Key Features:
Simple recording and editing tools that help you slice, dice, and rearrange your episodes with drag and drop tools.
Done-for-you audio cleanup to make your audio sound crisp and professional.
Easily remove awkward silences and pauses in your podcast audio.
Set your intro and outro so that Alitu can automatically add them to your podcast episodes.
Publish your podcast episodes directly to your podcast hosting platform from Alitu.
Pricing: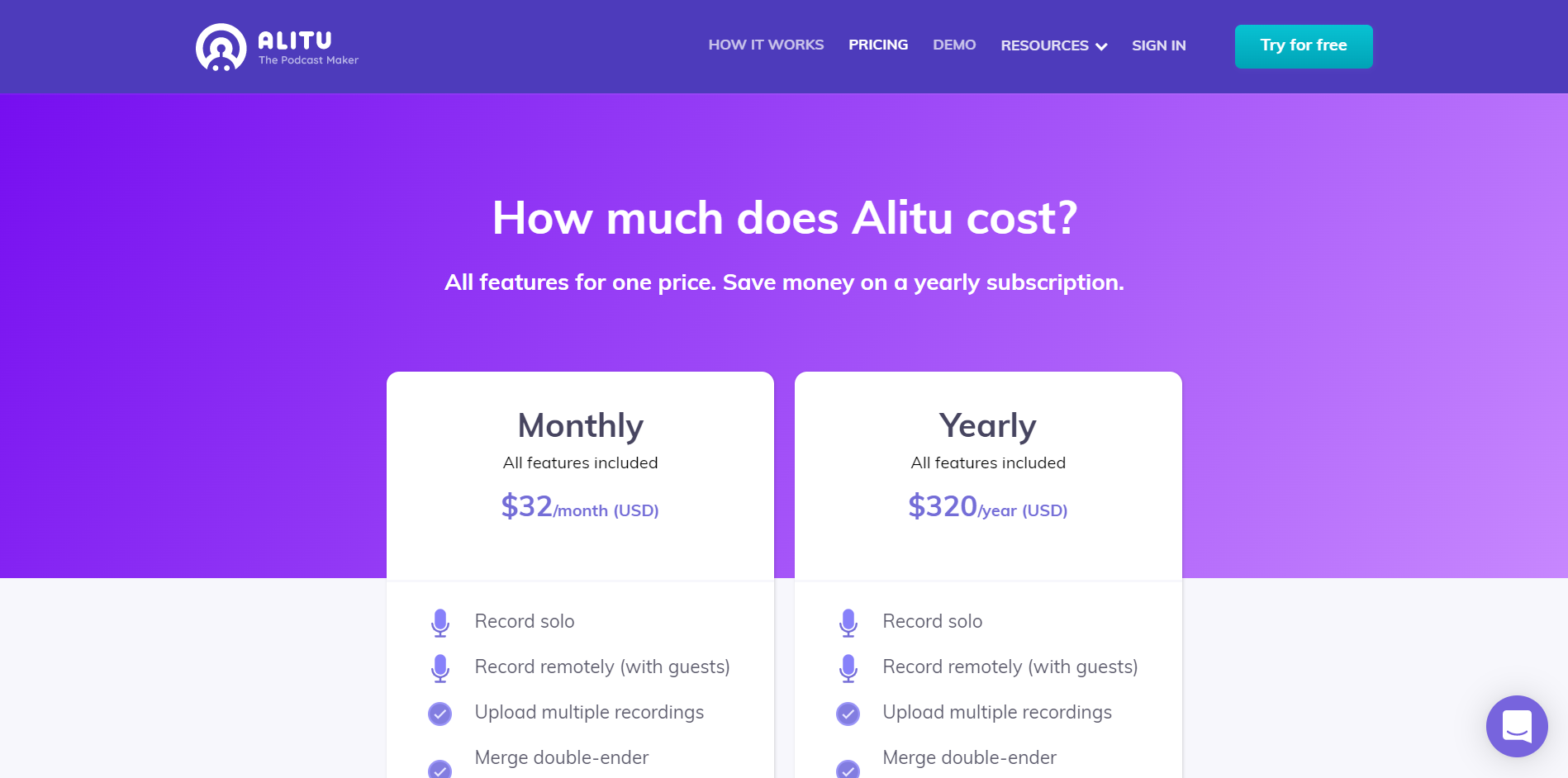 Alitu gives you all the features for a simple monthly price of $32 per month. You can choose to pay yearly at $320 per year to save money on your subscription.
Podcast Editing Software FAQs
1. How Can I Edit My Podcast For Free?
There are many free podcast editing software with all the basic features a beginner podcaster needs. Audacity and GarageBand are two of the best ones, and you can use either of these to get your podcast started on a budget.
2. Is Audacity Good For Podcasts?
Audacity is one of the best podcast editing software on this list and is a great free tool for beginner and experienced podcasters to use. You can use Audacity to edit out background noise and fine-tune your audio to produce high-quality podcast episodes for your audience.
3. Where Can I Edit Podcasts?
Nowadays, you don't need a professional setup to edit your podcasts. There are many online podcast editing software available that help you edit your podcasts wherever you are.
4. Can You Use Editing Tools Without a Microphone?
Most podcast editing software are compatible with the built-in microphone on your laptop, so you don't really need an expensive microphone to get a professional-sounding podcast episode. The best podcast editing software also offers all the tools you need to fine-tune your audio and increase its quality even if you don't use any professional sound equipment while recording.
5. What is the best podcast recording software?
Pro Tools, Alitu, and Audacity are some of the best podcast recording software.
Best Podcast Editing Software – Conclusion
There are many podcast editing software available if you want to mix and edit your audio tracks after podcast production.
If you're a beginner podcaster looking to make some basic edits to your podcast episodes, then Audacity would work well for you. However, if you are a more experienced podcaster, you might want to give Pro Tools or Alitu a try.
Pro Tools has a ton of advanced features that can help you make your podcast episodes sound just the way you want them to, while Alitu is a simple podcast editing software with an intuitive interface that you will find easy to use.
All the tools on this list are great for creating professional quality podcast episodes, so it all comes down to your preferences and needs as a podcaster.
Click here to get started with Pro Tools. You can click here to start using Alitu or Audacity.
What is your best podcast editing software? Let me know down in the comments! 🙂
We are sorry that this post was not useful for you!
Let us improve this post!
Tell us how we can improve this post?