Last Updated on October 11, 2022 by Tracy Jackson
Thinking of starting your own podcast? Great!
The number of podcast listeners in the US is steadily growing and is expected to hit 164 million by 2023.
If you are looking for an effective channel to reach your audience, a podcast is worth the investment.
The aim of this article is to show you the different ways you can host your own podcast server.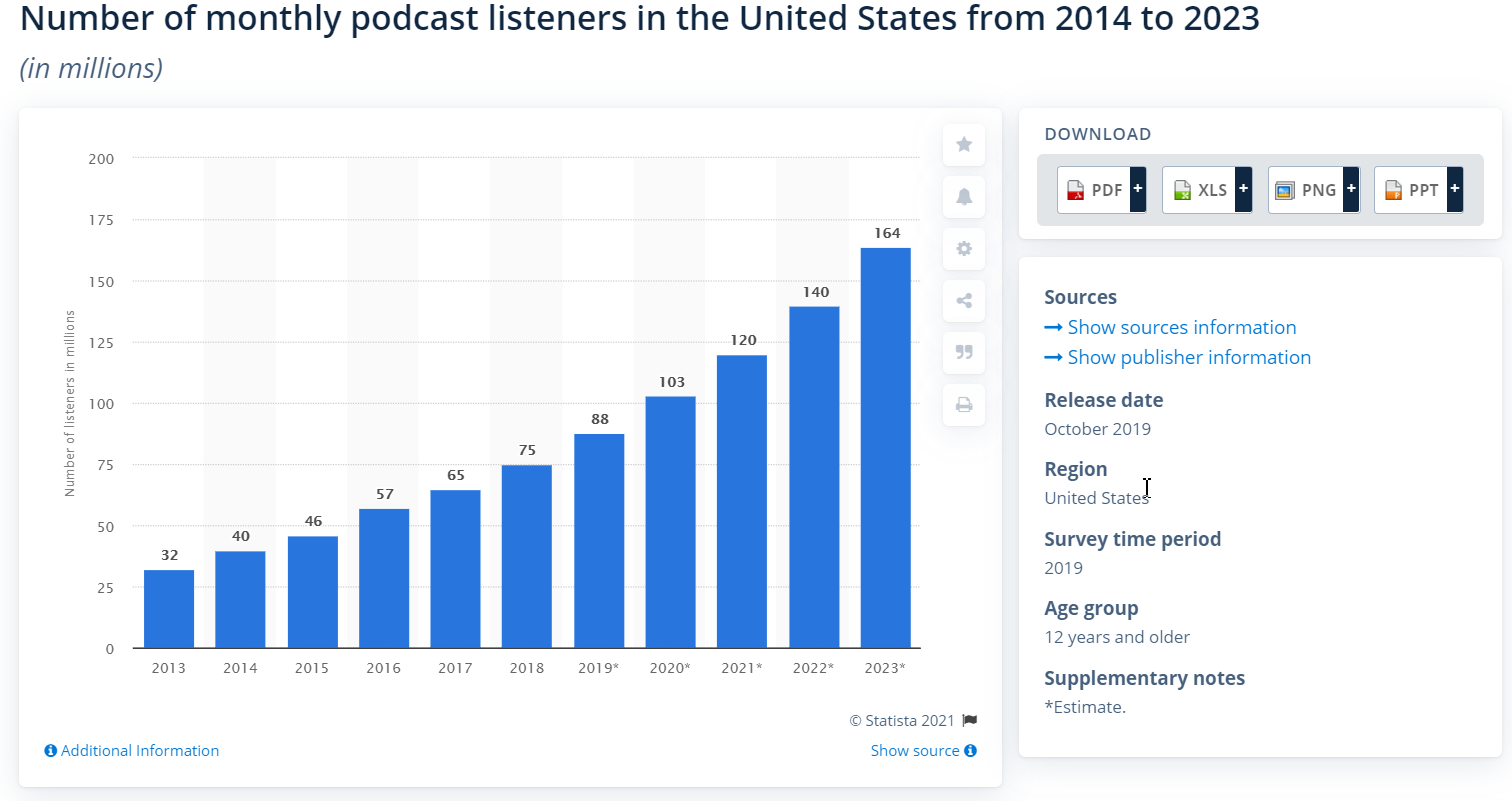 65% of people are more willing to buy a product if they heard about it on a podcast.
The first step in starting a podcast is figuring out which podcast hosting service or podcast publisher platform to use.
I recommend BuzzSprout as one of the best podcast hosting sites you can use for your business.
BuzzSprout is great for both beginners and professionals, and the free plan is good enough to use if you are looking for the cheapest podcast host.
Other great podcast hosting sites that I will include in this podcast hosting comparison are Castos, PodBean, and Spreaker.
Read on to find out why these podcast hosting sites are some of the best on the market today.
Ready? Let's begin!
Disclaimer: If you buy something using the links in this article, I may receive a commission at no extra cost to you.
Know that I only promote stuff that I use and trust for the sake of my readers and the reputation of this site.
What is Podcast Hosting?
As a podcaster, you will need space to store all the podcast episodes for your show in the form of audio files.
You will not have so much space for audio storage on your own website, which is why you need a podcast hosting platform or free podcast hosting services.
Why Do You Need Podcast Hosting?
First, let's address the all-important question – do you really need to use a hosting service?
Can't you just store all your podcast episodes on your website?
The answer is simple.
Yes, you can store podcast files on your website, but keep in mind that these are big files.
Video podcasting, especially with green screen software will take up a lot of space on your local storage device.
Storing them on your site will make your site slower, no matter which best website builder for podcaster you use.
Besides, a hosting service offers many features such as podcast hosting, analytics, marketing tools, customer support, RSS feed generation, and more.
Now, what is an RSS feed and why is it important to you as a podcaster?
Here's a video that explains why you need a podcast host to set up your RSS feed:
Now let's take a look at some of the best podcast hosting platforms you can use for your business.
What Are The Best Podcast Hosting Sites?
Before you choose a hosting service for your podcast, you must take the time to consider all the options you have in front of you.
There are so many different podcast hosting sites to choose from.
Each offers different features and functionalities, so how do you know which are the best podcast hosting sites?
In this section, we are going to review the top podcast hosting services so that you can see which one suits your business the best compared to other podcast hosts.
bCast is the best podcast hosting service for fast-growing B2B companies to host their show episodes.
bCast helps businesses build relationships with their listeners while growing their social engagement, website traffic, and revenue.
Its simplicity and list of features make it an excellent addition to this 'best podcast hosting sites' list.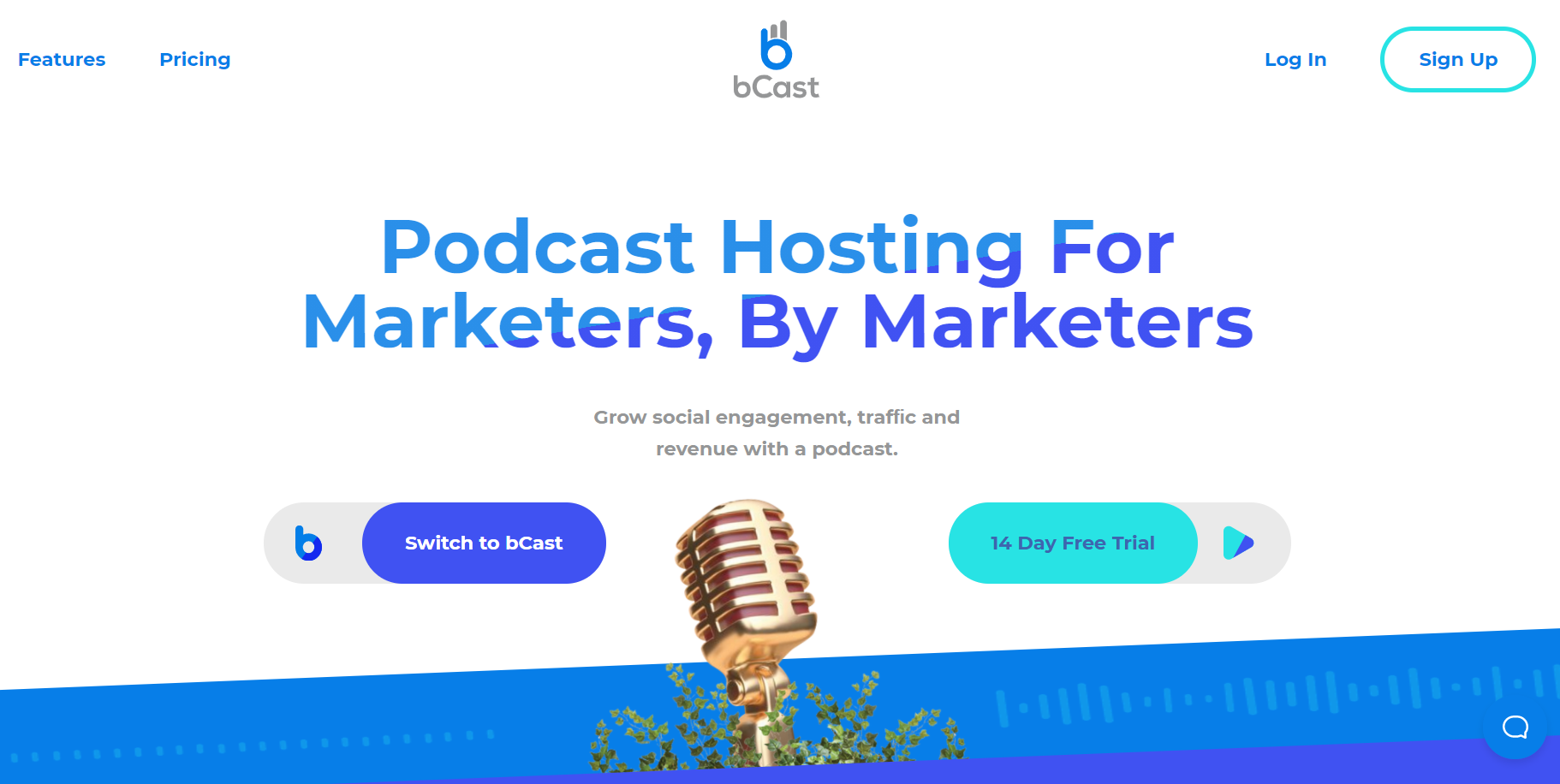 Features:
Unlimited episodes and hours of storage
Insert audio CTAs in every episode to promote your webinar, download your eBook, or promote other offers
This popular podcast hosting platform has Auto Optin that allows your listeners to subscribe to your email list easily
Transcription of episodes to boost SEO on your website
Distribution of podcasts to Apple, Google, Spotify, and others
And much more
Pricing:
bCast offers "Starter", "Growth", and "Legendary" plans that range between $15 – $75 per month.
The plans are based on the number of podcasts and downloads per month.
They also offer free trials for every plan, which is why they are the most popular podcast hosts.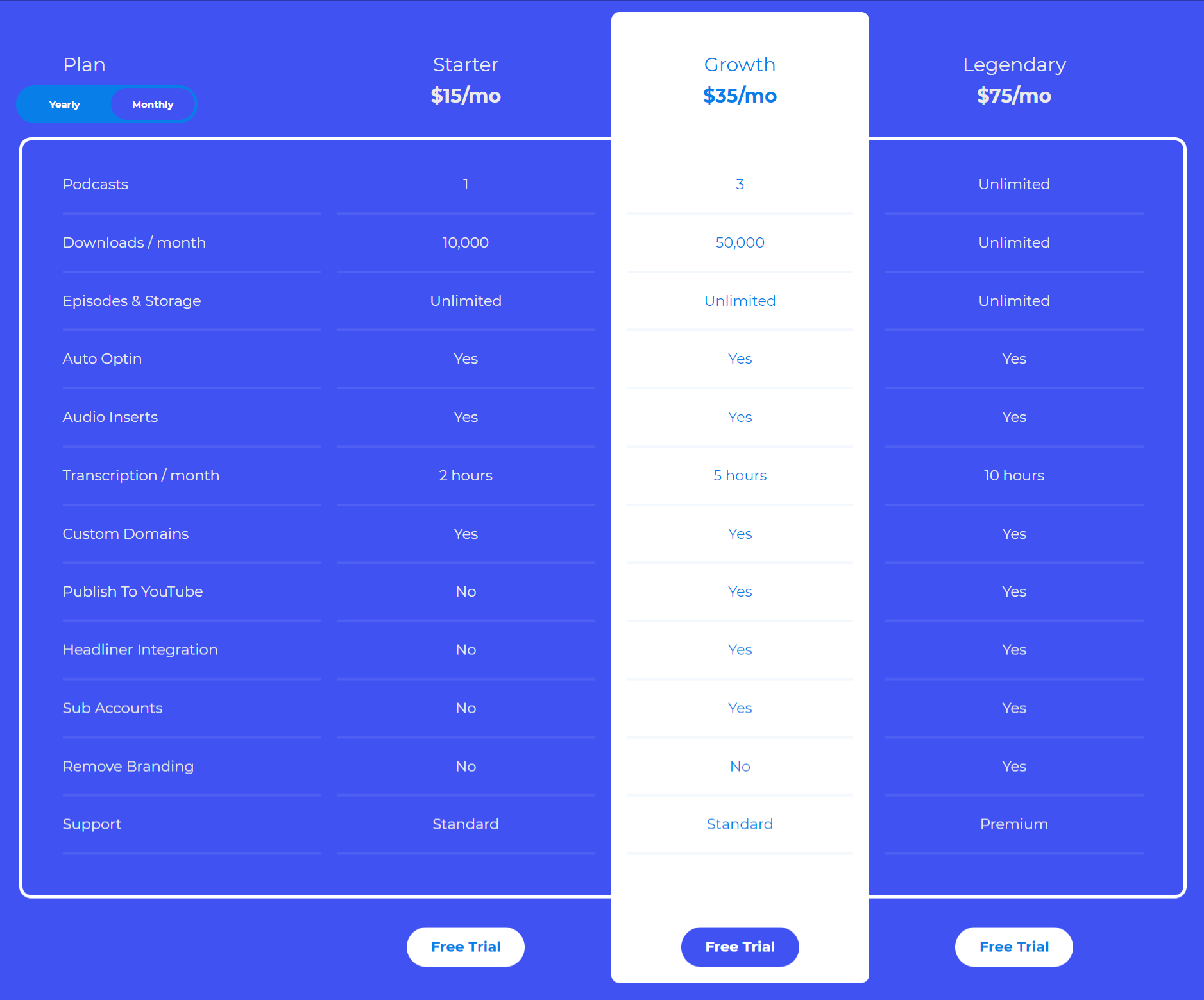 RSS.com is the leading podcast discovery platform, helping millions of people find and listen to their favorite podcasts each month. With over 400,000 podcasts available on RSS.com, there's something for everyone.
RSS.com is also the easiest way to start, grow and monetize a podcast. Their simple tools make it easy to get started, and their powerful platform provides everything you need to grow your audience and monetize your show.
Whether you're looking for the latest episodes of your favorite shows or trying to find something new to listen to, RSS.com is the place to start.
Features:
Simple to use. RSS is simple for podcasters to use, according to them. In 5 minutes, even new podcasters can start broadcasting their podcasts.
The monetization options available to podcasters include sponsorships, donations, and merchandise. Podcasters may utilize partnerships to discover sponsors and earn money through their programs. Users may also add a Donation button to their public podcast websites for supporters and followers.
RSS.com provides world-class customer support.
RSS.com also offers users unlimited downloads, episodes, and audio storage.
RSS.com offers advanced cross-platform analytics that provides users with the insights needed to grow their shows across all plans.
Pricing:
RSS.com offers the following paid plans:
Student & NGO
from $4.99
/month
All in One Podcasting
$8.25
/month
(paid annually)
Pro & Enterprise at custom pricing
Blubrry is a podcast hosting service that is very popular with podcasters who have a WordPress site because of its WordPress plugin called Powerpress.
With the plugin, you can upload episodes of your show right from your WordPress website dashboard
Blubrry is one of the podcast hosting companies that offer many features on its podcasting platform.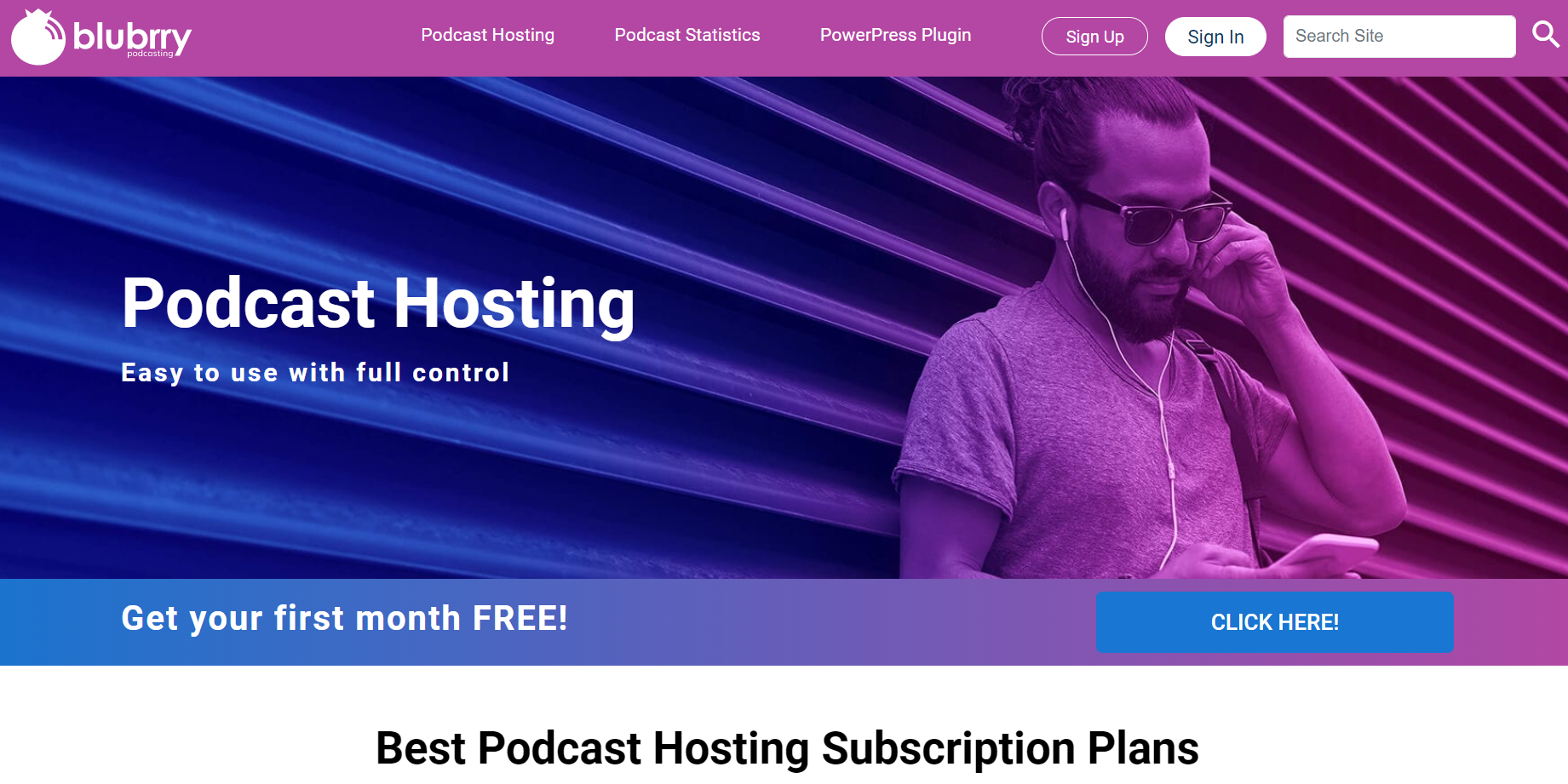 Features:
Podcast hosting to help you publish and distribute your podcast to all major platforms like Spotify and podcast players
Free migration and tech support
Professional Statistics incl. with website hosting
Free WordPress website and WordPress integration
Podcast analytics
Podcast statistics
Powerpress plugin
Pricing:
Blubrry has small, medium, large, and extra-large podcast hosting plans ranging from $12 to $80 per month depending on the monthly storage.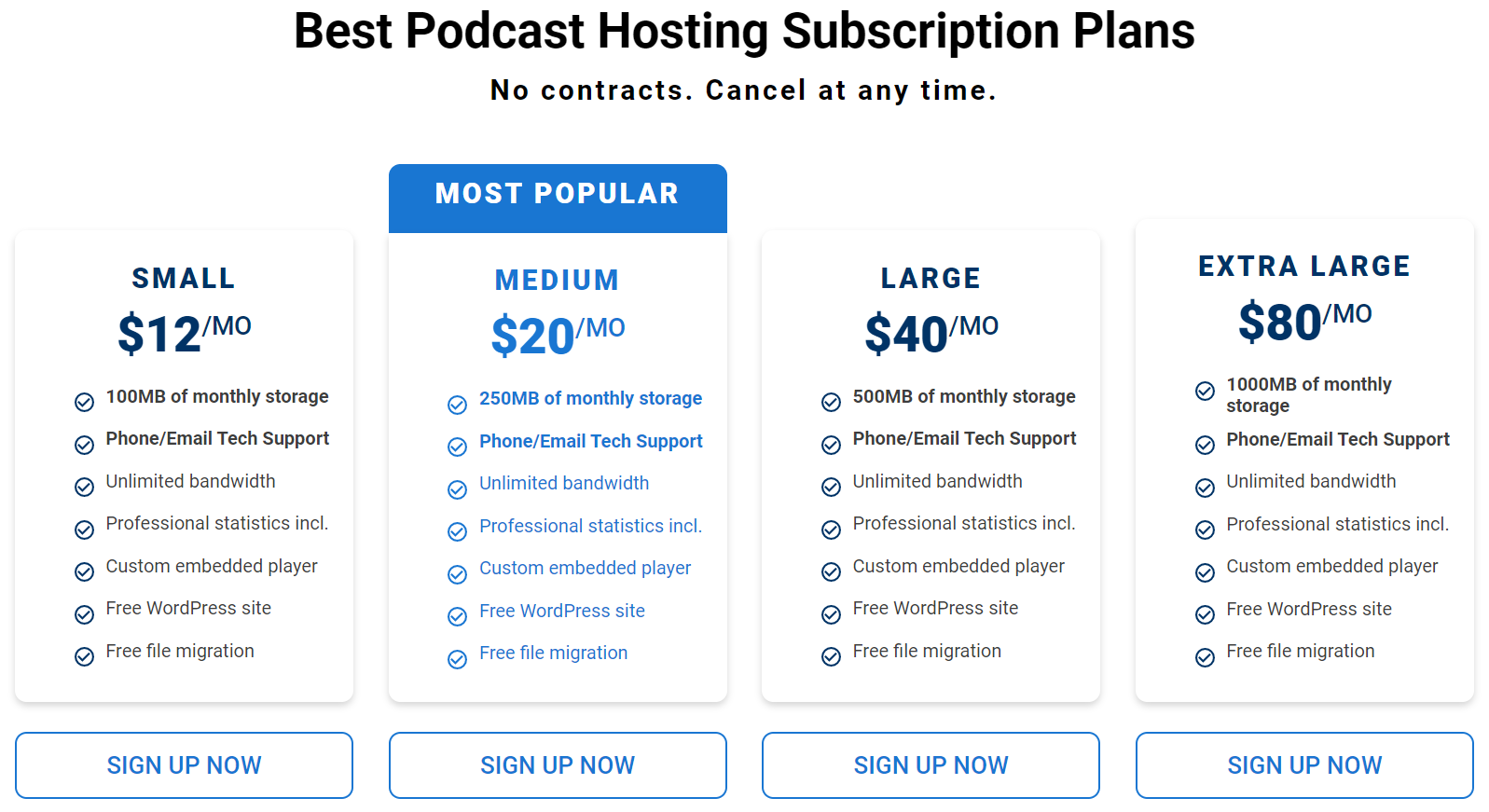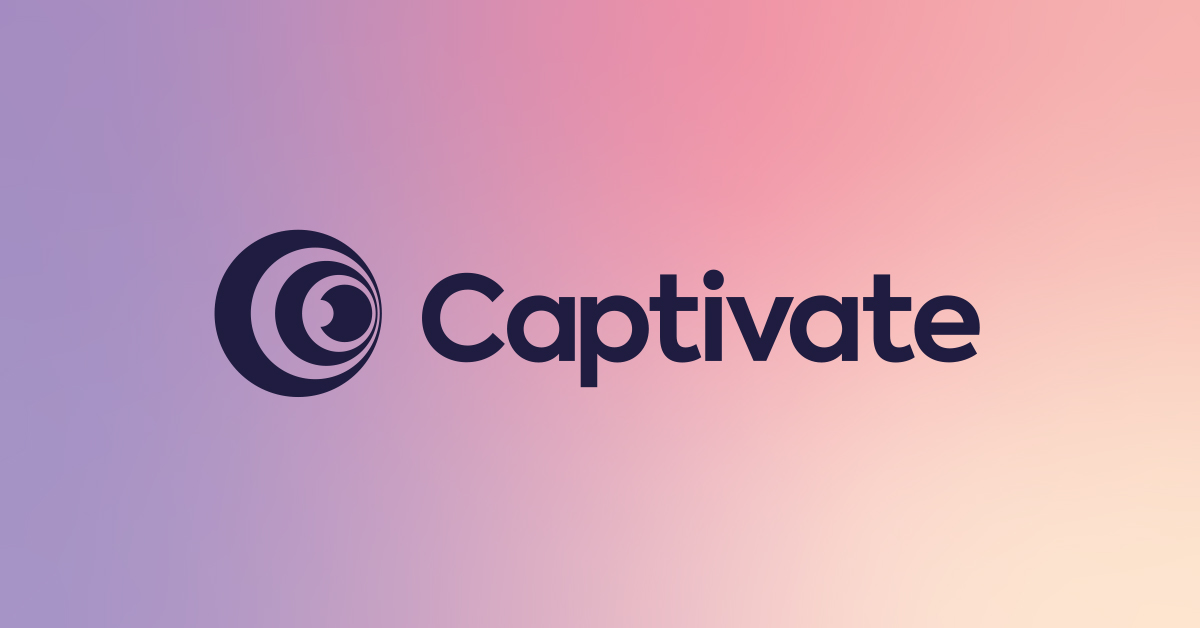 Captivate is regarded as a growth-oriented podcast host and is meant for independent podcasters.
This podcast hosting provider has a simple and easy-to-use interface and offers flexible podcasting.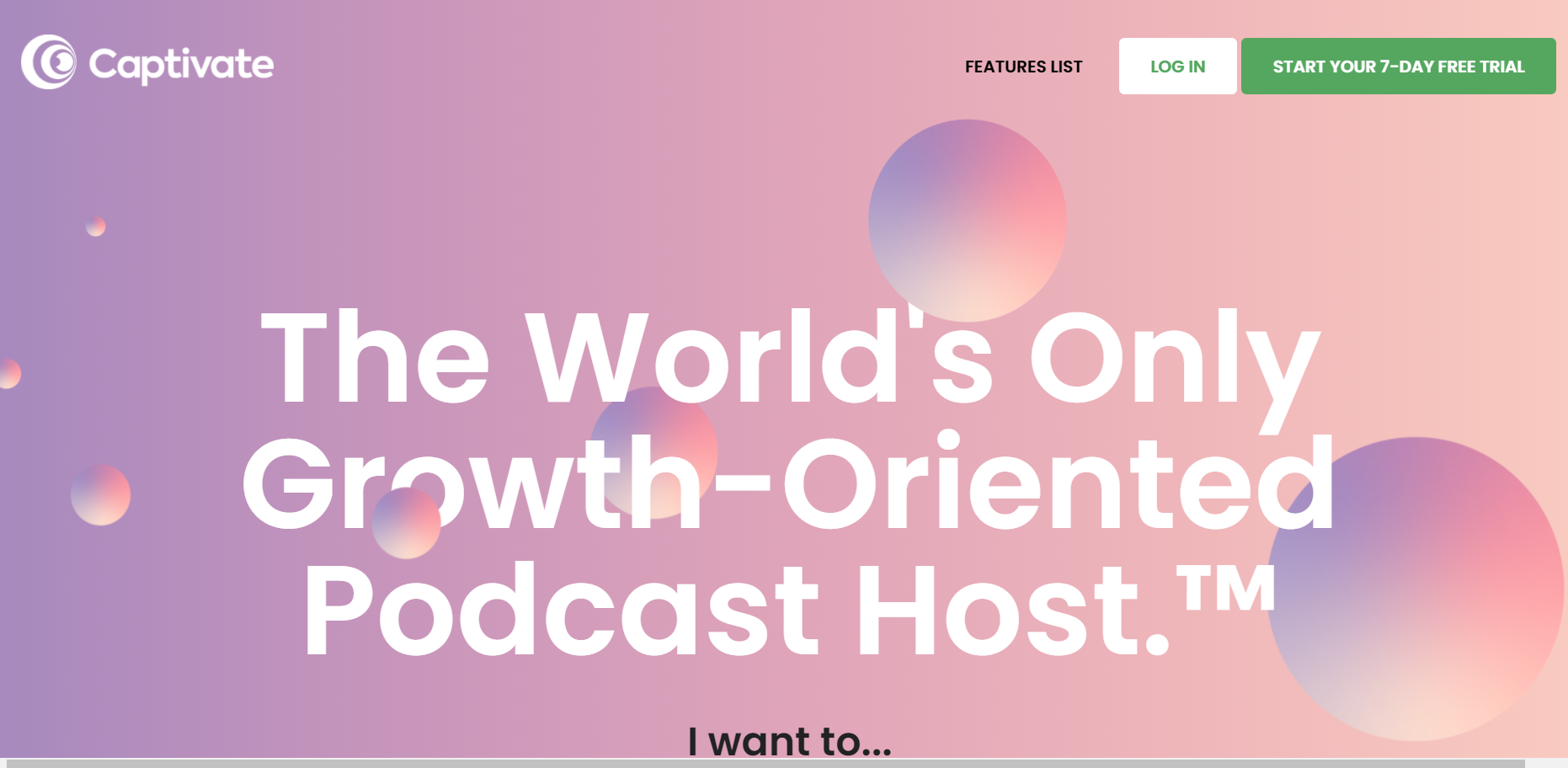 Features:
Host an unlimited number of podcasts on any paid plan
Hours of storage per month – unlimited
Distribute your podcast in Apple, Google, and more.
Advanced, IAB certified analytics
Private podcasting
Podcast player
Podcast site
Podcast marketing
Pricing:
This podcast hosting service has three pricing plans – Personal, Professional, and Business, depending on the downloads per month.
Captivate also offered free trials on all its paid plans.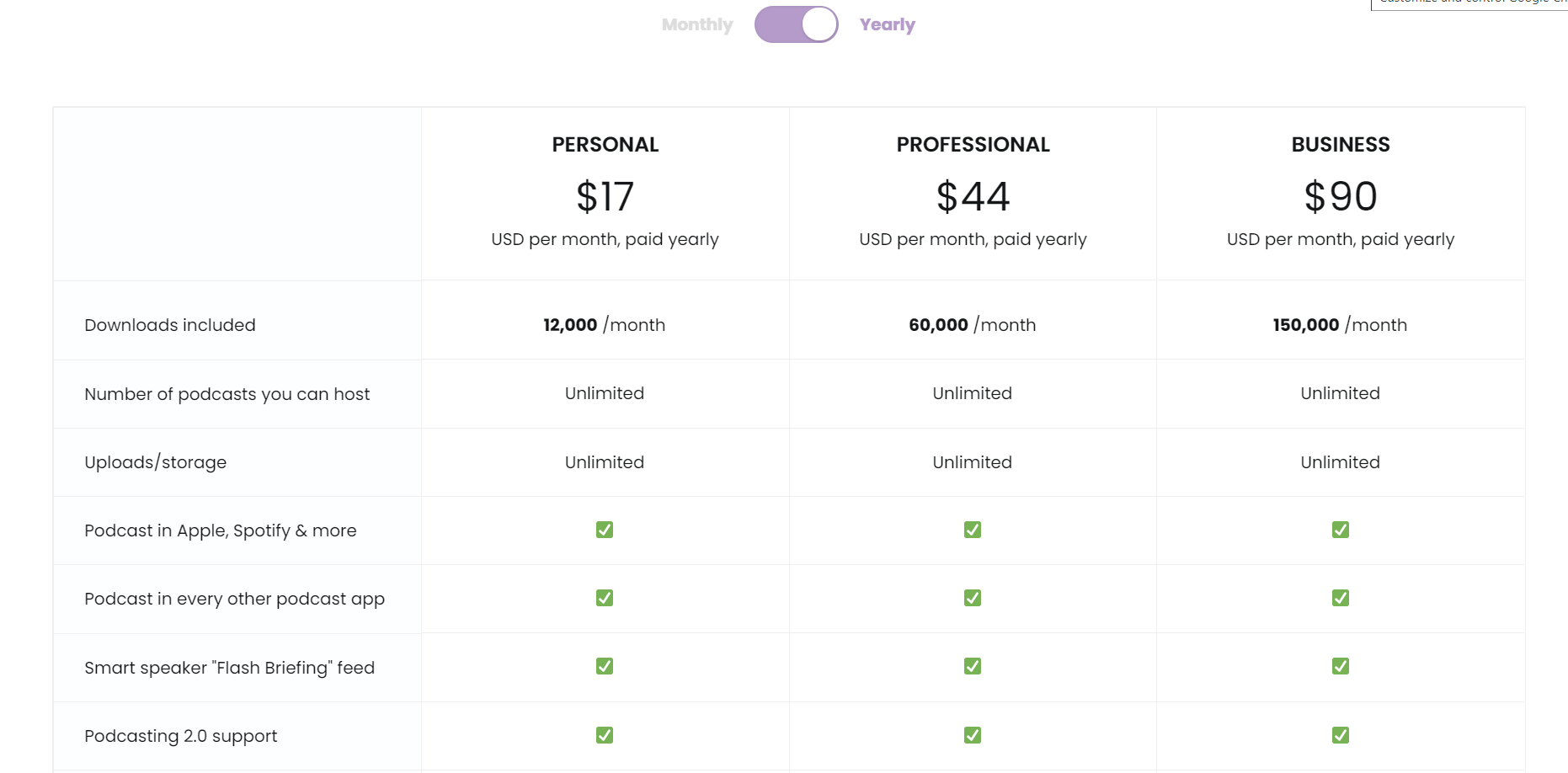 The first best podcast hosting service on this list is Audioboom.
What is Audioboom?
Audioboom is a platform for podcasters and advertisers to host, distribute, and monetize podcasts.
They match podcasters with advertisers to create podcast ads.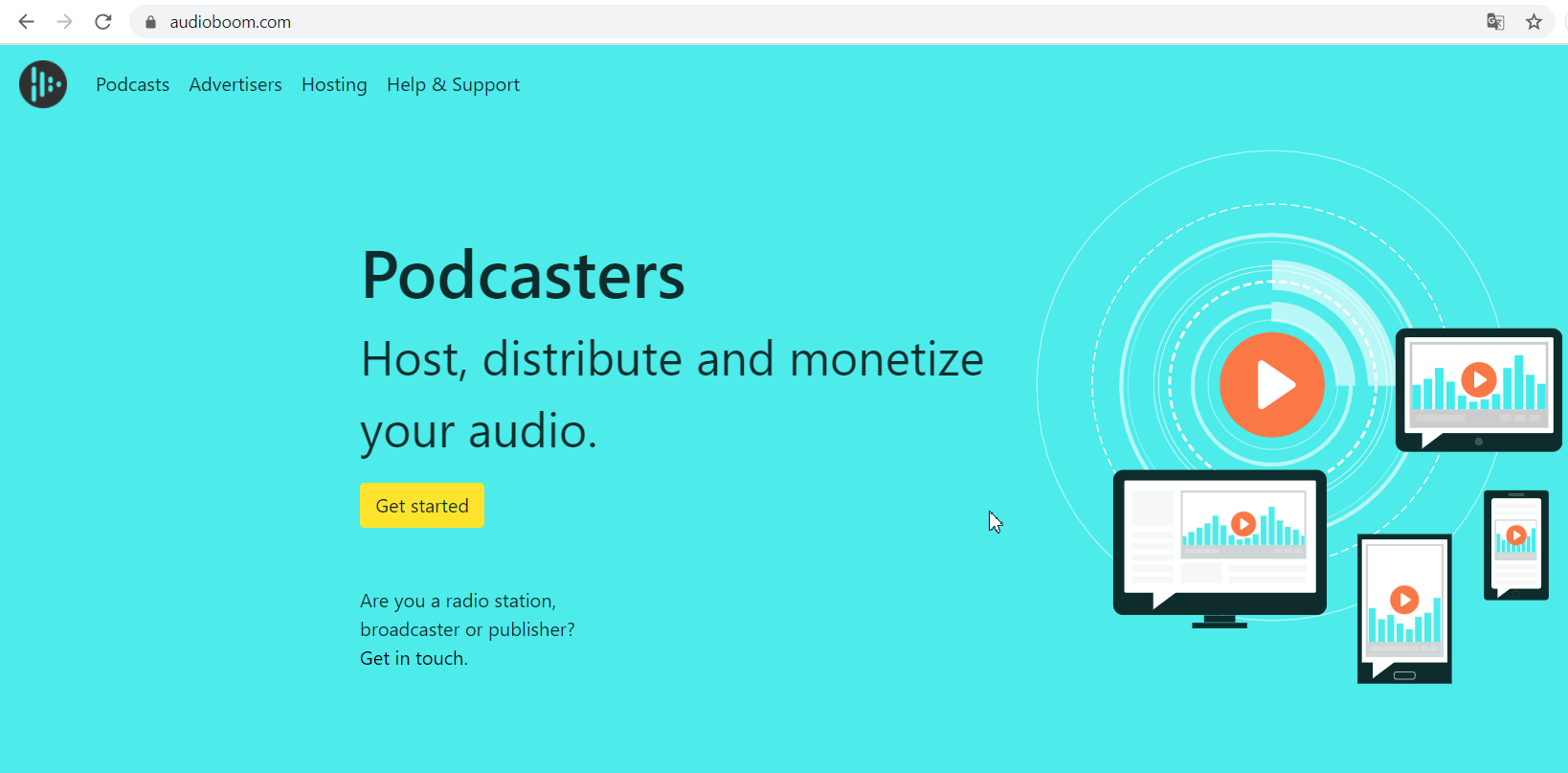 Features:
Audioboom is one of the best podcast hosting services that help in dynamic ad insertion (from ad networks or otherwise) as well as the creation of host-read ads during the show in addition to podcast hosting.
Audioboom offers:
Unlimited episodes per month
Distribution via Apple Podcasts, Spotify, Google Podcasts, and more
Advanced analytics with breakdowns by app, device, and geographic region
Embeddable Podcast Player for website and social media integration
Pricing:
Audioboom has two main pricing plans, one for individual podcasters, and the other for established podcast networks with over 10,000 plays per episode.
Their plans are pretty affordable, starting as low as $9.99 per month: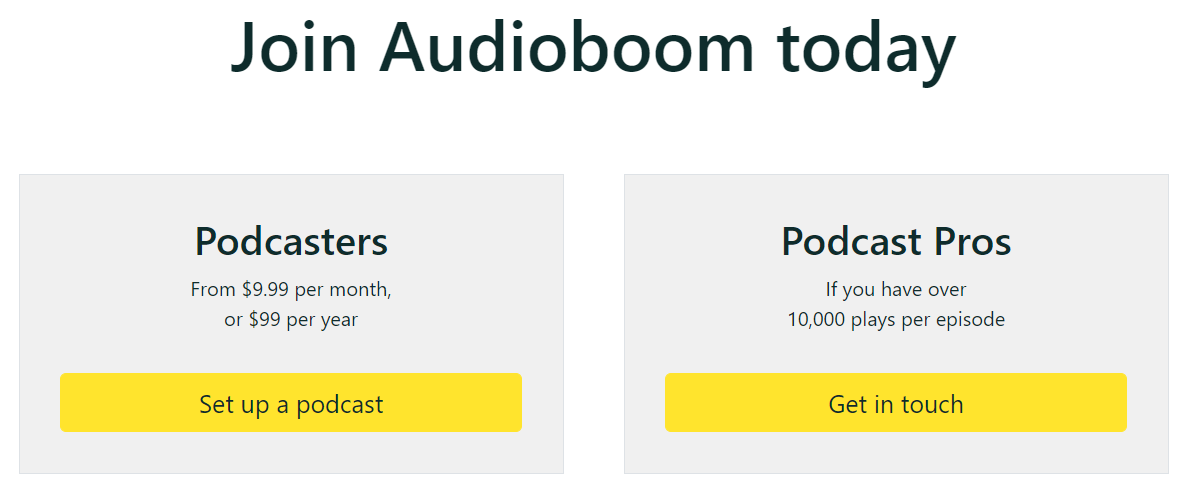 What is Buzzsprout?
Buzzsprout is one of the best podcast hosting companies for niche podcasters.
Buzzsprout helps you easily create and publish episodes, understand your listeners with advanced analytics, and get your podcast in all of the top podcast directories like Apple and Google.
Buzzsprout even offers a $20 Amazon gift card with any new paid account.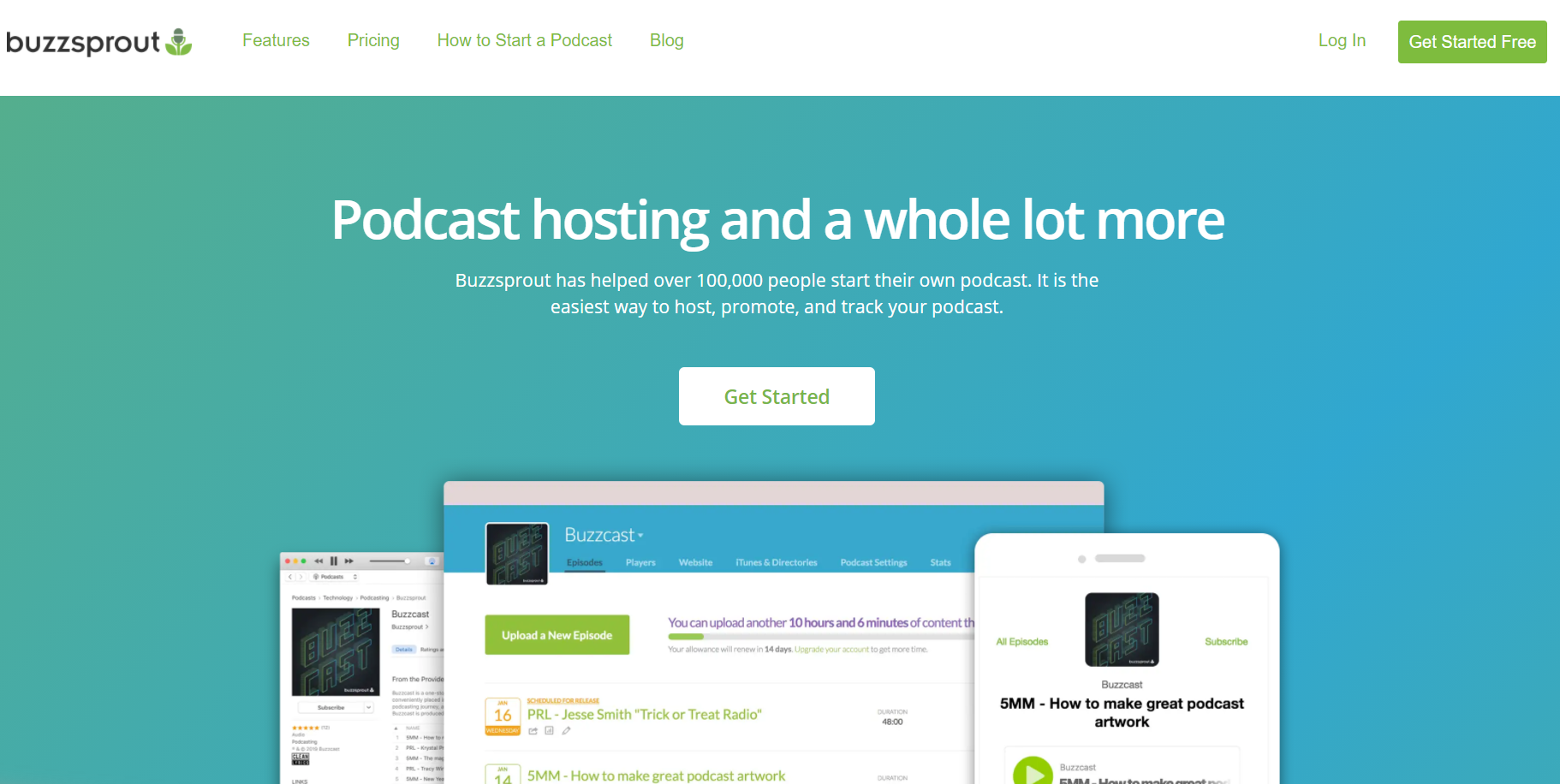 Features:
Unlimited audio file storage (hours of storage)
Advanced podcast statistics to study your show audience
Podcast episode transcription for SEO and accessibility
Add a podcast player to your website with a little code
Create chapter markers inside Buzzsprout
Custom podcast site, and more
Pricing: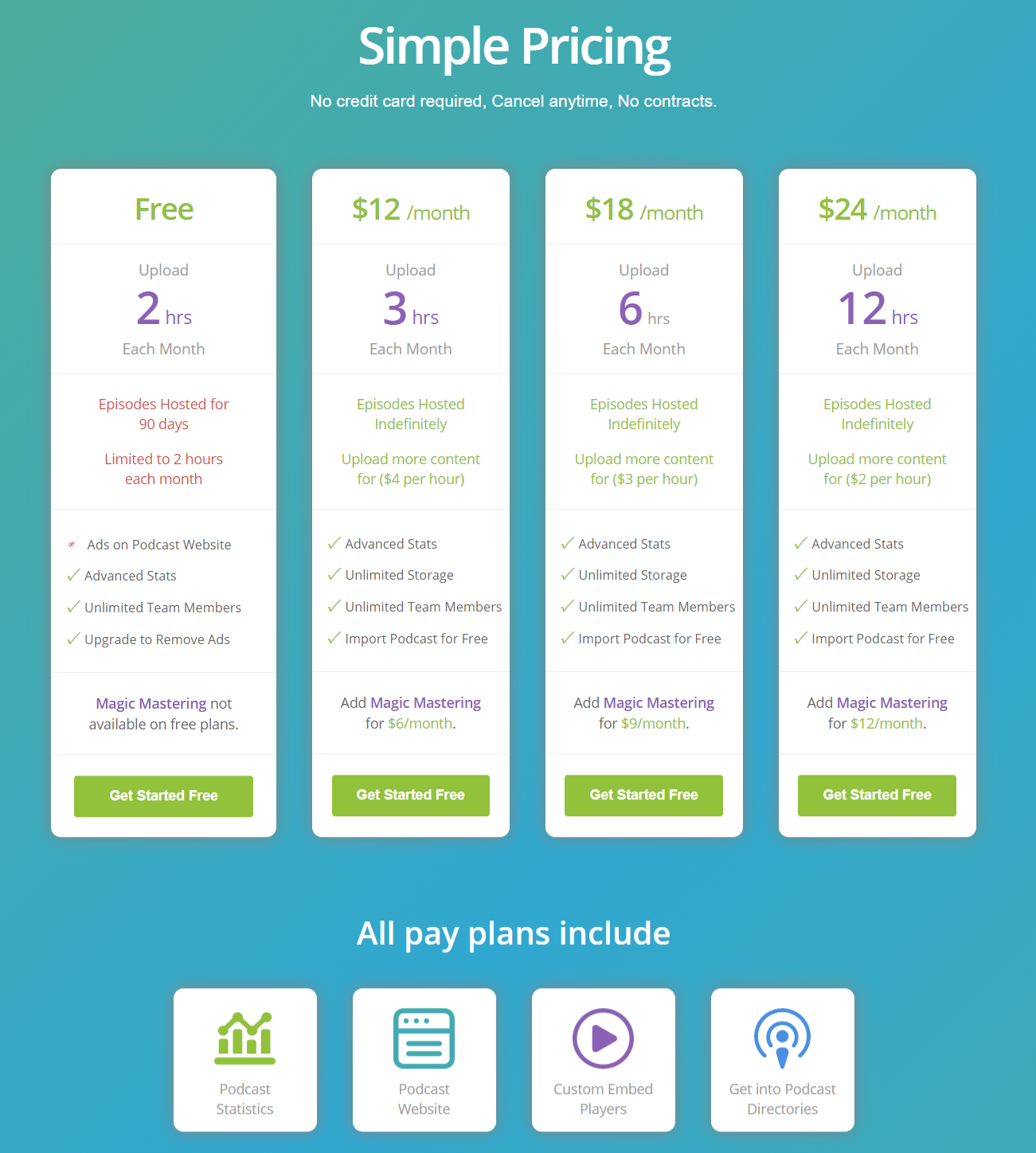 This podcast hosting service has 4 pricing plans including a free one. The paid plans range from $12 – $24 per month.
All paid plans include advanced stats, unlimited storage, unlimited team members, and free import of podcasts.
Castos is a podcast hosting company that makes podcasting easy and accessible to all.
Apart from podcasting, Castos has a WordPress plugin called seriously simple podcasting WordPress plugin that makes podcasting a breeze.
Castos also has a podcast editing service that helps you polish your final podcast product before publishing.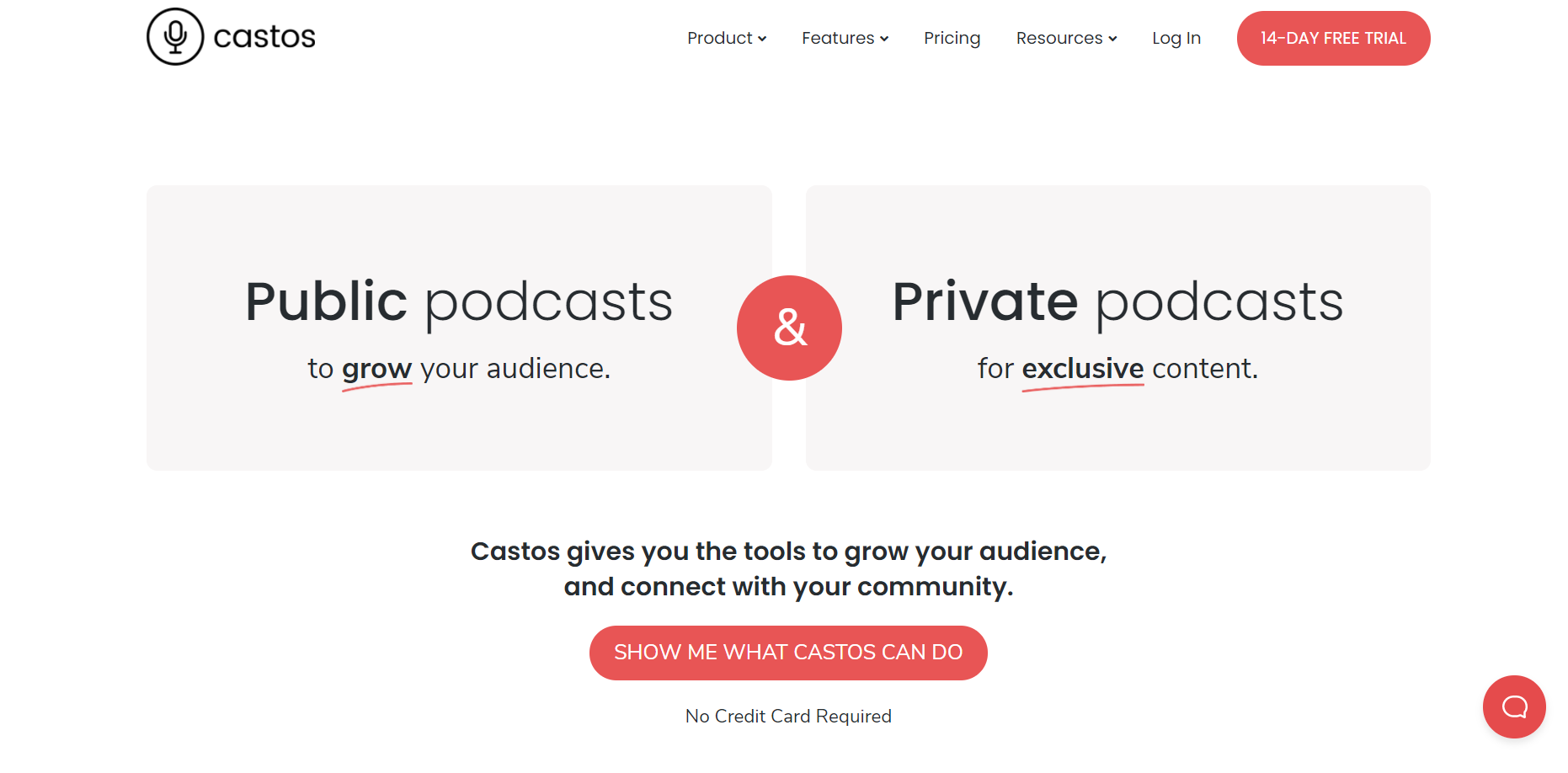 Features:
Unlimited storage
Unlimited bandwidth
Unlimited podcasts & episodes
Free one-click migrations
Unique RSS for each podcast show
Automated transcripts with pay-as-you-go pricing
YouTube republishing
Personalized podcast webpage
Podcast player
Pricing:
Castos has Starter, Growth, and Pro plans that range between $190 – $990 per year.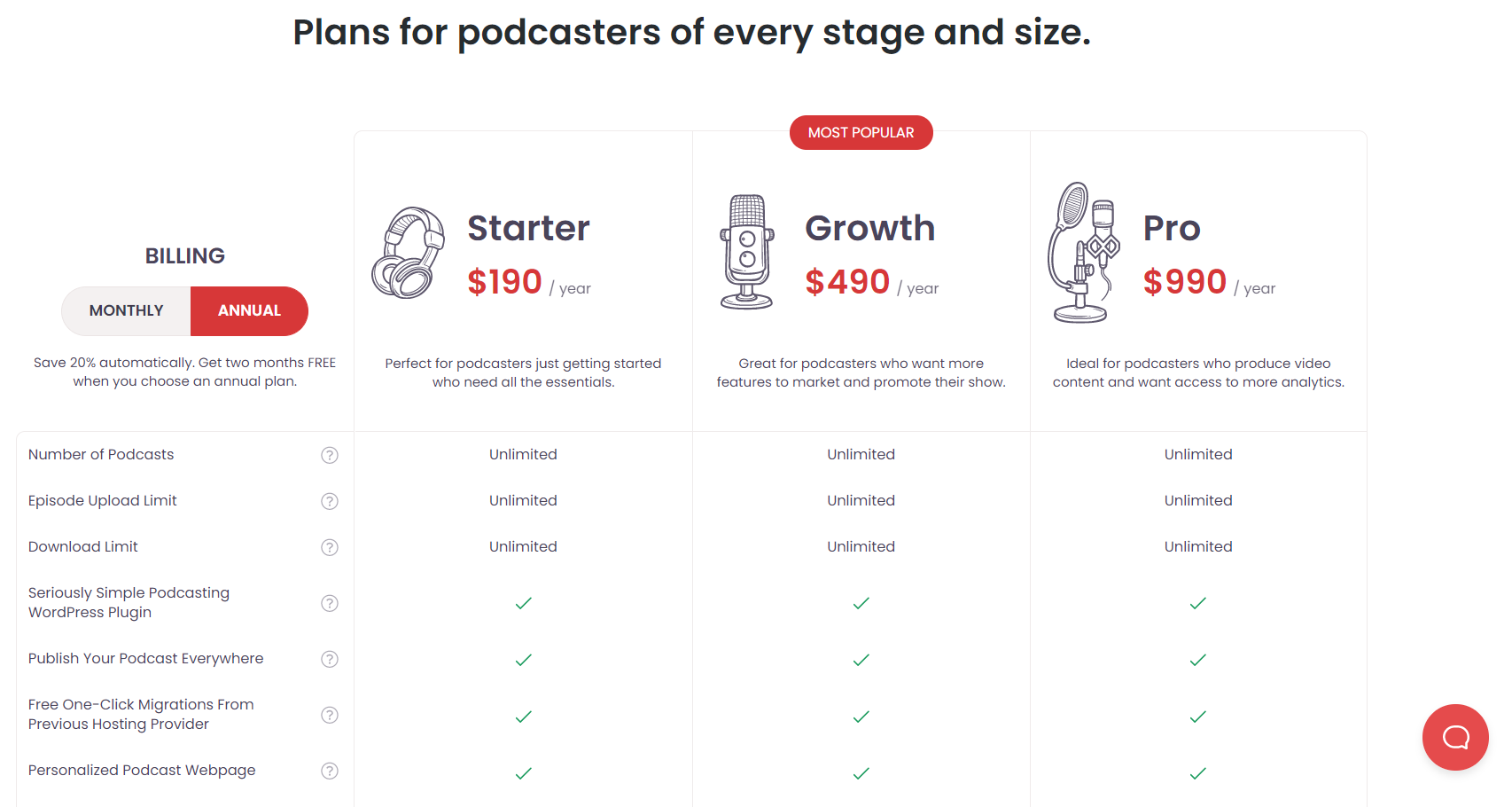 Fusebox is another podcast host company that offers many podcasting tools to grow your podcast.
Fusebox offers three customizable podcast players for your website.
It also has many practical features such as multi-platform support and social sharing.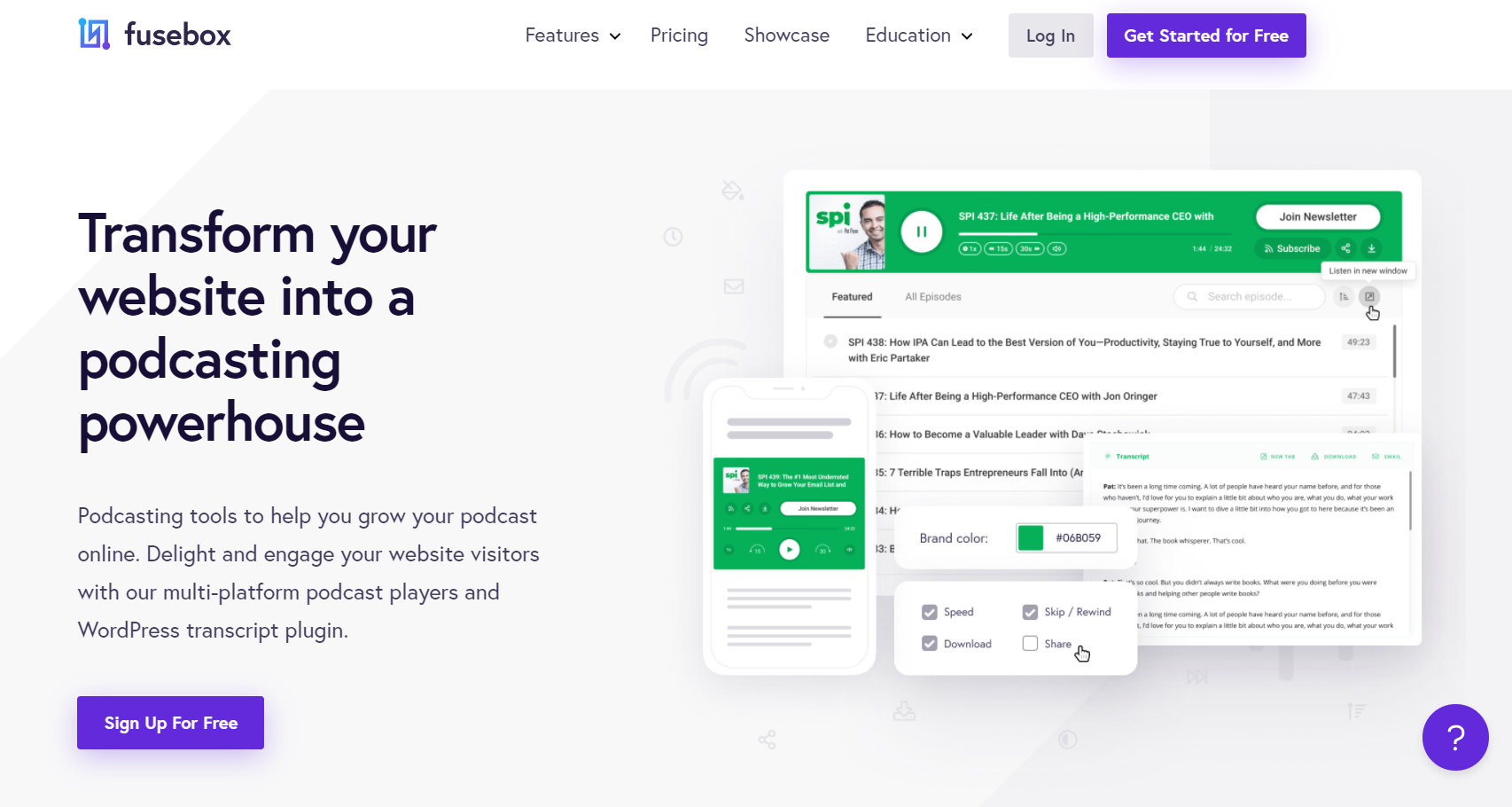 Features:
Sticky player to turn your website into a podcast player
Archive player lets you display all episodes of your podcast for your listeners
Transcript plugin for WordPress
Multi-platform player
Pricing:
This podcast hosting service has a different plan for each user.
Fusebox Free is for beginner podcasters, while Fusebox Pro is for more established podcasters.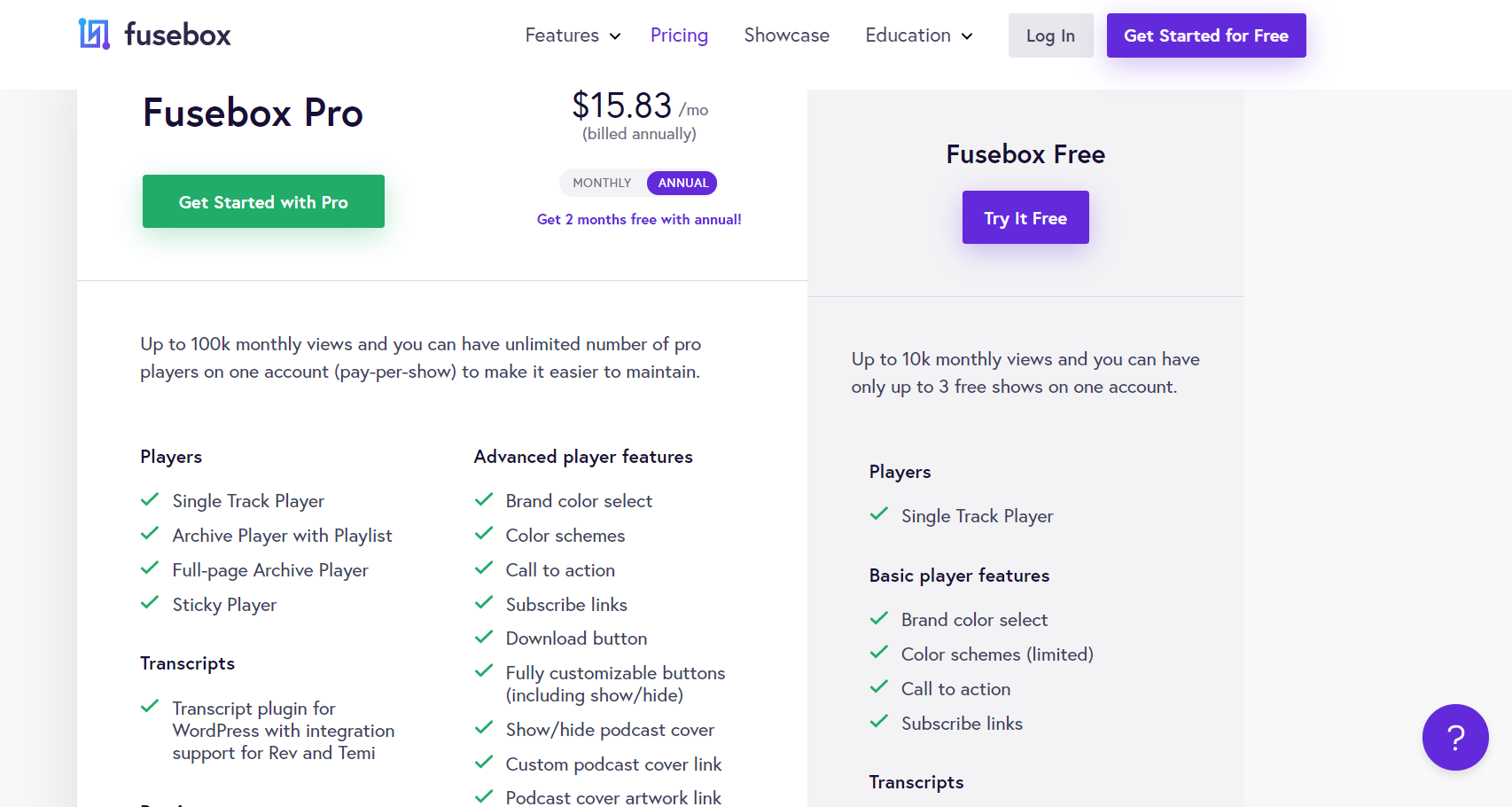 Transistor is a podcast hosting service that helps podcasters upload their podcast and distribute it to popular platforms such as Apple, Google, and Spotify.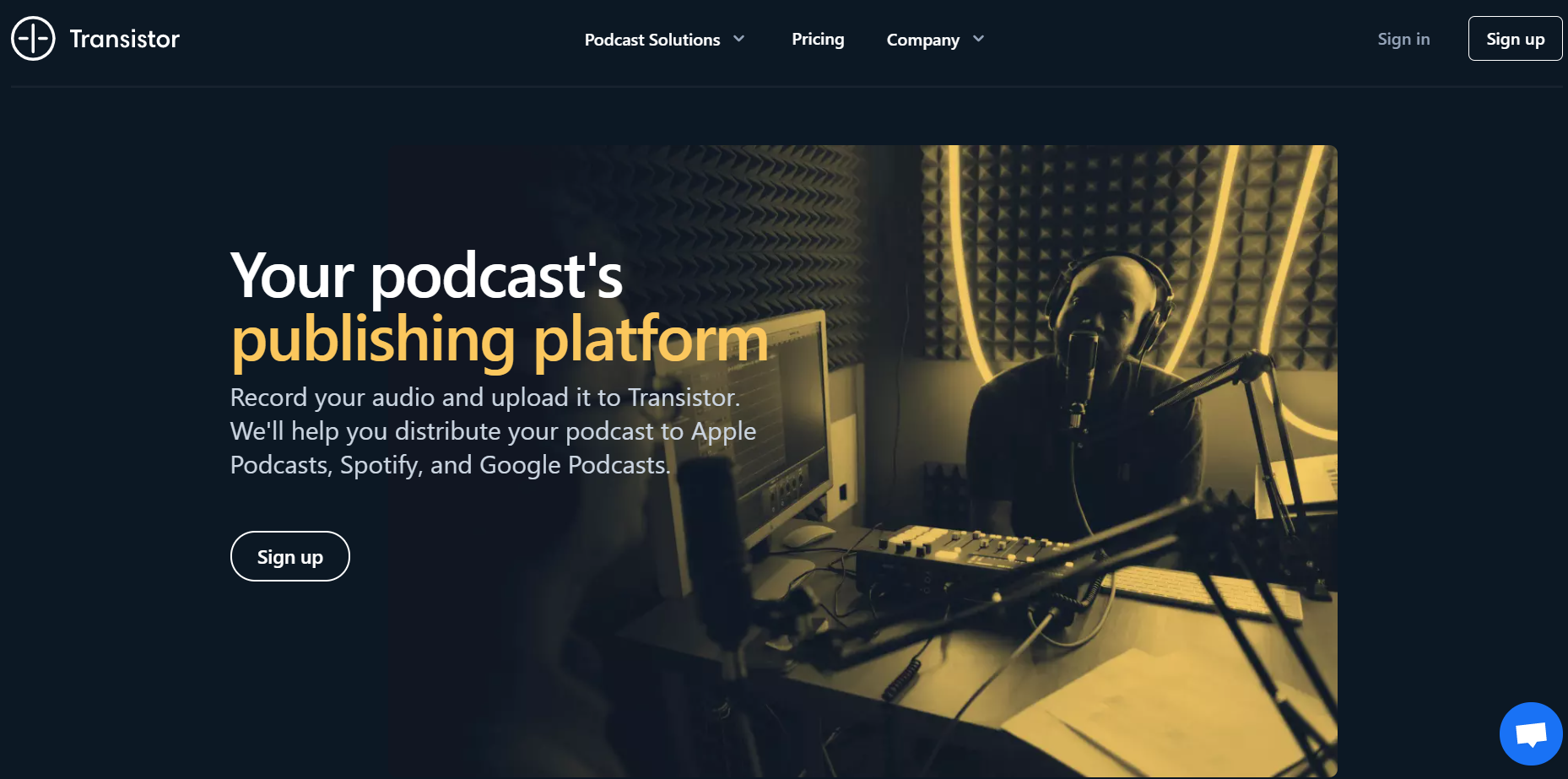 Features:
Podcast hosting
Podcast Analytics
Podcast distribution
Private podcasting
Unlimited podcasts
Pricing:
Transistor has Starter, Professional, and Business plans that start at $19 per month.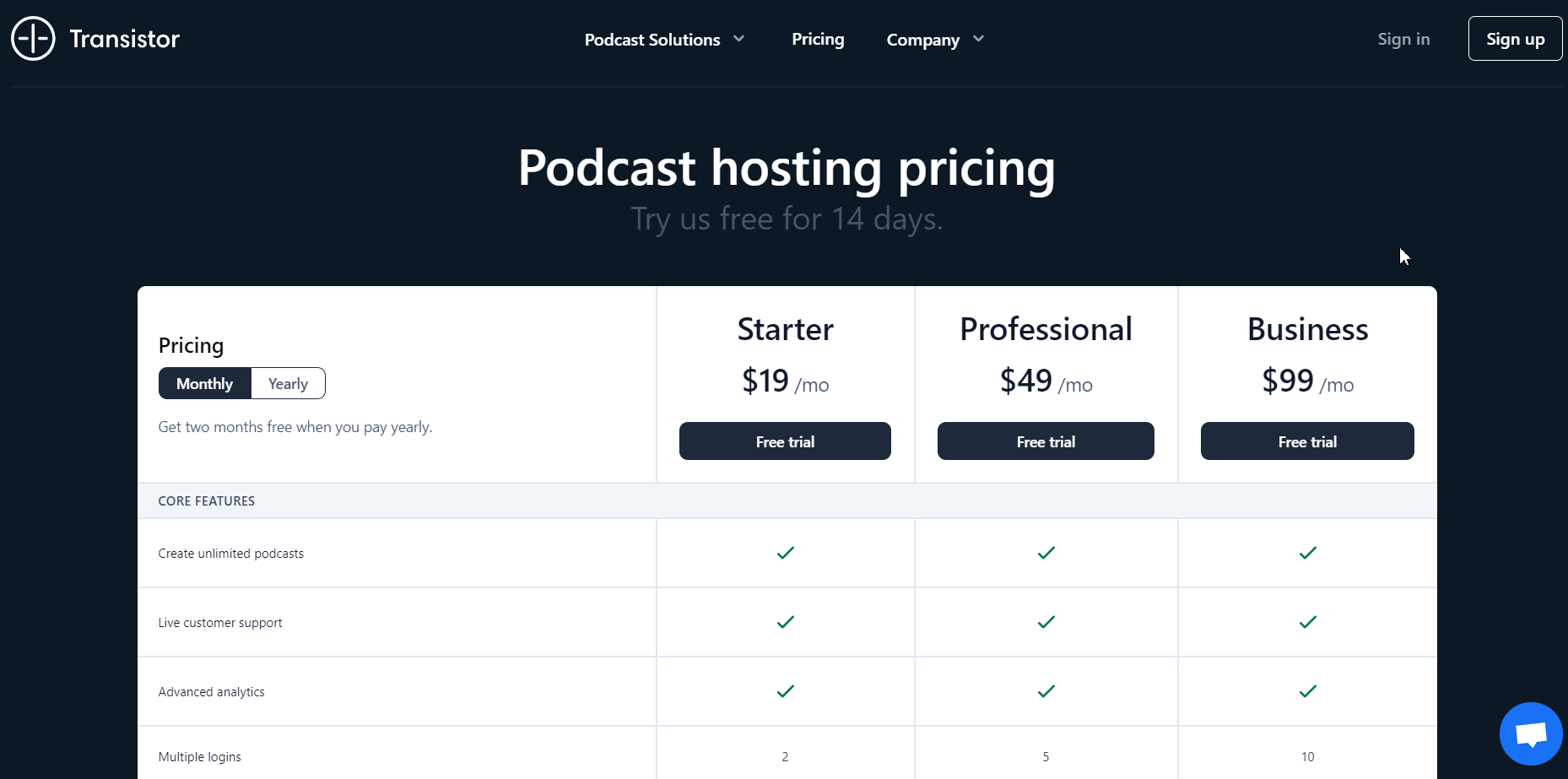 Podbean's podcast hosting services with a simple interface.
Podbean has all the features for starting, promoting, and monetizing podcasts.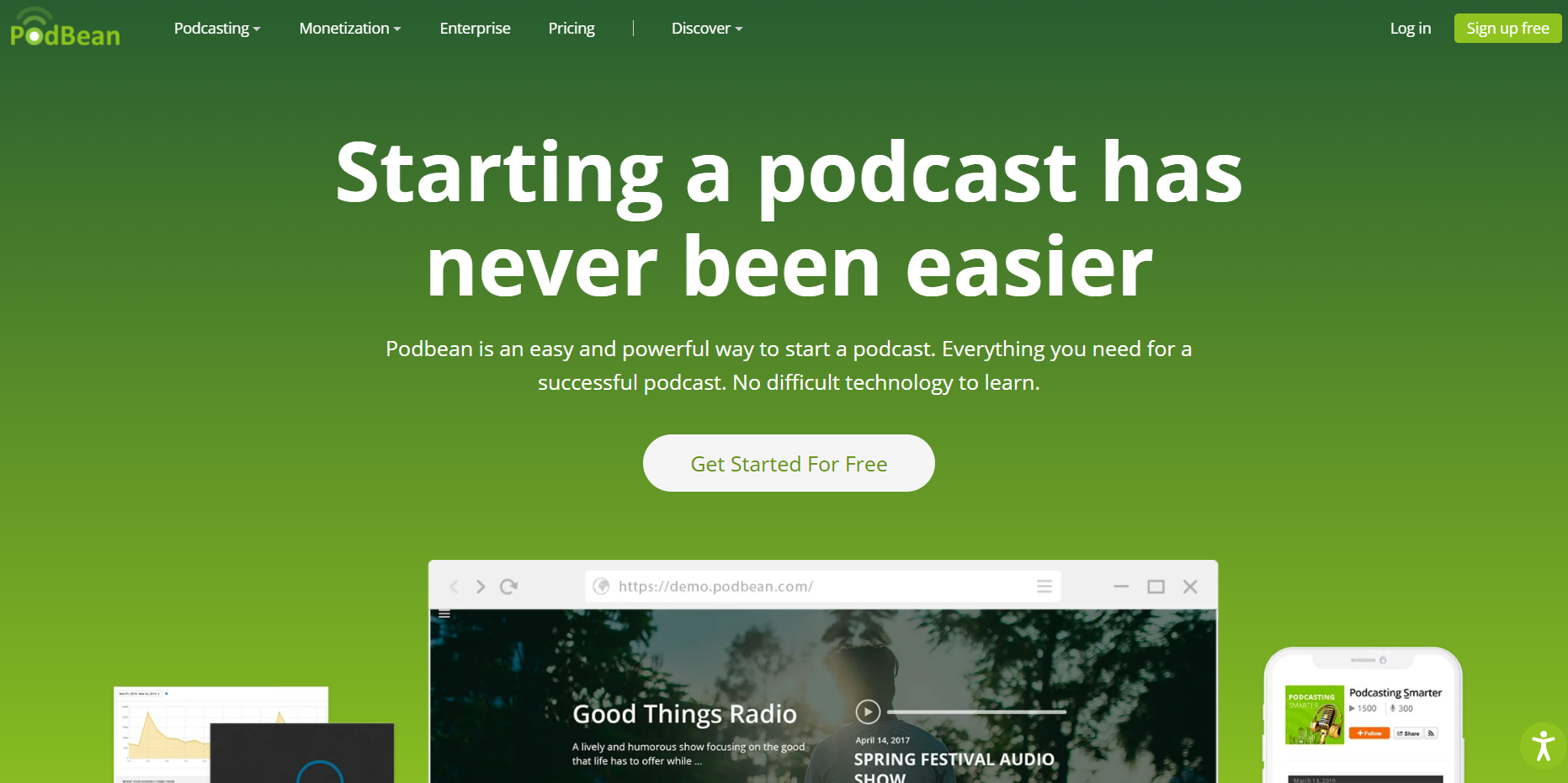 Features:
Easy Publishing with an intuitive interface
Unlimited hosting with no limits on downloads, episodes, or recording time.
Free Professional Podcast Websites. You can choose a podcast website for free with your account. Choose from a variety of professional themes that you can customize to fit your needs.
Own Domain Integration- Use your own branded domain for your podcast websites.
Scheduled Publishing – Convenient publishing on your timetable. Upload your audio and schedule episodes to post at designated times.
Mobile Podcast Publishing – Publish episodes right from your phone.
Pricing:
Podbean has some of the best podcast hosting plans available.
They have a basic free version, an Unlimited Audio plan (with unlimited podcast hosting), an Unlimited Plus plan, and a Business plan.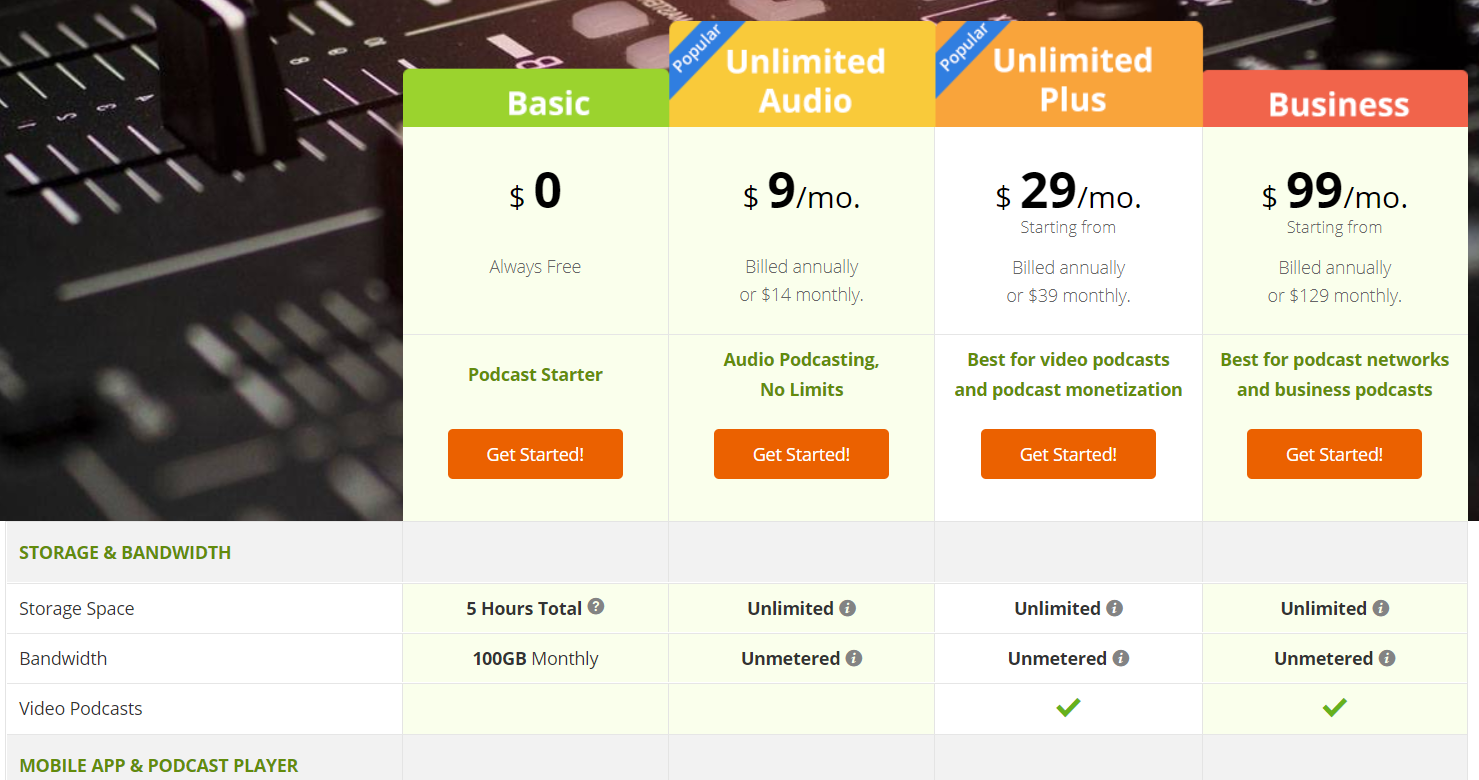 All paid podcasting plans have unlimited storage.
What is Libsyn?
Libsyn is a podcast hosting service that offers hosting, distribution, and monetization of podcasts.
With IAB-certified detailed podcast stats, it is simple to study your audience with Libsyn.
Libsyn even offers custom Android apps for your podcast show.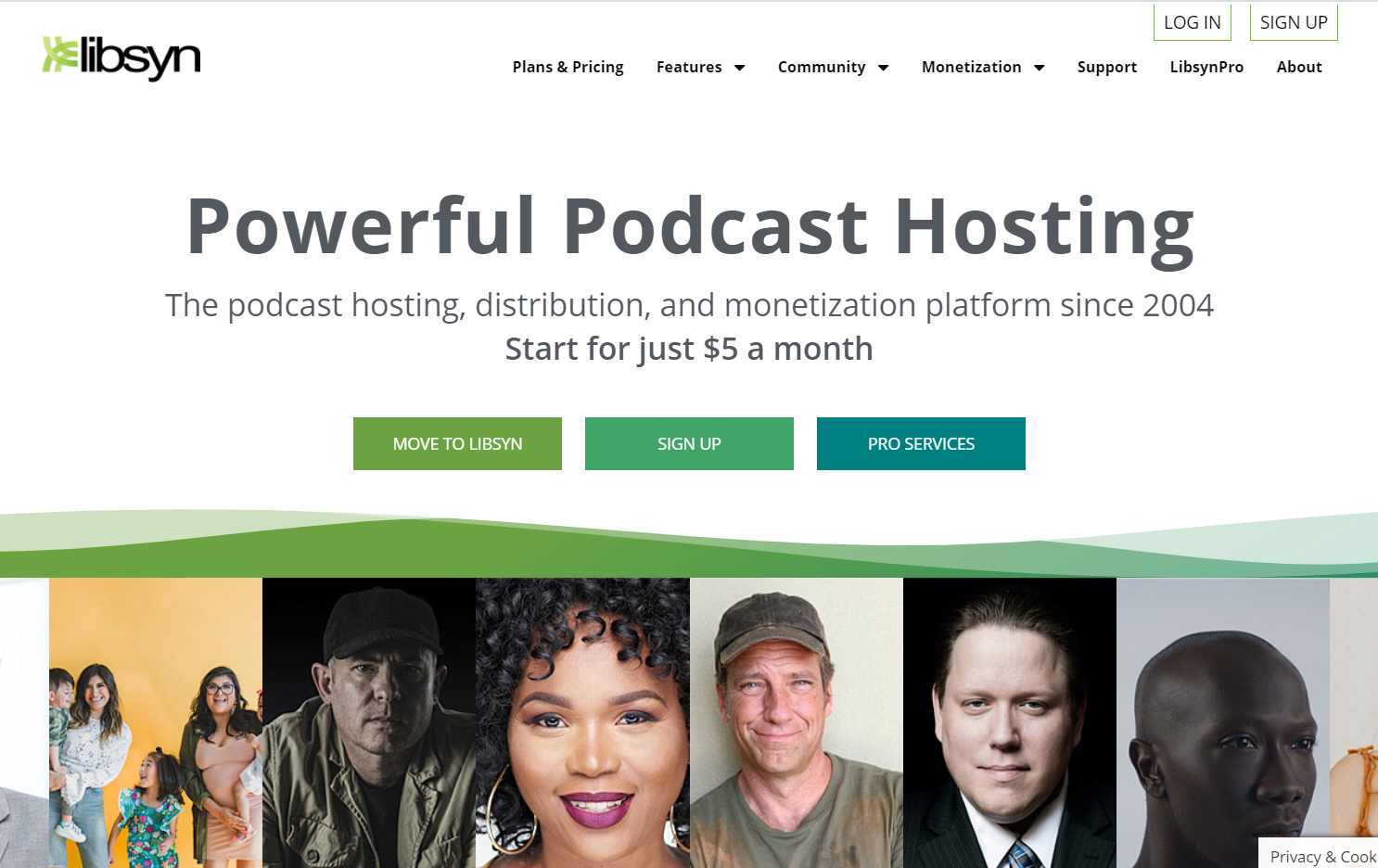 Features:
Libsyn offers Powerful analytics to gain valuable audience insights
Custom Episode Publishing And Optimization Unique To Your Podcast
Monetization tools
Pricing:
Libsyn offers four pricing plans: Classic 50, Classic 250, Advanced 400, and Advanced 800 depending on monthly storage.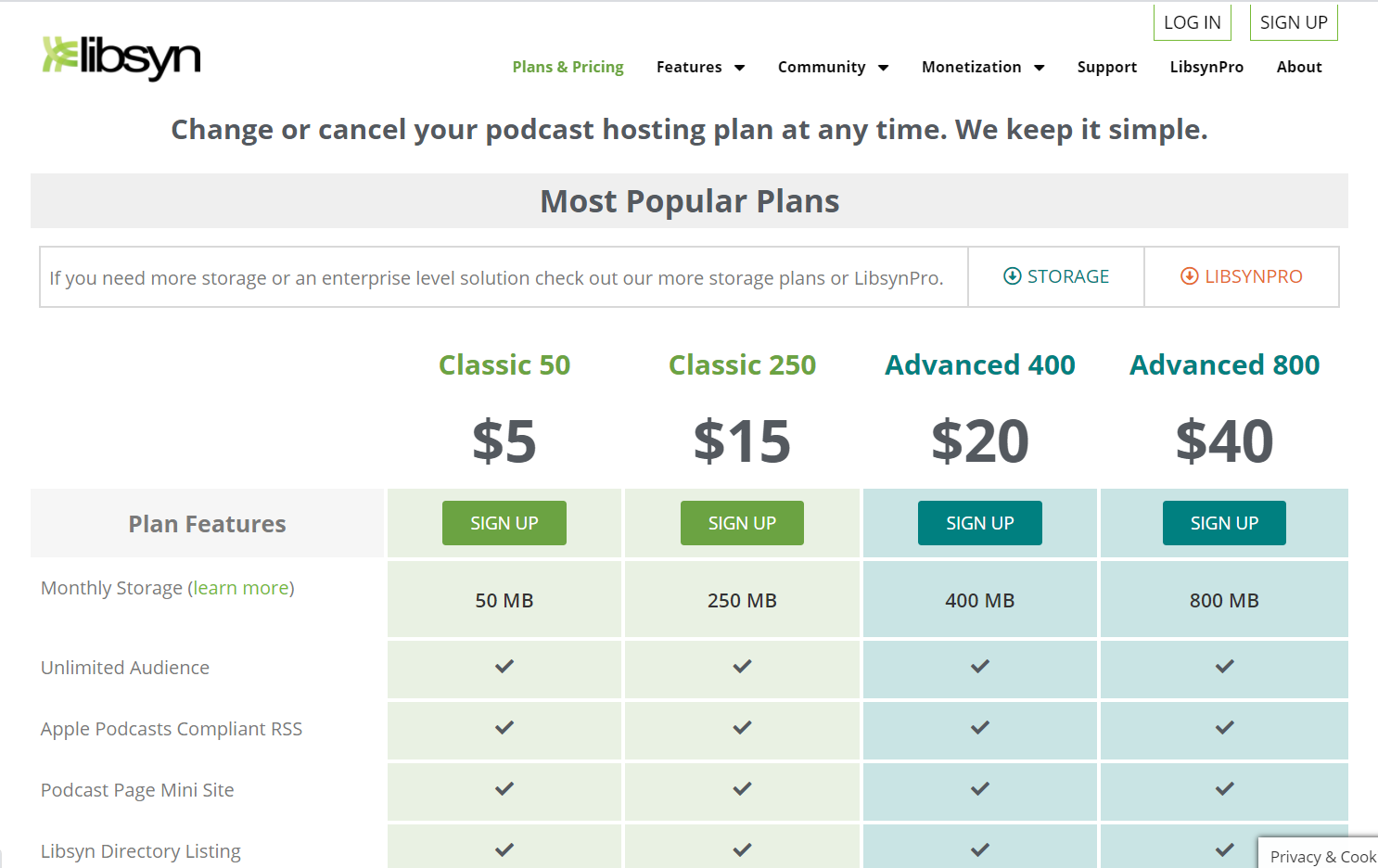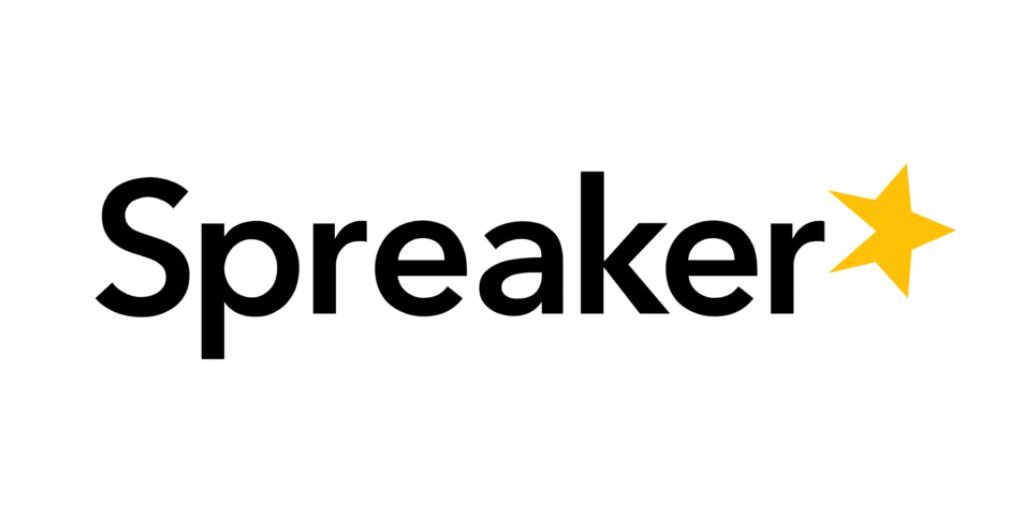 Spreaker is a podcast hosting website that allows you to store and publish your episodes to share with your listeners.
Spreaker helps you host, create, distribute, and monetize your podcasts.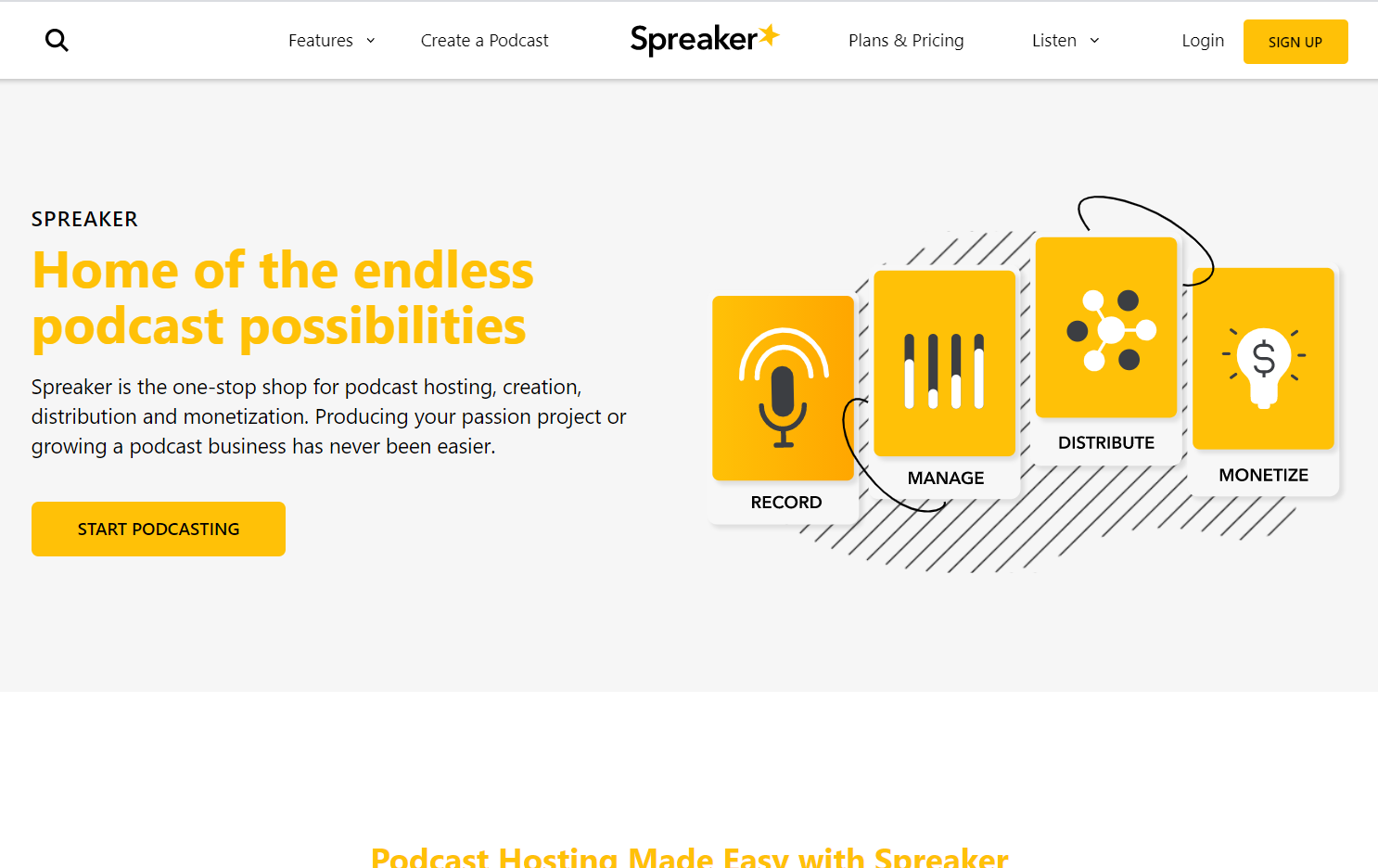 Features:
Unlimited bandwidth
Podcast distribution
Podcast monetization
Podcast Analytics
Podcast Statistics
Enterprise podcasting
Podcast app
Pricing:
Spreaker has four pricing plans: Free Speech, On-Air Talent, Broadcaster, and Anchorman.
Spreaker's paid plans range between $6 to $45 per month.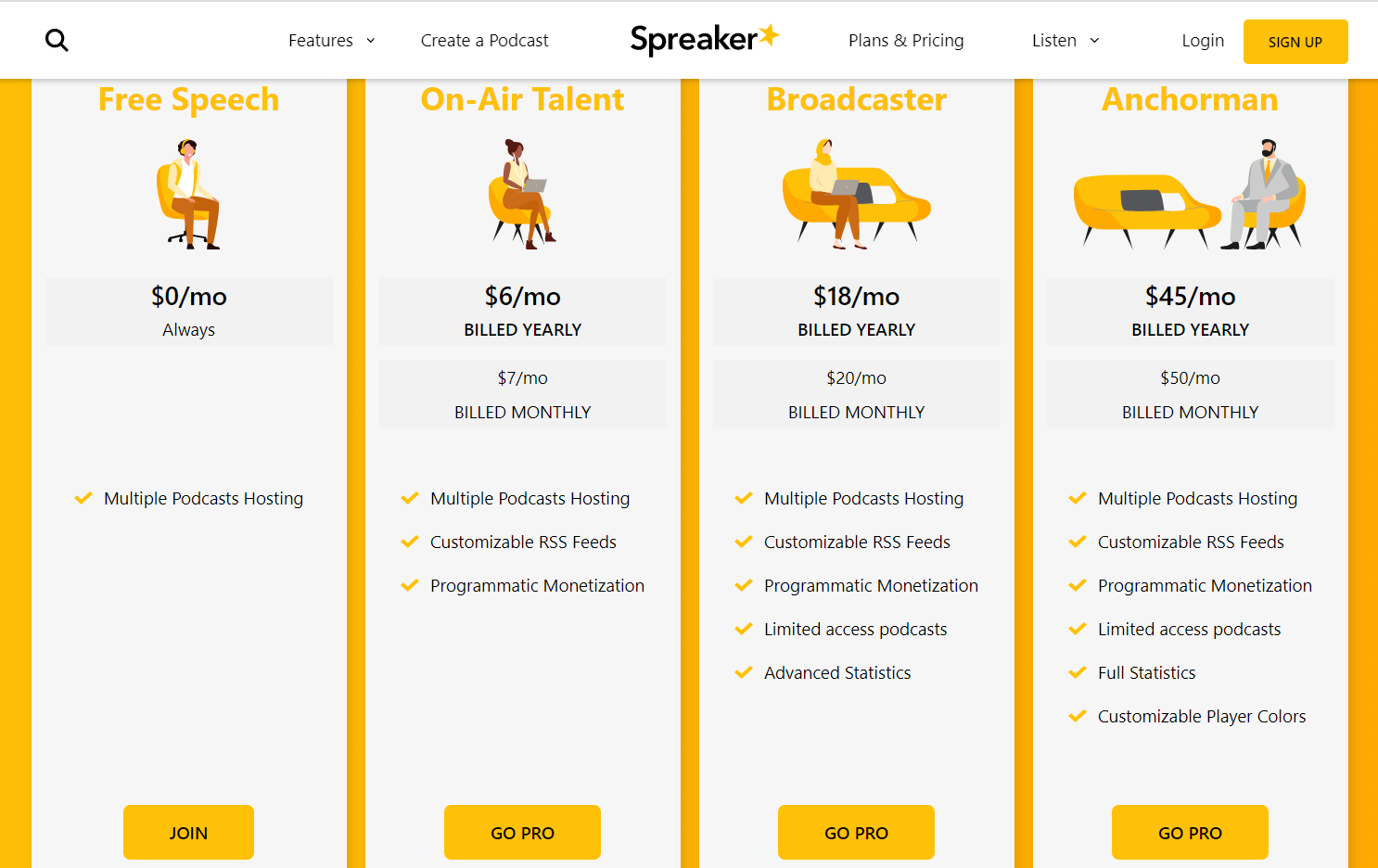 What are some of the best free podcast hosting platforms?
Buzzsprout has a dedicated free plan for those podcast hosts who are starting out with their first podcast.
With this plan, you can upload 2 hours of content each month, and the episodes are hosted for 90 days.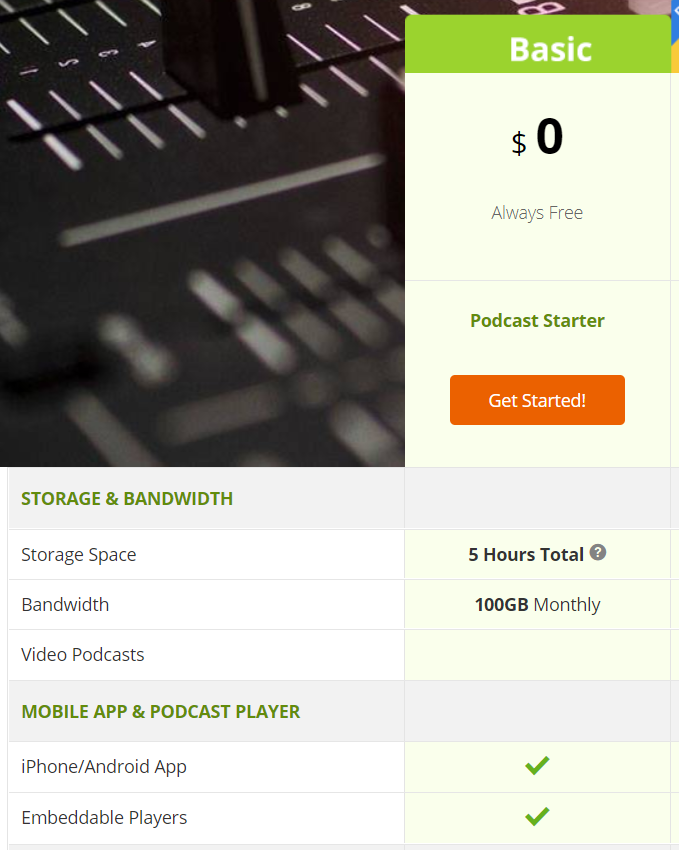 Podbean offers podcast hosts a basic free podcast hosting plan.
It gives you 5 hours of total storage space for audio and has all the basic podcast stats.
Spreaker is a free podcast website that allows you to upload and publish podcast files to share with your audience.
Spreaker has a free version that offers a wide range of features, making it one of the best hosting platforms with a free plan.

Blubrry is a popular podcast hosting platform that hosts audio files.
Although it doesn't have a dedicated free version, it does offer your first month free on the podcast hosting site in case you just want to try out different podcast hosts to find out what's right for you and your business.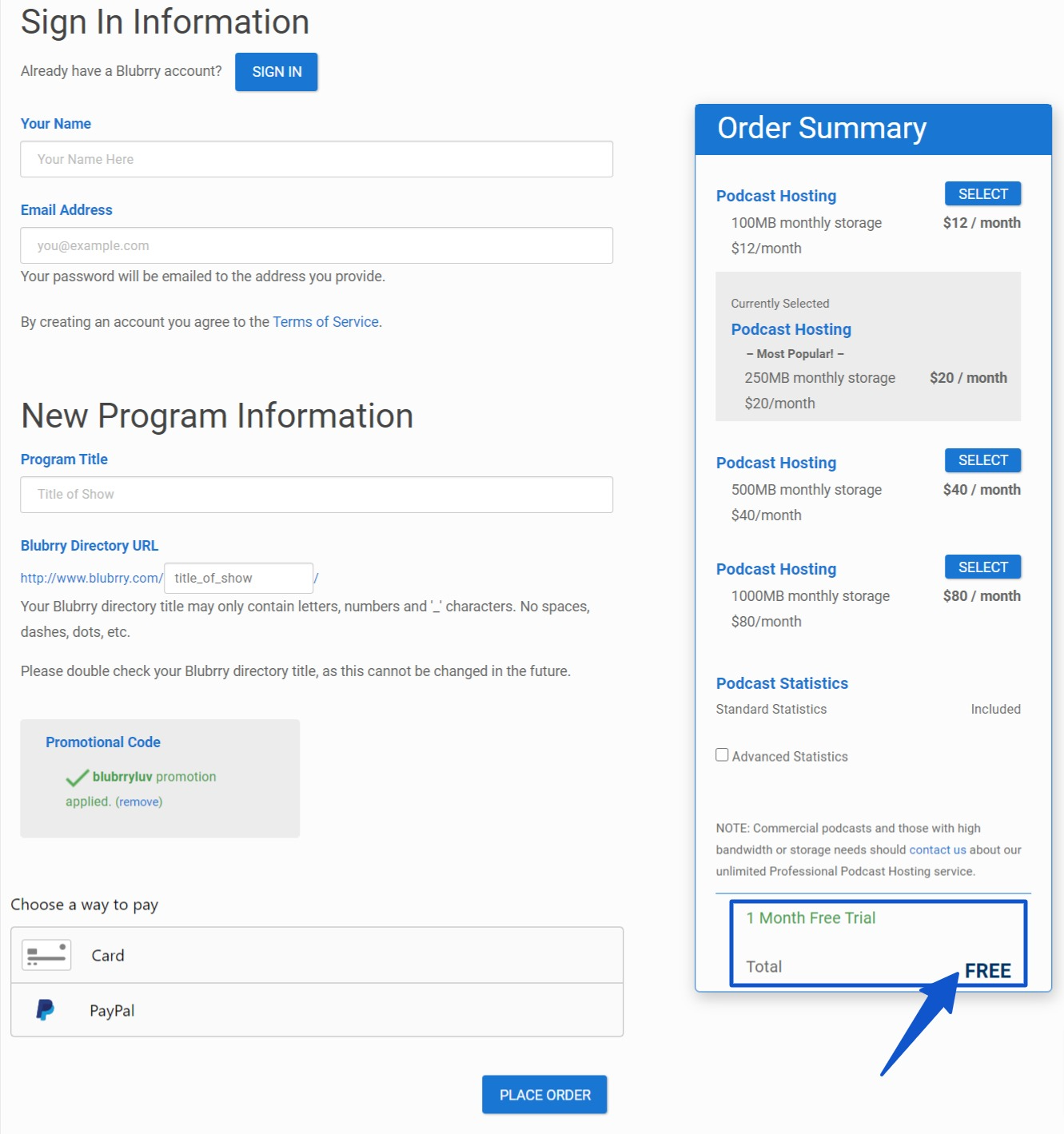 Vurbl is a creator-first podcast platform just like YouTube is for video. It is one of the best podcast hosting 2021.
(Although you could also publish your video podcasts on YouTube).
Through Vurbly, users can host a podcast, build an audience, and earn revenue from ads.
Vurbl is a user-generated content platform that is free to use.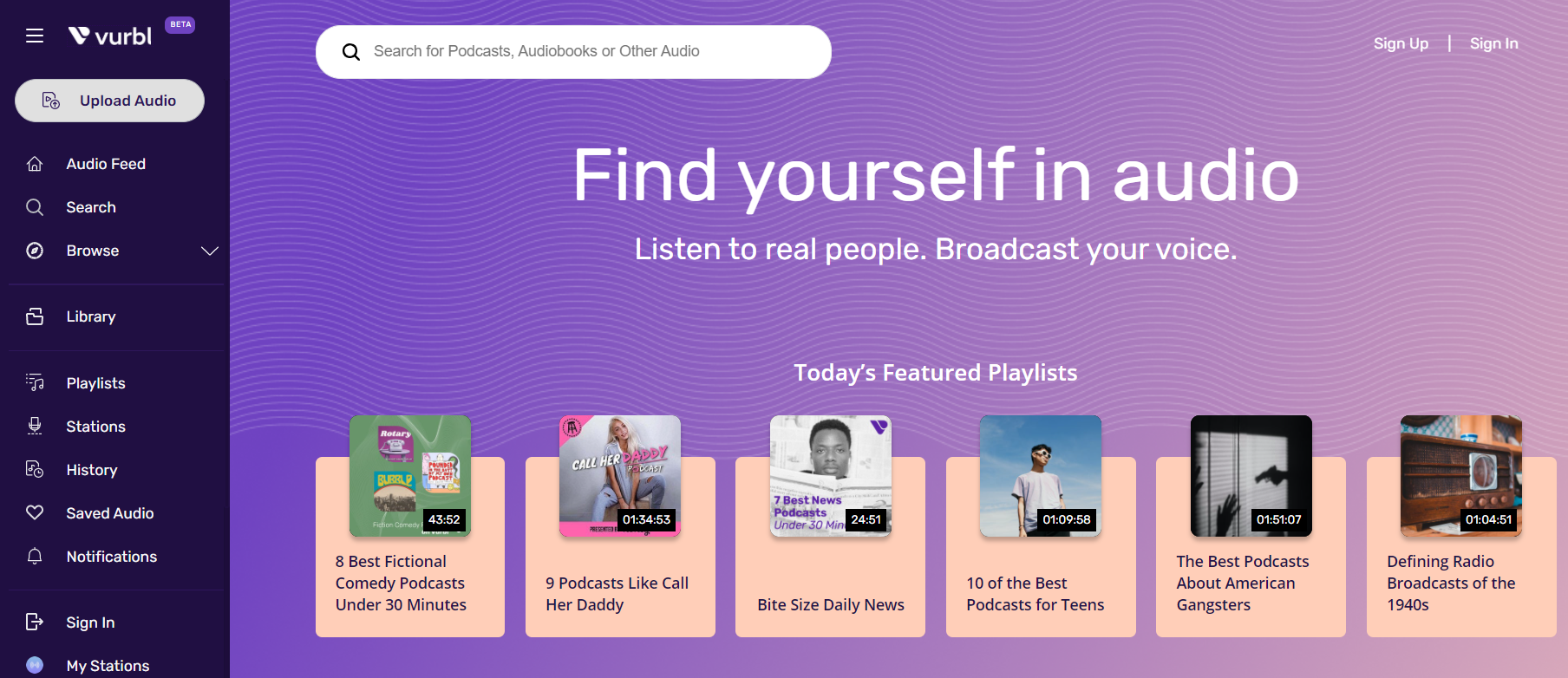 20 million curated audio in 40+ categories
YouTube of audio content
Real-time programmatic audio advertising for specific demographics
Know when someone listens to an ad
Listeners or Vurbl creators can splice up audio to share on social media or highlight on the platform
What Makes A Good Podcast Hosting Service?
Okay, so now that you've seen all the different podcast hosts available, you must be asking yourself "How do I choose a podcast host?".
We've already seen why people prefer podcast hosting services to host their podcast episodes instead of hosting them on their website.
But what makes a good podcast hosting site?
How do you decide on the best podcast hosting site for your show when you want to start a podcast?
Here is a buying guide with all the features you need to understand before you choose the best podcast hosting for when you start a podcast.
1. Audio Storage Capacity
Every podcast host has different limits on the hours of audio you can upload and share with your listeners.
This mostly depends on the different plans that they offer.
The best podcast hosting sites offer unlimited storage for all your audio files.
If, however, the podcast hosting services that you prefer do not offer unlimited storage, you need to plan your podcast episodes accordingly so that they do not go over your storage allowance.
2. Podcast Analytics
You need to understand your audience if you want to create content that connects with them.
Podcast analytics is a very useful feature that helps you understand what your audience wants and what type of content your listeners typically engage with.
Although each podcast hosting service offers different types of analytics, you can choose the best one depending on what audience analytics you would like to see.
3. Ease of Use
A good podcast hosting service makes uploading and sharing your podcast episodes a breeze.
From RSS link generation to listing your podcast on podcast directories, your podcast hosting platform should take care of all the tasks involved with little hassle.
Your podcasting service should also offer easy publishing to Apple or Google podcasts or whichever platform your listeners tune in to.
Podcast hosting should also help you easily add cover art and podcast descriptions so that listeners can see what your show is about.
Best Places To Post a Podcast: How To Upload a Podcast Using iTunes, Google Play, & Spotify
Uploading a Podcast Using iTunes (Apple Podcasts)
The biggest podcast directory, with the largest reach, is iTunes. It is the best podcast distributor.
iTunes has its own way of doing things – if you want to submit your podcast through them their way, at this link scroll halfway down to the last section, called "Podcasts", and follow their submission guidelines carefully.
If you would rather skip their rigamarole and submit directly to them through their normal submission form, here is a link for that.
In either case, they usually also ask you to provide some information via email, namely:
1. An image of your podcast's artwork
2. A title – this is very important !!! Your iTunes submission will be rejected if the title does not match the RSS feed's title
3. An author – this is optional, but they recommend it.
If you submit your podcast anonymously you might get extra exposure by letting iTunes know who authored it.
NOTE: Your iTunes submission will be rejected if they cannot find an author in your RSS feed or on your website.
4. A description – this is also very important !!!
Your iTunes submission will be rejected if the description does not match the RSS feed's description.
You MUST give a "sneak peek" at what someone can expect if they listen to your show.
This needs to be enticing enough that the person submits it for review and makes it through the first episode.
If you don't hook them, they won't stick around for long.
5. A URL – this is optional, but they recommend it.
They will use it to link back to your website (thereby helping with promotion) and also add it to any verbiage in which you are referred to on their site.
6. A valid email address – they need it to contact you if there are any problems.
If you have not supplied an author, the email address you provide will be attached to your RSS feed's author in iTunes!!!
NOTE: Use the same email that is on your RSS feed or website!
Do NOT use a separate email for iTunes!!
7. The language of your podcast – only English is supported right now (it's more than likely that other languages will be supported in the future)
iTunes doesn't actually host your podcasts.
You need to submit your podcast to be listed on Apple Podcasts (iTunes).
1. Apple needs you to fulfill certain requirements before they accept your podcast submission.
2. Once you've done the necessary steps above, you can test your podcast before submission to make sure that you meet all Apple's required guidelines.
3. Check your podcast submission status on your new podcast page, detail page, and dashboard.
4. Use Podcast Analytics to check the performance of your podcast once it has been successfully submitted.
Here's a helpful video showing how you can submit your podcast to Apple Podcasts.
The video shows how to do this using Buzzsprout, but you can do it using any hosting company:
Uploading a Podcast Using Google Podcasts
If you have a podcast, Google has a directory for you.
Google's Podcast Portal is a way to submit your RSS feed to Google and allow Google to find any new content on your site as it gets published.
There are sites out there that keep track of every podcast listing they can find, but for now, all Google lists is its own directory.
Again, there are other directories out there to list your show with, so don't limit yourself completely to Google's Podcast Portal.
But if you have a podcast, it can't hurt to submit your RSS feed.
If you don't already have an RSS feed for your podcast, or if you do and it's wrong or incomplete, Google will tell you so when you try submitting your show.
But if everything checks out there's a little green arrow next to the form you filled out.
Clicking that will submit your podcast to Google.
You can also click the "validate and submit" button instead of or in addition to clicking on the arrow.
Either option will get you where you need to be: submitting your podcast to Google.
Google has a different process of submission compared to other directories.
This is because there is no manual process of submission for Google Podcasts.
Google crawls the web looking for podcasts, and if a podcast meets all of their requirements, it gets automatically submitted to Google.
1. Check if your podcast has already been submitted to Google Podcasts.
2. Enter your podcast's RSS podcast feed URL in GooglePodcast Preview.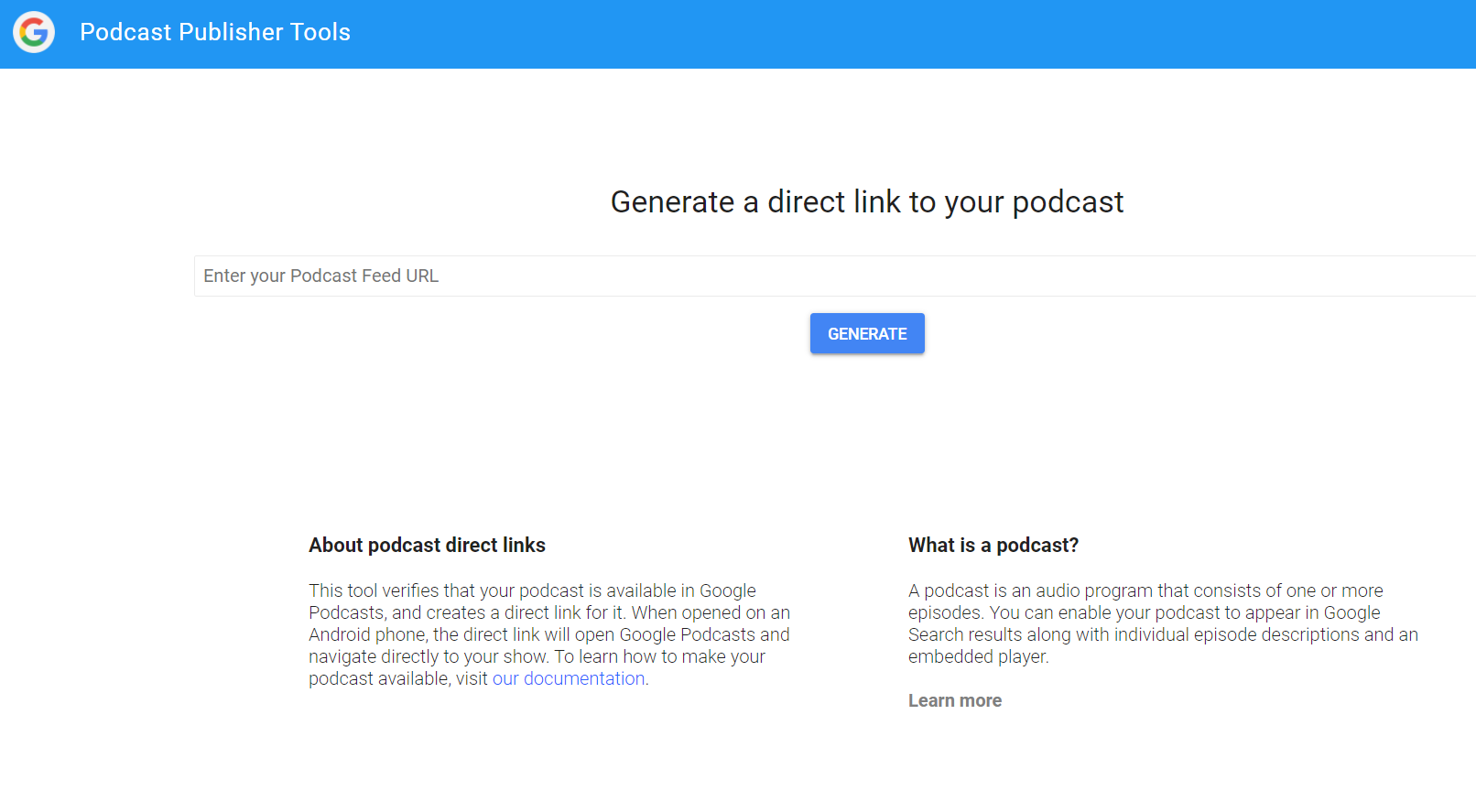 3. If your podcast has not been listed on Google Podcasts yet, you will get a message telling you so.
But if your podcast is listed, you will then receive the podcast URL so you can access it through Google Podcasts.
4. You can manually submit your podcast URL to be crawled by Google.
Just go to Publish and enter your podcast URL if you have hosted your podcast on WordPress or any other platform instead of a podcast hosting site.
5. Hit Publish. Google then crawls the URL and when it finds it, your podcast will be included in Google Podcasts.
Uploading a Podcast Using Spotify
As you may or may not know, Spotify is another of the largest music streaming services out there.
However, it does not come with a default podcast directory of its own.
So how do you get your podcast on Spotify?
The first thing to note is that it's near impossible for you to submit your own podcast directly to Spotify.
Why do you ask?
Well, because Spotify accepts podcast submissions from a curated list of approved partners who have been vetted by Spotify.
In order to be successfully added to the directory, you will need an invitation from one of these partners or publishers.
Once they have invited you and the approval has been made, your podcast will then appear under their profile in the directory.
That being said, there are several companies that have partnered up with Spotify to allow their users to submit podcasts for approval on behalf of the company.
They charge a fee for this service, so it's definitely not cheap but they do have great customer-service track records.
They state that you can expect your podcast to be approved within two weeks.
As with the other directories, you will need to make sure that your RSS feed meets their technical specifications.
Since Spotify is such a massive directory, it's definitely worth submitting your podcast if you can afford it.
Just remember not to submit it directly since they only allow submissions from authorized partners.
You need to set up a few things in your podcast before you can list it in Spotify.
You need to have a published podcast episode, a podcast title, description, artwork or cover art, categories, an artist, and other details filled out.
1. Once you have your episode published and your podcast settings filled out, go to podcasters.spotify.com and click on the "Get Started" button.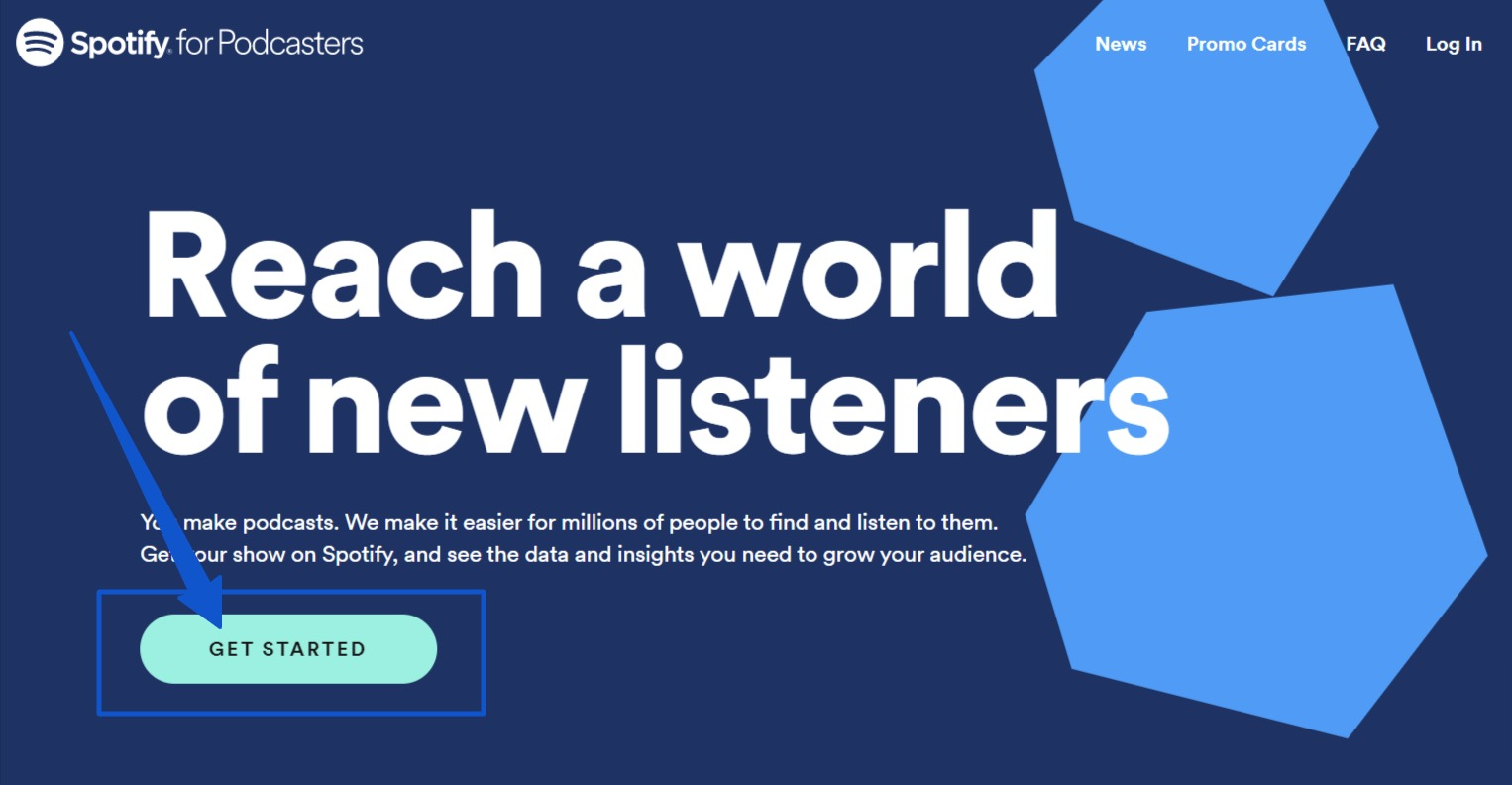 2. Go to "Add Your Podcast" and click "Get Started".
3. Enter your RSS podcast feed URL and Spotify will display all the details of your podcast on the right side of your screen.
4. Spotify will then try to verify that you are the owner of this podcast by using the email address associated with your podcast.
It will send a code to this email address.
5. You will be asked to fill out some more details about your podcast such as your country, podcast hosting services, category of the podcast, etc. Fill out these details and click"Next".
6. Make sure all that you filled out is correct and hit the "Submit" button.
7. Your podcast is now listed on Spotify.
So, How Do I Choose From The Best Podcast Hosting Sites?
When you're just getting started with your podcast, it is important to choose the best podcast hosting site that suits your beginner podcast equipment setup.
We've seen the best podcast hosting services available today.
We've also seen the best free hosting platforms.
So, what is the best podcast hosting platform for your business?
I recommend Buzzsprout!
With excellent features, pricing plans, and even a free podcast host plan, Buzzsprout has everything you need for your podcast – no matter whether you are a beginner or an expert.
We are sorry that this post was not useful for you!
Let us improve this post!
Tell us how we can improve this post?