Rytr AI Writing Assistant: How To Use Its Best Features?
Tracy's Take
Harness the power of Rytr to create high-precision content with lightning speed.
Its AI technologies, like NLP and ML, will have you crafting masterful copy in no time.
Intelligent editing capabilities ensure that what comes out is polished and perfected – auto-summarization features let you condense your text for maximum impact.
At the same time, personalization options ensure every piece speaks directly to its intended audience.
Get all this from one powerful service: Rytr!
| | |
| --- | --- |
| Best For | High-precision content with lightning speed |
| Price | $9 – $29 per month |
| Annual Discount | Get two months free on annual plans |
| Promotion | Free trial version |
Disclaimer: If you buy something using the links in this article, I may receive a commission at no extra cost to you.
Know that I only promote stuff that I use and trust for the sake of my readers and the reputation of this site.
What is Rytr.me?
Rytr helps you create content faster and with more accuracy.
Rytr allows you to generate high-quality content using AI technologies, such as natural language processing (NLP) and machine learning (ML).
Rytr also offers features like intelligent editing, auto-summarization, and personalization that help you create compelling copy quickly.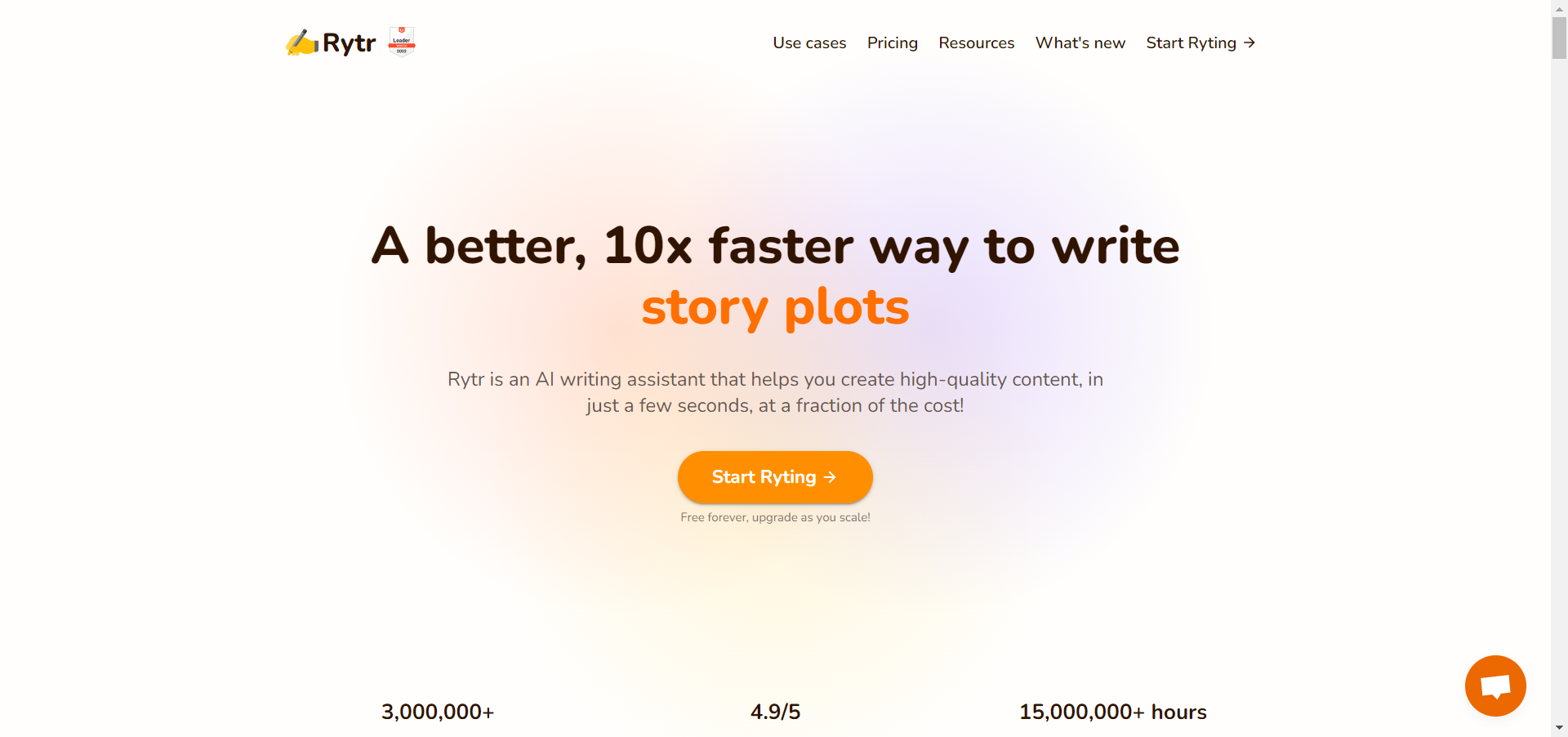 With Rytr AI Writing Assistant, you can save time and energy while creating high-quality content that resonates with your audience.

So, what are the best features of Rytr? Here is a brief overview:
Automated Content Generation:
Rytr uses advanced NLP and ML technologies to automatically generate creative content that is accurate, engaging, and relevant to your topic.
Smart Editing:
Rytr has a built-in intelligent editor that can detect errors in grammar and spelling, ensuring that your content is free of typos and grammatical mistakes.
Auto-Summarization:
Rytr AI Writing Assistant's auto-summarization feature allows you to quickly and easily summarize long articles, making your content more concise and easier to read.
Personalization:
Rytr AI Writing Assistant's personalization feature helps you create customized content that speaks directly to your audience.
You can add personalized details about the reader, such as their name or other demographic information, making your content more engaging.
Who is Rytr for?
Rytr is designed to benefit anyone seeking help with their writing, from students and professionals to business owners and creative writers.
Rytr can help people create content from scratch by entering specific inputs into the software.
Rytr can also help people edit and revise existing writing pieces by providing grammar, syntax, structure, style, and tone suggestions.
Rytr is a powerful tool that can help users create content quickly, accurately, and efficiently.
Rytr Review: Pros & Cons
Rytr Pros:
• Rytr is an easy-to-use tool that helps writers improve their content quality faster and more efficiently.
• The AI software can create short-form and long-form content like articles, blogs, and even books.
• Rytr is also helpful in identifying grammar, spelling mistakes, and incorrect use of language that you can fix quickly.
• The AI software has a natural language processing system that helps to generate content-related ideas from scratch.
Rytr Cons:
• Rytr is still in the early stages of development and is not as advanced as other AI writing tools.
• The software does not offer real-time feedback on the user's work, meaning users must rely on their judgment to make corrections.
• In some cases, the AI-generated content can be hard to read and comprehend due to lack of clarity.
• Rytr can also be expensive for some people, as the subscription pricing plans are pretty high.
Rytr Review: Features
1. Blog Idea & Outline Generator:
Rytr's blog idea generator helps you develop creative, catchy titles and outlines tailored to your needs.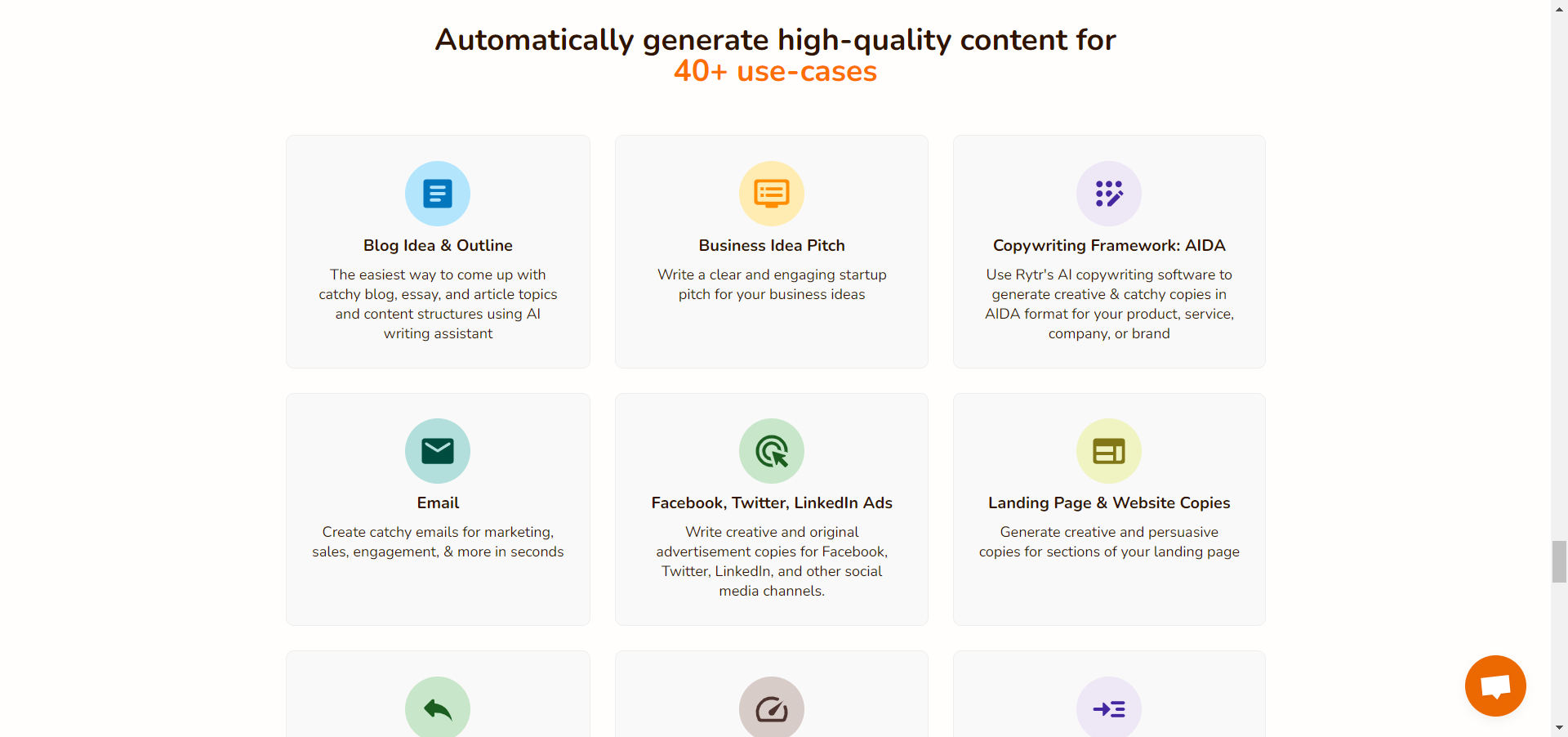 2. Copywriting Framework/ AIDA Generator:
AIDA generator provides a simple yet powerful copywriting framework for crafting compelling content.
3. Email Generator:
This feature allows you to generate emails quickly and easily, with personalized greetings and messages tailored to your needs.
4. Magic Command Feature:
With the Magic Command feature, you can quickly create whole sentences from just a few words or phrases.
5. Other Writing Options:
Offers other writing options such as post & caption ideas, Facebook Ads, Google Ads, LinkedIn Ads, and more.
6. AI Image Tool:
AI image tool allows you to easily search and select the perfect image for your content.
7. Languages & Tones Available:
It supports many languages and tones, such as formal, casual, friendly, and professional, so you can tailor your writing to fit any audience.
8. Other Helpful Features:
Rytr also offers helpful content writing features such as a rephrasing tool, improve the tool, paragraph tool, dark mode, and more.
Rytr also has SEO integrations and a plagiarism checker to help you optimize your content for search engines and detect duplicate content.
9. History Function:
The history function allows you to track and monitor your changes over time. This feature is beneficial in the case of long-form articles.
10. Additional Team Members:
With Rytr's team feature, you can invite additional team members to collaborate on a project.
Rytr also has robust project management features that make your team work more efficiently.
11. Dark Mode:
Rytr also offers a dark mode option to help reduce eye strain when working late at night on your content writing.
12. Ryting Profiles:
Ryting profiles feature allows you to create personalized profiles for each team member, so you can easily keep track of their writing progress.
13. User Interface:
The user interface is designed to be easy to use and navigate, with clearly labeled menus and buttons.
14. Language & Tone Options:
Rytr supports many languages and tones, so you can tailor your writing to fit any audience.
15. Use Cases:
Rytr offers use cases for various types of content, such as blog posts, social media posts, email campaigns, and more.
16. Post & Caption Ideas:
Post & caption ideas generator helps you develop creative and catchy captions for your posts.
17. Facebook, Google, and LinkedIn Ads:
Rytr also offers templates for creating ads on these platforms quickly and easily.
18. Call To Action Builder:
Call-to-action builder allows you to create effective CTAs that drive results.
19. Third-Party Integrations:
Rytr AI writer integrates with various third-party tools, such as SEO and plagiarism checkers, for added convenience.
20. Text Editing Options:
Rytr also offers a range of text editing options, such as bold, italic, underline, strikethrough, and more.
Rytr Review: Pricing
Rytr offers the following plans:
Free Plan: Forever free
Saver Plan: $9 per month
Unlimited Plan: $29 per month
You can get two months free on the paid plans if you pay annually.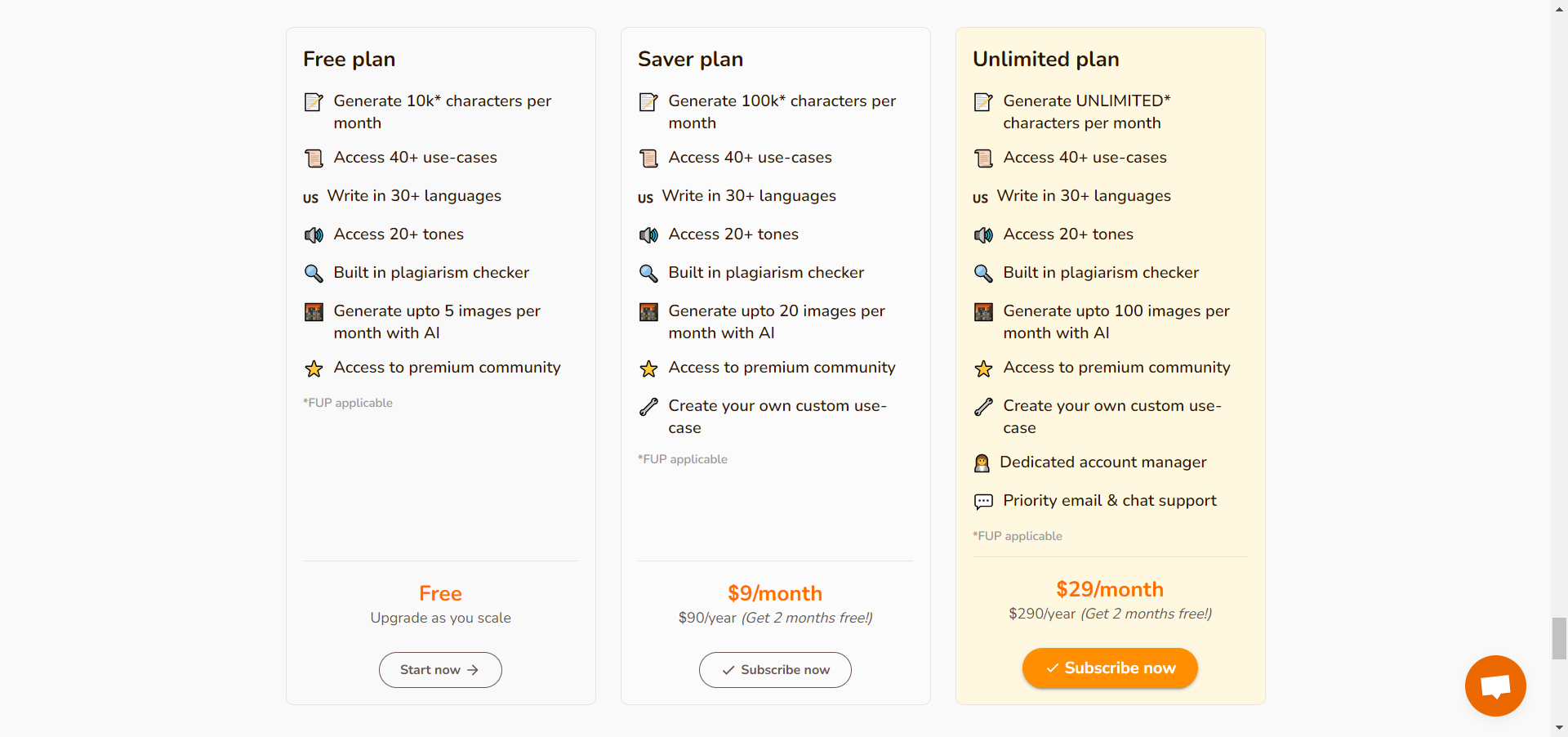 Rytr Review: Rytr Alternatives
Jasper is an AI-powered writing assistant designed to help writers of all levels become faster, more efficient, and more productive.
Jasper AI features a suite of tools that make it easy for you to create quality content in minutes.
In addition, the software's natural language processing capabilities allow it to generate short-form and long-form content in various styles and formats.
The editor also provides helpful feedback and suggestions to help you refine your work quickly and effectively.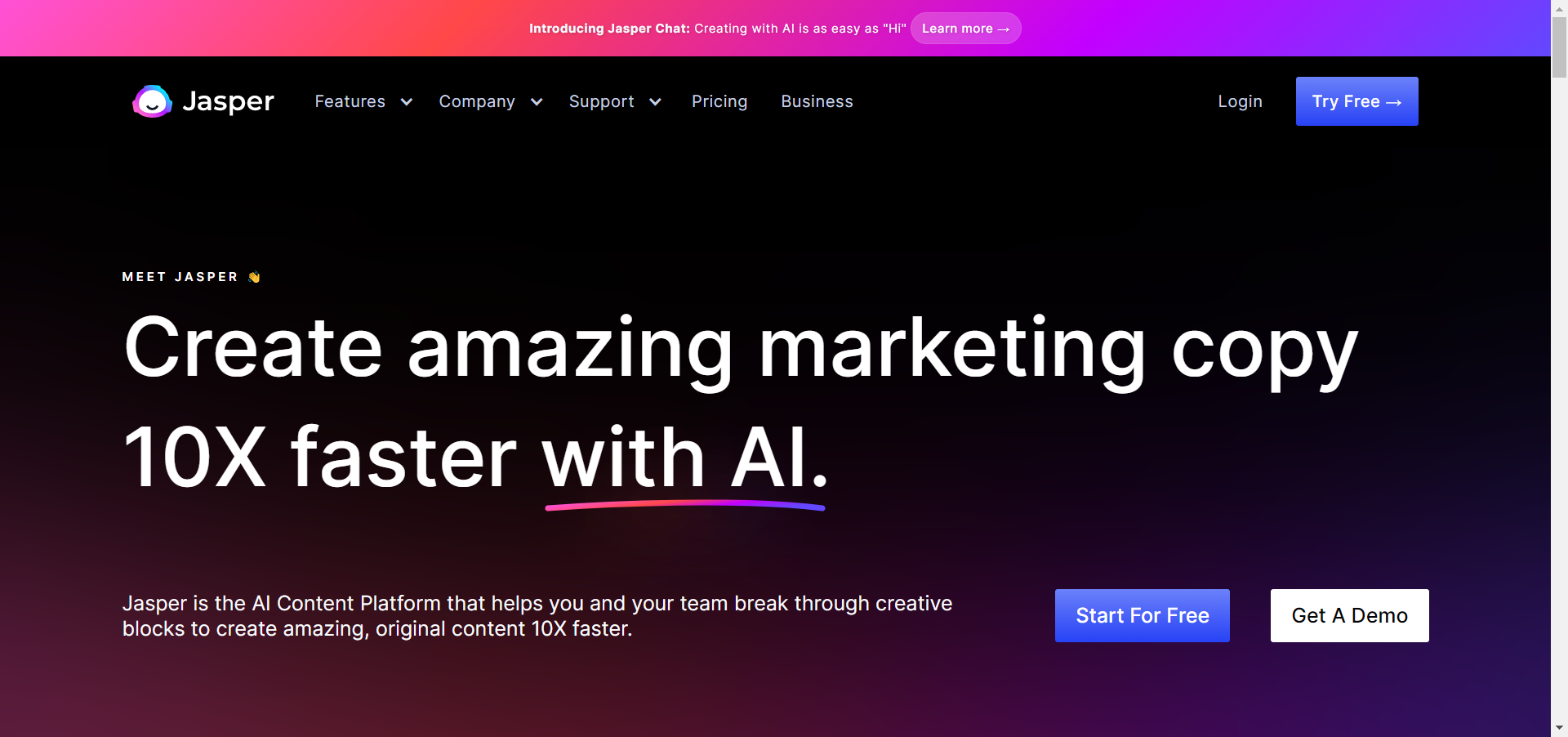 Jasper AI content generator is ideal for those looking to streamline their content creation process or want to create well-written, professional pieces of content in less time.
It has comprehensive features, including integrations with a grammar checker, spellchecker, and more.
It also comes with an intuitive interface that makes it easy to use and navigate the various tools available.
Overall, Jasper is an excellent choice for writers needing more time or help to produce quality content in just a few seconds.
Copy AI is one of the most popular AI copywriting tools that helps enhance your writing process and improve your content quality.
It offers various features to help you write a blog post or any other form of content quickly and accurately, including partner libraries, grammar, and spelling checkers, keyword optimization tools, and more.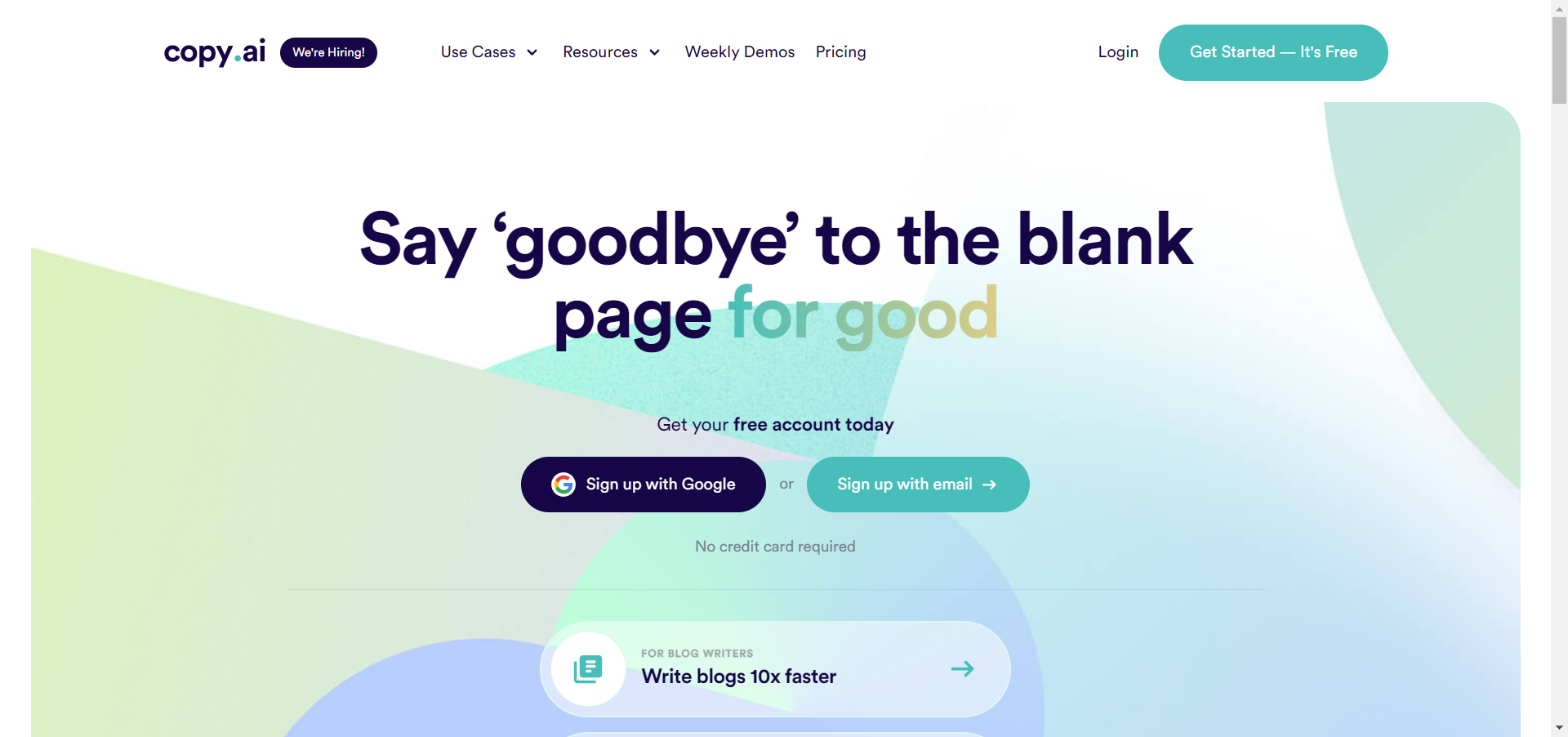 In addition, the product has several collaboration capabilities, such as built-in comment boxes and version control.
Copy AI is an easy-to-use AI writer tool designed to make writing content such as blog posts, meta descriptions, video descriptions, social media posts, etc., quick, accurate, and effective.
With its robust features, Copy AI can help writers create better copy faster than ever.

Copysmith is a powerful new AI writer tool designed to help novice and experienced writers quickly and effectively create better content, such as a blog posts or social media content.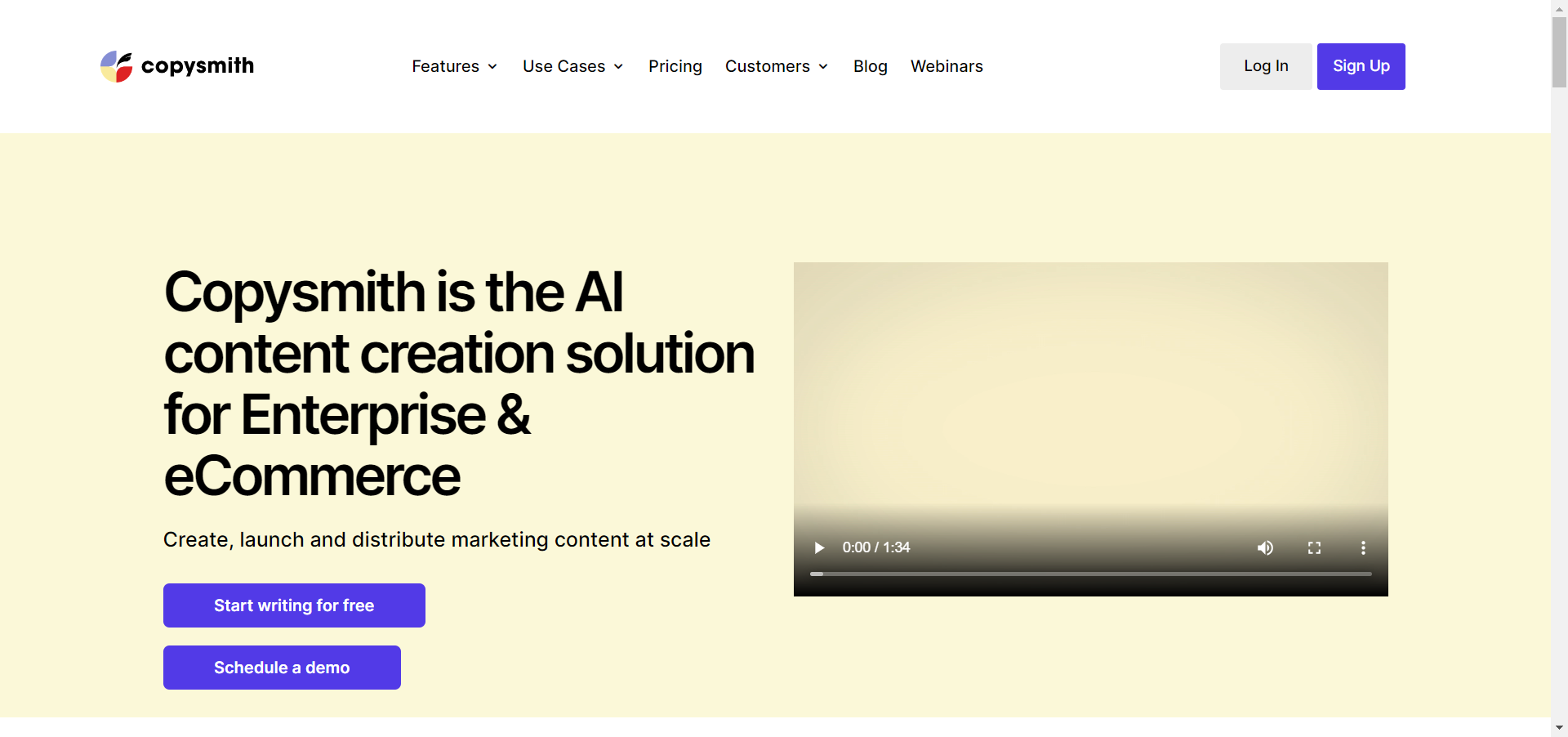 The AI-driven system allows users to generate ideas, find new words, and craft sentences precisely. It can even offer instant feedback on the quality of writing.
Frase is an AI-based platform that helps writers create better content faster.
It gives users the tools to write long-form content and organize their work efficiently.
The assistant utilizes Natural Language Processing (NLP) to understand the meaning of words and phrases, allowing it to provide targeted assistance for each user.
Frase's AI assistant can quickly create outlines tailored to the user's needs by creating short-form and long-form templates.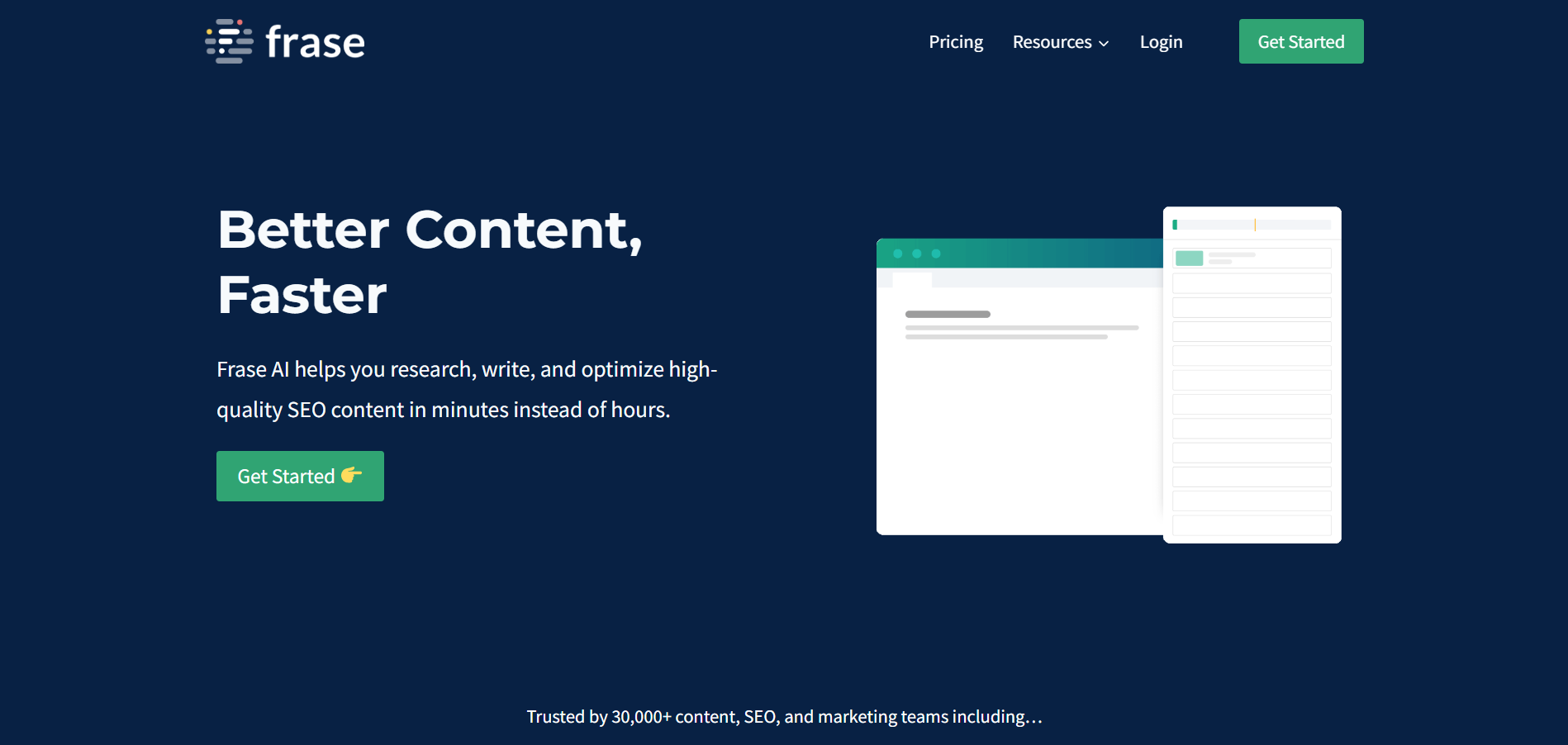 In addition to its long-form content-generating capabilities, Frase AI copywriting tool also offers editing tools and analytics that help writers create better pieces of content, such as blog posts or emails.
In addition, the platform includes grammar and spelling checkers and an AI-powered editor that proofreads documents and provides feedback.
Grammarly is a powerful artificial intelligence (AI) tool designed to help writers improve the quality of their writing.
It uses sophisticated algorithms to scan text for errors and offer suggestions for enhancing it.
Grammarly's AI engine looks for everything from basic grammar mistakes to stylistic inconsistencies and complex punctuation.
It also considers the context of a sentence, scanning for typos and errors related to tone, intent, and clarity.
Writesonic is a powerful tool designed to help users create high-quality content with ease.
It uses advanced artificial intelligence and natural language processing (NLP) to generate unique, personalized content based on input from the user.
With Writesonic's intuitive interface, users can easily create well-formatted blog posts, articles, and other long-form content in just a few seconds.
The AI assistant also helps optimize the user's writing by suggesting ways to improve grammar, punctuation, voice, sentence structure, and more.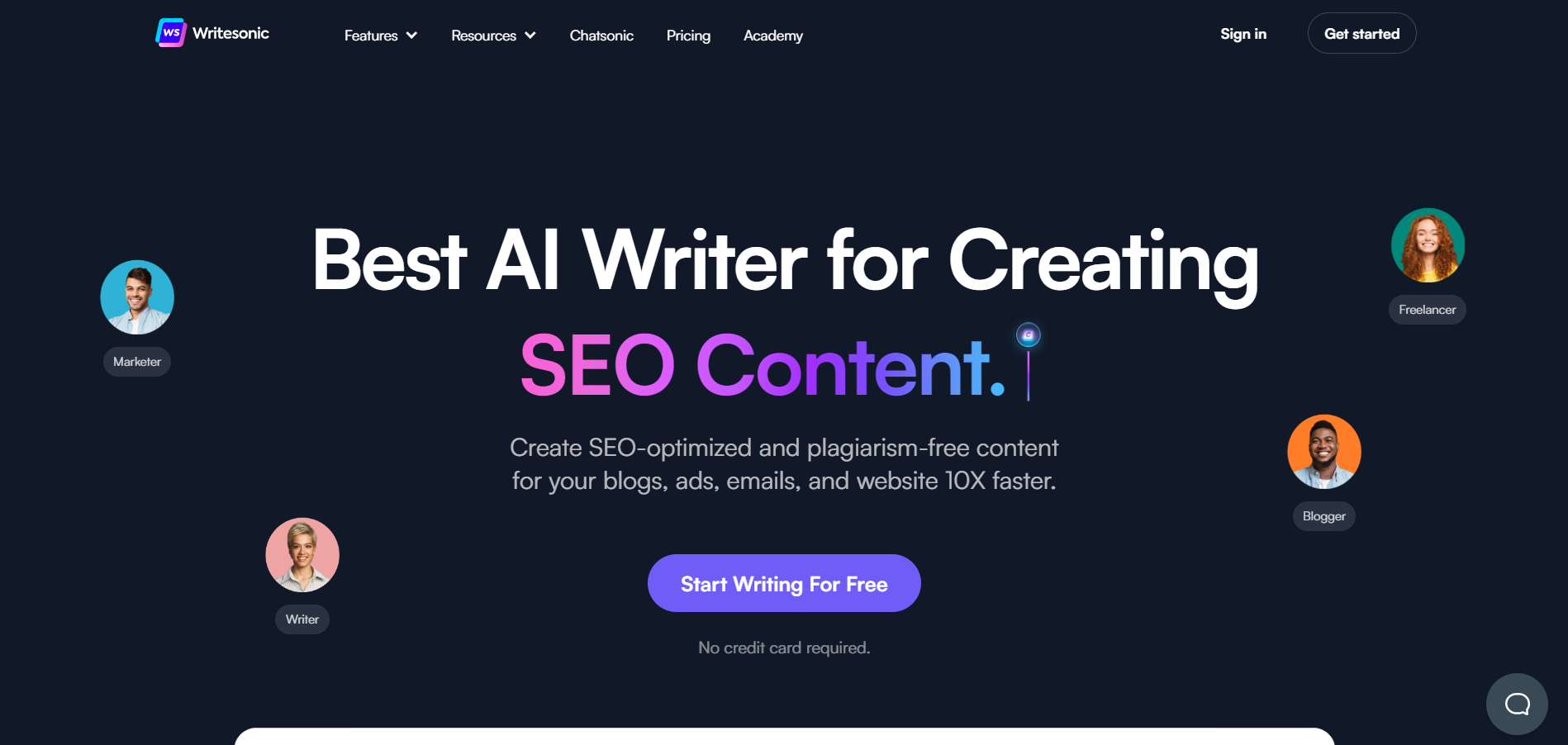 Additionally, Writesonic has various powerful features, such as an automated keyword research tool and an integrated publishing platform.
In short, Writesonic is an invaluable writing tool for experienced and novice content creators and helps you generate unlimited characters.
It can help users generate quality content that ranks well with search engines, saving them time and effort.
With Writesonic AI Writing Assistant, creating great content has never been easier.
Rytr Conclusion
Rytr is a powerful tool that can help create both long and short-form content quickly and effectively.
Rytr allows users to rapidly generate creative topics, research relevant information, and curate content in various formats.
With the help of Rytr, creating well-crafted content for a blog post, website, or social media becomes more accessible and efficient.
From creating an article or blog post to coming up with catchy headlines and informative content, Rytr can make all of this happen in minutes.
Try Rytr out today and see the results for yourself!
Have you used Rytr?
What is your experience with this AI writing tool?
Leave a comment below! 🙂